New frontiers for art: The Montreal International Poetry Prize – McGill Reporter
In an age marked by global quarantines and climate change, what forms of art and creative expression are possible? How can creative communities survive without the face-to-face contact of public events and audiences? What can literature, and particularly poetry, often imagined as a solitary exercise, offer our world today?
The Montreal International Poetry Prize hopes to answer at least some of these questions.
The Prize, a biennial competition founded in 2010 on donations from Montreal poets including McGill alumni Leonard Cohen and Prize co-founder Asa Boxer, has recently migrated to its new home within McGill's Department of English. Its primary goal is to encourage the creation of anglophone poetry worldwide. The Prize awards $20,000 CAD to a single poet for one poem of 40 or fewer lines. The deadline for submission is June 1.
A jury of internationally acclaimed poets and critics from around the world will select a shortlist of 50 poems, from which this year's judge, distinguished American poet Yusef Komunyakaa, will select a winner. This year's jurors hail from Canada, Australia, the U.S., the UK, Haiti, and India. The fifty poems on the shortlist will appear in the Global Poetry Anthology, published by Véhicule Press in Montreal.
Opening new digital frontiers for poetry and artistic connection in a time of crisis and isolation, the nonprofit Prize engages in and endorses the formation of a new global arts community. "By accepting entries through an online application, organizing open-access poetry readings via Zoom, and publishing a global anthology (online and in print), the Prize is reimagining poetry in a digital space," says Michael Nicholson, Assistant Professor in the Department of English.
Nicholson and English Department colleagues Miranda Hickman and Eli MacLaren have overseen the migration of the Prize to the Department of English.
Supporting the transfer has been Poetry Matters, an initiative in the English Department founded in 2017 by Hickman and Nicholson. Poetry Matters seeks to foster conversation, research and exchange on poetry among members of different communities, within the university and beyond.
Poetry beyond the classroom
Organizers hope that the Prize will encourage people to think of poetry as an art form beyond what we engage in the classroom. "Poetry starts at the beginning of our lives, as in children's books… It doesn't always have to be T.S. Eliot," says MacLaren, chair of the 2020 Prize. "Poetry is everywhere. It's a part of weddings, meditating, religious ceremonies."
"Back in the 1970s, Louis Dudek was part of an effort to get poetry on the busses in Montreal, in English and in French," says Hickman. "Working on the Prize has made us think about all the ways poetry enters our daily lives – as well as how it offers ways of knowing and commenting on the world in which we live."
Organizers also hope that the Prize will foster a sense of community of writers from around the world.
Celebrated Irish poet Seamus Heaney's once said that literary prizes can provide "a sense of solidarity with the poetry guild, as it were, sustenance coming from the assent of your peers," the Montreal Prize's cash award is crowd funded from entry fees. As Gavin Currie, a McGill PhD student co-directing public relations, put it, the Prize's funding model is "poet to poet;" winners receive sufficient financial support from their peers to write verse for a year.
When submitting their work, entrants are also offered the opportunity to sponsor an entry – the chance to support the emergence of new styles and forms of creative expression from around the globe.
Attracting brilliance in all its diversity
The Prize, say organizers, is an enterprise that advances social justice, student training in arts entrepreneurship, and a global rather than local or national concept of poetry and aesthetics. In keeping with McGill's international reputation and stated commitment to "attract brilliance in all its diversity," the Prize's digital application promotes a civic-minded poetry competition by means of an anonymous submission process.
"For many, entering the Prize in itself is not only an experiment in community building and altruism in the arts, but also an endorsement of a digital poetry network collectively working to disregard the limits of status, border, and stratification so often constraining major national prizes in the arts," says Nicholson.
The deadline for submissions to the Montreal International Poetry Prize has been extended to June 1. Get more information online
Windsor Public Library wants to show you local art while you ride your bike – CBC.ca
Windsor Public Library wants to showcase the city's downtown art. It plans to have two cycling tours to show it off.
Becky Mayer, a librarian at the Windsor Public Library organized the tours. She said the main reason she wanted to do this is because people think there's nothing to do or see in Windsor.
"I often ride my bike around and I see a lot of cool and weird stuff," said Mayer. "So, I just thought that maybe a few people would want to join me on a weird stuff tour."
Mayer said she'll be bringing Betty the Bookmobile along for the journey. She said the ride will be pretty casual and if someone has a story to tell she's happy to give them space to share.
"I'm fine with talking as well. If you want to have a silent tour, that's also cool. Like, it's very, very casual. Go with the flow. We'll see what happens," Mayer said.
The first tour starts at 6 p.m. August 16, the second tour is on August 20 starting at 10 a.m. The tours last about an hour and starts at the library's Central Branch at the corner of Ouellette Avenue and Pitt Street.
Youth get creative at summer art camp – Lakeland TODAY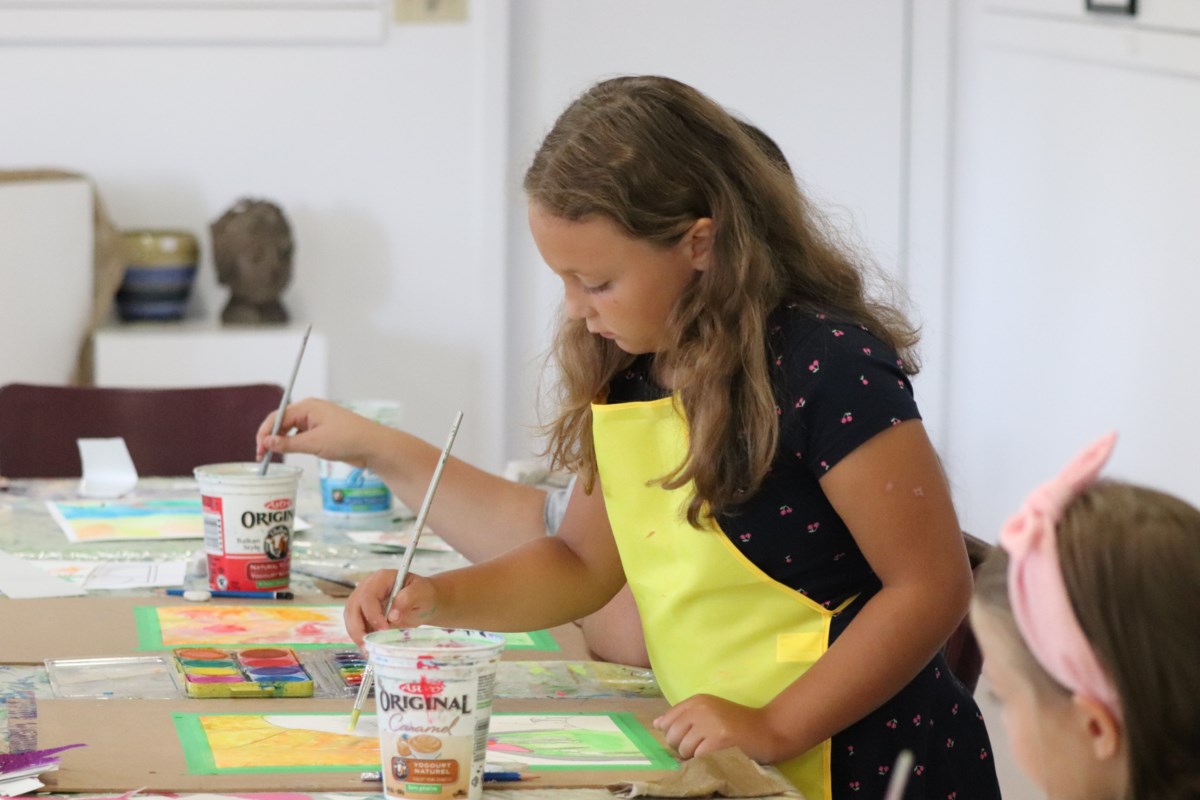 ST. PAUL – A variety of mediums were used to create unique works of art during a week-long Youth Art Camp held at the St. Paul Visual Arts Centre, last week.
Pam Bohn, the art instructor for the art camp, said the camp gives youth the chance to not only do art but form friendships.
"We also go outside to play and go to the park, and so it is also a day where they can make friends."
The art camp included acrylic painting, watercolour painting, mixed media projects, and much more.
"While I facilitate the classes, [the children] are free to create as they please," she said. "That allows those who like to do art that freedom to have different art mediums and try things that they may be unable to do at home."
Bohn said the participating youths have enjoyed the art camps, adding, "They all get excited when they come and take their [art] home to show their parents."
The Hive celebrates three new exhibitions at Art Gallery of Burlington | inHalton – insauga.com
Published August 15, 2022 at 2:41 pm
A special event celebrating three new exhibits is being hosted by the Art Gallery of Burlington.
The Hive is happening Saturday, Aug. 27, from 1 to 4 p.m. This free, all-ages event incorporates the organization, cooperation and energy of a beehive into an afternoon of art, activity, learning and fun.
The Hive will feature a special workshop led by Toronto's Clay and Paper Theatre, live arts and crafts demonstrations, a screen-printing presentation, live performance, food and drink.
The event is being held in celebration of the AGB's three new fall exhibitions:
The Future of Work, an exploration into how the pandemic has affected labour markets and our quality of life

ਨਜਰ ਨਾ ਲੱਗੇ

/Nazar na lage/Knock on wood, a vibrant and meaningful interpretation on the art of rangoli by artist Noni Kaur
Know your Place, an exhibit of cartoon-like clay sculpture that reveal the raw emotional experiences of the artist Sami Tsang
Known for work inspired by oral traditions, folk songs, poems and fables, Clay and Paper Theatre will charm participants and audiences with their original multi-disciplinary performance-based production. Guests who wish to participate with Clay and Paper Theatre should arrive early and be ready to create.
Visitors are invited to an interactive, screen-printing demonstration led by artist Jesse Purcell and are encouraged to bring any used clothing to be transformed into a bunting display to be hung in the gallery by the artist collective Works-in-Progress.
Arts Burlington will be opening its doors to guests with arts demonstrations and the Burlington Handweavers and Spinners Guild will guide guests through a natural plant-based dying demonstration, teaching attendees what they need to know to create from home.
The AGB parking lot will be free for the day. For more information, visit the AGB website.

insauga's Editorial Standards and Policies
Stay the know
Subscribe now to receive our daily email of today's top stories in your city!
advertising