New Indigenous art curator set to start at Remai Modern in the fall – CBC.ca
Saskatoon's Remai Modern has announced a new member to their curatorial team.
Tarah Hogue will join the museum as its inaugural Indigenous art curator in October, coming to Saskatoon from the Vancouver Art Gallery (VAG). Most recently she was inaugural senior curatorial fellow of Indigenous art at the VAG.
Hogue, a citizen of the Métis Nation of Alberta originally from Red Deer, said she is excited about coming back to the Prairies.
"I'm really looking forward to returning to that setting and being able to focus on artists from Treaty 6 territory and from the prairies more broadly," she said.
Hogue said she grew up surrounded by art and culture thanks to her mother, who had a career working in textiles. Although she has worked in Vancouver for her entire career, she said she has travelled to museums in Europe and the U.S. since she was a child and has a feeling for the behind-the-scenes environment of art.
Local artist hopes gallery improves outreach
Hogue hasn't started developing any projects yet for the Remai Modern, but a Saskatoon artist said he hopes Hogue's position will be an opportunity for local Indigenous talent.
Kevin L. Pee-Ace, who is a member of the Yellowquill and Peter Chapman First Nations, paints full time in Saskatoon. He said there is a lack of connection between the art gallery and artists in the community.
"I have nothing against what they are bringing in in terms of world class art and artists," Pee-Ace said. "But I do believe that they do lack local flavour."
Relationship building part of new job
Hogue said her work in Saskatoon will include research, working alongside artists, planning exhibitions at the Remai Modern, publishing catalogues, building collections of Indigenous art and building relationships with the community.
"Indigenous art is near and dear to my heart," Hogue said.
"Any exhibition that brings a new lens or a deeper focus to that work in those art histories, that's really what excites me."
Pee-Ace said Remai Modern made a good first step bringing on a curator for Indigenous art and that the museum could be a stepping stone for local talent and their careers.
"Those possibilities exist in a small community like Saskatoon," Pee-Ace said.
"We all need to be included in getting work in there to do exhibitions … but it remains to be seen if this is the direction that the gallery wants to pursue."
Reopening of art museum
Remai Modern, which has been closed for months due to COVID-19, will reopen its doors to the public on August 13. Members of the museum will get exclusive access a week earlier.
With files from Saskatoon Morning
Senior curator Michelle Gewurtz leaves Ottawa Art Gallery for position in Peel Region – Ottawa Citizen
Article content
The former senior curator of the Ottawa Art Gallery has left that institution for a new position in Peel Region.
Michelle Gewurtz officially assumes her duties as Supervisor of Arts and Culture for the Peel Art Gallery, Museum and Archives as of Aug. 17.
Gewurtz had also been an adjunct research professor at Carleton University and served in "curatorial, educational outreach, and advisory capacities" at SAW Gallery in Ottawa, A Space Gallery and Gallery 44 in Toronto, the Richmond Art Gallery in British Columbia, Kniznick Gallery in Waltham, Mass., and The Freud Museum in London.
"I'm delighted to join PAMA in the role of Supervisor of Arts and Culture," Gewurtz said in a media release issued by the gallery based in Brampton, Ont. "I look forward to working with PAMA's team to present new ideas and develop community-oriented programming. Together, we'll enhance the art gallery and museum as a central cultural meeting place for the diverse communities of Peel Region and beyond."
Catherine Sinclair is now listed as deputy director and chief curator of the Ottawa Art Gallery.
Local artist Kathryn Durst to create public art mural in downtown Peterborough – kawarthaNOW.com
Peterborough artist Kathryn Durst has been chosen to create a public art mural in downtown Peterborough commissioned by the First Friday Ptbo Art Crawl.
The mural will cover the two interior walls of the alleyway of the Commerce Building, at the northwest corner of Water and Hunter streets, which is home to the studios of many of the artists who have participated in the monthly art craw (currently on hiatus due to the pandemic).
The mural project is supported by the Peterborough Downtown Business Improvement Area (DBIA) and Ashburnham Realty, which owns the Commerce Building.
Advertisement – story continues below
The First Friday Ptbo mural selection committee reviewed proposals from 20 local artists before selecting Durst's proposal for the mural.
Born in Peterborough, Durst graduated from St. Peter Secondary School and then studied animation at Sheridan College. She was an intern at Pixar Animation Studios and worked at several animation studios before launching a career as an illustrator for children's books.
She achieved international media coverage for illustrating the New York Times best-selling children's book Hey Grandude!, written by Sir Paul McCartney and published by Penguin Random House in 2019.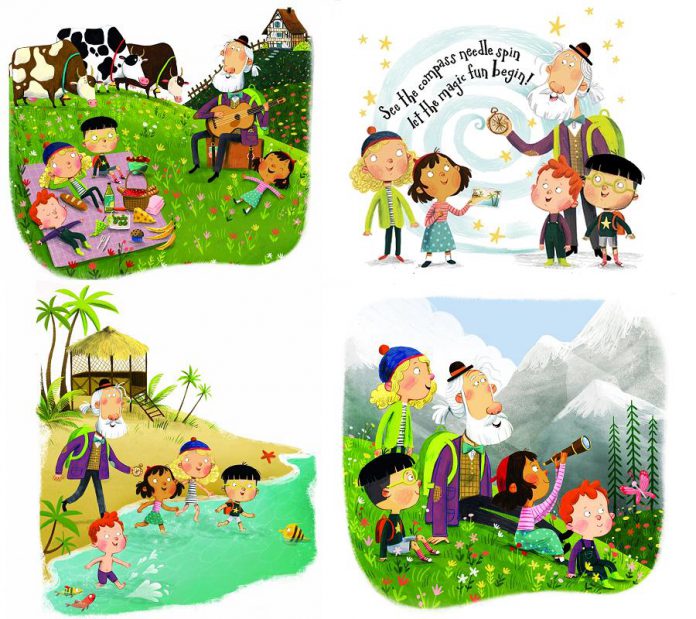 The 30-year-old Durst lives in Peterborough with her dog Chili.
To see samples of her art, visit her website at www.kathryndurst.com or her Instagram account @kathryndurst.
Durst receives a $3,000 award to create the mural, which must be completed using exterior latex paint only by the end of August.
When the mural is completed, First Friday Ptbo will be host a mural launch in September (date to be confirmed).
Bringing dance creativity to summer art program – Weyburn Review
Dance instructors Jessica Dixon and Faith Bratrud brought the creativity of dance to the City of Weyburn's summer art program on Wednesday. Jessica taught the group a dance routine, then she had them gather around and each child demonstrated their own dance move which everyone else had to try to copy.