Newfoundland and Labrador reports four new COVID-19 cases, first hospital outbreak – Bowen Island Undercurrent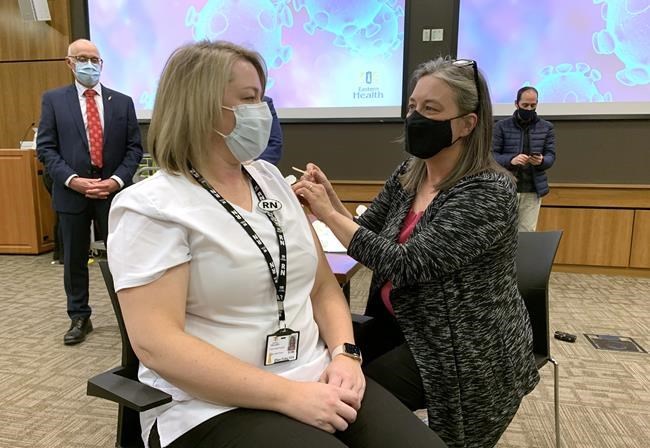 ST. JOHN'S, N.L. — Newfoundland and Labrador health authorities reported four new cases of COVID-19 Friday, as well as the first outbreak at a hospital in the province since the start of the pandemic.
Officials said there were 287 active reported COVID-19 infections in the province, and all but five were in the eastern health region, where authorities have been battling an outbreak in the St. John's area. The outbreak was caused by the B.1.1.7 COVID-19 variant, which was first detected in the United Kingdom.
The Health Department said 11 people were in hospital because of COVID-19 and six more admitted for other reasons had tested positive for the disease. Five COVID-19 patients are in intensive care.
"It's concerning," chief medical officer of health Dr. Janice Fitzgerald told reporters Friday. "There have been reports that this variant can cause more severe disease and looking at our hospitalizations and ICU admissions, we are seeing them a little earlier than expected."
Earlier Friday, the regional health authority's chief executive officer said his team was battling an outbreak in a surgical unit at St. Clare's Mercy Hospital in St. John's. David Diamond would not provide exact numbers but said fewer than 10 people were affected by the outbreak. All of the hospital's staff and patients were being tested for COVID-19, he added.
The entire province has been in lockdown since Feb. 12, when officials first announced the St. John's outbreak was fuelled by the B.1.1.7 mutation.
The outbreak hasn't spread beyond the eastern region of Newfoundland and Labrador and Fitzgerald on Friday said the rest of the province outside the Avalon Peninsula could move to a lower pandemic-alert level. She said people outside the peninsula could expand their close contacts, adding that "Bubbles need to remain small, exclusive and you should only include other people if it is necessary to keep you and them safe and healthy."
The Avalon region, including St. John's, will remain under lockdown for at least the next two weeks, Fitzgerald said.
Like the rest of Canada, Newfoundland and Labrador has experienced shipment delays of the Pfizer-BioNTech vaccine, but Fitzgerald said those hiccups are likely over. Accordingly, she revealed the second and third phase of the province's vaccination plan on Friday.
"If our supply remains as it is, I think, the outlook is good that we'll be able to start Phase 2 in April," she said.
The second phase of the plan prioritizes adults over 60 years old, beginning with those over 80, as well as Indigenous adults, first responders, rotational workers and adults in marginalized populations, such as those experiencing homelessness, Fitzgerald said.
Adults between 16 and 59 years old will be vaccinated in the third phase of the rollout, which is expected to begin this summer, Fitzgerald said. "Every Newfoundlander and Labradorian who can get vaccinated should get vaccinated," she said.
This report by The Canadian Press was first published Feb. 26, 2021.
Sarah Smellie, The Canadian Press
The Key Role of Trustworthy Babysitters in Balancing Work and Family Life
Are you a busy parent in constant pursuit of the elusive work-life balance? We know firsthand how overwhelming and challenging it can be to juggle professional commitments while still having quality time with your children.
That's why we're here to discuss an essential ingredient that unlocks the secret to harmony: trustworthy babysitters.
What Characteristics Parents Should Look for When Choosing a Babysitter?
Parents should look for a few key characteristics when choosing a babysitter. A good babysitter should be patient, responsible, and reliable. They should also be comfortable with children and have prior experience caring for them.
Besides, the babysitter must be able to communicate effectively and follow directions well. The babysitter should be someone the parents can trust to care for their children in their absence.
Strategies for Parents to Establish Reasonable Anticipations
As a parent, finding babysitters you can trust to care for your children is vital. However, it is also important to establish reasonable expectations for your babysitters.
Some tips for establishing reasonable expectations for babysitters include:
Set clear expectations: Sit down with your babysitter to discuss bedtime routines, dietary preferences, and any necessary medications.
Allow flexibility: While clarity is vital, also provide room for your babysitter to use their judgment and feel comfortable in their role.
Trust their expertise: Once expectations are set, trust your babysitter's judgment as a professional caregiver to avoid undermining their authority and creating discomfort in their role.
Determining a Fair Payment Plan
Determine your babysitting budget, factoring in your income and family size, while researching local rates. Account for the babysitter's experience and qualifications, giving preference to those recommended by trusted sources.
Engage in open negotiations with your chosen babysitter. This aims to find a mutually agreeable arrangement that accommodates both your budget and their needs.
Tips on Finding Trustworthy and Compassionate Caregivers
When seeking a caregiver for your child, to ensure you find the right fit:
Seek recommendations from trusted sources such as friends, family, and neighbours who may have suggestions for caregivers in your area.
Conduct online research to review feedback and check references to gauge candidates' qualifications and experience.
Request references and contact details from the caregivers' previous employers or families they have worked with.
Trust your instincts and ensure you feel at ease with the caregiver, ensuring they are someone you can entrust with your child's well-being.
Conclusion
Being able to trust your babysitter means you can have peace of mind knowing your child is safe and cared for.
Spending some time researching online reviews or asking friends and family for recommendations will help you find the perfect fit so you can feel more at ease while juggling work commitments in today's hectic world.
Facility-wide COVID-19 outbreak at Bethammi Nursing Home
THUNDER BAY — St. Joseph's Care Group and the Thunder Bay District Health Unit have declared a facility-wide COVID-19 outbreak at Bethammi Nursing Home, part of the St. Joseph's Heritage complex on Carrie Street near Red River Road.
The respiratory outbreak at the 112-bed facility was declared effective Sept. 15 but only announced publicly on Monday.
No details were provided with regard to the number of people affected to date.
Restrictions are now in place for admissions, transfers, discharges, social activities and visitation until further notice.
Alberta COVID hospitalizations up 73% since July: health minister
Three weeks after the start of the school year, Alberta's health minister provided an update on the spread of airborne viruses in the province.
Adriana LaGrange also said more information about flu and next-generation COVID-19 vaccines will soon be released.
"Now that we will be spending more time indoors, we need to make doubly sure we are following proper hygiene protocols like handwashing and staying home when sick," LaGrange said. "It also means respecting those who choose to wear a mask."
Global News previously reported that influenza vaccines will be available on Oct. 16 with the new Moderna vaccine formulated to target the XBB.1.5 variant likely to be available at around the same time. On Sept. 12, Health Canada approved the use of the Moderna vaccine.
"More information on immunizations against respiratory viruses including influenza and COVID-19 will be available shortly," the health minister said.
LaGrange said there have been 28 cases of influenza and five lab-confirmed cases of respiratory syncytial virus (RSV) since Aug. 28.
"This is consistent activity for this time of the year," the health minister said in a statement.
The end of August or the beginning of September has typically marked the beginning of flu season for provincial health authorities.
LaGrange also provided an update on the ongoing COVID-19 pandemic in the province.
From Aug. 28 to Sept. 8, there were a total 92 new hospitalizations and three ICU admissions, bringing the total to 417 in hospital and seven in ICU, a 73 per cent increase of COVID hospitalizations from the last reported info.
On July 24 – the last update to the province's COVID data dashboard – there were only 242 in hospital.
"Sadly, five Albertans died during that period due to COVID-19," LaGrange said.
LaGrange said the reporting dashboard is being refreshed to include RSV, influenza and COVID-19 data, work that was originally expected to be completed on Aug. 30. The latest data on the province's influenza statistics dashboard is dated July 22.
"This work is currently underway and will be available in the coming weeks," LaGrange said.
She said data for the dates between July 24 and Aug. 27 will be available when the new dashboard goes online.
Amid more hospitals continent-wide reinstating masking requirements in the face of increased hospitalizations, the health minister made no mention of any such moves for Alberta hospitals. Acute care COVID-19 outbreaks in Alberta jumped from Sept. 5 to 12, with 146 per cent more healthcare workers and 55 per cent more patients testing positive for COVID.
LaGrange stressed the "collective responsibility" to prevent the spread of airborne viruses like COVID and influenza.
"As a mother and grandmother, I understand the anxiety that comes with sending your children back to school. I want to reassure you that Alberta's government has the health and well-being of all young Albertans top of mind," the health minister said.
–with files from Meghan Cobb, Global News