Newfoundland and Labrador reports four new COVID-19 cases, first hospital outbreak – Bowen Island Undercurrent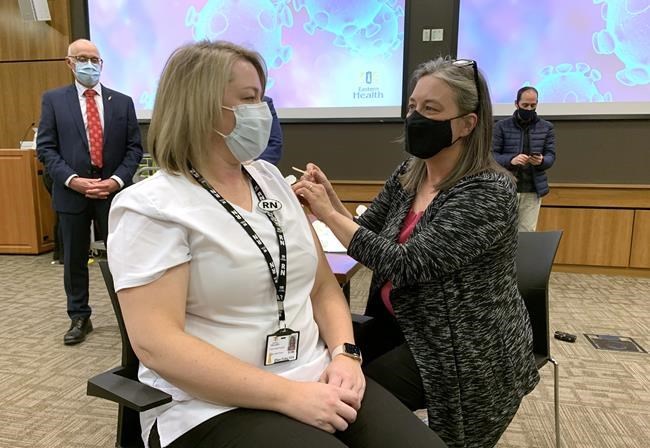 ST. JOHN'S, N.L. — Newfoundland and Labrador health authorities reported four new cases of COVID-19 Friday, as well as the first outbreak at a hospital in the province since the start of the pandemic.
Officials said there were 287 active reported COVID-19 infections in the province, and all but five were in the eastern health region, where authorities have been battling an outbreak in the St. John's area. The outbreak was caused by the B.1.1.7 COVID-19 variant, which was first detected in the United Kingdom.
The Health Department said 11 people were in hospital because of COVID-19 and six more admitted for other reasons had tested positive for the disease. Five COVID-19 patients are in intensive care.
"It's concerning," chief medical officer of health Dr. Janice Fitzgerald told reporters Friday. "There have been reports that this variant can cause more severe disease and looking at our hospitalizations and ICU admissions, we are seeing them a little earlier than expected."
Earlier Friday, the regional health authority's chief executive officer said his team was battling an outbreak in a surgical unit at St. Clare's Mercy Hospital in St. John's. David Diamond would not provide exact numbers but said fewer than 10 people were affected by the outbreak. All of the hospital's staff and patients were being tested for COVID-19, he added.
The entire province has been in lockdown since Feb. 12, when officials first announced the St. John's outbreak was fuelled by the B.1.1.7 mutation.
The outbreak hasn't spread beyond the eastern region of Newfoundland and Labrador and Fitzgerald on Friday said the rest of the province outside the Avalon Peninsula could move to a lower pandemic-alert level. She said people outside the peninsula could expand their close contacts, adding that "Bubbles need to remain small, exclusive and you should only include other people if it is necessary to keep you and them safe and healthy."
The Avalon region, including St. John's, will remain under lockdown for at least the next two weeks, Fitzgerald said.
Like the rest of Canada, Newfoundland and Labrador has experienced shipment delays of the Pfizer-BioNTech vaccine, but Fitzgerald said those hiccups are likely over. Accordingly, she revealed the second and third phase of the province's vaccination plan on Friday.
"If our supply remains as it is, I think, the outlook is good that we'll be able to start Phase 2 in April," she said.
The second phase of the plan prioritizes adults over 60 years old, beginning with those over 80, as well as Indigenous adults, first responders, rotational workers and adults in marginalized populations, such as those experiencing homelessness, Fitzgerald said.
Adults between 16 and 59 years old will be vaccinated in the third phase of the rollout, which is expected to begin this summer, Fitzgerald said. "Every Newfoundlander and Labradorian who can get vaccinated should get vaccinated," she said.
This report by The Canadian Press was first published Feb. 26, 2021.
Sarah Smellie, The Canadian Press
Canada allows Pfizer COVID-19 vaccine for children aged 12-15
(Corrects headline and lead to make clear that Canada was not the first nation as stated by Canadian officials, adds context from Pfizer in fourth paragraph)
By David Ljunggren
OTTAWA (Reuters) –Canada is authorizing the use of Pfizer Inc's COVID-19 vaccine for use in children aged 12 to 15, the first doses to be allowed in the country for people that young, the federal health ministry said on Wednesday.
Supriya Sharma, a senior adviser at the Canadian federal health ministry, said the Pfizer vaccine, produced with German partner BioNTech SE, was safe and effective in the younger age group.
"We are starting to see the light at the end of the tunnel," she told reporters.
Sharma and a health ministry spokesman said Canada was the first country to grant such an approval, but a Canadian representative for Pfizer later said Algeria permitted use of the vaccine for this age group in April. The Canadian health ministry said it had no information about the discrepancy.
The U.S. Food and Drug Administration is expected to take a similar step "very soon," U.S. health officials said.
Separately, authorities reported the third death of a Canadian from a rare blood clot condition after receiving AstraZeneca PLC's's COVID-19 vaccine. The man, who was in his sixties, lived in the Atlantic province of New Brunswick.
Jennifer Russell, the chief medical officer of health in New Brunswick, said the province would continue using the AstraZeneca vaccine. Alberta reported a death from clotting on Tuesday and Quebec announced one on April 27.
"There will be rare cases where thrombosis will occur. However, the risks remain minimal compared to the risks, complications and potential consequences of COVID-19," Russell told reporters.
Canada's federal government has bought tens of millions of doses of vaccines but critics complain the pace of inoculation is lagging due to bottlenecks in the 10 provinces, which are responsible for administering the doses.
Alberta will become the first province to offer COVID-19 vaccines to everyone aged 12 and over from May 10, Premier Jason Kenney said on Wednesday, a day after he introduced tighter public health measures to combat a third wave of the pandemic.
Alberta, home to Canada's oil patch, has the highest rate per capita of COVID-19 in the country, with nearly 24,000 active cases and 150 people in intensive care.
Around 20% of the 1,249,950 cases of COVID-19 in Canada have been reported in people under the age of 19. Canada has recorded 24,396 deaths.
(Additional reporting by Allison Martell in Toronto and Nia Williams in Calgary;Editing by Chizu Nomiyama and Sonya Hepinstall)
Younger people filling up COVID-19 intensive care
By Anthony Boadle
BRASILIA (Reuters) –COVID-19 infections continue to spread fast across the Americas as a result of relaxed prevention measures and intensive care units are filling up with younger people, the director of the Pan American Health Organization (PAHO) said on Wednesday.
In Brazil, mortality rates have doubled among those younger than 39, quadrupled among those in their 40s and tripled for those in their 50s since December, Carissa Etienne said.
Hospitalization rates among those under 39 years have increased by more than 70% in Chile and in some areas of the United States more people in their 20s are now being hospitalized for COVID-19 than people in their 70s.
"Despite all we learned about this virus in a year, our control efforts are not as strict, and prevention is not as efficient," Etienne said in a virtual briefing from Washington.
"We are seeing what happens when these measures are relaxed: COVID spreads, cases mount, our health systems become overwhelmed and people die," she said.
Canada continues to report significant jumps in infections in highly populated provinces such as Ontario as well as in less populated territories of the North and Yukon, home to remote and indigenous communities, according to PAHO.
Puerto Rico and Cuba remain significant drivers of COVID-19 cases in the Caribbean, which is facing a new surge of the virus, PAHO directors said.
Cases are rapidly accelerating in the Guyanas and across Argentina and Colombia, where weekly case counts are five times higher today than they were this time last year and hospitals are reaching capacity in large Colombian cities.
In Central America, Guatemala is seeing significant spikes in cases and Costa Rica is reporting record-high infections.
While vaccines are being rolled out as fast as possible, they are not a short-term solution because they are in short supply, said Etienne, the World Health Organization's regional director.
(Reporting by Anthony Boadle; Editing by Nick Macfie)
Alberta confirms first death linked to AstraZeneca vaccine
Reuters) -The province of Alberta reported its first death of a patient from a rare blood clot condition after receiving the AstraZeneca COVID-19 vaccine, its chief medical officer said.
Canada has reported at least five cases of blood clots following immunization with the vaccine, but public health officials maintain the benefits of the AstraZeneca shot outweigh the potential risks.
The Alberta case, of a woman in her 50s, marks the second case of blood clots, and the only death after more than 253,000 doses of AstraZeneca were administered in the province, Alberta's chief medical officer of health Dr. Deena Hinshaw said in a statement on Tuesday.
"While any death is tragic, it is important to remember that the risks of dying or suffering other severe outcomes from COVID-19 remain far greater than the risk following AstraZeneca vaccine," Hinshaw said.
AstraZeneca did not immediately respond to Reuters' request for a comment.
Canada has had 1,243,242 confirmed coronavirus cases and 24,342 deaths, according to a Reuters tally
Last month, the province of Quebec reported Canada's first death of a patient after receiving the AstraZeneca COVID-19 vaccine.
AstraZeneca, working with the vaccine's inventor Oxford University, was one of the leaders in the global race to develop a COVID-19 vaccine. Its cheap and easily transportable shot was hailed as a milestone in the fight against the crisis, but has since faced a series of setbacks.
The rare complication, which some regulators including Health Canada are calling Vaccine-Induced Prothrombotic Immune Thrombocytopenia, involves blood clots accompanied by a low count of platelets, cells in the blood that help it to clot.
Dozens of countries paused the use of the AstraZeneca vaccine in March after reports of rare, but serious, blood clots. Several of them have now resumed use either fully or with restricions after health regulators said the benefits of the shot outweigh any risks.
(Reporting by Vishwadha Chander and Sabahatjahan Contractor in Bengaluru, Editing by Sherry Jacob-Phillips and Angus MacSwan)