Newfoundlander Takes New Position with Hubble Space Telescope – VOCM
Newfoundlander Bethany Downer has added an impressive new title to her resume.
Downer, who has been training for a foray into space, has started a new position as the Chief Communications Officer with the Hubble Space Telescope.
She's been working with the Hubble Space Telescope with the European Space Agency for the last two years.
It's #Monday and you know that that means: A new #Hubble image! Today we featured NGC 1947. Roughly 40 million light-years away, this galaxy shows off its structure by backlighting its remaining faint gas and dust disc with millions of stars.

Learn more: https://t.co/njOIRpNbdh pic.twitter.com/vjKbq7jX1G

— Bethany Downer (@BethanyAstro) December 21, 2020
Now Downer is responsible for all the outreach for the telescope from the European Space Agency side of things. That involves taking the raw data gathered by the telescope and finding ways to communicate that to the public.
Downer says the telescope, which was launched in 1990, has been "blowing the science community away" with the images and data it's collected.
As for her own trip into space, Downer says that may be another few years down the road, but she's confident it will be sometime in the next five to ten years.
Find the European Space Agency's Hubble calendar at this link.
---
Bethany Downer spoke with Ben Murphy on the VOCM Morning Show. Listen below:
---
Axiom sends first fully private crew to the ISS in 2022 – SpaceWatch.Global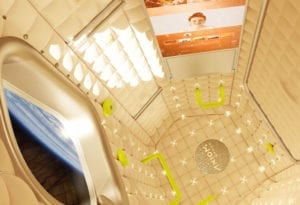 Luxembourg, 27 January 2021. – Pretty starck: The start-up Axiom Space wants to send the first fully private crew to the International Space Station (ISS) on its upcoming AX-1/ SpaceX mission next year, the firm announced.
Michael López-Alegría, a former NASA astronaut and Axiom Vice President, will command the flight, joined by the former Israeli fighter pilot Eytan Stibbe and two private investors, the U.S. real estate entrepreneur Larry Connor and the Canadian investor and philanthropist Mark Pathy, the Houston-based space start-up Axiom said.
The AX-1 mission is scheduled for January 2022. According to media reports and industry sources, the mission costs $55 million per person.
Axiom Space wants to replace the ISS and launch the first private outpost into Low Earth Orbit, as a "commercial laboratory and residential infrastructure in space that will serve as a home to microgravity experiments, critical space-environment materials testing, and private and professional astronauts alike", as the firm says.
Philippe Starck designed the station's interieur, the "Axiom crew accommodations", an egg-like structure symbolizing "nest-like comfort" with "unobstructed views of our home planet", Axiom says.
First ever baby T-rex fossils found in Alberta | News – Daily Hive
For the first time ever, the fossils of a baby Tyrannosaurus Rex have been discovered.
Researchers were able to find a small toe claw in Morrin, Alberta, and a jawbone in Montana.
The findings were published in a study, led by Greg Funston, on Monday, January 25, in the Canadian Journal of Earth and Sciences.
When the team first began their dig, it wasn't even the T. Rex they were searching for.
"Our research in Morrin, Alberta, was looking for troodontid (raptor dinosaurs) material, and investigating potential reasons for why a couple [of] sites had an abundance of their teeth while being rare in other locations," Mark Powers, a University of Alberta Ph.D. student, and the second author on the study told Daily Hive. "It wasn't even on our radar," he added.
During their dig, they discovered the small claw and began the careful process of collecting it from the ground.
"It involved taking bags of sediment from the site and then breaking it down with water while sifting through the material. Once it was collected, it became a test of our hypothesis that it was a tyrannosaur," said Powers.
"To do this, we looked at as many fossils of animals that existed in the same rocks and time, to see if we could falsify our diagnosis. This process is important in order to give as accurate an identification as possible. It is also one of the most fun processes! You basically get to be a detective examining all the clues you have available," Powers added.
There have been thousands of isolated T-Rex bones found, but never at an embryonic stage. There are many factors why finding these fossils at such a young age is incredibly rare.
"Tyrannosaurs grew rapidly, so even at 3 years of age, they were already wolf-sized or bigger," said Powers. "Small animals are thought to break apart or become lost or destroyed before they can preserve. This makes it challenging to find specimens that are either embryonic or freshly hatched. The delicate skeletons were likely broken up by running water or scavenging from predators before they settled in a position where they could fossilize."
While there are already dozens of Tyrannosaur skeletons, finding the fossils of one so young will provide more understanding of the carnivorous dinosaur.
"This gives us a starting point for the ontogeny (growth) of tyrannosaurs. It will allow for more comprehensive studies of their growth and provide a slough of additional avenues of research," said Powers.
The baby rex won't have a name, but could possibly be given one once the specimen is on display. Unofficially, Mark Powers has already given the little dinosaur a placeholder name.
"As of right now, I would give it the title of Tiny Tyrannical Tyke. Alliterative titles are always catchy," said Powers.
Babies from famed carnivorous dinosaur group were 'born ready' to hunt – Toronto Sun
Article content continued
Both are slightly smaller cousins of Tyrannosaurus rex. The largest-known tyrannosaurs topped 40 feet (12 metres) long and 8 tons in weight.
The jaw possesses distinctive tyrannosaur traits, including a deep groove inside and a prominent chin.
University of Edinburgh paleontologist Greg Funston, lead author of the research published in the Canadian Journal of Earth Sciences, said the scientists were amazed at how similar the embryonic bones were to older juvenile and adult tyrannosaurs and noted that the jaws boasted functional teeth.
"So although we can't get a complete picture, what we can see looks very similar to the adults," Funston said.
It appears that tyrannosaurs, Funston added, were "born ready to hunt, already possessing some of the key adaptations that gave tyrannosaurs their powerful bites. So it's likely that they were capable of hunting fairly quickly after birth, but we need more fossils to tell exactly how fast that was."