NHL, players ratify Return to Play Plan, six-year CBA amid COVID-19 uncertainties – TSN
Game on.
Well, almost.
The NHL Players' Association and the NHL's Board of Governors voted overwhelmingly on Friday to ratify a sweeping agreement that includes a six-year Collective Bargaining Agreement and a Return to Play Plan that brings hockey back after a historic, 142-day pause.
According to sources, the NHLPA's full membership voted 502 to 135 with 78.8 per cent in favour, while the league's vote was unanimous, as expected. Both only required simple majorities to pass.
NHL commissioner Gary Bettman lauded the stakeholders involved "for coming together under extraordinary circumstances for the good of our game."
"This agreement is a meaningful step forward for the players and owners, and for our game, in a difficult and uncertain time," NHLPA executive director Don Fehr said in a statement.
Now, after months of heavy lifting with two sides hammering out the game's first peace-time labour agreement in three-plus decades, the NHL's real dance on thin ice begins.
The NHL's owners have said 'yes.' The NHL's players have said 'yes.' Now, they only need the cooperation of a virus that has claimed the lives of more than a half million people worldwide over the past six months.
Yes, the road back to the rink is one paved in peril, but the lure of hockey's holy grail and more than a 100 years of history is on the other side.
I'm back.

— The Stanley Cup (@StanleyCup) July 10, 2020
The NHL and NHLPA must safely navigate the arrival of 744 players and hundreds of staffers in two secure 'bubbles' in Toronto and Edmonton and avoid a mass-outbreak of COVID-19 in order to drop the puck in three weeks from Saturday on Aug. 1.
Once settled inside, the NHL is confident its strict protocol will minimize the risk of an outbreak in an effort to award the Stanley Cup by Oct. 4 in Edmonton. Every player and every person – from team staff to hotel housekeepers – who has a chance of coming in contact with a player will be tested daily. Any positive test will require isolation and contact tracing. The NHL says it can manage individual or multiple isolated positive tests, but it has not defined what it would take to put play on pause again or put a pin in the bubble, either due to health risks or the integrity of the game.
"While we have all worked very hard to try to address the risks of COVID-19, we know that health and safety are and will continue to be our priorities," Bettman said Friday.
Cautiously make it through training camp. Then into the bubble without many flare-ups.
Then Giddy Up.
What awaits is March Madness on steroids. The blood-and-guts intensity of the Stanley Cup playoffs, for 14 hours a day, for nine days straight. And then the first round begins.
To start, it will be games from 12 noon well past midnight in the East – or longer with the delirious joy of playoff overtimes.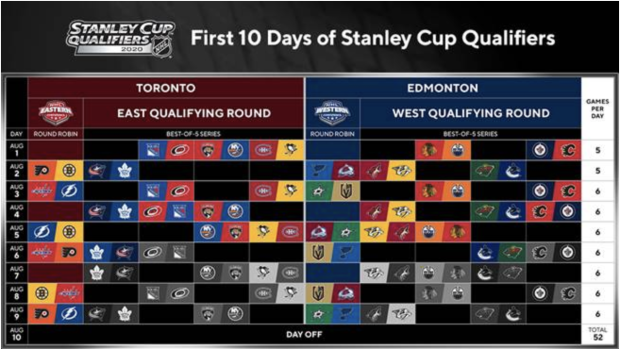 The NHL's top eight teams will battle each other in round-robin games for seeding, while the other 16 teams will fight in a best-of-five to see who survives to the first round of the Stanley Cup playoffs. Then a traditional, 16-team playoff with four rounds decided by best-of-seven, will take over as planned.
Everyone, even the losing teams, have something to look forward to in the qualifying round.
Every player in the hubs will have the day off on Aug. 10, when the Draft Lottery is scheduled to take centre stage. The eight teams that fail to qualify for the playoffs will go home with an equal 12.5 per cent chance at the No. 1 overall pick and Alexis Lafreniere.
With Oct. 4 scheduled as the last possible day of the Stanley Cup Final, the 2020 NHL Draft is tentatively slated for Oct. 9-10 and will likely be held virtually.
Until then, with the only travel scheduled for when the Toronto hub victors shift to Edmonton by Sept. 8 to begin the Conference Finals, the NHL plans to zoom through each round as quickly as possible in order to minimize time spent in the bubble.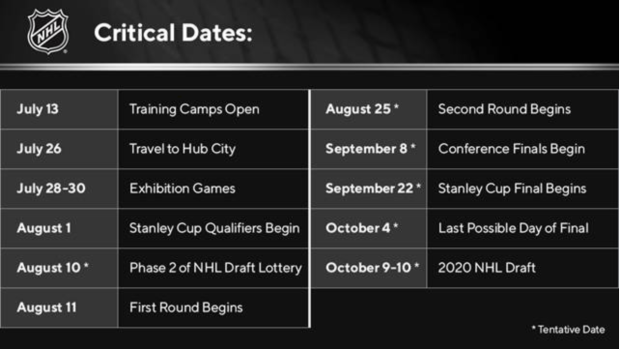 There will be sacrifice for all involved. Players advancing will go a minimum of five weeks away from their families before they are permitted to enter the bubble during the Conference Finals. The hundreds of staffers and officials will not have the same opportunity.
The motivation to complete the 2019-20 season in the face of a pandemic is undoubtedly driven by business. More than $400 million USD is at stake in a two-month tournament, plus the priceless tradition of carrying on the Stanley Cup.
The NHL and its players have faced the grim financial reality that remains. The new six-year CBA, which guarantees labour peace through at least 2025-26, is not a rosy one for the players. It's akin to an adjustable rate mortgage – with the players paying back the owners a nine-figure promissory note – with the resulting escrow cap serving as the interest rate.
During that time, the players' house won't appreciate much in value because there is little room for growth with a relatively frozen salary cap for much of the next four or five seasons. Only the NHL's best and brightest stars won't feel the cap crunch coming.
The trouble for the players – and really the hawk owners who wanted the entire amount owing from players to be paid back now on the spot – was that there wasn't much of a viable alternative.
That meant Friday, even with more than a fifth of the NHL's players expressing their dissatisfaction, was the next in a series of critical (if not plodding) steps forward to get the game going again.
Some 368 days after the season started, Lord Stanley's chalice awaits now – if COVID can cooperate.
Contact Frank Seravalli on Twitter: @frank_seravalli
Maple Leafs must add proven defenders, move on from all-offence identity – Sportsnet.ca
TORONTO — Uncle.
Enough.
It's time.
The Toronto Maple Leafs need defencemen. Plural. And, God bless Rasmus Sandin and Timothy Liljegren, but they need some defencemen who are proven.
Yes, that means they might cost more than $700,000. Yes, that means subtracting some cap-allotted dollars from the most expensive top-nine forward outfit in the sport.
Do you know what the NHL's top nine defensive teams in 2019-20 all have in common?
They're all alive and well in the playoffs. The real ones that start Tuesday. And that group includes the Columbus Blue Jackets.
Do you know what the bottom 10 defensive teams in 2019-20 all have in common?
They're all eliminated. And that group includes the Maple Leafs, who lost Sunday's decisive Game 5 by a score of 3-0.
We've beat this drum before, like on the night Mitch Marner signed a contract rich enough to give Kyle Dubas's lottery-bound squad the top three highest-salaried forwards in hockey. But circumstances have changed.
First and foremost, Dubas's hefty financial commitments to John Tavares, Auston Matthews, William Nylander and Marner were all made on the (reasonable) assumption that the salary cap would not only continue to rise with each passing Canada Day but that it could take a dramatic spike when the next U.S. broadcast deal kicked in.
That, of course, is no longer the case. The cap will remain flat until the virus decides otherwise.
Second, instead of taking a step forward, the Leafs — as a whole — have stumbled back. More than half the NHL is still bubbled up and playing for the Stanley Cup. They are not.
The Nazem Kadri trade, though explainable at the time, was a whiff. When push came to shove, rookie coach Sheldon Keefe took Tyson Barrie off the No. 1 power-play unit and replaced him with Morgan Rielly. Alexander Kerfoot's third line wasn't awful, but he and Kasperi Kapanen were both handed nice raises last summer. Neither scored a playoff goal, despite Keefe's proclamation that he expected production throughout the lineup.
During the regular season, Toronto has been one of the most dangerous clubs at even strength that money can buy.
The post-season is a different beast. One that has gnawed on this core for four years in a row, no matter who's behind the bench or how much ice time the stars are handed.
As the buzzer sounded in a hollow home arena Sunday night and Toronto joined the budget-conscious, punchline Florida Panthers as the only two franchises of the salary-cap era yet to survive a single playoff series, a few snapshots spoke volumes:
• Matthews, Marner and Tavares bent over their sticks, gasping for breath after playing 21-plus minutes apiece and still failing to score a fourth even-strength goal for Toronto over five games.
• A dour Matthews — arguably the series MVP in a losing cause — politely saying he didn't want to explain the trend he saw in the core's 0-for-4 performance in playoff series.
• And Keefe praising the Blue Jackets forwards for being so good and bringing up luck. "A little more luck, and it might be a different result," Keefe said, noting his team scored on fewer than two per cent of its shots 5-on-5.
Because Dubas built his roster as the counter argument to "defence wins championships," Keefe spent three months of quarantine and the entirety of reset camp tweaking his system and urging his players to buy into improved own-zone play by all five guys.
For the most part, it worked. The Leafs did a decent job keeping Columbus out of the danger areas and shut the Jackets out in Game 2. Yet it came at the expense of their identity, their strength.
"I'll be thinking about this one for a while," a sombre Keefe said post-game.
The Leafs will pack their Louis bags and carry a 5-on-5 goal drought of 182:46 in game clock into 2020-21.
A desperate Keefe tried to make William Nylander a centre. He bumped one of the game's best forecheckers, Zach Hyman, to Line 2, and stacked his top line. He threw surprise Andreas Johnsson into the mix, even though the winger hadn't played since before Valentine's Day.
The coach second-guessed his own decisions and deviated from the centre depth that was supposed to attack in unrelenting waves.
That's what solid, committed defences do to their opponents. They frustrate them. Make 'em blink.
"We can't lose sight of who we are as a team," Keefe said prior to Game 1, prophetically. "We need to be really good offensively."
Conversely, John Tortorella's group rolled out the same game plan night after night. No secrets to the recipe: Hard work. Heart. Two good goalies. And plenty of quality defencemen who couldn't care less about their point totals.
"We're not changing," Tortorella said of Game 4's epic collapse. "We pissed it away on a couple of bad plays and just within a couple of minutes, [but] we thought we played a good game. We're going to go play the same way."
And they did.
Not only did Toronto's regular-season deficiencies on the blueline have Keefe and the Leafs second-guessing their own game plan, but the loss of Jake Muzzin — the club's best pure defender — for Games 3, 4 and 5 underscored an organizational crisis.
If you truly have Stanley Cup expectations, one injured defenceman should not be a critical blow against a middle-of-the-pack opponent.
For 2020-21, Dubas has already committed $52 million to NHL forwards. On defence? Just $15 million.
That gap has to close. The Maple Leafs' blue line needs more depth.
It's time.
Enough.
Uncle.
Danielle Kang wins second straight event as Lydia Ko collapses at Marathon – Golf Channel
SYLVANIA, Ohio – Five shots behind with six holes to play, Danielle Kang won her second straight LPGA tour event on Sunday when Lydia Ko made double bogey on the final hole in the Marathon Classic.
Kang began her rally with consecutive birdies on the 13th and 14th holes at Highland Meadows, and then all she needed were pars the rest of the way for a 3-under 68, all because of Ko's shocking collapse.
Ko was poised to end two years and 44 tournaments without a victory. She made bogey on the 14th hole, and with Kang's birdies, the lead suddenly was down to two. Ko dropped another shot on the 16th, and caught a break when Kang was in position for birdie on the par-5 17th and had to settle for par.
---
Full-field scores from the Marathon LPGA Classic
---
But on the closing par 5, Ko fell apart. She hit her chip through the green. With a slightly uphill lie in patchy rough, Ko muffed the chip and watched it roll into a bunker. She blasted that out to 10 feet and missed the putt that would have forced a playoff. She wound up with a 73.
Jodi Ewart Shadoff, in contention for the second straight week but still without an LPGA victory, played bogey-free after the opening hole for a 67. She wound up in a tie for second with Ko.
Ko reached No. 1 in the world as a teenager and now is outside the top 50. Her back had been troubling her all week, but this appeared to be more about nerves.
Kang finished at 15-under 269 in winning for the fifth time in her LPGA career.
The two-time U.S. Women's Amateur champion won last week when the LPGA resumed its schedule at tough Inverness Club in nearby Toledo, site of next year's Solheim Cup.
Now, Kang is a back-to-back winner and has established herself as the top American player.
Minjee Lee finished eagle-birdie for a 68 to finish alone in fourth.
The LPGA, which resumed after six months because of the pandemic, now heads to Scotland for two weeks for the Ladies Scottish Open and the Women's Open Championship.
Blues will play Canucks in Western Conference First Round – NHL.com
The St. Louis Blues will play the Vancouver Canucks in the Western Conference First Round of the Stanley Cup Playoffs.
St. Louis, which won the Stanley Cup last season and finished first in the Western Conference during the regular season, was 0-2-1 in the round-robin portion of the Stanley Cup Qualifiers to finish as the No. 4 seed in the West. Vancouver eliminated the Minnesota Wild in four games in a best-of-5 series and will be the No. 5 seed.
Game 1 is Wednesday (10:30 p.m. ET; NBCSN, CBC, SN, TVAS).
"Vancouver has a lot of young guys who are really good players, (have) a lot of speed," Blues coach Craig Berube said. "They're a dangerous team offensively, they really come at you with speed. We're going to have to do a good job of checking, doing the right things. And they also have a good power play. We took too many penalties (in the round-robin), so it's important we have to stay out of the penalty box."
[RELATED: Stanley Cup Playoffs first-round schedule]
Ryan O'Reilly led the Blues with three assists, and David Perron and Colton Parayko each scored two goals in the round-robin. Jordan Binnington was 0-2-0 with a 4.10 goals-against average and an .895 save percentage. Jake Allen allowed one goal on 38 shots in a 2-1 shootout loss to the Dallas Stars on Sunday.
Quinn Hughes scored six points (one goal, five assists) for the Canucks in the Qualifiers, which Vancouver entered as the No. 7 seed. Bo Horvat (two goals, two assists), Elias Pettersson (one goal, three assists) and Christopher Tanev (one goal, three assists) each scored four points. Jacob Markstrom was 3-1-0 with a 2.27 GAA, .926 save percentage and one shutout.
"They're both really good teams," Canucks coach Travis Green said prior to knowing their opponent. "I mean, it's pretty obvious when you've watched them play the last few years, a Stanley Cup winner (St. Louis) and a team that was on the verge of going to the Stanley Cup (Dallas), so whatever team we play it will be a good matchup, a hard matchup."
St. Louis was 1-1-1 against Vancouver this season. Five players scored two points each, including a goal and an assist each from Tyler Bozak, Alex Pietrangelo and Jaden Schwartz. Binnington was 1-0-1 with a 1.87 GAA and .939 save percentage. Allen allowed two goals on 25 shots in a 3-1 loss on Jan. 27.
"We definitely didn't play our best in these three (round-robin) games, but I think we progressively got better," Allen said. "… We need to home in on Vancouver. It's going to be a good challenge for us."
J.T. Miller led the Canucks with four points (three goals, one assist) against the Blues, and Horvat scored two goals. Markstrom allowed two goals on 27 shots in a 2-1 shootout loss on Nov. 5. Backup Thatcher Demko was 2-0-0 with a 1.92 GAA and .946 save percentage.
"You look at it, both teams, St. Louis, Dallas, one is a Stanley Cup champion team, so they definitely know what it takes, and Dallas has a lot of experience, and both definitely more than us," Canucks forward Tanner Pearson said. "So whoever it is, it's definitely going to be a big task and hopefully a pretty good series."
This will be the fourth playoff series between the teams. Vancouver won each of the previous three, including the most recent in four games in the 2009 Western Conference Quarterfinals.
This is Vancouver's first postseason appearance since 2015. The best-of-7 series will be played at Rogers Place in Edmonton, the hub city for the Western Conference.
NHL.com staff writer Tracey Myers and independent correspondent Kevin Woodley contributed to this report