No long-distance travel till 2022 for Australians – and that's IF POPULATION-WIDE vaccine is rolled out next year, budget predicts – RT
Australians weary of restrictions are out of luck, as the country's new budget predicts social distancing will continue for two years and long-distance travel is to remain off-limits until everyone is able to get a Covid-19 jab.
Widespread adoption of a vaccine for the novel coronavirus will be a prerequisite for Australians being able to travel long distances again, according to the country's new budget that was unveiled on Tuesday. Until that vaccine is rolled out, they can expect social distancing, intermittent lockdowns and a stagnant economy.
"It is assumed that over the forecast period material localised outbreaks of COVID19 occur but are largely contained. A populationwide Australian COVID19 vaccination program is assumed to be fully in place by late 2021. General social distancing restrictions are assumed to continue until a vaccine is fully available," reads the part of the document titled "Key assumptions."



Also on rt.com
Victoria's creeping totalitarianism is based on wild overreaction to Covid, and the rest of the world is going down the same path




The budget papers' attempt to put a positive spin on travel-loving Australians being confined to the continent is to pour $250 million into encouraging anyone feeling wanderlust to explore "their own backyard" – i.e. the rest of Australia. State borders are expected to be open by Christmas, except for Western Australia, which is projected to remain closed until its election in March.
PM Scott Morrison hinted that while long-distance international travel will remain off-limits for the foreseeable future, "our borders will open up at some point to safe locations whether it be New Zealand or parts of the Pacific or places like South Korea or Japan or countries that have had a much higher rate of success" in containing the virus, speaking to reporters on Tuesday.
Overseas travel of any kind is currently banned until December 17, but there are tentative plans in place to create a "travel bubble" with New Zealand that would allow Aussies to visit the neighboring islands by January or February.
With one in every 13 Australian jobs relying on tourism, the collapse of the industry has hit the nation hard, plunging it into the worst recession since World War II. The budget forecasts a $213.7 billion shortfall – but is nevertheless moving up a pair of tax cuts that were set to take effect in 2022 to July.
Despite optimistic predictions that the vaccine will resurrect the moribund Australian economy, the forecast suggests debt will more than double from last financial year by 2024 – but says this level of red ink is "sustainable" and "low in comparison to most other advanced economies."



Also on rt.com
Victoria police filmed handcuffing PREGNANT beachgoer as state authorities consider extending lockdown rules




Parts of Australia – particularly the state of Victoria – have adopted the harshest coronavirus control measures seen since China lifted its lockdown of Wuhan. Despite a relatively low infection rate compared to countries like the US and UK, Victorian Premier Dan Andrews has earned the nickname 'Dictator Dan' for locking down entire public housing complexes, permitting the preemptive arrest of "high-risk persons," and deploying heavily armed police to break up peaceful gatherings.
Nationwide, PM Morrison told reporters a vaccine rollout would be "as mandatory as you can possibly make it" in August before walking back the comments in the face of criticism. Nevertheless, with a target of 95 percent uptake, it's expected to be strongly encouraged – particularly if widespread uptake is seen as a requirement to reopen the borders to international travel. The budget papers set a timetable for a late 2021 rollout – after which an extraordinarily-optimistic recovery marked by 4.25 percent growth is expected to take place.
If you like this story, share it with a friend!
1 New Case Of COVID-19 In Windsor Essex As Of Monday – windsoriteDOTca News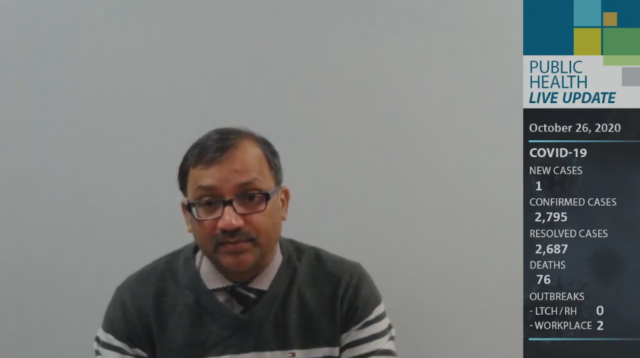 The Windsor Essex County Health Unit has announced 1 new case of COVID-19 as of Monday, bringing the local total to 2,795. They say 2,687 people locally have recovered.
Cases increased from 2,794 on Sunday October 25th to 2,795 on Monday October 26th and 32 cases of COVID-19 are currently active in Windsor-Essex.
The Health Unit says Monday's one new case is still under investigation.
Article Continues Below Local Sponsor Message
There have been no additional deaths due to COVID-19 as of Monday and the local death toll stands at 76.
As of Monday, the Health Unit lists 1 person as hospitalized with a confirmed case of COVID-19 in Windsor Essex, and 1 person in the ICU. Zero hospitalizations are listed at Windsor Regional Hospital.
Workplace Outbreaks
As of Monday, the Health Unit says the following workplaces are under outbreak:
1 construction company (in Lakeshore)
1 food & beverage services company (in Kingsville)
A workplace outbreak is declared when two or more employees test positive for COVID-19 within a reasonable timeline to suspect transmission in the workplace, according to the Health Unit. Officials with the Health Unit have said a workplace will only be named if a threat to the public exists.
Ant Group raises $34.4 billion in the biggest IPO of all time – CNBC Television
[unable to retrieve full-text content]
Ant Group set to surpass Aramco as biggest-ever IPO – Aljazeera.com
Jack Ma's fintech giant Ant Group is set to raise $34.5bn through initial public offerings in Shanghai and Hong Kong – a listing that will rank as the largest ever.
Jack Ma's Ant Group Co is set to raise about $34.5 billion through initial public offerings in Shanghai and Hong Kong, a blockbuster listing that will rank as the biggest IPO ever and make it one of the most valuable finance firms on the planet.
The fintech giant will have a market value of $315 billion even before exercising its greenshoe option, based on filings Monday. That's about the same valuation as JPMorgan Chase & Co. and four times larger than Goldman Sachs Group Inc.
The IPO is attracting interest from some of the world's biggest money managers, and sparking a frenzy among individual investors in China clamoring for a piece of the sale. In the preliminary price consultation of its Shanghai IPO, institutional investors subscribed for over 76 billion shares, or over 284 times of the initial offline offering tranche, according to Ant's Shanghai offering announcement.
"This was the first time such a big listing, the largest in human history, was priced outside New York City," billionaire founder Ma told the Bund Summit in Shanghai Saturday. "We wouldn't have dared to think about it five years, or even three years ago."
Such demand puts the much-anticipated IPO on track to surpass Saudi Aramco's $29 billion sale last year. Ant priced its Shanghai stock at 68.8 yuan ($10.27) apiece and its Hong Kong shares at HK$80 ($10.32) each. The company may raise another $5.17 billion if it exercises its greenshoe options.

This is "a homecoming for capital markets in Shanghai and Hong Kong," said existing investor John Ho, founder of Janchor Partners. Ho, who invested $400 million in Ant two years ago, added that he's trying to secure a bigger allocation of the Hong Kong shares and that being able to invest in Ant "is priceless."
T. Rowe Price Group Inc., UBS Asset Management and FMR LLC, the parent of Fidelity Investments, are among the money managers angling for a piece of the deal, a person familiar with the matter has said. Hong Kong stockbrokers are so confident Ant IPO will go smoothly that they're offering to let mom-and-pop investors buy the stock with as much as 20 times leverage.
"The investment thesis of Ant is a systemic valuation transfer from mainstream Chinese financial institutions such as banks to a platform that's data-driven, with a huge network effect, and enjoying almost zero marginal costs of cross-selling," said Nick Xiao, CEO of Hywin International, the Hong Kong arm of Hywin Wealth which is helping rich individuals buy shares of Ant. "Every bank and securities house and fund manager will have to plug into it, while every consumer, corporate or individual, cannot live without it."
The fintech giant that runs the Alipay platform is charging ahead with its landmark offering just days ahead of the U.S. election. The Hong Kong listing day will be on Nov. 5., only two days after the U.S. vote, an event that could spark market volatility if the vote is disputed or counting delayed.
Ant has picked China International Capital Corp. and CSC Financial Co. to lead its Shanghai leg of the IPO. CICC, Citigroup Inc., JPMorgan. and Morgan Stanley are heading the Hong Kong offering. Existing Ant shareholders won't be able to sell shares for six months, according to the filings.

The company will issue no more than 1.67 billion shares in China, equivalent to 5.5% of the total outstanding before the greenshoe, according to its prospectus on the Shanghai stock exchange. It will issue the same amount for the Hong Kong offering, or about 3.3 billion shares in total.
Alibaba Group Holding Ltd., which was co-founded by Ma and currently owns about a third of Ant, has agreed to subscribe for 730 million of the Shanghai shares, which will be listed in Shanghai under the ticker "688688," according to the prospectus. Alibaba will hold about 32% of Ant shares after the IPO.
(Updates with quotes and details throughout.)
© 2020 Bloomberg L.P.