No new talks in Island forestry strike, but media blackout remains – Vancouver Sun
A strike at Western Forest Products on Vancouver Island has entered its seventh month.
VICTORIA — A strike at Western Forest Products that's put more than 3,000 employees out of work has entered its seventh month, with the only change being a "media blackout" in place to protect negotiations that aren't happening.
No bargaining sessions have been held since the latest talks between Western Forests Products and striking United Steelworkers Local 1-1937 employees broke down on Dec. 17, despite a letter from Minister of Labour Harry Bains to both sides on Dec. 20 that asked they return the table over the holidays.
Instead, 20 days after Bains' letter, the government said Wednesday all sides should continue to refrain from making public comments about what has become the longest strike in coastal forest history. Roughly 3,000 employees are affected, as well as thousands of additional contractors, forestry-related companies and community businesses.
"The mediators continue to work with both the company and the union and have asked that parties not comment while this work is ongoing," Bains said in a statement Wednesday. "We are hopeful and expectant that they find a resolution to their impasse and get workers back on the job for the sake of workers and their families, and the communities in which they reside."
Western Forest Products has publicly called for government intervention in the strike. The province has the power to call an industry inquiry commission, legislate a cooling-off period, ask mediators Vince Ready and Amanda Rogers to craft a new contract, or legislate an end to the strike.
The Steelworkers, which are the largest donor to the B.C. NDP and funded its 2017 election campaign, have demanded the province stay out of the dispute. So far, it has.
"I know that it is not lost on anyone at Western that as we enter the new year, we also enter the seventh month of this strike, and the profound impact that has had on our people, their families and communities continues to be of concern," the Western Forests vice-president of human resources, Jennifer Foster, wrote in an internal message to company employees Wednesday.
"You may have read in the media the mediators were to call the parties back to the table. While I remained in contact with the mediators since the last strike update and throughout the holidays, at this time no new talks have been scheduled.
"We will continue to do our best to find the right balance between respecting the process and keeping employees informed."
Steelworkers B.C. director Steve Hunt, who is not on the bargaining committee with his union's local, said there remains "an earnest attempt to bring the dispute to resolve."
"This is straight-old-hard bargaining, this is what it is," Hunt said Wednesday. "When it's straight-old-hard bargaining, there's always the ability to talk and you don't have to be at the bargaining table.
"There is an ability at any time for the parties to get back together and talk. We haven't slammed doors and hung up."
Port McNeill Mayor Gaby Wickstrom, whose forest-dependent community has been particularly hard hit by the strike, said she's again written to Bains this week to ask him to intervene. Families, businesses and employees are being financially devastated by the length of the dispute, she said.
The situation was only made worse when Premier John Horgan told media in mid-December that he was confident the strike could be settled by that weekend, said Wickstrom.
"I think in particular the premier's remarks gave a lot of people hope," she said. "So when they didn't go back (to bargaining), and they heard nothing, and it just continued on, it has changed now to disappointment and even anger. It's like, why would you say something like that to us and then do nothing about it?"
Opposition Liberal forestry critic John Rustad said the NDP government's refusal to intervene is unacceptable.
"The NDP government has a moral obligation to step in and end the suffering of coastal forestry workers, their families and their communities before any more permanent damage is done," he said.
"There are a number of options government could exercise right now but instead, entire communities are being forced to suffer as a result of their inaction."
Facebook, YouTube take down Bolsonaro video over false vaccine claim
Facebook and YouTube have removed from their platforms a video by Brazilian President Jair Bolsonaro in which the far-right leader made a false claim that COVID-19 vaccines were linked with developing AIDS.
Both Facebook and Alphabet Inc's YouTube said the video, which was recorded on Thursday, violated their policies.
"Our policies don't allow claims that COVID-19 vaccines kill or seriously harm people," a Facebook spokesperson said in a statement on Monday.
YouTube confirmed that it had taken the same step later in the day.
"We removed a video from Jair Bolsonaro's channel for violating our medical disinformation policy regarding COVID-19 for alleging that vaccines don't reduce the risk of contracting the disease and that they cause other infectious diseases," YouTube said in a statement.
According to the Joint United Nations Programme on HIV and AIDS (UNAIDS), COVID-19 vaccines approved by health regulators are safe for most people, including those living with HIV, the virus that causes acquired immunodeficiency syndrome, known as AIDS.
Bolsonaro's office did not respond immediately to a request for comment outside normal hours.
In July, YouTube removed videos from Bolsonaro's official channel in which he recommended using hydroxychloroquine and ivermectin against COVID-19, despite scientific proof that these drugs are not effective in treating the disease.
Since then, Bolsonaro has avoided naming both drugs on his live broadcasts, saying the videos could be removed and advocating "early treatment" in general for COVID-19.
Bolsonaro, who tested positive for the coronavirus in July last year, had credited his taking hydroxychloroquine, an anti-malarial drug, for his mild symptoms. While Bolsonaro himself last January said that he wouldn't take any COVID-19 vaccine, he did vow to quickly inoculate all Brazilians.
In addition to removing the video, YouTube has suspended Bolsonaro for seven days, national newspapers O Estado de S. Paulo and O Globo reported, citing a source familiar with the matter.
YouTube did not respond to a separate Reuters request for comment regarding the suspension on Monday night.
(Reporting by Pedro Fonseca in Rio de Janeiro; Additional reporting by Gram Slattery in Rio de Janeiro and Anthony Boadle in Brasilia; Writing by Gabriel Araujo; Editing by Leslie Adler)
Somali drama wins Pan-African film festival grand prize
Somalia's entry "The Gravedigger's Wife" by Finish-Somali writer-director Khadar Ayderus Ahmed won the prestigious Stallion of Yennenga grand prize for best film at the Pan-African film festival in Ouagadougou, Burkina Faso, on Sunday.
The poignant drama about a gravedigger's struggles to raise money to pay for his wife's surgery, took home the 20 million franc CFA ($35,714) prize money and the golden stallion statue.
The film, which was Somalia's first official entry for the Best International Feature Film category at the 2021 Academy Awards, premiered at the Cannes Film Festival in July.
Ahmed, who was not in Ouagadougou to collect his prize, has previously said the film was inspired by incidents that happened in his family.
Mauritanian film director Abderrahmane Sissako, who chaired the jury for the 17 feature films in the competition, told Reuters that it was a courageous movie from a country which does not make a lot of films. "So when there is a film such as this one from there, it should be encouraged."
"It is a beautiful film that tells a story with humanity. It is a love story also," Sissako said after the ceremony presided over Presidents Macky Sall of Senegal and Roch Marc Kabore of Burkina Faso.
The Pan-African Film and Television Festival of Ouagadougou, known as Fespaco, is the largest biannual meeting of African cinema which attracts international and African cinema and television professionals from the continent and the diaspora to the Burkinabe capital.
This 27th edition was postponed by nearly eight months to Oct. 16-23, 2021, due to the COVID-19 pandemic and security challenges the country is facing.
($1 = 560.0000 CFA francs)
(Reporting by Anne Mimault and Thiam Ndiaga; Writing by Bate Felix; Editing by Daniel Wallis)
Media Literacy Week – The Manitoba Teachers' Society – The Manitoba Teachers' Society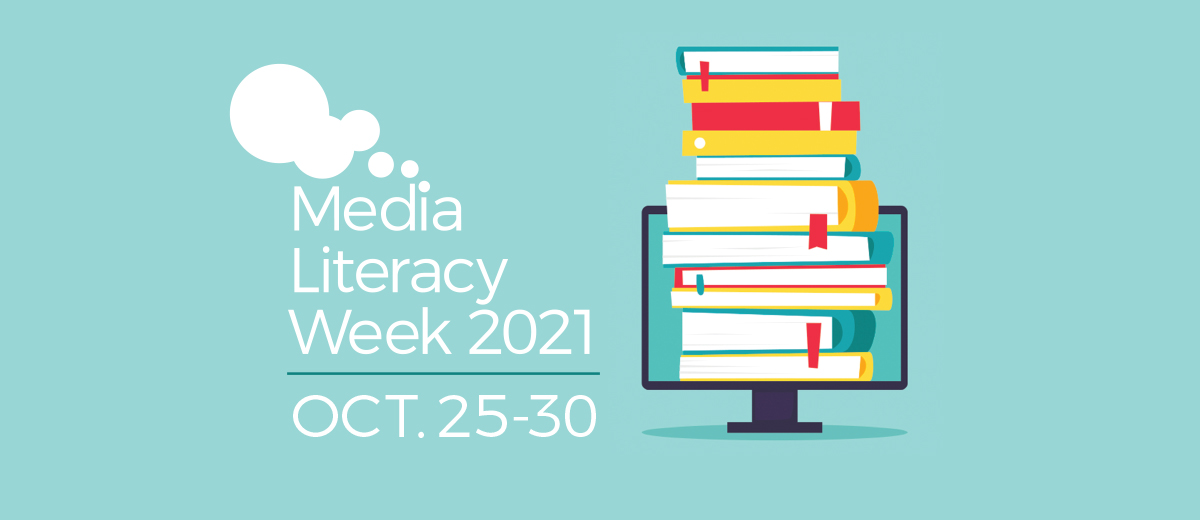 October 25, 2021
---
Be Media Smart
Media Literacy Week Oct.25 to 30
According to a Statistics Canada poll (Canadian Perspectives Survey Series, conducted from Sept. 14 to Sept. 20, 2020) four in 10 Canadians were spending more time on social media and messaging services (41 per cent) since the onset of the pandemic.
Young Canadians aged 15 to 34 (57 per cent) were most likely to have increased their use of social media and messaging services.
As a result, this year's Media Literacy Week aims to put the spotlight on the essential digital literacy skills needed by today's digital citizens.
Hosted by MediaSmarts, Canada's centre for digital and media literacy, the annual event invites all Canadians – teachers, students, seniors, community groups, libraries and museums – to celebrate by engaging in digital media literacy activities.
To celebrate the week, MediaSmarts has also created five themed days with free resources anyone can use and a Media Literacy Week Teachers' Hub with curated lessons and activities for students from kindergarten to Grade 12.
MediaSmarts is also hosting A Conversation About Researching Digital Media Literacy in Canada, which will bring together academics to discuss researching digital media literacy in Canada on Thursday, October 28 at 12:30 p.m. EST.
Media Literacy Week is run in partnership with the Canadian Teachers' Federation (CTF/FCE) and the Canadian Commission for UNESCO (CCUNESCO).
Canada's 16th annual Media Literacy Week runs from Oct. 25 to 30.