No physical distancing needed on flights, but ban washroom lineups: airline trade group – Global News
The trade association for the world's major airlines is proposing a range of measures aimed at relaunching the global air travel industry — including an end to in-flight physical distancing rules — that run counter to the established policies of Canadian carriers and the federal government.
The International Air Transport Association's roadmap to restarting commercial flights — which have dropped off by more than 95 per cent among Canadian airlines due to the COVID-19 pandemic — suggests that passenger face coverings have "obviated" the need for physical distancing on board, that aircraft seats provide a further barrier to viral transmission and that air filtration systems are equivalent to those at hospital operating theatres.
Nonetheless, the trade group backs a ban on washroom lineups to reduce "congregation of passengers" in the cabin.
"If we don't take these first steps in a harmonized way, we will spend many painful years recovering ground that should not have been lost," said IATA director general Alexandre de Juniac.
IATA's other proposed in-flight measures include pre-packaged meals to reduce interaction between passengers and crew and frequent "deep cleaning" of the cabin. But even with those precautions — already in place at most airlines — packing travellers into a plane is "really inviting disaster," said Tim Sly, epidemiologist and professor emeritus at Ryerson University's School of Public Health.
"That's bad enough, putting 250 people in an aluminium cigar tube, all elbow to elbow breathing the same air for two, three, four, five, 10 hours," Sly said in a phone interview.
He conceded modern airplanes have "a heck of a filter system built in," but said masks alone cannot prevent the on-board spread of COVID-19.

3:56


Coronavirus outbreak: Garneau says airlines facing 'very tough times' as customers hope for refunds



"I think we have to be very, very careful," he said, "unless the people sit there with almost a hazmat kind of set-up…connected directly to the air supply above."
[ Sign up for our Health IQ newsletter for the latest coronavirus updates ]
Safety and health authorities have stressed physical distancing on land and in the skies since the outbreak began.
Transport Canada listed "social" distancing among the "key points" in preventing the spread of the virus as part of a guide issued to the aviation industry last month.
"Operators should develop guidance for spacing passengers aboard aircraft when possible to optimize social distancing," the document states.
Air Canada and WestJet Airlines Ltd. — both of which the association counts among its 290-odd members — say their pandemic policies block the sale of adjacent seats in economy class or throughout the entire plane.
"The middle seat on our Boeing 737s and 787 aircraft and every other seat on our Bombardier Q400 has been made unavailable to book to ensure our guests and crew can continue to fly safely and have more space to adhere to social distancing guidelines," WestJet spokeswoman Morgan Bell said in an email.
The policy is in place until June 30, "and we will re-evaluate this initiative as required," she said.
An Air Canada spokesman said that "it is not possible to speculate on the future possibilities."
In its proposal — titled Biosecurity for Air Transport: A Roadmap for Restarting Aviation — IATA recommended temperature screening by government staff at airport points of entry before departure and, if required by authorities, upon arrival.
Temperature checks' effectiveness remains disputed as the virus may still be in an incubation period or manifest only mild or no symptoms when an individual is scanned.
"The more you actually understand this virus, the more you begin to know that temperature-taking is not effective at all," Dr. Theresa Tam, Canada's top public health official, said earlier this month.
"Even if you are infected, we know that the likelihood of picking up someone who is symptomatic is relatively inefficient," she said.
Pre-flight measures should aim to reduce contact points and lines — the defining traits of many passengers' airport experience — through measures such as "redesigned gate areas" and unassisted bag drops with home-printed luggage tags, IATA said.
On arrival, travellers should expect health declarations and automated customs processes that rely on apps and biometric technologies, it added.

2:57


Coronavirus around the world: May 19, 2020



Dr. Paul Pottinger, professor of infectious diseases at the University of Washington's School of Medicine, said face coverings do "the great majority of work" to reduce transmission risk. But "inevitably" some passengers will touch shared armrests or lower their mask to eat, making physical distancing all the more important.
"The proverbial two-metre personal space, that is based on science," Pottinger said. "It is a layer of protection that I envision for all of us regardless of whether you are squeezed into an aluminum tube or walking down the street — the virus doesn't care.
"The question, I think, is not one of viruses and infection, it's one of economics," he said. "Is that risk small enough that people would be willing to pay a price for in terms of the premium on their ticket?"
IATA estimates that revenues generated by airlines in the Canadian market will fall by $14.6 billion or 43 per cent this year as travel remains at a virtual standstill amid border shutdowns and plummeting demand.
© 2020 The Canadian Press
Canada's mortgage insurer tightens rules as it forecasts home-price drop of up to 18% – Financial Post
TORONTO — The government-backed Canada Mortgage and Housing Corp said on Thursday it would tighten rules for offering mortgage insurance from July 1, after forecasting declines of between 9 per cent and 18 per cent in home prices over the next 12 months.
The move would make it harder for riskier borrowers, who offer down payments of less than 20 per cent, to access CMHC's default mortgage insurance.
CMHC is establishing a minimum credit score of 680 instead of the current 600, the group said in an emailed statement.
It will also limit total gross debt servicing ratios to its standard requirement of 35 per cent of annual income, compared with a threshold as high as 39 per cent currently, and total debt servicing to 42 per cent versus as much as 44 per cent now.
The measures will help curtail "excessive demand and unsustainable house price growth," CMHC Chief Executive Evan Siddall said in the statement.
He said COVID-19 has exposed longstanding financial-market vulnerabilities, and "we must act now to protect the economic futures of Canadians."
Some 35 per cent of Canadian banks' mortgages are insured, their financial statements show. CMHC is the top mortgage insurer, while Genworth MI Canada and other private companies also provide similar products.
Despite evaporating activity in the housing market due to the COVID-19 pandemic, prices have continued to rise as listings have fallen off alongside demand.
Home prices across the country rose 1.3 per cent in April from March, and data from Toronto and Vancouver real estate boards showed increases of 3 per cent and 2.9 per cent in May, respectively, from a year earlier.
The CMHC has taken a more bearish view of the housing market than others. Last week, some of Canada's biggest banks forecast maximum price declines of about 7 per cent.
Siddall last week responded to critics of its more dire outlook, saying on Twitter they were "whistling past the graveyard and offering no analysis."
© Thomson Reuters 2020
Canadian Dollar Price Outlook: USD/CAD Grinds Around Big Fig Support – DailyFX
Canadian Dollar, CAD, USD/CAD Price Analysis
This morning brought a Bank of Canada rate decision, this Friday's

economic calendar

brings Canadian jobs numbers to be released at the same time as US Non-Farm Payrolls.

The bank held rates, and given the change in leadership the big question is forward-looking strategy at the bank.

USD/CAD broke down from

a descending triangle formation

, and is now finding support around the 1.3500 big figure. But sellers haven't yet been able to establish any significant trends around that support, leading to the prospect of short-term pullback.
BoC Leaves Rates Flat, USD/CAD Remains Around 1.3500
Earlier this morning we heard from the Bank of Canada as the BoC left rates flat; but the prospect of change in leadership atop the BoC does highlight potential changes in the future after outgoing Bank of Canada Governor Stephen Poloz had previously stated that rates were as low as they could go. Taking over at the bank this week is Tiff Macklem, and as noted by our own Thomas Westwater earlier today, this morning's statement likely had little input from the newly-installed BoC Governor. This does, however, point to the possibility of change on the horizon given how aggressively the coronavirus slowdown has hit global economies.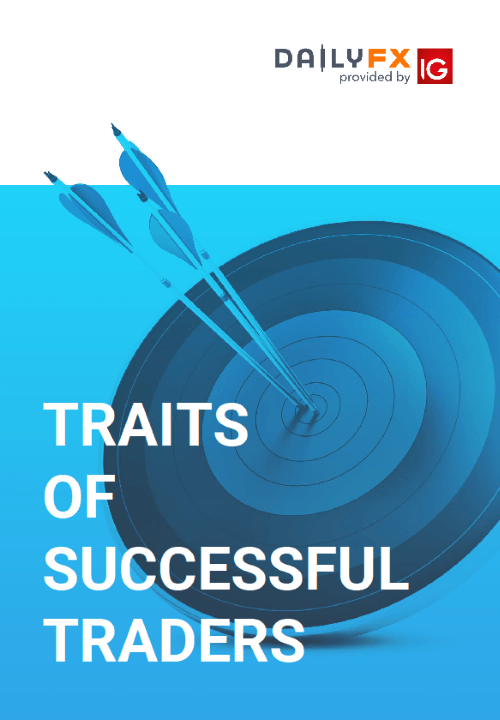 Recommended by James Stanley
Traits of Successful Traders
In USD/CAD, the pair has largely clung on to support around this rate decision, temporarily testing below the big figure of 1.3500 but, so far, failing to establish any continued bearish trends below that level. And this comes on the heels of an earlier-week breakdown, as USD/CAD had built into a descending triangle formation, with a series of lower-highs from late-March into mid-May, combined with horizontal support around the 1.3850 area on the chart.
USD/CAD Four-Hour Price Chart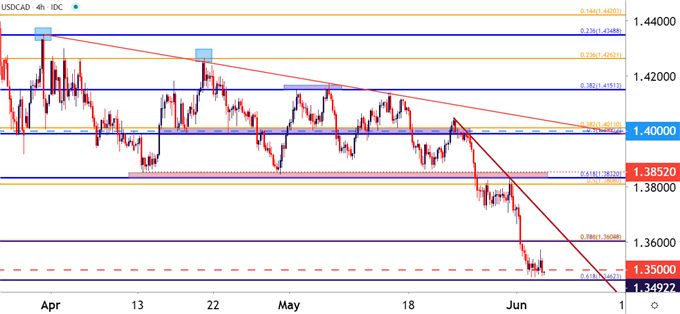 Chart prepared by James Stanley; USDCAD on Tradingview
Can USD/CAD Bears Drive Through Psychological Support?
Of recent, commodity currencies have been on a tear against the US Dollar, USD/CAD included. AUD/USD has been on a similar display of recent and the same can be said for NZD/USD.
The trouble at this point for USD/CAD bears is the fact that the short-side move is already fairly well-developed; and prices are showing continued support around the 1.3500 big figure. Can USD/CAD bring sellers in at sub-1.3500 prices to continue pushing lower? Or, will the pair need a retracement first before continuing that bearish trend?
USD/CAD
BEARISH
Data provided by



of clients are net long.


of clients are net short.
| | | | |
| --- | --- | --- | --- |
| Change in | Longs | Shorts | OI |
| Daily | -2% | -5% | -3% |
| Weekly | -9% | -13% | -10% |
On the chart is a nearby area of interest for resistance potential. As looked at in yesterday's webinar, the space around the 1.3600 area seems especially interesting, as there are two very recent Fibonacci levels within close proximity of each other. This is the 61.8% retracement of the 2020 major move, and the 78.6% retracement of the March major move. At this point, that zone hasn't yet been tested for resistance and a show of sellers here could re-open the door for bearish continuation strategies in the pair.
USD/CAD Hourly Price Chart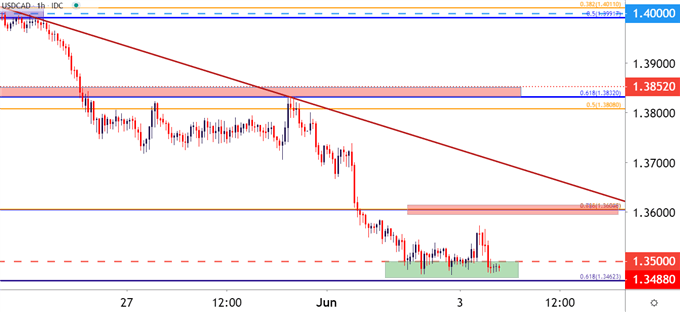 Chart prepared by James Stanley; USDCAD on Tradingview
— Written by James Stanley, Strategist for DailyFX.com
Contact and follow James on Twitter: @JStanleyFX
Canadian trade plummets amid global shutdowns – BNNBloomberg.ca
Canadian exports and imports plunged by the most ever in April amid a shutdown of global trade.
Exports plunged 30 per cent during the month, more than offsetting a 25 per cent drop in imports. The nation's trade deficit widened to $3.3 billion ($2.4 billion), from $1.5 billion in March. The median estimate of economists surveyed by Bloomberg had called for a $3 billion shortfall.
The report illustrates the extent to which global trade has collapsed amid pandemic-related lockdowns and travel restrictions. In Canada's case, the economy is facing a double whammy from the pandemic and tanking oil prices. Combined imports and exports at $68.6 billion were the lowest since 2010.
Energy exports dropped 44 per cent in April, as the value of crude oil shipments fell 55 per cent on lower prices and lower volumes due to weaker global demand.
In volume terms, total exports were down 20 per cent in April, with imports falling 25 per cent.
–-With assistance from Erik Hertzberg.