No politics, please! HK finance professionals impose self-censorship after security law – The Guardian
By Sumeet Chatterjee and Scott Murdoch
HONG KONG (Reuters) – A year ago, growing anti-government demonstrations in Hong Kong were a hot topic in conversations among bankers, lawyers and other investment professionals in one of the world's biggest and freest financial hubs.
On Thursday, two days after China imposed a controversial new security law on the city, you could almost hear a pin drop. Bankers were tight lipped, shunning any mention of the legislation over the phone or messaging apps in a sign of how much disquiet it has triggered.
More than half a dozen people Reuters spoke to said they chose not to talk about the impact of the law on their businesses with their colleagues and external contacts, though there had been no such official instruction from their respective organizations.
The sweeping legislation pushed the semi-autonomous city, which is the regional home for a large number of global financial companies, on to a more authoritarian path.
The law punishes crimes of secession, subversion, terrorism and collusion with foreign forces with up to life in prison.
While it doesn't directly impact the financial sector, its provisions including giving a special police unit extra powers of search, electronic surveillance and asset seizure that have stoked concerns among some professionals.
'IT COULD CHANGE THE WAY WE COMMUNICATE'
Both Hong Kong and Chinese government officials have said the law is vital to plug gaping holes in national security defences exposed by months of sometimes violent protests against the local government and Beijing over the last year.
But critics fear it will crush freedoms and an independent legal system that are seen as key to Hong Kong's success as a financial centre and a gateway between China and the world.
"I was on a call with Singapore colleagues this morning when one of them asked me about the law and its impact on Hong Kong," said an executive at a regional insurance company, who like his peers declined to be identified citing the sensitivity of the matter.
"I had just started when my boss tapped me on the shoulder and asked me to move on to business matters. Later, all our team members in Hong Kong were told to strictly refrain from sharing opinion on this on calls and social media."
While most financial professionals in Hong Kong have long been aware of being tracked by the world's most sophisticated electronic surveillance system when they travel to China, they said they have had no such concerns or need for precautions in Hong Kong.
A corporate lawyer with an international law firm said that could change the way in which people in the former British colony "communicate and correspond" from now on.
"I think some people could become very careful in what they write on Whatsapp and Wechat … as a firm we are not writing anything in any correspondence like that (related to the law) but it could become an issue for some."
Some of the professionals said that they were also reviewing their previous posts on social media related to the pro-democracy protests and the security law, and deleting ones they thought would be viewed as sensitive.
A senior Hong Kong-based wealth manager with an European bank said that he had been advised by his manager to minimize his conversations over messaging apps with his local clients about any political impact on markets and investments.
One financial analyst who was arranging a meeting in a café said it might need to be held somewhere more private if the conversation included the new security law.
"Walls have ears now," he said.
(Reporting by Sumeet Chatterjee and Scott Murdoch in Hong Kong; additional reporting by Jennifer Hughes; Editing by Kim Coghill)
Football and politics: when Algeria won the 2019 Africa Cup of Nations – The Conversation Africa
With African football on hold and the Africa Cup of Nations (Afcon) rescheduled because of the COVID-19 pandemic, there's plenty of nostalgia to go around. But memories of the Algeria's biggest football wins can offer more than just nostalgia. The 2019 Afcon win in Egypt also offers insights into how governments co-opt the game.
Algeria's victory against West Germany in the 1982 FIFA World Cup, still in Algeria's post-independence, was an iconic moment. As was their first Afcon win in 1990 in Algiers.
A decade later the country entered one of its darkest times since independence. Under Abdelaziz Bouteflika – who would serve as president for 20 years from 1999. Political violence caused the deaths of thousands and deeply affected Algerian society.
The 2019 Afcon trophy would be lifted 29 years after the first. This game, in Egypt, is especially worth recalling because of the political circumstances surrounding it. All the elements of a Greek tragedy were in place that day.
---


Read more:
Bouteflika steps aside as Algerians push to reclaim and own their history


---
On the streets
On Friday 22 February 2019, after a campaign on social media following the announcement by the ruling National Liberation Front that an ailing Bouteflika would stand for a fifth term, hundred of thousands of demonstrators took to the street to express their discontent. The prospect of enduring another five years of Bouteflikism was too dire.
Since then, every Tuesday for students, and every Friday after the prayer, Algerians of all ages and regions have returned to the streets. The peaceful protesters want real change, including the end of the army-backed establishment that has ruled since independence in 1962. On March 8, Women's Day, the number of demonstrators, men and women of different age and class in the hirak (the Arabic word for "movement"), reached an unprecedented level.
The army, led by General Major Gaïd Salah, Minister of Defense, pushed for Bouteflika's resignation and the postponement of the election. This led to the disintegration of Bouteflika's high profile entourage, called the essaba (gang), who accumulated colossal fortunes in exchange for financially backing political manoeuvres to maintain Bouteflika's regime.
In the stadia
This money was also used to co-opt sport, football in particular. Each election, photos of Bouteflika would adorn football stadia and be displayed at the opening of matches. It was not unusual for club bosses and former players to be seen at political rallies for Bouteflika, who famously claimed during a 2009 speech that Algeria "has the means to organise two football World Cups".
One example of this interplay between football, business and politics is a long-time backer of Bouteflika, construction magnate Ali Haddad, who purchased the football club USM Alger in 2010 and became its president. Interestingly, the club's fans continued with their chanting attacks on the symbols of Bouteflika's privileged class or "les nouveaux riches" who controlled the networks of politics, media and business in Algeria.
Football fans have been active in the hirak from the beginning, and their politicised football chants have been embraced as an expression of popular resentment with political systems and socio-economic conditions.
Following on the heels of Bouteflika's resignation amid massive protests and the nomination of a caretaker president, the 2019 Africa Cup of Nations came in the right time. It was for the new decision makers, led by General Salah, an opportunity to reconcile with the population and rebrand the new ruling elite as guarantors of stability and the fight against corruption.
For the Algerian national football team, after years of instability and management changes, it was another opportunity to reconcile with supporters at home and among the large Algerian diaspora in Europe and in North America.
On the Afcon field
In 2014, Algeria experienced its first time in a knockout round at the FIFA World Cup. But when Djamel Belmadi was appointed as new coach in August 2018, the team had plunged into a crisis of confidence. Results were absent and critics were present and acerbic. So when Belmadi announced that Algeria would go to Egypt to lift the cup, few took him seriously.
The tournament was being played in Egypt, one of the favourites for the title. For Algeria, Egypt was a rather hostile sporting environment. The two countries had been football foes for decades – and at political loggerheads over the Libyan conflict – and the animosity was tangible. The hostility continued especially after Egypt failed to reach the second qualifying round. Yet opposition to Algeria's opponents in the final, Senegal, was also great.
With the logistic support of the army, the new Algerian leadership organised the airlifting of Algerian supporters from different regions of the country into Egypt, even offering them free tickets once in Cairo.
In the stadium Algerian fans cheered a team that was "reborn alongside the hirak".
Back on the streets
And so the celebrations of Algeria's second Afcon cup happened in a unique context. They extended to the Algerian community around the world, in Europe, Canada and the US, and in France in particular.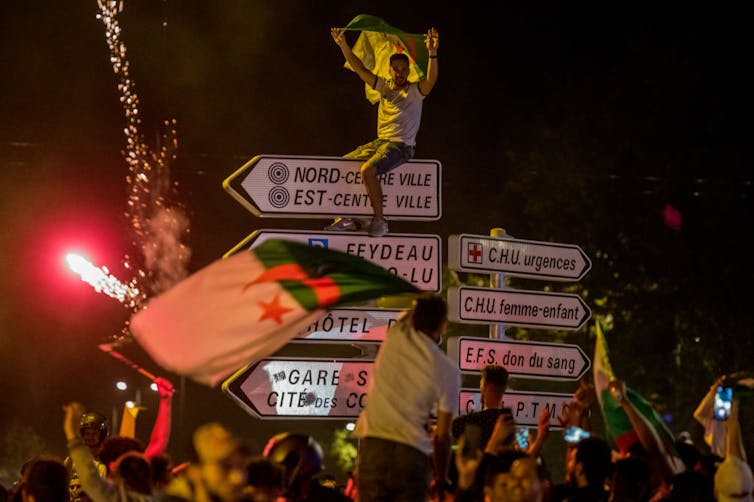 And, as always, raising the Algerian flag in French cities fuelled the debate on French identity and the question of alliance with Algeria's former colonisers.
Algeria's captain Ryad Mahrez, after scoring a winning free kick against Nigeria to qualify for the final, had tweeted "the free kick was for you, we are together" with Algerian and French flag emojis. There were a number of French-Algerian dual nationals on the team.
The tweet was in response to a far-right tweet "to avoid the tide of Algerian flags, to preserve our national holiday … Trust the 11 Nigerian players."
You could also read how around 2,500 police officers had been mobilised in Paris to "prevent street clashes". The situation led French-Algerian coach Belmadi to urge Algerian supporters in France to celebrate in an "orderly" way – a reference to the peaceful and orderly hirak protests.
A number of supporters were nonetheless arrested after clashes with police.
---


Read more:
Why, after one year, protests continue to rock Algeria


---
Looking back, the 2019 Afcon win underscores how the Algerian regime has long understood how to mobilise the national football team victories for its own agenda. But the regime is also now very aware of the liberty football can bring.
For years young Algerians have understood that stadiums are the ideal venue to freely voice their socio-political and economic discontent. These football chants and slogans reached their zenith when they were eventually repeated by thousands every Friday during hirak marches.
Abdelkader Abderrahmane contributed to this article. He is a geopolitical researcher and international consultant on African peace and security issues.
Meet The 19th*, a new gender and politics news organization by women and for women – Poynter
John Hume: Reaction to the death of a 'political titan' – BBC News
Former SDLP leader and Nobel Peace Prize laureate John Hume has died at the age of 83.
Politicians and others have been paying tribute to him and his long career, from the civil rights movement to the Good Friday Agreement.
Former Prime Minister Tony Blair
John Hume was a political titan; a visionary who refused to believe the future had to be the same as the past.
His contribution to peace in Northern Ireland was epic and he will rightly be remembered for it. He was insistent it was possible, tireless in pursuit of it and endlessly creative in seeking ways of making it happen.
Beyond that he was a remarkable combination of an open mind to the world and practical politics. In any place, in any party, anywhere, he would have stood tall.
It was good fortune that he was born on the island of Ireland.
First Minister of Northern Ireland Arlene Foster
Sincere condolences to Pat and the wider Hume family. A giant in Irish nationalism, John left his unique mark in the House of Commons, Brussels and Washington.
In our darkest days he recognised that violence was the wrong path and worked steadfastly to promote democratic politics.
Deputy First Minister of Northern Ireland Michelle O'Neill
John was a huge figure in Irish politics for many years and was known the world over for his peacemaking efforts.
He was a leader who worked tirelessly for the community and his beloved Derry.
His work alongside Gerry Adams in the Hume-Adams talks were instrumental in creating the space for developing and progressing the peace process which led to the Good Friday Agreement.
Irish President Michael D Higgins
John's deep commitment to these values and his practical demonstration of tolerance and social justice, oftentimes in the face of strong opposition and tangible threats to his person and his family, asserted the fundamental principles of democracy.
He and those others who helped usher in a discourse that enabled a new era of civil rights and responsive government that few would have thought possible, have placed generations in their debt, have been a source of hope.
That his efforts were recognised through the awarding of the 1998 Nobel Peace Prize brought great joy not only to his people in Derry, his colleagues in politics, particularly in the SDLP, but to a wider global set of colleagues and fellow advocates for peace abroad who held him in the greatest esteem and admiration.
SDLP leader Colum Eastwood
Derry, and the whole island, is in mourning today following the passing of our friend, leader and greatest peacemaker.
We can never repay all that John did for us but we can live the values that meant so much to him. We shall overcome.
Former Ulster Unionist Party leader and First Minister Lord Trimble
There is absolutely no doubt he was a major figure in the [peace] process.
Right from the outset of the Troubles, John was urging people to stick to their objective peacefully and was constantly critical of those who did not realise the importance of peace.
He was a major contributor to politics in Northern Ireland particularly to the process that gave us an agreement that we are still working our way through.
That is hugely important. He will be remembered for that contribution for years to come.
Taoiseach (Irish PM) Micheál Martin
John Hume was a great hero and a true peacemaker.
Throughout his long life he exhibited not just courage, but also fortitude, creativity and an utter conviction that democracy and human rights must define any modern society.
For over four decades, he was a passionate advocate for a generous, outward-looking and all-encompassing concept of nationalism and republicanism. For him the purpose of politics was to bring people together, not split them apart.
During the darkest days of paramilitary terrorism and sectarian strife, he kept hope alive. And with patience, resilience and unswerving commitment, he triumphed and delivered a victory for peace.
While the 1998 Good Friday Agreement was the product of many people's work, can anyone really claim that it would have happened without John Hume?
He didn't just talk about peace, he worked unstintingly for peace, at times in the face of the most virulent criticism and risk to his life. He knew that to be a peacemaker on this island meant being a risk taker.
Ulster Unionist Party leader Steve Aiken
John Hume's huge contribution to political life in Northern Ireland is unarguable, even by those who would have regarded themselves as political opponents.
On behalf of the Ulster Unionist Party I would like to extend my deepest condolences to his wife Pat, his family and to all his friends and colleagues.
Alliance Party leader Naomi Long
Very sad to hear of John Hume's passing. A man who took risks for peace, his was a life well lived.
I often saw him in Greencastle with Pat in his latter years – such a devoted couple. My sincerest condolences to her and the family circle and to his SDLP colleagues and friends.