Nobel Prize for chemistry awarded for 'genome scissors' – BayToday
STOCKHOLM — Two scientists won the Nobel Prize in chemistry Wednesday for developing a way of editing genes likened to "molecular scissors" that offer the promise of one day curing inherited diseases.
Working on opposite sides of the Atlantic, Frenchwoman Emmanuelle Charpentier and American Jennifer A. Doudna came up with a method known as CRISPR-cas9 that can be used to change the DNA of animals, plants and microorganisms. It was the first time two women have won the chemistry Nobel together — adding to the small number of female laureates in the sciences, where women have long received less recognition for their work than men.
The scientists' work allows for laser-sharp snips in the long strings of DNA that make up the "code of life," allowing researchers to precisely edit specific genes to remove errors that lead to disease.
"There is enormous power in this genetic tool, which affects us all," said Claes Gustafsson, chair of the Nobel Committee for Chemistry. "It has not only revolutionized basic science, but also resulted in innovative crops and will lead to groundbreaking new medical treatments."
Gustafsson said that, as a result, any genome can now be edited "to fix genetic damage."
Dr. Francis Collins, who led the drive to map the human genome, said the technology "has changed everything" about how to approach diseases with a genetic cause, such as sickle cell disease.
"You can draw a direct line from the success of the human genome project to the power of CRISPR-cas to make changes in the instruction book," said Collins, director of the National Institutes of Health that helped fund Doudna's work.
But many also cautioned that the technology must be used carefully and that it raises serious ethical questions. Much of the world became more aware of CRISPR in 2018, when Chinese scientist He Jiankui revealed he had helped make the world's first gene-edited babies, to try to engineer resistance to future infection with the AIDS virus. His work was denounced as unsafe human experimentation because of the risk of causing unintended changes that could pass to future generations, and he's currently imprisoned in China.
In September, an international panel of experts issued a report saying it's still too soon to try to make genetically edited babies because the science isn't advanced enough to ensure safety, but they mapped a pathway for countries that want to consider it.
"Being able to selectively edit genes means that you are playing God in a way," said American Chemistry Society President Luis Echegoyen, a chemistry professor at the University of Texas El Paso.
Charpentier, 51, spoke of the shock of winning.
"Strangely enough I was told a number of times (that I'd win), but when it happens you're very surprised and you feel that it's not real," she told reporters by phone from Berlin after the award was announced in Stockholm by the Royal Swedish Academy of Sciences. "But obviously it's real, so I have to get used to it now."
When asked about the significance of two women winning, Charpentier said that while she considers herself first and foremost a scientist, she hoped it would encourage others.
"I wish that this will provide a positive message to young girls who would like to follow the path of science," said Charpentier, who is currently the director of the Max Planck Unit for the Science of Pathogens in Berlin.
Doudna told The Associated Press of her own surprise — including that she learned she'd won from a reporter.
"I literally just found out, I'm in shock," she said. "I was sound asleep."
"My greatest hope is that it's used for good, to uncover new mysteries in biology and to benefit humankind," said Doudna, who is affiliated with the University of California, Berkeley and is paid by the Howard Hughes Medical Institute, which also supports AP's Health and Science Department.
The breakthrough research done by Charpentier and Doudna was published in 2012, making the discovery very recent compared to many Nobel wins that are often only honoured after decades have passed.
Speaking to reporters later at her lab, Charpentier said: "This discovery is only eight years ago. And it has boomed extremely. Everyone is using now the CRISPR-cas9."
Pernilla Wittung-Stafshede, a member of the Nobel Committee, noted that the method had "already benefited humankind greatly."
The Broad Institute at Harvard and MIT have been in a long court fight over patents on CRISPR technology, and many other scientists did important work on it, but Doudna and Charpentier have been most consistently honoured with prizes for turning it into an easily usable tool.
The prestigious award comes with a gold medal and prize money of 10 million kronor (more than $1.1 million), courtesy of a bequest left more than a century ago by the prize's creator, Swedish inventor Alfred Nobel. The amount was increased recently to adjust for inflation.
On Monday, the Nobel Committee awarded the prize for physiology and medicine to Americans Harvey J. Alter and Charles M. Rice and British-born scientist Michael Houghton for discovering the liver-ravaging hepatitis C virus. Tuesday's prize for physics went to Roger Penrose of Britain, Reinhard Genzel of Germany, and Andrea Ghez of the United States for their breakthroughs in understanding the mysteries of cosmic black holes.
The other prizes are for outstanding work in the fields of literature, peace and economics.
___
Larson reported from Washington, and Jordans from Berlin. AP Chief Medical Writer Marilynn Marchione contributed from Milwaukee.
___
Read more stories about Nobel Prizes past and present by The Associated Press at https://www.apnews.com/NobelPrizes
David Keyton, Christina Larson And Frank Jordans, The Associated Press
Lunar base: How NASA's moon water discovery could support human habitats – Inverse
This week, NASA announced a discovery that could make a permanent lunar base reality.
On Monday, agency researchers announced they had detected abundant water on the Moon's surface, trapped in small icy pockets throughout the lunar soil. The signals were detected by NASA's Stratospheric Observatory for Infrared Astronomy, also known as SOFIA. Taken together, the water is equivalent to a 12-ounce bottle per cubic meter of lunar soil, they estimate.
They also found the first evidence that water exists on the sunlit areas of the Moon, not just at the poles.
Essentially, the discovery suggests water may be far more accessible to humans than previously thought, dramatically expanding the areas of the Moon where humans might be able to establish a presence — and whether they can go even further into space.
Private companies like SpaceX and government agencies like NASA, as well as others in China and Europe, have all made clear they plan to establish lunar bases. But if they are to work, they need to make the most of what the local environment has to offer.
Basically, the more resources you can find and use once you are in space, the less you have to send up at launch.
"Water is a precious resource in space," Paul Hertz, NASA's astrophysics division director, said during the agency's press conference. "We want to know everything we can about water on the Moon."
Location, location, location — One of the key impacts of this discovery on these plans is the fact that it broadens where on the Moon humans can set up shop for three key reasons.
First, astronauts would be able to drink the water, albeit after treating it.
Second, water is not just for drinking. Water can be converted into oxygen for astronauts, Jacob Bleacher, chief exploration scientist for the Human Exploration and Operations Mission Directorate at NASA, explained Monday.
Third, it can also be used to create fuel.
Fuel is one of the major challenges for a Moon base, SpaceX CEO Elon Musk claimed in October 2019. The company's Starship is designed to use liquid oxygen and methane, chemicals that astronauts can generate from carbon dioxide and water. SpaceX wants to build a fueling station on Mars that would utilize that planet's stores. Musk noted at the time that the Moon's lack of carbon, hydrogen, and oxygen is a "big challenge" for refueling the Starship on the Moon. This news suggests it could make a perfect pit stop, too.
Back to the Moon, 2024 — NASA chose SpaceX's Starship in April, along with two other pitches, as a potential solution for landing humans on the Moon in 2024. SpaceX has also detailed plans on using Starship rockets to serve as the basis for a "Moon Base Alpha."
NASA's crewed Moon mission forms part of the Artemis program. It involves establishing a Lunar Gateway — essentially a spaceport which would orbit around the Moon to support crewed missions. It also involves establishing an Artemis Base Camp near the South Pole, which would initially host one or two astronauts for around four months.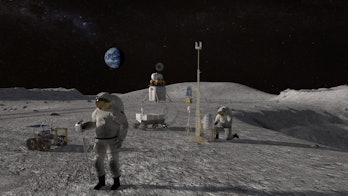 "With the Artemis program, NASA will land the first woman and the next man on the Moon in 2024 and establish a sustainable human presence by the end of the decade," Hertz said. "At the Moon, we will prepare for human exploration of Mars."
SpaceX and NASA are not the only two interested. The Chinese and European space agencies have also expressed interest in permanent settlements. Blue Origin's Jeff Bezos also said in a 2018 speech that "we must go back to the Moon, and this time to stay."
But before astronauts start packing their drinking straws, more research needs to be done.
"We know there's water at the moon, but we don't know exactly how accessible lunar water is for our future explorers," Bleacher said. "Knowing where we can find water is a good first step. But we need to know more about the water to understand if and how we can use it for both science and exploration."
Water, water everywhere – but we might have to wait a bit to drink.
Ah Crap: The Arctic Is Releasing a Ton of New Greenhouse Gas – Futurism
Gas Leak
Figuring out when, and to what extent, the Arctic will melt and release greenhouse gases into the air has been a major challenge for environmental scientists. Now it seems like the process is already underway.
A team of Russian and Swedish scientists exploring the Arctic Ocean found that the continental slope near Siberia has already started to give off huge amounts of methane, which is an even more potent greenhouse gas than carbon dioxide, The Guardian reports. The methane, which is leaking into the ocean and the air, is a worrying new data point about the state of the climate.

Early Days
The scientists, who haven't yet finished analyzing their data or sent it for review by an academic journal, stressed to The Guardian that they're still at a very preliminary stage of their research. But their discovery is still ominous. If the Arctic is releasing carbon in mass quantities, it could trigger a feedback loop that worsens climate change and continues to give off even more greenhouse gases.
"At this moment, there is unlikely to be any major impact on global warming, but the point is that this process has now been triggered," Örjan Gustafsson of Stockholm University told The Guardian. "This East Siberian slope methane hydrate system has been perturbed and the process will be ongoing."
Unknown Impacts
It will be hard to tell what impact these Arctic greenhouse gases will have on the global environment — but the consensus among experts is that it could be disastrous.
"This is a new page," Igor Semiletov of the Russian Academy of Sciences told The Guardian. "Potentially they can have serious climate consequences, but we need more study before we can confirm that."
READ MORE: 'Sleeping giant' Arctic methane deposits starting to release, scientists find [The Guardian]
More on the Arctic: This is the Devastating Potential of the Arctic Permafrost Melting
SOFIA: a telescope on the forefront of astrophysics research – NASASpaceflight.com