North Korean Kim Jong appears in public
Kim Jong-un has appeared in public for the first time in 20 days, North Korean state media says.
KCNA news agency reports that the North Korean leader cut the ribbon at the opening of a fertiliser factory.
It adds that people at the factory "broke into thunderous cheers of hurrah" when he appeared on Friday.
The reported appearance – his first since an event on state media on 12 April – comes amid global speculation over his health.
The latest reports from North Korean media could not be independently confirmed.
State media later released images that it said showed Mr Kim cutting a ribbon outside a factory.
Asked about Mr Kim's reported reappearance, US President Donald Trump told reporters that he didn't want to comment yet.
What does the state media report say?
According to Korean Central News Agency (KCNA), Mr Kim was accompanied by several senior North Korean officials, including his sister Kim Yo Jong.
The North Korean leader cut a ribbon at a ceremony at the plant, in a region north of Pyongyang, and people who were attending the event "burst into thunderous cheers of 'hurrah!' for the Supreme Leader who is commanding the all-people general march for accomplishing the great cause of prosperity", KCNA says.
Mr Kim said he was satisfied with the factory's production system, and praised it for contributing to the progress of the country's chemical industry and food production, the state news agency adds.
What started speculation about his health?
Speculation about Mr Kim's health began after he missed the birth anniversary celebrations of his grandfather, state founder Kim Il Sung on 15 April.
The anniversary is one of the biggest events in the North Korean calendar, and Mr Kim usually marks it by visiting the mausoleum where his grandfather lies. Mr Kim had never missed this event.
Claims about Mr Kim's ill-health then surfaced in a report for a website run by North Korean defectors.
An anonymous source told the Daily NK that they understood he had been struggling with cardiovascular problems since last August "but it worsened after repeated visits to Mount Paektu".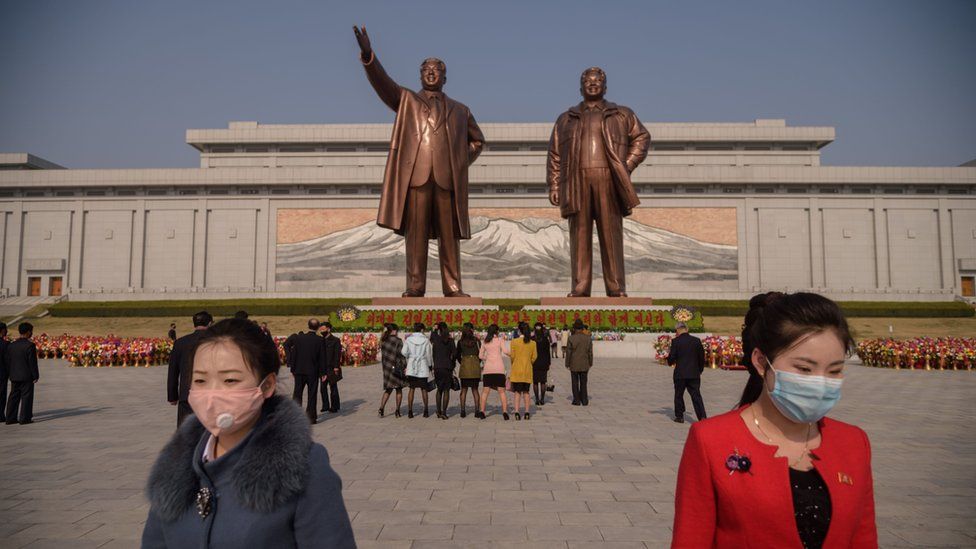 This led to a chain of reporting by international media on a single-sourced story.
News agencies then began to run with that claim, and it was all they had until some reports emerged that intelligence agencies in South Korea and the US were monitoring the claim.
But then came a more sensational headline in US media that the North Korean leader was in a critical condition after heart surgery.
US Secretary of State Mike Pompeo appeared to stoke the rumours on 29 April, by saying US officials "hadn't seen" Mr Kim recently.
However, a statement from the South Korean government, and sources at Chinese intelligence – speaking to the Reuters news agency – said this was not true.
Has Kim Jong-un disappeared before?
Yes. Mr Kim went missing for 40 days in September 2014, after attending a concert. He reappeared in mid-October, using a cane.
State media never explained where he had been. But South Korea's intelligence agency said he probably had an operation on his left ankle stemming from problems with a cyst.
Source: BBC
'Pathetic clown': Chinese state-backed media attacks Canada after Meng Wanzhou ruling – National Post
Wednesday's ruling against Huawei CFO Meng Wanzhou has set off a range of barbed commentary in China's state-backed media, much of it deriding Canada's role in the affair.
On Wednesday, Associate Chief Justice Heather Holmes of the B.C. Supreme Court ruled that the charges Meng faces in America could also be a crime in Canada, and said the case should proceed. Meng is accused of misrepresenting Huawei's relationship with Skycom Tech Co. and making false statements to HSBC, putting the bank at risk of violating U.S. sanctions against Iran.
Her arrest by the RCMP at the Vancouver airport in December 2018 has placed Canada in the middle of rising tensions between the U.S. and China, and in Chinese state media, the reaction to the ruling was swift and furious. In China, Canada's role in Meng's detention is often described as Ottawa doing the dirty work of the U.S., which China claims wants to cripple its tech giant Huawei.
In an article in the Communist Party-run Global Times soon after the ruling, an expert was cited as saying that the decision won't hurt Huawei "because the company will not succumb to the US because of any individual." But, citing the same expert, it said the decision will "make Canada a pathetic clown and a scapegoat in the fight between China and the US."
Expressing the views of Xiang Ligang, a veteran industry analyst, the paper wrote:
"Huawei will not bow to US over the unjustified detention of any individual, and the Chinese technology giant, which has survived the US' relentless crackdown, will push forward amid headwinds — like a jet riddled with bullets yet still flying its mission."
The paper wrote that He Weiwen, a former senior trade official, told its reporters that the verdict will make Canada-China relations "worse than ever," and that this will play out when it comes to future trade. "You can always give some projects or orders to other countries, instead of just one county alone," he said.
Mei Xinyu, described by the outlet as "an expert close to China's Commerce Ministry," feared that Canada will detain Meng as a "hostage" indefinitely.
"Being kept by the US as a key hostage to contain China's industrial upgrading and maintain its parasitic hegemony, the US will hardly let Meng free," Mei was quoted as saying. "Canada has been under US pressure since the beginning, or it could have benefited from the trade war between the world's two largest economies."
Meanwhile, an editorial in the Communist Party-run China Daily had a headline that read: "Abuse of their extradition treaty by US and Canada is deplorable."
"The ruling means the US and Canada are continuing to abuse their bilateral extradition treaty to attack Huawei," the editorial read. "The hounding of Meng is part of the US witch hunt against the Chinese telecommunications equipment giant, which Washington is doing all it can to strangle."
The editorial had stinging words for Canada, which it accused of acting like an innocent party in the affair, when in fact it was anything but.
"Ottawa is trying to portray itself as innocent of any wrongdoing, claiming it is a legal matter that should be left to the courts," it read. "Yet its move to arrest Meng was quite clearly politically motivated — or perhaps it would be more accurate to say economically motivated, since it came when it is was engaged in trade talks with Washington. It should have acted with caution to avoid being dragged into Washington's shenanigans."
It said the decision shows that "the US and Canada are continuing to abuse their bilateral extradition treaty to attack Huawei," and has "effectively dashed hopes of an end to the incident and a mending of Canada-China relations."
Arguments
In the next phase of the proceedings against Meng, the court will hear arguments about whether her arrest was unlawful.
Her lawyers have alleged the Canada Border Services Agency, the RCMP and the Federal Bureau of Investigation conducted a "covert criminal investigation" at the airport and violated Meng's charter rights.
Canada's Justice Minister David Lametti will still have the final say on whether Meng should be extradited to the U.S.
Two Canadians, ex-diplomat Michael Kovrig and entrepreneur Michael Spavor, were detained in China nine days after Meng's arrest, in a move seen as a retaliation. They remain in custody.
— with files from The Canadian Press
Trump preparing order targeting social media protections – CTV News
WASHINGTON —
U.S. President Donald Trump, the historically prolific tweeter of political barbs and blasts, threatened social media companies with new regulation or even shuttering after Twitter added fact checks to two of his tweets. He turned to his Twitter account — where else? — to tweet his threats.
The president can't unilaterally regulate or close the companies, and any effort would likely require action by Congress. His administration has shelved a proposed executive order empowering the Federal Communications Commission to regulate technology companies, citing concerns it wouldn't pass legal muster. But that didn't stop Trump from angrily issuing strong warnings.
Tech giants "silence conservative voices," he claimed on Twitter early Wednesday. "We will strongly regulate, or close them down, before we can ever allow this to happen." Later, also on Twitter, he threatened, "Big Action to follow." And in one more late-night tweet, he said "Big Tech" was "going absolutely CRAZY. Stay Tuned!!!"
Press secretary Kayleigh McEnany told reporters Trump would sign an executive order relating to social media companies but provided no further details. White House strategic communications director Alyssa Farah said Trump would sign it Thursday.
In his tweet, he repeated his unsubstantiated claim — which sparked his latest showdown with Silicon Valley — that expanding mail-in voting "would be a free for all on cheating, forgery and the theft of Ballots."
Late Wednesday, Twitter CEO Jack Dorsey tweeted, "We'll continue to point out incorrect or disputed information about elections globally."
Dorsey added: "This does not make us an 'arbiter of truth.' Our intention is to connect the dots of conflicting statements and show the information in dispute so people can judge for themselves."
Twitter's decision to mark the president's tweets regarding mail-in balloting came as the president was sparking another social media firestorm, continuing to stoke a debunked conspiracy theory accusing MSNBC host Joe Scarborough of killing a former staffer. Prominent Republicans, including Rep. Liz Cheney and Sen. Mitt Romney, urged Trump to drop the attack — which has not been marked with a fact check by the social media company.
Trump and his campaign had lashed out at the company Tuesday after Twitter added a warning phrase to two Trump tweets that called mail-in ballots "fraudulent" and predicted that "mail boxes will be robbed," among other things. Under the tweets, there is now a link reading "Get the facts about mail-in ballots" that guides users to a Twitter "moments" page with fact checks and news stories about Trump's unsubstantiated claims.
Trump replied on Twitter, accusing the platform of "interfering in the 2020 Presidential Election" and insisting that "as president, I will not allow this to happen." His 2020 campaign manager, Brad Parscale, said Twitter's "clear political bias" had led the campaign to pull "all our advertising from Twitter months ago." Twitter has banned all political advertising since last November.
Trump did not explain his threat Wednesday, and the call to expand regulation appeared to fly in the face of long-held conservative principles on deregulation.
Trump and his allies have long accused the tech giants in liberal-leaning Silicon Valley of targeting conservatives on social media by fact-checking them or removing their posts. The president's critics, meanwhile, have scolded the platforms for allowing him to put forth false or misleading information that could confuse voters.
Some Trump allies have questioned whether platforms like Twitter and Facebook should continue to enjoy liability protections as "platforms" under federal law — or be treated more like publishers, which can face lawsuits over content.
The protections have been credited with allowing the unfettered growth of the internet for more than two decades, but now some Trump allies are advocating that social media companies face more scrutiny.
"Big tech gets a huge handout from the federal government," Republican Sen. Josh Hawley told Fox News. "They get this special immunity, this special immunity from suits and from liability that's worth billions of dollars to them every year. Why are they getting subsidized by federal taxpayers to censor conservatives, to censor people critical of China?"
Twitter's first-ever use of a label on Trump's tweets comes as platforms gear up to combat misinformation around the U.S. presidential election. Twitter and Facebook have begun rolling out dozens of new rules to avoid a repeat of the false postings about the candidates and the voting process that marred the 2016 election.
The advent of the coronavirus pandemic has further escalated the platforms' response, leading them to take actions against politicians — a move they've long resisted — who make misleading claims about the virus.
Last month, Twitter began a "Get the Facts" label to direct social media users to news articles from trusted outlets next to tweets containing misleading or disputed information about the virus. Company leaders said at the time that the new labels could be applied to anyone on Twitter, and that it was considering using them on other topics.
Twitter has said it will decide internally when to use a label, and on which tweets, and it will draw from information curated from news outlets.
Facebook CEO Mark Zuckerberg weighed in on the matter during a Fox News interview Wednesday. "We have a different policy, I think, than Twitter on this," he said. "I just believe strongly that Facebook shouldn't be the arbiter of truth of everything that people say online."
Meanwhile, Republicans were turning their fire on one of the Twitter executives responsible for adding the fact checks: Yoel Roth, its head of site integrity. They are pointing to tweets he sent in 2016 and 2017 railing against the president and his allies.
"From their bogus 'fact check' of @realDonaldTrump to their 'head of site integrity' displaying his clear hatred towards Republicans, Twitter's blatant bias has gone too far," tweeted Republican National Chairman Chair Ronna McDaniel.
Jack Balkin, a Yale University law professor and First Amendment expert, said any attempt to regulate social media companies for the content on their sites would likely need congressional input and approval — and probably face strong legal challenges.
"The president can't do very much, but that's not the point," he said. "This is an attempt by the president to, as we used to say in basketball, work the refs."
"He's threatening and cajoling with the idea that these folks in their corporate board rooms will think twice about what they're doing, so they won't touch him."
—
AP writers Amanda Seitz and David Klepper contributed
COVID-19: How mainstream-media coverage of pandemic crime rates is getting it wrong – Straight.com
By Ashley Mollison, Marilou Gagnon, and Meenakshi Mannoe
During the past few weeks, we have seen news stories and editorials on the rise of crime rates in B.C. They referenced a rise in what city officials and police departments describe as "crimes of opportunity": in particular, business break and enters, auto theft, mischief, and robberies.
For example, at the end of April, CTV was reporting a 120 percent increase in business break and enters in Vancouver. In early May, CBC reported that break-ins had increased by 567 percent in Victoria and Esquimalt and 120 percent in Kamloops.
On May 19, Victoria's Times Colonist editorial board published a scathing indictment of, presumably, the people responsible for these types of crimes in Victoria and Esquimalt. That op-ed was titled "Looters and profiteers must be punished." Three days later, the Vancouver Sun ran an editorial headlined "The Downtown Eastside is a war zone disaster—stop ghettoizing it".
Both editorials decried rising crime, referencing how supposed "criminal classes" are taking advantage of a national emergency to surf the "rising crime wave".
How do we address rising crime?
The Times Colonist called for more severe punishment, citing Second World War-era measures adopted by Britain to address spikes in "looting and profiteering": namely, the death penalty (see note at bottom). The Sun editorial called for "normalization" to make the Downtown Eastside a "real neighbourhood".
These editorials, alongside a number of pieces published recently across B.C. media, speak to wider stigma, myths, and anxieties about poor, racialized, and criminalized communities. These beliefs must be directly addressed if we want to halt the spread of—and prevent the real risk of death from—viral stigma.
Media coverage has focused on rising crime without pointing out the impacts of poverty and inadequate income-security programs. That coverage highlights the need to restore court operations and to put people in jail, without pointing out the COVID-19 outbreaks in jails and prisons across Canada. It also critiques endemic mismanagement within the legal system without considering how someone in survival mode would decipher its complexities.
As Pivot Legal Society's 2018 report Project Inclusion points out, prohibition, stigma, criminalization of homelessness, racism, and economic policies keep people trapped in extreme poverty, which intensifies substance use and amplifies harm to individuals and their communities. The report analyzed social-services and criminal-justice systems that negatively impact health, safety, and human rights, and it illustrated how systems play out in people's everyday lives, tracing the impact of criminalization to the laws, policies, and institutional practices that are shaping those experiences.
Reviewing the media coverage, emphasis is placed on prolific offenders who are exploiting a mismanaged court system and taking advantage of a national emergency that has forced businesses to close. The subtext of these concerns blames inaction of courts and bemoans diversion efforts that are allowing people to remain in the community while awaiting trial or sentencing people to conditional releases in the community rather than in prison cells.
Those tough-on-crime sentiments fail to grapple with the reality that prisons do little to alter root-cause issues, instead creating a revolving door for people who are denied access to basic resources (including income, health care, and housing) while they cycle through criminalization.
It would be foolish to pretend that crime is not part of surviving homelessness and poverty, especially when survival needs are high and sources of income are lost. It would be even more foolish, however, to rely on Dickensian tropes and ignore the root causes of crime.
COVID-19 has brought on economic collapse, and the distribution of government relief has been unequal and woefully inadequate for those who were, and still are, living in poverty and homelessness.
The timing of recent media coverage is also noteworthy, given the simultaneous displacement of people living at Oppenheimer Park in Vancouver and at Topaz Park and on Pandora Avenue in Victoria. In response to the COVID-19 public-health emergency, police were given the power to break up these three tent cities. A public-safety order rather than a public-health order was applied to an unhoused population deemed deserving of a criminal, rather than health, response.
Media express outrage toward increased petty crime while virtually ignoring the fact that visibly poor and racialized people are subject to increased surveillance and targeting—and, in the case of homeless people, laws that criminalize their very existence. Additionally, despite government reports, hundreds have not been housed by government efforts and remain in parks, woods, and vehicles in and around those cities.
The impact of COVID-19 is not just shuttered businesses or overloaded courts: we have seen existing inequities exacerbated as B.C. comes to terms with two public-health crises alongside emergencies stemming from colonization and its impacts.
We cannot deny the frustration of property crime, but in a world where inequality increasingly means illness and death, we must weigh frustration appropriately. In the midst of this pandemic, there have been incredible shifts towards mutual aid and generosity. Addressing rising crime rates takes communities coming together, showing compassion, and advocating for equitable distribution of resources so that people are not driven by desperation to steal for food and other basic needs.
Media reports on increases in crime must move beyond statistics, provide context, and refrain from fear-mongering and posing "solutions" that will, inevitably, result in more harm.
Note: The Times Colonist has since offered an apology and clarification for that outlet's editorial, stating that the board does not advocate for capital punishment and that the original content has been edited to soften the language.