Nuclear project with Russian reactors shakes Bulgarian politics – EURACTIV
The Capitals brings you the latest news from across Europe, through on-the-ground reporting by EURACTIV's media network. You can subscribe to the newsletter here.
Before you start reading today's edition of the Capitals, feel free to have a look at the article EU foreign ministers to discuss Russia crisis amid fears of 'false-flag' operations.

---
The European news you deserve to read. Welcome to The Capitals by EURACTIV.
---
In today's news from the Capitals:
SOFIA
Leading figures in the Bulgarian government are looking for a way out of a 40-year project to build a second nuclear power plant near the Danube island of Belene. The Belene project, which is to be implemented with two Russian nuclear reactors, is creating serious political tensions between liberal pro-European 'Change Continues' and 'Democratic Bulgaria' and the pro-Russian Bulgarian Socialist Party, which are coalition partners. President Rumen Radev has also insisted on a swift decision on the nuclear project. Read more.
///
VIENNA
Austria establishes 'crisis-cabinet' on Ukraine. Amid the imminent threat of Russian invasion, Austria established a crisis cabinet on Sunday to enable the government to take swift action should the conflict in and around Ukraine spiral out of control. Read more.
///
BERLIN
Germany sharpens travel warning, halts Kyiv flights. The federal foreign office has urged Germans to leave Ukraine "immediately", while airlines will halt flights to Kyiv and Odessa from Monday. Read more.
///
PARIS
Putin, Biden agree in principle to summit as Ukraine tensions soar. Russian President Vladimir Putin and his US counterpart Joe Biden have agreed to a summit — to be held only if Moscow does not invade Ukraine, France announced Monday (20 February) following a frantic new round of diplomacy to avert an all-out war. Read more.
BERN
Investigation exposes Credit Suisse, state of press freedom in Switzerland. Swiss bank Credit Suisse has served dubious clients, helping them store illicitly gained wealth in Swiss bank accounts, an international journalistic investigation called 'Suisse Secrets' revealed. Read more.
---
UK AND IRELAND
LONDON | BELFAST
Prepare for a united Ireland, says Sinn Fein. The Irish republican party Sinn Fein is "closer than we ever have been [to a united Ireland], and I think now is the time to plan," the party's former Deputy First Minister Michelle O'Neill said in an interview with Sky on Sunday. Read more.
///
DUBLIN
Irish opposition demands scrapping of carbon tax increase to fight cost of living crisis. Opposition party Sinn Féin will this week table a motion to scrap the increase in carbon tax scheduled for this spring in response to Ireland's cost of living crisis. Read more.
---
NORDICS AND BALTICS
HELSINKI
Finland tightens laws against sex offenders. The Finnish government has proposed to tighten the country's legislation on sex crimes, similar to reforms passed in Sweden and other European countries. With the five parties in government holding 117 of the 200 seats in parliament, the bill is likely to pass. Read more.
---
EUROPE'S SOUTH
MADRID
Madrid conservatives rally around regional chief amid party quarrel. Thousands of protesters gathered outside the headquarters of Spain's Popular Party (PP) in Madrid on Sunday in a show of support for the capital's regional president Isabel Díaz Ayuso and to call on the conservative party leader Pablo Casado to step down. Read more.
Spaniards split over NATO support. Spain appears divided over a hypothetical intervention in a military conflict in Ukraine, including Spanish military forces. Read more.
///
ROME
Italy recommends fourth dose for immunocompromised patients. The fourth COVID-19 dose is recommended for immunocompromised patients 120 days after receiving their third booster dose, the Italian Agency of Medicine (AIFA) announced on Sunday. Read more.
///
ATHENS
Greek politicians bicker over expelled MEP who slammed government for press freedom. EU lawmaker Giorgios Kyrtsos, who was expelled last week from the ruling centre-right New Democracy party (European People's Party), said Greek PM Kyriakos Mitsotakis is more arrogant than Hungary's Viktor Orbán. Read more.
---
VISEGRAD
PRAGUE
Czech PM: Putin did not count on such a united attitude of the West. Europe is on the verge of war as Russia can attack Ukraine at any moment, Czech Prime Minister Petr Fiala (ODS, ECR) told Czech Television on Sunday, noting that the unity between the EU and NATO is not something Russian President Vladimir Putin expected. Read more.
///
WARSAW
Justice minister announces anti-EU offensive 'in defence of Polish sovereignty'. Poland's sovereignity is under threat from the EU's conditionality mechanism – linking the disbursement of EU funds with the rule of law, and the bloc's climate policies Justice Minister Zbigniew Ziobro of the Solidarity Poland party said on Saturday, proposing to block it. Read more.
///
BUDAPEST
Hungary prepares for budget hit after EU court's rule of law decision. Hungary will temporarily rely on its own resources, said Hungarian Prime Minister Viktor Orbán who expects EU funds to be unblocked later this year, Hungary Today has reported. Read more.
///
BRATISLAVA
Roma in Slovakia: chances of dying from COVID-19 two times higher. Roma people in Slovakia are twice as likely to die from COVID-19 when compared to the rest of the population, a new study conducted by the finance ministry's value for money department has found. Read more.
---
NEWS FROM THE BALKANS
BELGRADE
Vucic: Serbian people don't want NATO. The Serbian people "won't have NATO," President Aleksandar Vučić, who is also the Serbian Progressive Party's (SNS) leader, said on 19 February. Read more.
///
ZAGREB
Croatian minister arrested, relieved of duty. A Zagreb County Court judge on Saturday evening remanded Darko Horvat (HDZ-EPP), who was left his post as construction minister, to one month's custody. He is suspected of having illegally disbursed 2.6 million kuna (€346,000) in grants in 2018 while he was Economy Minister to the four other suspects in the case. Read more.
///
LJUBLJANA
Slovenia finally eases restrictions as Omicron wave recedes. Slovenia lifted many major COVID-19 restrictions over the weekend, bringing them broadly in line with countries that opted to start reopening public life several weeks ago. Read more.
///
BELGRADE | WESTERN BALKANS
Sarazzin appointed as Germany's first Western Balkans envoy. The German government appointed Manuel Sarrazin as special envoy for the Western Balkans on 18 February. Sarazzin is Germany's first envoy for the area, Radio Free Europe reported.
Sarazzin is a member of the Green Party and was a German MP from 2008 to 2021, playing an active role in the Bundestag's committees on European and foreign affairs. Last May he underlined the importance of a coordinated German-French policy on the Western Balkans, voicing clear opposition to any border change in the region.
(EURACTIV.rs | betabriefing.com)
///
SARAJEVO
Croatian Assembly in BiH: Territorial reorganisation if no election law reform. The Croatian National Assembly (HNS), an umbrella organisation of most Croatian political parties and other organisations in Bosnia Herzegovina (BiH), concluded that the conditions for the 2022 general elections have not been met. Read more.
///
SKOPJE
North Macedonia National Bank: denar, banking system stable. The denar exchange rate is stable, the foreign reserves increased last year, and the banking system remains stable, the National Bank of the Republic of North Macedonia reported on Saturday. Read more.
///
TIRANA
NGOs urge authorities to stop praising Albania's previous communist regime. An Albanian NGO has launched a petition calling for the authorities to stop praising the previous communist regime and ban the public use of communist-related symbols to align with EU states who have prohibited the glorification of fascist and totalitarian regimes. Read more.
---
AGENDA:
EU: EU foreign ministers meet in Brussels on Ukraine, climate diplomacy, Bosnia, will be briefed by Ukraine's Foreign Minister Dmytro Kuleba / EU Commission VP Maros Sefcovic and UK's FM Liz Truss attend EU-UK Joint Committee meeting / EU agriculture ministers meet in Brussels / European Parliament LIBE and AFCO delegations travel to Poland.
NATO Secretary-General receives British Foreign Secretary Liz Truss in Brussels.
France: EU transport ministers meet in Le Bourget.
Netherlands: ICJ hears Myanmar's arguments in Rohingya genocide case.
Italy: Tuesday, interview with the activist Marco Cappato on cannabis and euthanasia.
Spain: Prime Minisdter Pedro Sanchez hosts Danish counterpart Mette Frederiksen in Madrid.
Slovenia: Prime Minister Janez Janša will host Hungary's Viktor Orban to sign an agreement on cooperation in supporting the development of ethnically-mixed areas on both sides of the border.
Montenegro: European Council President Charles Michel receives President of Montenegro Milo Đukanović in Brussels.
***
[Edited by Sarantis Michalopoulos, Alexandra Brzozowski, Daniel Eck, Benjamin Fox, Zoran Radosavljevic, Alice Taylor]
Liberals move to bar sanctioned Russians from Canada through immigration amendments
OTTAWA — The Liberal government is moving to ban Russians sanctioned over Moscow's invasion of Ukraine from entering Canada.
The government tabled proposed amendments to federal immigration law in the Senate on Tuesday to ensure foreign nationals subject to sanctions under the Special Economic Measures Act are inadmissible to Canada.
The changes would allow the Canada Border Services Agency to deny entry to, and remove, people who have been sanctioned, and would enable Immigration, Refugees and Citizenship Canada officials to deny visas.
Once in force, the amendments would apply to all foreign nationals subject to sanctions by Canada, as well as any accompanying family members.
Since the start of Russia's attack on Ukraine in late February, Canada has sanctioned more than 1,000 people from Russia, Ukraine and Belarus.
Banning close associates and key supporters of Russian President Vladimir Putin's regime is one of the many ways in which Canada is holding Moscow accountable for its unprovoked aggression, said Public Safety Minister Marco Mendicino.
"We will continue to exhaust all options to uphold freedom and democracy, punish Russia, and support Ukraine," he said in a statement.
In April, Moscow announced it was barring 61 additional Canadians, including politicians, journalists and military members, from entering Russia due to Canada's actions against the country.
Russia had already barred many prominent Canadians from its soil.
Canada's recent sanctions against Russians have been based on the grounds of a "grave breach of international peace and security" in the Special Economic Measures Act.
The bill introduced Tuesday by Sen. Marc Gold, the government representative in the upper chamber, would amend the Immigration and Refugee Protection Act to include these grounds and all others listed under the special economic measures law.
Foreign nationals who are inadmissible to Canada may have their applications for temporary resident visas refused or cancelled by immigration officials.
Those barred from Canada due to sanctions will still be eligible to have a refugee claim considered by the refugee protection division of the Immigration and Refugee Board, and will have access to a full pre-removal risk assessment, the government says.
NDP foreign affairs critic Heather McPherson said while it was encouraging to see the Liberals take action to bar sanctioned individuals, the government should work to get Ukrainians to safety quickly by dropping visa requirements for them.
In addition, New Democrats will continue to push the government to allow for sanctioned assets to be used to support Ukrainians, she said.
This report by The Canadian Press was first published May 17, 2022.
Jim Bronskill, The Canadian Press
Alberta premier to learn fate Wednesday in party review of his job performance
EDMONTON — Albertans are to learn Wednesday whether Premier Jason Kenney has enough support from his party to keep his job — but political observers say whatever the outcome, it won't end the rancorous political melodrama.
"It's going to be chaotic no matter what the result is," political scientist Duane Bratt said in an interview Tuesday.
"(Kenney) has drawn a line in the sand that says as long as he wins (dissenters) get in line. Well, that's going to lead to a purge in the party, either voluntarily walking, or him forcing people out."
The United Conservative Party said in a statement it was going to count mail-in ballots Wednesday and announce results sometime in the late afternoon in a live feed on its website.
"We've taken extraordinary steps to ensure the security and integrity of this vote," UCP president Cynthia Moore said.
Kenney's office said that the premier was planning to speak about the results at the Spruce Meadows entertainment and equestrian facility in south Calgary.
The leadership review consisted of month-long mail-in balloting by as many as 59,000 party members on whether Kenney should remain leader.
If he does not get a 50 per cent, plus one, majority, he must step down and a leadership race called. Kenney has said if he gets any majority, even a slim one, he'll stay on.
Normally, leaders set the bar of confidence much higher, at least three-quarters or more.
Former premier Ralph Klein left after getting a 55 per cent of the vote in 2006. Ed Stelmach and Alison Redford stepped down from the top job due to party pushback after each receiving 77 per cent.
Kenney has said this vote is different, that a lower number is OK, because the voting pool has been toxically diluted by two-minute members casting ballots to destabilize his government.
Bratt and fellow political scientist Lori Williams said Kenney and the party are battling not only disaffected members but trust in the review itself.
The party is still being investigated by the RCMP for allegations of criminal voter identity fraud in the contest that elected Kenney leader in 2017.
Documentation leaked to The Canadian Press indicates Elections Alberta is investigating the current leadership review over allegations of illegal bulk buying of memberships.
The vote itself was drastically altered at the last minute from an in-person, one-day vote of 15,000 members to a mail-in ballot open to all members. Critics say Kenney's team forced the changes because he was going to lose the in-person vote. The party denies that.
Bratt and Williams said a low review number in the 50s would leave Kenney with a questionable mandate, while anything around 60 per cent or higher would prompt speculation the vote was rigged in his favour.
"I don't see that this vote is going to settle anything," said Williams.
"The divisions in the party and the province are profound."
Kenney has been dealing with open dissent from party and government members for over a year over his COVID-19 health restrictions, a perceived failure to stand up to Prime Minister Justin Trudeau and a top-down management style.
Todd Loewen, a UCP caucus member kicked out a year ago for openly demanding Kenney resign, said the UCP needs renewal and it can't be done with Kenney in charge. The issue boils down to trust and Kenney no longer has that, he said.
"There's no way he can win a fair, open, honest transparent leadership review," said Loewen.
"If he gets over 50 per cent and stays, the party continues to splinter."
Former UCP president Erika Barootes said she expects Kenney will get a majority, and said once that is done, it's incumbent on the dissenters to decide once and for all if they are in or out.
Kenney, she said, has the experience and political skill to win a second term, adding that the party hasn't a moment to lose given it's facing an election in a year against a tough opponent in NDP leader, and former premier, Rachel Notley.
"(The dissenters) have got to respect that he won, and he needs to recognize that he's not getting 95 per cent (support). So there's work to be done," she said.
Calgary-based pollster Janet Brown said, win or lose, Kenney is dealing with a sobering numerical reality.
"In 2019, Jason Kenney won the election with 55 per cent support from the general public," said Brown.
"Three years later, and we're speculating whether he can even get 55 per cent with his own base."
This report by The Canadian Press was first published May 17, 2022.
Dean Bennett, The Canadian Press
Ontario election: 4 ways Doug Ford has changed the province's politics – The Conversation
The dismal environmental record of the Doug Ford government in Ontario is well-documented. Despite some recent moves on "greening" the steel sector and electric vehicle manufacturing initiatives, the province is on track to see major increases in greenhouse gas emissions, particularly from the electricity sector.
The government's emphasis on highway expansion in the Greater Toronto Area is further evidence of this trend.
The Ford government's record on environmental issues is an extension of its wider approach to governance. It has broken from the traditional norms of Ontario politics, which have emphasized moderation and administrative competence, as reflected through the long Progressive Conservative dynasty.
Looking back on Ford's four years in power reveals four themes about his approach to governance — and what the next four years might have in store if public opinion polls are correct and he wins again on June 2.
---


Read more:
Why Doug Ford will once again win the Ontario election


---
1. Reactive governance
The Ford government's agenda seems driven by instinct more than ideology. It came to power with scant vision for what a provincial government should do other than cut taxes, red tape and hydro rates. It's struggled when confronted with more complex problems that required the province to play a much more active role.
The resulting governance model has been fundamentally reactive, and grounded in relatively short-term perspectives. The government has tended to act once a situation reaches the crisis stage, rather than identifying potential problems and taking action to prevent them.
This pattern has been most evident in the government's hesitant responses to the COVID-19 pandemic. It tended to react to waves of COVID-19 infections rather than anticipating them and taking measures to minimize their impacts, even when given clear and consistent scientific advice to do so.
Issues like the environment and climate change are destined to do poorly under such a reactive governance model. They require taking action now to avoid problems in the future.
We are constantly reminded of this by the reports of the Intergovernmental Panel on Climate Change and federal and provincial environmental commissioners. Only responding when problems have become too obvious to ignore tends to mean it's already too late.
2. Creeping authoritarianism
The government's run-up to the election has placed a strong emphasis on "getting it done" — it's the Progressive Conservative party's campaign slogan — in areas like housing and highway and transit construction, in particular.
The flip side of this emphasis has been increasingly aggressive exercises of provincial authority, particularly over local governments. One of the government's first moves was to arbitrarily cut Toronto City Council in half. The province threatened to invoke, for the first time in the province's history, Sec. 33 of the Charter of Rights and Freedoms, known as the notwithstanding clause, to get its way.
---


Read more:
Ford's fight with Toronto shows legal vulnerability of cities


---
Ontario's planning rules have also been rewritten, not only at the provincial level, but down to the level of site-specific development plans within individual municipalities, almost universally in favour of developers' interests. Ministerial zoning orders — which circumvent local planning processes and public consultations, designating land use without the possibility of appeals — are no longer the exceptions they once were.
Instead, they seem the new norm for planning in Ontario. Broad powers have been given to provincial agencies, most notably the provincial transit agency Metrolinx, to build what are often poorly conceived and politically motivated transit projects.
The province's most recent legislative moves have sought to further marginalize the roles of local governments in planning matters and to eliminate public consultation requirements as red tape.
The notwithstanding clause was ultimately invoked by the government as it pertained to its election financing legislation that seemed designed to silence potential critics.
Even local school boards were forbidden to adopt COVID-19 containment measures more stringent that those put in place at the provincial level.
3. Friends with benefits
While the Ford government has gone to great lengths to silence voices of critical constituencies, it's been extraordinarily open to the voices that support it.
The government has demonstrated a distinct tendency to uncritically accept whatever its favoured industry lobbyists tell it to do. This has been evident in its approaches to COVID-19, housing and infrastructure, mining, aggregate extraction sites like gravel pits and quarries, energy and long-term care.
The overall decision-making model that has emerged is based on access, connections and political whim.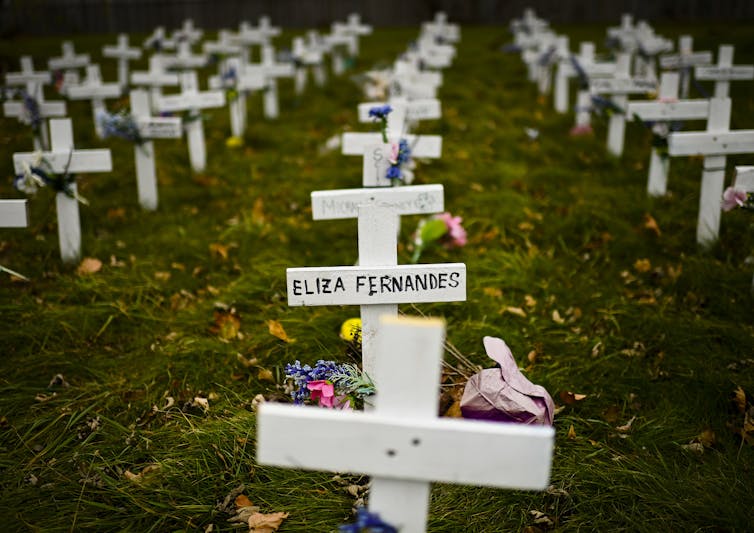 4. Spend but don't increase taxes
A final defining feature of the Ford government has been a tendency to disregard the fiscal consequences of its decisions. The focus instead has been on short-term savings for consumers.
The cancellation of the previous Liberal government's cap-and-trade system immediately following the 2018 election cost the provincial treasury billions in forgone revenues. Hundreds of millions more were spent cancelling renewable energy projects.
Hydro rates are being artificially lowered through an annual $7 billion in subsidies from the provincial treasury, money that could otherwise be spent on schools and hospitals. The pre-election cancellation of tolls on Highways 412 and 418 will cost at least $1 billion over the next 25 years, while the cancellation of vehicle licensing fees will cost the province an estimated $1 billion each year.
A proposed cut to provincial gasoline taxes would cost nearly $650 million in annual revenues. And the projected deficit on the government's pre-election budget was almost $20 billion, a record.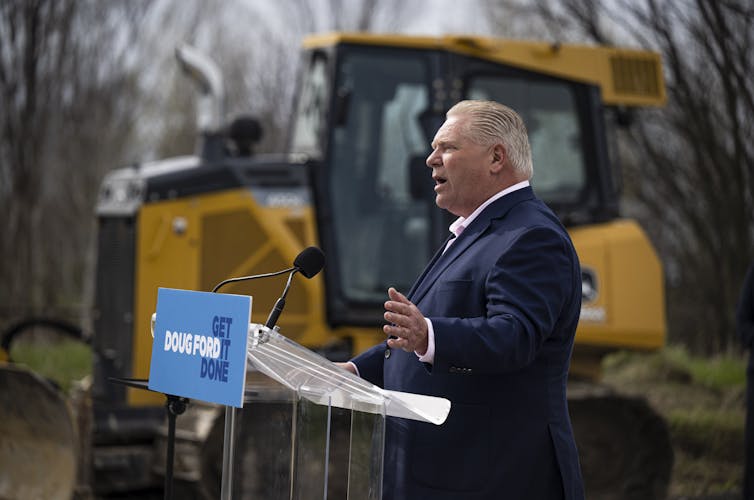 All of this is at odds with previous Progressive Conservative governments in Ontario, which were largely fiscally prudent.
It isn't clear yet to what extent the potential political success of a governance model organized around these four themes represents a fundamental break from the traditional norms of Ontario politics. If Ford wins again, is it due to the weaknesses of the alternatives being offered to Ontario voters, or does it signal a permanent realignment in the province's politics?
---


Read more:
What Doug Ford's shift to the centre says about the longevity of populism


---
Either way, June 2 could be a watershed moment in the province's history, defining a "new normal" for politics in Ontario.