Nurse: Siakam didn't meet 'certain standards' before benching – theScore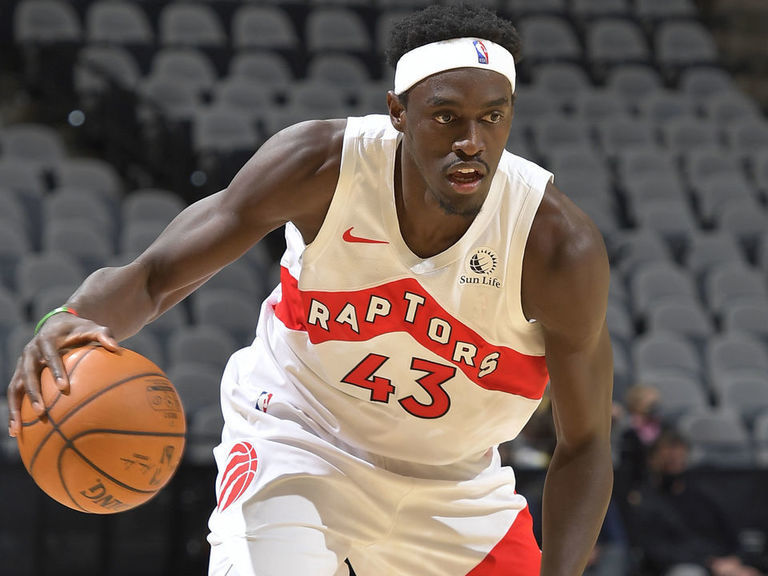 Toronto Raptors head coach Nick Nurse reinserted Pascal Siakam into the team's starting lineup Saturday after benching the forward for Thursday's win over the New York Knicks.
Before Toronto's meeting against the New Orleans Pelicans, Nurse offered more insight into the decision to reprimand the rising star but remained ultimately vague on specifics.
"It's something we're trying to work out here a little bit, and work it out early in the season and not let it prolong," he told reporters, courtesy of Sportsnet. "Again, more just an expectation of how we want to play and not individually how anybody wants to play.
"But there's certain standards that we want to set and he just needs to get on board with those. And he can do it. He can do it. It may be the first part of the process, but he can do it."
The Raptors reportedly sat Siakam because he left the court early in their loss to the Philadelphia 76ers on Tuesday.
The 26-year-old picked up five fouls within a stretch of just over six minutes late in the fourth quarter against Philadelphia, causing him to foul out. However, rather than remain with the rest of the team on the sideline, Siakam was seen leaving the court before time expired.
When asked if there was something specific Siakam did to warrant the one-game punishment the following game, Nurse declined to elaborate.
"There certainly is, but it's nothing I'm going to describe to you," he said.
Siakam is averaging 18.7 points, nine rebounds, 4.7 assists, and a steal in three games this season while playing 39 minutes per contest. He's in the first season of the four-year max contract extension he signed with the club in 2019.
Chiefs' playoff win over Browns becomes an afterthought due to Patrick Mahomes' injury – Yahoo
The Canadian Press
NEW ORLEANS — Nearly two hours after the New Orleans Saints' season had ended, Drew Brees stood on the Superdome field in street clothes, throwing passes to his children while his wife, Brittany, captured images of those moments with her cellphone. Brees routinely throws the ball around with his kids after home games, but after a 30-20 playoff loss to the Tampa Bay Buccaneers on Sunday night, he lingered longer than usual — and there was no telling whether that familiar postgame scene would play out again. Two days after Brees' 42nd birthday, his 20th NFL season ended with statistically his worst playoff performance. Brees threw three interceptions, his most in 18 post-season appearances. His 134 yards passing were a career-playoff low. And because of COVID-19 restrictions, there were fewer than 4,000 fans in the 73,000-seat Superdome to bid him farewell — if indeed it was his final game in a Saints uniform. For now, Brees won't say. But he's also said nothing that would lead one to believe he's prepared to play next season, his last under contract. "I'll answer this question one time and that is that I"m going to give myself an opportunity to think about the season, think about a lot of things just like I did last year and make a decision," Brees said. That decision for the NFL's all-time leader in yards passing will come after a fourth straight season that saw the Saints (13-5) win 11 or more games and go to the playoffs, only to come up short of the Super Bowl. This season, Brees missed four games with multiple broken ribs and a punctured lung, but came back in time to see New Orleans through to its fourth straight NFC South crown and a convincing playoff victory over Chicago in the wild-card round. "I would never regret it. Never. No complaints, no regrets," Brees said. "I've always tried to play this game with a great respect and a great reverence for it, and I appreciate all that this game has given to me. "There are obviously so many incredible memories and so many incredible relationships that have come as a result of playing this game," Brees continued. "You find out so much about yourself and you have to fight through so much when you play this game. And I'd say this season I probably had to fight through more than I've ever had to in any other season in my career, from injury to all the COVID stuff, to just crazy circumstances. And it was worth every moment of it. Absolutely." Brees said the way this season ended "won't have anything to do" with his decision on whether to retire. As for what will go into the decision, Brees said, "I'll keep that to myself right now." Saints coach Sean Payton seemed to be taking his cue from Brees when he, too, sidestepped a question about what his decade-and-a-half relationship with Brees has meant to him. "That's probably for another press conference," Payton said. "Obviously he's been tremendous for this team, this city. I could go on and on, but let's wait and answer that at the right time." Other teammates didn't wait, though. "He's been everything you could imagine a leader could be," said Saints defensive end Cameron Jordan, Brees' teammate since 2011. "He's the first one in, the last one out. Every stereotypical leadership core value you think of, Drew has. He exemplifies everything that he does in terms of wanting to be a better teammate." Veteran linebacker Demario Davis said playing with Brees has meant "everything" to him. "When I came to New Orleans, I wanted to help Drew Brees win another Super Bowl because I feel like he deserves it for the accomplishments that he's had," Davis said. "I wanted him to have some more championship trophies on the mantle. "He's a great teammate, a great leader, a great man, a great husband and a great father," Davis added. "He's just an example for all us to try to emulate." Brees, who brought the Saints their only Super Bowl appearance and win in the 2009 season, is not only the all-time leader in yards passing with 80,358, but also completions 7,142. He began this season first in touchdowns, but is now second with 571, behind the 581 of Tampa Bay's Tom Brady, who is moving on to his 14th conference title game at age 43. When the game ended, Brees greeted a couple of Bucs players, including Brady, who he's known since college, and then pointed to the stands and blew kisses as he jogged to the tunnel leading to the Saints locker room. When he first emerged from the locker room back onto the field in street clothes, he shared a long embrace with Brittany while his three sons and daughter played nearby. "I always soak in the moment and I'm looking up at my family and blowing kisses to my wife and my daughter and fist-pumping my boys," Brees said. "They've become so much a part of this as my kids have gotten older, and they are so invested in this as well. That's what makes the moment special, to be able to share it all together." ___ More AP NFL: https://apnews.com/NFL and https://twitter.com/AP_NFL Brett Martel, The Associated Press
Brady bests Brees as Buccaneers advance to NFC Championship – Sportsnet.ca
NEW ORLEANS — Tom Brady's best game in three tries against New Orleans kept the Buccaneers moving on in the NFL playoffs, and has Saints quarterback Drew Brees headed home — perhaps for good.
Brady and the Bucs' offence turned three of four Saints turnovers into touchdowns and Tampa Bay beat New Orleans 30-20 in the divisional round of the playoffs Sunday night.
Two of those touchdowns came on short passes to Mike Evans and Leonard Fournette. And after linebacker Devin White snagged the second of thee interceptions thrown by Brees, Brady drove the Bucs to the 1, from where he scored himself with 4:57 left to virtually ensure his 14th trip to a conference championship game — his first in the NFC.
That game will take place in Green Bay next week, where the 43-year-old Brady will try to advance to his 10th Super Bowl in a showdown with Packers All-Pro QB Aaron Rodgers.
"We worked hard to get to this point. Two road playoff wins is pretty sweet," Brady said. "We've got to go beat a great football team we know pretty well. Aaron's playing incredible."
Meanwhile, the Brees era in New Orleans could be over after 15 seasons.
While just 3,750 tickets were distributed in the 73,000-seat Superdome to comply with local COVID-19 restrictions, the fans made themselves heard with an eruption of cheers when the 42-year-old Brees first took the field for New Orleans (13-5), seemingly sensing this could be their last chance to see him play at home.
Brees, under contract for one more year, declined to say whether he's retiring. After he'd changed in the locker room, he walked back onto the field and watched his four children play, at one point sharing a long embrace with his wife, Brittany.
"I appreciate all that this game has given to me," Brees said. "There are obviously so many incredible memories."
If it was his last game, it won't be one he'll want to remember. The NFL's all-time leader in completions and yards passing was 19 of 34 for 134 yards, one touchdown and three interceptions.
"A couple of them I probably shouldn't have thrown and maybe forced it," Brees said. "That's what this game came down to is those turnovers because all of those gave them the ball deep in our territory, and you can't do that with (Tampa Bay's) offence. They're too good and they're going to capitalize on that, which they did."
Brady finished 18 of 33 for 199 yards in what often resembled more of a defensive struggle. Unlike his previous two meetings with the Saints — both losses — he was not intercepted and largely avoided pressure, taking only one sack.
"Really just locking in and playing a lot better than we did the first two times we played them," he said. "We had a bunch of turnovers last time. This time they turned it over and that's usually the story of football games."
After Brees' third interception on a tipped pass late in the fourth quarter, the Bucs were able to close out the game with Brady, in his first season with Tampa Bay (13-5) after 20 with New England, taking a knee.
"Obviously they beat us twice in the regular season," Bucs left tackle Donovan Smith said. "We came around in Round 3 with the knockout.
"We've been building. You got to get hot at the right time."
THIEVING BUCCANEERS
The Saints led 6-3 when Brees, while trying to flee pressure, underthrew Michael Thomas and was intercepted by Sean Murphy-Bunting, who raced 36 yards along the sideline to the Saints 3. Brady hit Evans one play later to put the Buccaneers up 10-6.
Brees' 16-yard pass to Tre-Quan Smith put the Saints ahead 20-13, and New Orleans appeared primed to build on that lead when Brees found Jared Cook across the 50. But Bucs safety Antoine Winfield Jr. stripped Cook from behind and White snagged the loose ball, returning it 18 yards to the New Orleans 40.
"It wasn't nothing Brees did. It was everything our defence did," White said. "Our mindset the whole week was they won the first two rounds, we had to win round three."
Five plays later, Brady hit Fournette over the middle for a 6-yard score.
Ryan Succop's 36-yard field goal made it 23-20 before White's interception of a pass intended for Alvin Kamara gave the Buccaneers the ball at the New Orleans 20, setting up Tampa Bay's final TD.
WINSTON'S MOMENT
Jameis Winston, forced out of Tampa Bay when Brady became available, threw a 56-yard touchdown pass against his old team on a trick play.
Kamara took a direct snap and gave the ball to receiver Emmanuel Sanders on a reverse before Sanders lateraled back to Winston. The reserve QB launched an accurate pass down the middle to an open Smith.
STATS
Fournette finished with 107 yards from scrimmage, 63 on the ground. He had 40 yards in one drive that set up a field goal that tied it at 13 as time expired in the first half.
Kamara had 105 yards from scrimmage, with 85 on the ground. Thomas was held without a catch in his final game of an injury-plagued season.
INJURIES
Buccaneers: Linebacker Jack Cichy went out with an elbow injury in the first quarter.
Saints: Deonte Harris, who returned the first Tampa Bay punt 54 yards to set up a field goal, left with a neck injury in the first half.
UP NEXT
The Bucs will try to advance to the second Super Bowl in franchise history with Brady, no stranger to high-stakes games in cold weather after his two decades in New England.
New Orleans might have to ponder life without Brees.
Why the Maple Leafs put Jason Spezza, Aaron Dell on waivers – The Athletic