Nurse texts dad, asking for ventilators, and a prototype is together in six days – Estevan Mercury
A few days after the global pandemic was declared, Jim Boire got a text from his daughter. Rebecca Erker, a Royal University Hospital intensive care unit nurse.
She is working on her PhD with the respiratory research centre in Saskatoon. As a result, she had a good understanding of what was at stake with COVID-19, and reason to be concerned.
Thankfully, Boire is president of RMD Engineering, a Saskatoon firm whose expertise ranges from beamlines for the Canada Light Source Synchrotron to industrial processes in potash mining, and a whole lot in between.
They've worked in uranium, agriculture, and a lot of research and development. His company (which Boire owns with four other partners, all employees) had the expertise and capacity to do something about it. And so they did.
"I got my text from my daughter on March 18. March 24, we had our first prototype built," Boire said. Now the Saskatchewan Health Authority (SHA) announced Wednesday it would be taking delivery of 100 new ventilators, known as the EUV-SK1, in short order. The first 20 are ready to go out the door, and the company has most of the parts in place to build as many as 1,000 units."
RMD Engineering Inc.'s subsidiary, One Health Medical Technologies, recently received COVID-19 Medical Device Authorization from Health Canada for an in-house designed, developed and manufactured ventilator. Collaborating with the University of Saskatchewan and SHA subject matter experts, RMD Engineering was able to successfully prototype an emergency use ventilator for Health Canada certification.
According to a Ministry of Health press release, there are currently approximately 650 ventilators available in Saskatchewan's health system, enough to meet the need. They range from high-end critical care type ventilators to more basic sub-acute ventilators. The SHA's purchase from RMD will increase that number to about 750.
But getting from a text to a prototype for an approved ventilator wasn't easy, nor was it a quick process.
Very early on, the deans of both the University of Saskatchewan College of Engineering and College of Medicine got involved. Top respiratory technologies, respirologists, and ICU nurses were brought in within short order to develop this totally new product.
Boire said, "As soon as we asked for them to help, they helped with open arms. And you have a team like that, that knows exactly what something is supposed to do. And the capability to build something that can do that, then all you need are the codes and standards and validation equipment to make sure it meets the required level of quality."
Asked if it was like converting to war production in 1940, Boire said, "I'll tell you, that's exactly the way it started.
"It felt like a military operation, if I was ever involved in a military operation, but I wasn't. However, as soon as we got through the point where this is going to work, this design is going to work, here's what we have to do now, a group of people said, 'You know what? We get it. This is like a military operation, everybody's doing this, let's just go, go, go.'
"They stopped and said, 'You know what, it's probably time now that everybody starts looking at this as the biggest humanitarian effort this company has ever done.' And it was just an awesome way to get out of that firefighting mode. And then one of our instrumentation leads said, 'This is not a sprint. You guys can't keep working 18 hours a day. This is going to be a marathon.'
"And it really helped pull the whole team back down to the ground, and get them out of that adrenaline mode, and really start focusing on the work breakdown, structure in the tasks at hand, and who's responsible for what and what's this timing going look like and when is this going in."
His references to firefighting are authentic, as the company has built support equipment for water bombers.
They soon realized that the whole world was looking for critical parts, which almost immediately went into short supply and were being hoarded. Some items, like wire, saw huge price spikes. So RMD quickly realized it had to work on this project quietly, and develop a product that avoided critical path component shortages.
Boire said, "Instead of using the newer, more conventional turbine method, we knew those would be a hot commodity, when the world proclaimed they needed over a million of these. As you can imagine, that turbine is a complicated piece of equipment. We went the other way. We went back to being simple," Boire said. "We have very, very few moving parts in our machine. There's four moving parts."
He explained, "This is an emergency use ventilator, so it needs to be used in the hospital or in an emergency hospital situation where they have line medical air and line oxygen so that'll be running at 50 PSI. And then we control everything with proportional solenoids."
There are two tubes coming into the device, which is in a large Pelican case, and two tubes coming out. They had them on hand because of another government project they're working on. The lid includes an IBM screen.
"They're all high reliability components," he said. It runs off 110 volt AC power.
You set it up beside the bed, hook up the lines, hook up the power and put in the appropriate prescription.
They had previously made the biomedical imaging line for the Canadian Light Source, but they weren't a medical device manufacturer. The list of specifications, protocols and standards was extensive.
And those standards, in some ways, simplify things. Boire said, "We don't have any proprietary stuff on there, so all of the circuits, all the nebulizers everything fits on there. All that is covered off in standards. And I think that's one of the biggest things to understand is when you go down this path, it is very prescriptive on everything. The machine has to do all of the standards it has to meet, including operational standards."
He added, "It's probably a foot tall, the stack of standards, when you put them together. You have to meet the electrical requirements, the operational requirements, the safety requirements. You don't get to just build something in your backyard, and then tell everybody you have it. When you go and look at the requirements, when you submit to Health Canada, it is an armful. And I think we've spent just about $30,000 on standards. There is a lot of standards that you have to meet."
COVID-19 in Ottawa: Ontario reports another triple-digit case count – CTV Edmonton
OTTAWA —
Ottawa Public Health is reporting 123 more people in the city have tested positive for COVID-19 and one more resident has died.
However, the health unit is also reporting the number of active cases in Ottawa down slightly from its record high on Saturday.
There are also fewer people in the hospital with COVID-19.
Across the province, 3,422 new cases of COVID-19 were reported, along with 69 new deaths. Ontario health officials added 144 new cases of COVID-19 to the city's total on Sunday.
New case counts from OPH and from the province often differ due to different data collection times.
Ottawa's weekly rate of new cases per 100,000 residents has also declined from 88.9 on Saturday to 85.6 on Sunday. Other weekly metrics, such as the estimated reproduction number and the positivity rate are holding steady.
According to Ottawa Public Health's COVID-19 dashboard, there have been 12,286 total laboratory-confirmed cases of COVID-19 in Ottawa since the pandemic began and 403 residents have died.
OTTAWA'S COVID-19 KEY STATISTICS
A province-wide lockdown went into effect on Dec. 26, 2020. Ottawa Public Health moved Ottawa into its red zone in early January.
A provincial stay-at-home order has been in effect since Jan. 14, 2021.
Ottawa Public Health data:
COVID-19 cases per 100,000 (previous seven days): 85.6 cases
Positivity rate in Ottawa: 4.1 per cent (Jan. 8 – Jan. 14)
Reproduction number: 1.03 (seven day average)
Reproduction values greater than 1 indicate the virus is spreading and each case infects more than one contact. If it is less than 1, it means spread is slowing.
VACCINES
Ontario health officials say 11,007 doses of COVID-19 vaccines were administered in the province on Saturday for a total of 200,097 since vaccinations began.
21,714 people have completed their vaccinations by receiving both required doses.
Ottawa Mayor Jim Watson told CTV News at Six on Saturday that the City had administered 19,980 doses of vaccine. The Ottawa Hospital said the city had received 22,245 total doses of the Pfizer-BioNTech vaccine to date last week.
Health Canada says Ontario has so far received 277,050 doses of COVID-19 vaccines as of Jan. 14, 224,250 of which are the Pfizer-BioNTech vaccine and 52,800 of which are the Moderna vaccine.
ACTIVE CASES OF COVID-19 IN OTTAWA
The number of people in Ottawa with known active cases of COVID-19 has dropped slightly after reaching a record high of 1,286 on Saturday.
OPH says there are 1,274 people now dealing with active cased of COVID-19 in Ottawa.
The number of people whose cases have resolved rose by 134 on Sunday to a citywide total of 10,609 since the start of the pandemic.
The number of active cases is the number of total laboratory-confirmed cases of COVID-19 minus the numbers of resolved cases and deaths. A case is considered resolved 14 days after known symptom onset or positive test result.
HOSPITALIZATIONS IN OTTAWA
The number of people in Ottawa hospitals with COVID-19 symptoms and in intensive care units fell by two on Sunday.
There are now 38 people in hospital with COVID-19, eight of whom are in the ICU.
Of the people in hospital, one is between the ages of 10 and 19 (this person is in the ICU), one is in their 30s (this person is in the ICU), one is in their 40s, three are in their 50s, eight are in their 60s (three are in the ICU), eight are in their 70s (three are in the ICU), nine are in their 80s and seven are 90 or older.
TESTING
Ontario health officials say 60,183 COVID-19 tests were performed provincewide on Saturday and 30,103 tests remain under investigation.
The Ottawa COVID-19 Testing Taskforce does not provide local testing updates on weekends. In its most recent report on Friday, the taskforce said 1,491 swabs were taken at assessment centres in Ottawa on Jan. 14 and 7,262 tests were performed.
The next update from the Ottawa COVID-19 Testing Taskforce will be released on Jan. 18.
CASES OF COVID-19 IN OTTAWA BY AGE CATEGORY
Here is a breakdown of all known COVID-19 cases in Ottawa by age category:
0-9 years old: 14 new cases (874 total cases)
10-19 years-old: 10 new cases (1,547 total cases)
20-29 years-old: 29 new cases (2,601 total cases)
30-39 years-old: 23 new cases (1,683 total cases)
40-49 years-old: 18 new cases (1,610 total cases)
50-59 years-old: 18 new cases (1,462 total cases)
60-69-years-old: 5 new cases (891 total cases)
70-79 years-old: 2 new cases (561 total cases)
80-89 years-old: 3 new cases (630 total cases)
90+ years old: 0 new cases (423 total cases)
Unknown: 1 new case (4 cases total)
COVID-19 CASES AROUND THE REGION
Eastern Ontario Health Unit: 45 new cases
Hastings Prince Edward Public Health: 5 new cases
Kingston, Frontenac, Lennox & Addington Public Health: 2 new cases
Leeds, Grenville & Lanark District Health Unit: 6 new cases
Renfrew County and District Health Unit: 1 case removed
Outaouais region: 22 new cases
INSTITUTIONAL OUTBREAKS
Ottawa Public Health is reporting COVID-19 outbreaks at 36 institutions in Ottawa, including long-term care homes, retirement homes, daycares, hospitals and schools.
Three more outbreaks were declared at local group homes. Outbreaks at Portobello Retirement Residence and Manoir Marochel have ended.
There are seven active community outbreaks.
Three are linked to health workplaces, one is in a multi-unit dwelling, one is linked to an office workplace, one is linked to a distribution centre, and one is linked to a services workplace.
The schools and childcare spaces currently experiencing outbreaks are:
Andrew Fleck Children's Services – Licensed home daycare
Greenboro Children's Centre
Montessori by Brightpath
Ruddy Family Y Child Care
Services à l'enfance Grandir Ensemble – La Maisonée – 28627
The long-term care homes, retirement homes, hospitals, and other spaces currently experiencing outbreaks are:
Alta Vista Manor
Besserer Place
Centre D'Accueil Champlain
Chartwell Duke of Devonshire Retirement Home
Colonel By Retirement Home
Extendicare Laurier Manor
Extendicare Medex
Extendicare New Orchard Lodge
Extendicare West End Villa
Forest Hill
Garry J. Armstrong long-term care home
Grace Manor Long-term Care Home
Granite Ridge long-term care home
Group Home – 28608
Group Home – 28740
Group Home – 28848
Group Home – 29045 (NEW)
Group Home – 29049 (NEW)
Group Home – 29052 (NEW)
Hillel Lodge
Madonna Care Community
Oakpark Retirement Community
Redwoods Retirement Residence
Shelter – 28365
Sisters of Charity Couvent Mont Saint-Joseph
Sisters of Charity Maison Mère
St. Patrick's Home
Supported Independent Living – 28110
Valley Stream Retirement Residence
Villa Marconi
Villagia in the Glebe Retirement Residence
A single laboratory-confirmed case of COVID-19 in a resident or staff member of a long-term care home, retirement home or shelter triggers an outbreak response, according to Ottawa Public Health. In childcare settings, a single confirmed, symptomatic case in a staff member, home daycare provider, or child triggers an outbreak.
Under provincial guidelines, a COVID-19 outbreak in a school is defined as two or more lab-confirmed COVID-19 cases in students and/or staff in a school with an epidemiological link, within a 14-day period, where at least one case could have reasonably acquired their infection in the school (including transportation and before or after school care).
Quebec reports 50 more COVID-19 deaths, partial tally of 1,744 cases – Vancouver Is Awesome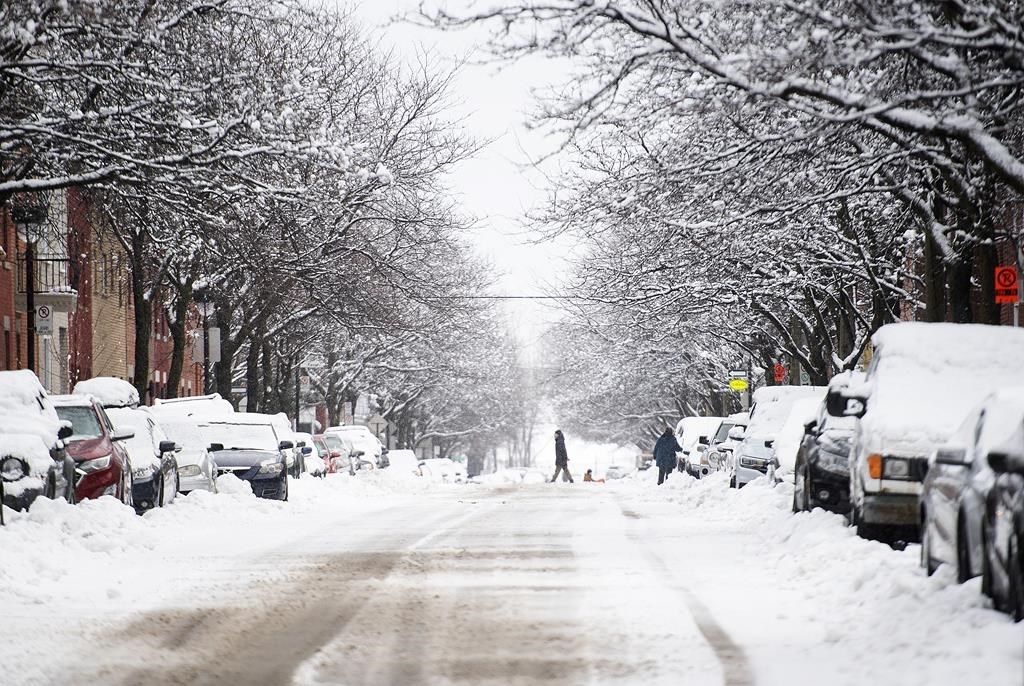 Boxes of doses of Moderna's COVID-19 vaccine arrived by plane in nine Cree communities in Quebec's James Bay region over the weekend and were immediately put to work to protect the community, the head of the regional health board said Sunday.
Bertie Wapachee, the chairperson of the Cree Board of Health and Social Services of James Bay, said vaccination was already underway in many of the communities, with the rest of the vaccine centres opening on Monday.
"In some ways, it represents a light at the end of the tunnel for us," he said in a phone interview.
"It's an added tool to defeating the virus as we move forward."
Wapachee said he didn't know the exact number of vaccines received, but said the communities would be able to offer a first dose to any adult community members who want them.
He said the remote Cree communities are especially vulnerable to COVID-19 outbreaks due to overcrowded housing conditions that make isolating difficult, as well as a limited number of local health-care workers.
He said he was "confident" most of the community members would want the shot.
The region has contended with at least one outbreak involving about 40 cases.
While there are logistical challenges in delivering the vaccine to isolated communities, Wapachee said the area is well-served by regional airline Air Creebec, a strong team on the ground and a population that has done a good job respecting the health measures overall.
Meanwhile, Quebec reported 50 new deaths due to COVID-19 on Sunday as well as a preliminary total of 1,744 new cases.
The province said a delay in transmitting data from Quebec's labs means the number of cases is incomplete and will be adjusted in a future update.
Hospitalizations declined for the third straight day, down 14 to 1,460.
There were also 12 fewer people in intensive care, for a total of 215.
While the number of new cases recorded in Quebec has declined slightly over the past week, Health Minister Christian Dube said on Twitter that it's too soon to describe the movement as a trend.
He urged Quebecers to keep following health measures because the battle is "not yet won."
The province administered just over 8,800 doses of vaccine on Saturday, he added.
Quebec has reported a total of 242,714 cases and 9,055 deaths since the pandemic began.
This report by The Canadian Press was first published Jan. 17, 2021
Morgan Lowrie, The Canadian Press
Quebec pins all its hopes on the vaccine, but experts say action is needed on multiple fronts – Yahoo News Canada
Initiative de journalisme local
Un immense projet d'exploitation de charbon métallurgique à ciel ouvert dans les Rocheuses, signifiant ni plus ni moins la « décapitation » des montagnes, fait débat en Alberta. Une filiale de la compagnie Riversdale Resources Limited, Benga Mining Limited, propose de construire et d'exploiter une mine pour produire de l'acier, près de Crowsnest Pass, à sept kilomètres au nord de la communauté de Blairmore, dans le sud-ouest de l'Alberta. Le projet Grassy Mountain, s'il aboutit, produirait 4,5 millions de tonnes de charbon métallurgique par an, et ce, durant 25 ans. Ce projet minier trouve actuellement un écho négatif dans la province. « Il n'a pas fait l'objet d'une consultation publique auprès des Albertains », déplore Leor Rotchild, directeur de l'association professionnelle Canadian Business for Social Responsability, basée à Calgary.  Cependant, le gouvernement fédéral a annoncé le 19 mars 2020 le début d'une période de consultation publique, qui se terminait vendredi. Le 1er juin dernier, afin de faciliter le projet, le premier ministre, Jason Kenney, a levé l'interdiction d'une réglementation environnementale datant de 1976. Le gouvernement albertain a décidé en effet de ne pas la renouveler en la laissant expirer. Cette réglementation interdisait jusqu'à présent les compagnies de charbon d'extraire du minerai à ciel ouvert le long des pentes des montagnes Rocheuses. Dans certaines zones, l'exploitation souterraine était elle aussi limitée, en fonction des effets qu'elle pouvait occasionner en surface. La ministre de l'Énergie, Sonya Savage, avait salué la nouvelle, voyant dans cette décision un moyen « d'attirer de nouveaux investissements pour une industrie importante ». Cependant, Leor Rotchild, l'entrepreneur écomilitant, y voit un manque de vision. « Je comprends que le gouvernement cherche à créer désespérément de l'activité économique en Alberta, mais le désespoir est une mauvaise stratégie », lance-t-il. Pour ce faire, il faudrait décapiter le haut de la montagne, à l'instar du projet minier de Teck Resources à Elk Valley, se situant entre l'Alberta et la Colombie-Britannique. « Quand tu élimines le haut d'une montagne, c'est très mauvais pour le tourisme, surtout en période de crise économique, car ce secteur est important ici. Ça sera difficile de continuer comme avant », explique Joseph Vipond, président de l'Association canadienne des médecins pour l'environnement. Cependant, il n'y a pas que le secteur touristique qui risque des dommages collatéraux. La faune est elle aussi en danger, l'habitat des caribous, des grizzlys, ainsi que celui de certaines espèces de truites étant menacés. En Colombie-Britannique, d'après le Dr Vipond, « il a déjà été démontré que ces mines de charbon à ciel ouvert rejettent de fortes concentrations d'un élément appelé sélénium, que l'on retrouve dans le bassin de la rivière Elk ».  Aujourd'hui, « ce qui effraie vraiment les Albertains, c'est la contamination de l'eau potable. On retrouve maintenant dans toutes les rivières du sud-est [de la Colombie-Britannique] cet élément qui tue tous les poissons. C'est un phénomène qu'on devrait éviter ici », alerte-t-il. Ces concentrations de sélénium dans l'eau inquiètent aussi les éleveurs de l'Alberta quant aux effets sur l'agriculture et leur élevage. « La qualité de l'eau a une répercussion sur les bovins », précise Joseph Vipond. Le Conseil des Canadiens, une organisation citoyenne, s'est exprimé clairement sur son compte Twitter en invitant les gens à répondre jusqu'à vendredi à la consultation publique lancée par l'Agence d'évaluation d'impact du Canada. « Décapiter les montagnes et ouvrir de nouvelles mines de charbon ne devraient pas être une option en 2021, l'audition pour le projet de mine de charbon de Grassy Mountain dans les montagnes Rocheuses continue d'avancer. Dites non au charbon », tweetent-ils. Les professionnels du charbon, eux, se déclarent satisfaits, a indiqué Robin Campbell, président de l'Association canadienne du charbon et ancien ministre provincial de l'Environnement. Ce projet de mine, s'il voit le jour, créerait dans la région de Crowsnest Pass, ancienne ville minière, 500 emplois durant sa construction et 385 postes à plein temps durant son exploitation. Selon l'Association canadienne du charbon, l'estimation des recettes fiscales de Grassy Mountain s'élèverait à plus de 1,7 milliard de dollars de redevances et de taxes gouvernementales, sur environ 25 ans. Les taxes municipales devraient, elles, s'élever à 1,5 million de dollars par an, soit 35 millions de dollars en un quart de siècle. Cependant, il faudra encore attendre le résultat des consultations publiques sur ce projet qui divise l'opinion publique.Hélène Lequitte, Initiative de journalisme local, Le Devoir