NY artist nails it with mosaic grotto in Times Square
A  New york artist has assembled more than 350,000 acrylic fingernails to create a neon and pale pink grotto – a tribute to surviving the coronavirus pandemic.
"A Fountain for Survivors," enclosed in an 18-foot tall rhinestone-studded cave, was unveiled on Thursday in Times Square, offering visitors a refuge until Dec. 8.
"Nails are what you do when it's time to maintain," said artist Pamela Council, who has used fountains in their other work exploring the Black experience in the United States.
"Nails is that little special thing that you do for yourself. And I think survivors need that."
The sculpture resonated with many Black visitors who treat nails as an artform, including Michelle Abrokwa, 29, who said the artwork made her think of her sisters and their love of getting their nails done.
"Every day was a new design for them, sort of like a sense of expression for them," Abrokwa said. "So it'd be like, 'OK, on my off-day, I am going to paint my nails this color.' It's kind like a mood ring of sorts."
Visitors may drop a coin-shaped "wishing wafer" into the fountain, which will fizz up to release a healing fragrance.
With New York emerging from lockdown, the Times Square Alliance said it estimated some 10 million pedestrians will see the free exhibit. The city was an early epicenter of the pandemic.
Surviving the loss and lockdown was on the top of Council's mind in creating their work.
"We've all made it this far," they said. "And we all need a spark of joy right now."
This story refiles to correct pronoun in paragraphs three, nine and ten.
(Reporting by Dan Fastenberg; Editing by Richard Chang)
Around Town: Art of Inclusion – Alaska Highway News
Carmella Klassen paints a snowman in the window of the Fort St. John Association for Community Living's Art of Inclusion studio on 100 Avenue.
The art program began earlier this year, and recently moved into a standalone studio down the street from the ACL office, where members show up to sessions on Tuesdays and Thursdays to learn how to work with paints and pastels, linocuts and silkscreens, and other mixed-media techniques.
"I love art," says Klassen, who has been taking part in the program since the beginning. "I make something new every time, and I want to learn how to do different things. Lorna is one of the best teachers I can think of."
Klassen is referring to Montney artist Lorna Penner, who has been helping out with instruction since August. On Tuesday afternoon, Penner was working with Klassen and others on mixed-media self-evaluations and teaching them how to paint with pastels.
"It's talking about how they feel when they do art. They're very determined, they're unique," says Penner.
Penner works with about four students per session, which she says is perfect. "We can really get into things very deep," says Penner.
The studio recently held a printmaking open house for family and friends, and exhibited a COVID-19 show at Peace Gallery North earlier this year.
The program wraps for the holidays next week and will continue in the new year.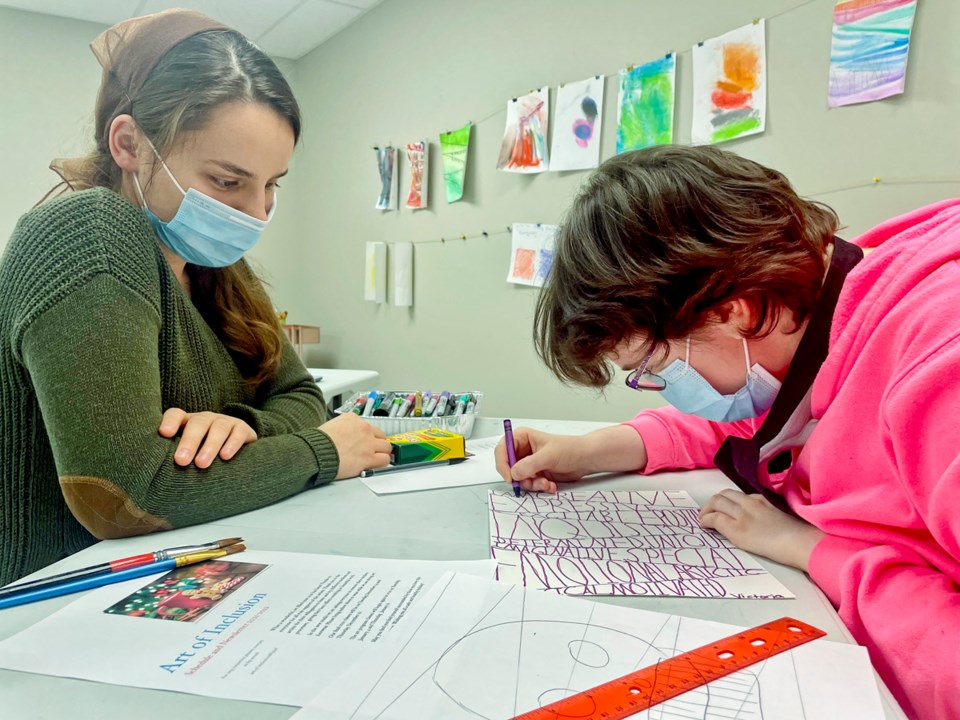 ---
Email Managing Editor Matt Preprost at editor@ahnfsj.ca
New Brunswick Grade 11 student now taking art seriously – Toronto Star
Afton MacDonald has been around art her whole life.
While she began and enjoyed doing art as a small child, the Carleton North High School Grade 11 student said she didn't take it seriously until 12 or 13.
"I remember when I was a young kid that I would watch my dad draw, and later I tried to copy him on my play easel," said MacDonald in her biography as the Creek Village Gallery and Café Young Artist for December and January.
She credited a young, talented artist who moved to her neighbourhood for sparking her interest in taking her artistic efforts to the next level.
"A girl a bit older than I had just moved in down the road, and she was an amazing artist," recalled MacDonald. "I admired her skill, and I made it my mission to become good at art."
While her efforts didn't pay dividends immediately, persistence did.
"It was a rocky start, but all through my middle school years, I drew obsessively, and it paid off," MacDonald said. "I really enjoy drawing because I love the process. I love seeing what beautiful things I can put on paper. I challenge myself to see how accurately I can draw faces or scenes."
This year, MacDonald is studying art at CNHS.
"I'm in Ms. Nickerson's Grade 11 visual arts class this semester," she said.
MacDonald called it a privilege to display her various styles of artwork on the Creek Village Gallery's Young Artist Showcase.
"I am so excited to share it with everyone," she said.
Paul Twyford of the Creek Village Gallery and Café said the Young Artist Showcase, sponsored by Woodstock businessman Greg McPherson, is designed to encourage talented young artists like MacDonald and enhance their exposure.
"It's so encouraging to them to have an opportunity to show and sell their artwork in a gallery," he said.
Twyford said MacDonald's work would remain on display through December and January.
He said MacDonald shared a unique business idea involving personalized art for potential clients, which intrigued him.
Twyford referred to the young artist's creation of an autobiographical piece of artwork, which not only includes a self-portrait but lists her likes, dislikes, friends, interests and other personal details.
For $50, she'll create an art bio for others," said Twyford. "They can contact Afton by email for more information at aftymacdonald@gmail.com
MacDonald said biographical art is one of my favourite things to make.
"I wanted to incorporate it with my display somehow, but I didn't know how to make it relate to others," she said.
MacDonald provided Twyford with her email address, explaining if someone wants their own customized bio, they simply email her.
"From there, I will send them a form to fill out with the information that I would need to complete the bio," MacDonald said. "It'll mostly be things like likes, dislikes, interesting information, age, birthday and so on. They will also provide me with a photo so I can recreate it digitally."
She said a person could also commission a biographical art piece for someone else, perhaps to give as a Christmas gift.
"I'm really hoping that people will be interested in commissioning me to do this for them because I think it would be a really cool experience," said MacDonald.
Lawrence Weiner obituary – The Guardian