Oculus Link Cable Now Available in Select Regions – VR Gear
Oculus first announced the Oculus Link technology and software this past Oculus Connect Event in September of 2019. This software allows the Oculus Quest to essentially become a Rift S, with all of the same similarities and the same gaming capabilities. With the right PC hardware and an Oculus Link-ready cord with the right specs, your Quest is able to play some of the most high-end games the Oculus Rift Platform has to offer. Starting yesterday, the official Oculus Link cable is available in select regions.
We aren't sure which regions the new cable is available in, but the main Quest-consuming countries are thought to be included in this initial release. The cord is priced at $79.99 inside of the United States.
This new cord from Oculus is believed to be the best Link cable on the market. We have found a few cables that are capable of harnessing this new tech, but none of them have had the impressive specs that are inside the new Oculus cable. This cable isn't just another pretty piece of hardware, as it holds 15 feet (3 meters) of tech that is unrivaled in the market right now. For the full list of specs, you can check those out below.
Official Link Specs
Length – 5 Meter Headset Cable
Outer Diameter – 4.6 Millimeters
Weight – 224g
Color – Black
Type – USB 3.2 Gen 1 Type-C
Connectors – Headset: Right Angle USB Type-C
PC Straight Type-C
Cable Exterior – TPU 0.5 Millimeter
Low Friction Durable Flexible
Shielding – High Quality Spiral Shielding
Cable Bend Radius – 20 Millimeter
Signal Requirements – USB 3.2 Gen 1 Signaling 5 Gbps USB 2 Backward Compatible
Infrared Signal Loss Tolerances – <500mV VBUS @ 3000mA : <250mV GND @ 3000mA
Power Supply – 3A
Bandwidth – 5 Gbps
Electrical Identification – eMarker
Support for SuperSpeed USB ports
These specs were also available for third-party manufacturers to use, but not many have come out with their own cable dedicated to the link just yet. Oculus wasn't anticipated to release their own cable for over another month, but putting it on the market during the holiday season seems like the perfect idea from a company that is selling out of early everything this season.
If there is going to be another company that can compete with Oculus and its own cord, they will need to price their Link at a much cheaper price. We doubt another company is going to release any hardware for the Link that is more impressive than Oculus', so cutting the price without cutting too much power and latency is going to be incredibly important.
Have you tried out the Oculus Link beta yet? Let us know in the comments below and tell us what your favorite game is on your standalone VR PC headset! For more VR news and community updates, make sure to check back at VRGear.com
MagSafe on iPhone 12: I was wrong to doubt Apple's magnetic charger – CNET
The iPhone 12 has a new magnetic charger system called MagSafe. It's a familiar name because MagSafe used to be on all the MacBooks, once upon a time. It auto-attached and easily popped off so that tripping over a wire wouldn't knock your laptop off a table… and was generally appreciated.
I didn't love the idea of MagSafe when Apple first announced it for the iPhone 12, because all I wanted was USB-C. I wanted a normal nonproprietary charger. Instead, Apple doubled down on its proprietary charge options. It seemed interesting but unnecessary.
I still want USB-C. But I was wrong about MagSafe.
New, and yet familiar
I've gotten to try out an iPhone 12 Pro and MagSafe charger for the last day or so, and it's already won me over. The charger costs an extra $39, and doesn't come with a charge adapter, so you also need one of those (any USB-C one will work, but here are some good charger adapter suggestions). But it feels very much like a giant Apple Watch charger for the iPhone. And that should have been my first hint that I'd appreciate the idea.
The Apple Watch has a snap-on proprietary magnetic charger too, and it works similarly. It pops on easily, the watch makes a little chime and I see the charge status. Same thing for the iPhone. It makes charging the iPhone a no-brainer, as long as I have the charge cable nearby. It seems to drift to rooms I'm not in, and other rooms don't have the charger because, well, those other rooms have Lightning, or USB-C, or Qi chargers.
You have to remember to bring that MagSafe charge cable with you, and in that sense it's like every specialized wearable tech charger I've seen for the last decade. Little ones, big ones, pronged ones. They work well for the wearable you've got, but don't lose them.
How many MagSafe variants will there be, and will they ever do data transfer?
My first thought is that Apple needs to put MagSafe on all its devices. But then I wondered, how will that happen? Will that large disc-based charger snap onto future iPads, or MacBooks? Will magnet-covered zones exist, ready for MagSafe? Or will different-size adapters emerge, made for particular devices? Much like the Apple Watch, as compared with the iPhone 12?
I also wonder whether MagSafe could combine with some sort of data, to allow accessories or also act as a dock. Suddenly I feel like I'm in Moto Mod territory. Apple expanding upon its smart-connected accessories feels like an idea long hinted at and somewhat overdue. Smart Connector keyboards have been around for years, but not much else.
The long-term questions about MagSafe are many, but right now I like it a lot more than I thought I would. But that doesn't mean I don't still want USB-C. I still hope Apple doesn't skip USB-C on the next iPhone. I'd prefer MagSafe be a doorway to an additional landscape of accessories, and hope that Apple stays far away from replacing that one port left on the iPhone.
Teardown reveals major iPhone 12 design changes to include 5G – AppleInsider
The customary teardown of the iPhone 12 and iPhone 12 Pro reveals changes Apple has made to the design of the models to accommodate 5G support, as well as how strikingly similar the two models are internally.
Apple's latest iPhone models started to arrive with consumers on Friday, so it wasn't long after release that the first teardown videos of the devices started to surface. In the first fully-detailed disassembly of the iPhone 12 and iPhone 12 Pro, iFixit indicates there's some changes in the design over the iPhone 11 generation, in order to add 5G functionality.
The initial stage of gaining access in the teardown hasn't changed much for 2020, with the use of Pentalobe screwdrivers, suction cups, picks, and heat used to lever open the display. Rather than opening on the left-hand edge, a routine that has been in play since the iPhone 7, the iPhone 12 opens from the right-hand edge.
An initial glance at the insides of both non-Pro and Pro models simultaneously has no indications one is better than the other, until the removal of the camera shield. It seems that the two were constructed so alike that Apple uses a plastic spacer in the iPhone 12 where the third camera and LiDAR sensor would be located in the iPhone 12 Pro.
The iPhone 12 and Pro cameras, as well as a camera spacer [via iFixit]
Another change for 2020 is the flipping of positions for the SIM tray, logic board, and battery, which is thought to be due to the larger logic board housing Qualcomm's 5G chips. The logic board includes the Apple A14 Bionic SoC layered with Micron memory, Samsung flash storage, Qualcomm's 5G and LTE transceiver, Qualcomm's 5G modem, Apple's U1 chip and power management controller, and an Avago power amplifier and integrated duplexer.
To make 5G work properly, the smartphones were found to have mmWave antenna modules embedded in the side of the frame and on the back of the logic board.
For other components, it was found that Apple had changed how the speakers were held in place, with it using Phillips screws and bright orange rubber gaskets instead of adhesive, which may aid repairs. The MagSafe charging arrays use 18 magnets to align the coils in place with the charger, with the polarity of the magnets thought to "expand the effective placement of the phone" while still maintaining proper alignment.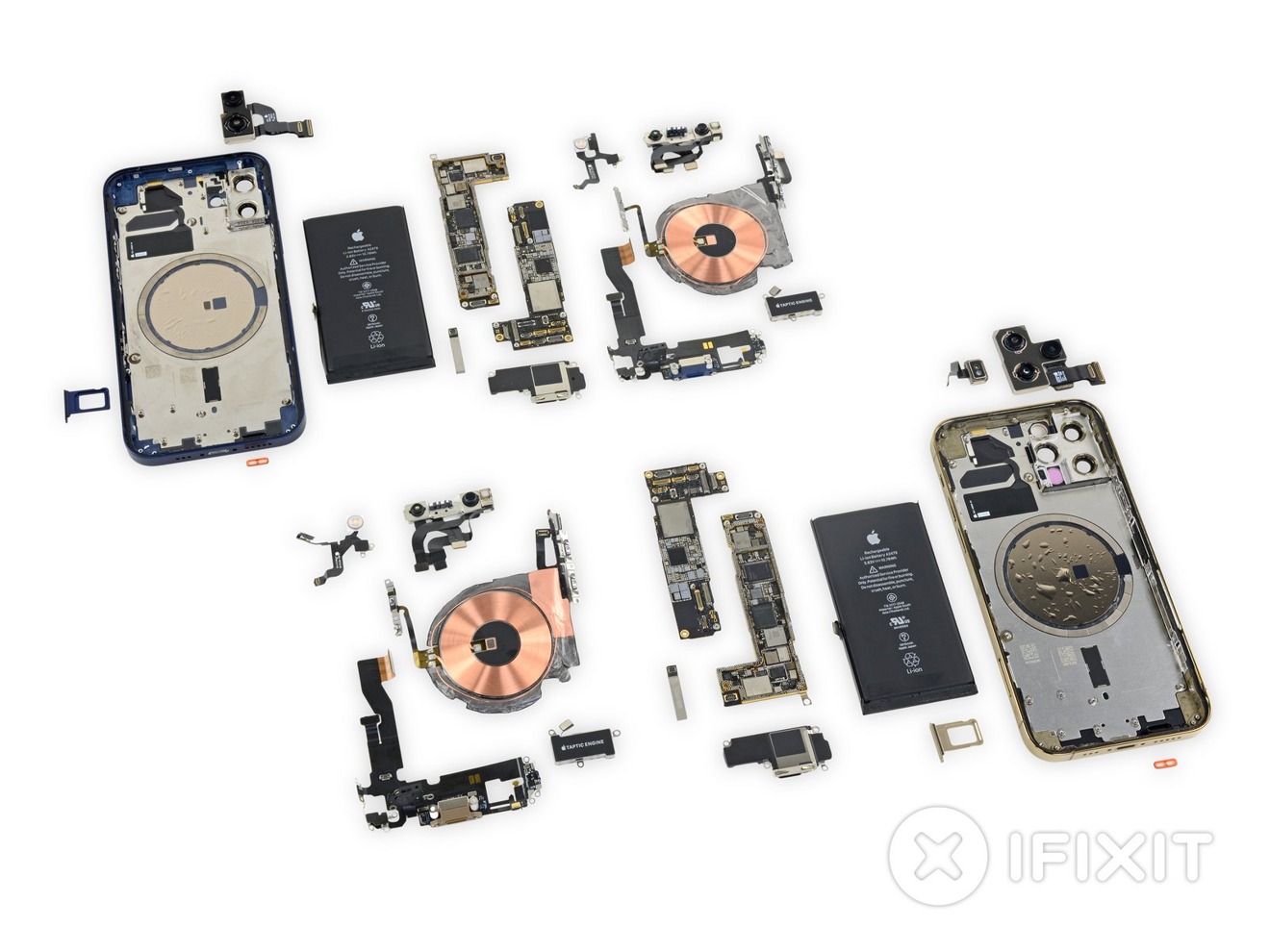 A side-by-side component view of the iPhone 12 and iPhone 12 Pro [via iFixit]
In summing up the new models, iFixit suggests Apple has made "some serious design compromises" to add 5G components, with the loss of elements like the L-shaped battery and the smaller logic board. Though not "death by a thousand cuts," the concessions made by Apple makes the iPhones feel "the least inventive."
iFixit gave the iPhone 12 Pro and iPhone 12 a "Repairability Score" of 6 out of 10. While display and battery replacements stay as a priority along with modular components inside and the use of screws, the continued use of glue and the increased waterproofing measures "complicate some repairs," while a broken glass back replacement will requiring the removal of every component from the device.
Forget iPhone 12: iPhone 13 leak reveals a game changing upgrade – Tom's Guide
The iPhone 12 and iPhone 12 Pro are both a big step forward from the iPhone 11 series, but they're not without their faults. The biggest issue is shorter battery life over 5G, which probably led to Apple's decision not to adopt 120Hz screens this time around.
There are two likely culprits here. The first is pretty obvious: the iPhone 12 family has lower-capacity batteries than the iPhone 11 lineup. The iPhone 12 and iPhone 12 Pro pack a 2,815 mAh battery, compared to 3,110 mAh for the iPhone 11 and 3,046 mAh for the iPhone 11 Pro.
The second cause is slightly trickier: the introduction of 5G is clearly a battery drain as our iPhone 12 battery tests show. But there's still something Apple can do about this, and the good news is it has already committed to taking that step in the upcoming iPhone 13.
A recent teardown video on Chinese social networking site Weibo proved what many feared: the iPhone 12 uses Qualcomm's 7-nanometer X55 5G modem, which isn't known for its power efficiency.
But Apple has already confirmed that this will change in the iPhone 13, and not via the usual insider leaks. Instead, the company revealed its plans on page 71 of its settlement with Qualcomm.
"Apple intends to commercially launch… New Models of Apple Products during the time period between June 1, 2021 and May 31, 2022 (the '2021 Lanch'), some of which use the SDX60 Qualcomm Chipset," the document explains.
That's a big deal. The 5-nanometer X60 chipset can integrate directly into a phone's chipset, meaning a smaller footprint and lower battery drain. Not only that, but 5G performance should be better too, as it can combine mmWave and Sub-6GHz 5G networks simultaneously.
Ahead of the iPhone 12's release, some rumors suggested that the handset would get this game changing upgrade early, but sadly that didn't come to pass. This was not surprising, though, given Qualcomm itself said that phones with the chip would first emerge next year.
Even without this 5G modem, though, the iPhone 12 family is a big upgrade over its predecessor. Not only is it 50% faster in performance, but 5G connectivity across the board means faster browsing and downloads. There's also the introduction of MagSafe wireless charging and Ceramic Shield, which Apple says provides up to four times the level of protection from drops.
It all adds up to a compelling package and, as we said in our four-star iPhone 12 review, "a serious step forward for the most popular iPhone." Our 4.5-star iPhone Pro review was even more glowing, stating that it "beats every Android phone in its class in terms of performance and camera quality, even if it's a step behind in battery life."