Okanagan art gallery showcases pieces made during COVID-19 – Global News
The Village Gallery in Lumby is celebrating some of the art that has been created during the novel coronavirus pandemic.
"Some of these pictures, there's a feeling of fear and anxiety but there are also feelings of hope," said Robin Ledrew, Monashee Art Council board member.
The small gallery worked with artist Ernie Hurst to bring the collection to life and challenged locals to create art about COVID-19.
There's everything from paintings to mosaics, a poem and even a statue of B.C.'s provincial health officer Dr. Bonnie Henry.
Ledrew says that during the pandemic it's healthy to turn to art as solace.
"Art is a way for people to deal with their lives, art is people's way of coping," said Ledrew.
The COVID-19-inspired artwork will be on display until the end of August.
© 2020 Global News, a division of Corus Entertainment Inc.
New art gallery exhibit features ceramics inspired by Japanese aesthetics – moosejawtoday.com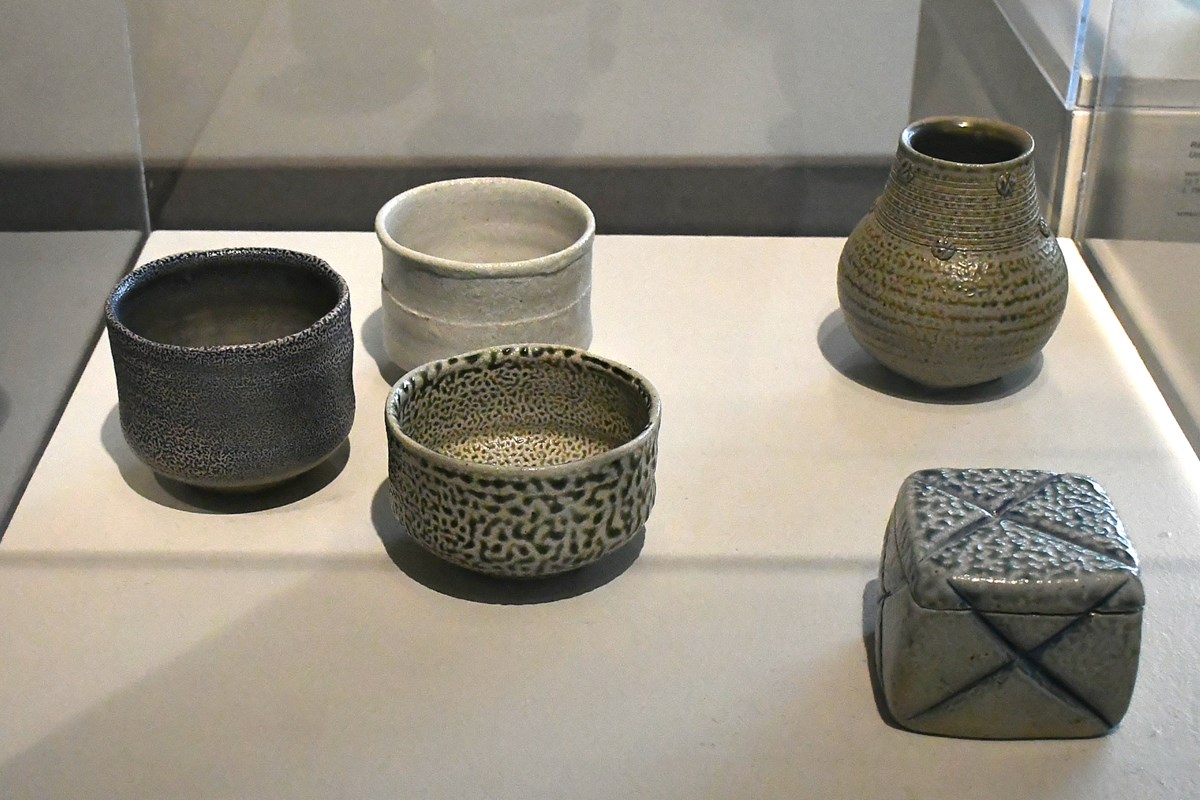 A new exhibit in the foyer of the Moose Jaw Museum & Art Gallery (MJMAG) takes a look at a selection of artwork and how artists have been influenced by Japanese ceramics and aesthetics.
Titled Shibui, the display of ceramic and clay platters, bowls and vases comes from the MJMAG permanent collection and features the works of Moose Jaw's own Robert Froese, along with Saskatchewan artists Jack Sures, Randy Woolsey and Japan's Soji Hamada.
The project was put together by curatorial assistant Jared Boechler, who made the selections as a counterpart to the current exhibition 'Wholeness' by Hanna Yokozawa Farquharson.
"It's just a really interesting take on some local ceramic artists and the international influences on their work," said MJMAG curator Jennifer McRorie. "It's interesting to see where people draw their inspiration from, and there's such a strong ceramics tradition in Japan, where they really try and emphasize the quality of the clay. Then there's a lot of chance that's allowed to happen in the making of the works, there's kind of a rustic element where they allow the glaze and clay to interact and see what happens."
That randomness leads to every piece having a unique look, something that can be seen even in pieces in the same style by the same artist. As an example, a selection of five items on display from Woolsey all carry similarities but are distinct in their differences.
That's not to say there isn't an element of precision involved, especially with some of the more intricate works.
"There's a really beautiful bowl by Jack Sures that very much looks like a traditional ink painting or calligraphy," McRorie said. "So it's nice to think of his work through that lens of a connection to Japan."
One can also find distinctions in the medium itself, with McRorie pointing to a selection of tea bowls by Froese as a prime example.
"You look at the clay, there's a real roughness to it that they use and you can tell it's different clay body than what we're used to around here," she explained. "It's similar to what you'd see from other items from artists in Japan."
The exhibit can be found immediately upon entering the museum and art gallery and will be on display until Sept. 5.
The gallery is open from 1 p.m. to 5 p.m. Tuesday through Sunday and closed Mondays.
For more information on the MJMAG, visit their website at www.mjmag.ca and follow them on Facebook at www.facebook.com/mjmag.
How one woman turned her row house into an art collection – Toronto Star
Some might consider a broken mirror bad luck, but Lynda Middleton saw in it a graceful tree, and glued the bits to form a strikingly original piece of art. It was just one aspect of the redecorating work she recently did on her 1890s Toronto row house, a project she undertook as a creative way to make use of her time during the COVID lockdown. The results? Surprising and stunning.
For Middleton, an avid tennis player, it turns out that her hand skills extend to brushwork, and her mind is full of paint swatches.
"I always resisted doing a lot of work on (the house), because I suspected if I ever were to sell, new owners would gut the place," she says. But when a real-estate agent mentioned that buyers might want to live there before taking on another project with a big bill, she decided to take the opportunity, even though she is not looking to sell.
"Something just clicked," Middleton says. "I knew it was time to begin. I didn't do research – I'd looked around at rooms before."
Before she set about redecorating her 2,000-square-foot, three-storey home from top to bottom, she first had to take care of a host of formidable tasks.
"I stripped and repaired wallpaper," Middleton says. "I painted the trim in all the rooms, staircases and landings, plus an entire bedroom, two bathrooms, single walls in three rooms – and floors."
While standard home decorating follows a linear path of painting walls and floors before assessing the results and then hanging art, "the designs and artwork were done as I went along," Middleton says.
What influenced her choice of patterns? "I looked at books and on YouTube," she says, before admitting, "I've only had internet at home since the start of the pandemic, at the insistence of my friends. I must admit this has led to some unexpected and welcome pursuits."
Middleton, who has lived in the house since the 1990s, has always enjoyed fine art, visiting galleries and exhibitions. She is also an accomplished photographer, having shot theatre productions and developed and printed the works, some of which are displayed in her home.
One of the images she created for her home renovation project, an angular line drawing inspired by a souvenir from the play "The War Horse" – made with a pen and ruler on paper – sits in the stairwell going up from her kitchen. Its placement was hardly random – it's there to soften a colour choice.
"I used sunshine yellow on the walls, but it was way too bright for me," she says. "I created the image and sat it there to tone down the effect. I have an aversion to hanging things from walls by nails after all the painting I did."
Likewise, a floor painted grey seemed dull and lifeless to Middleton. Rather than go over it in a different shade, she painted a strong geometric pattern in white strips that resemble bars of sunlight.
"This gave the room some energy," she says. "The idea to have designs on stair landings was mine, and one, a stylized star, was actually derived from an image used for the American election."
Similarly, she painted a section of the second-floor hallway in strips of colour. "Those details seemed logical to me," Middleton says. "A lot of the colour choices were done on instinct."
While her painted designs have been incorporated into the walls, floors and staircases, she also created one-of-a-kind works using a variety of materials. In addition to the broken-mirror tree, there's an eagle made of construction tape, some bird-like pieces that now hang from her deck and more. She bought her supplies from a local Canadian Tire as well as from a dollar store, using twist ties and coloured pieces of rubbery material to form some of the works that now grace her home.
When Middleton finally finished in January, she was happy yet missed doing the work. "It wasn't time to start tennis playing just yet," she says. "I almost think I should have stretched this project a bit. However, I'm definitely pleased with the outcome and proud of what I achieved. I would do it again!"
Water, land, air, light: The art of Janet Read – BradfordToday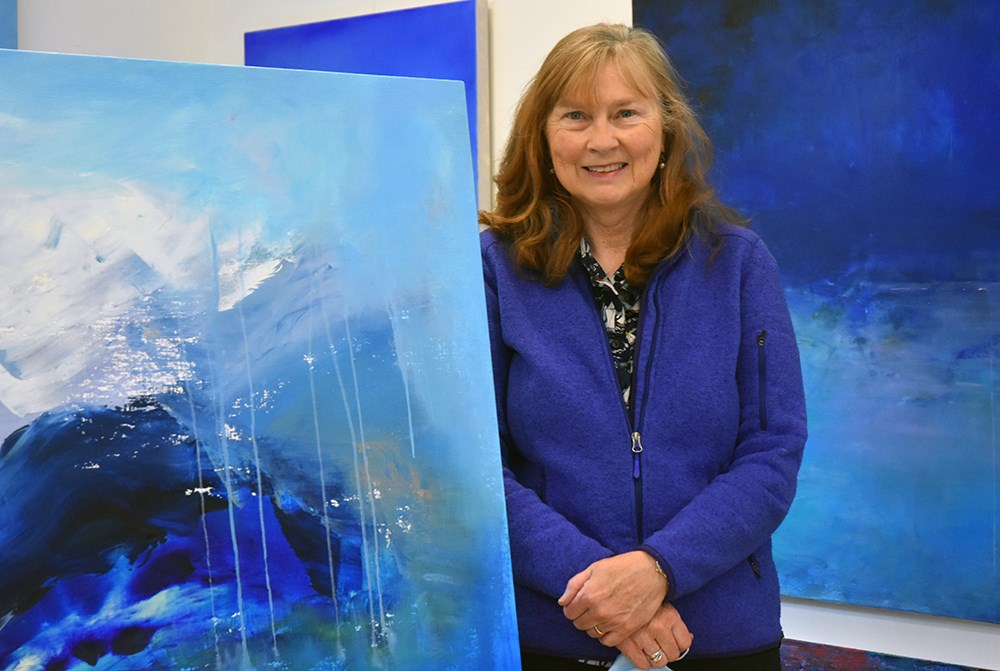 Janet Read has always had a special relationship with water.
Growing up in Shanty Bay on the north shore of Kempenfelt Bay, "I learned to swim at the government dock," she says, at the age of only three.
And while other kids swam and played in the water, for Read the connection was more visual, and transformative.
"Throw the water up in the air – you'd have diamonds!" she says.
As an artist, Read has continued to be fascinated by the interplay of water, air and light, finding metaphor in the blurring of the boundaries between the elements.
As she works at her art studio, now located on the south shore of Kempenfelt Bay in Innisfil, she is still fascinated by that interplay.
"Water is so changeable, and the atmosphere is changeable," she says. "It's always changing…"
One art show curator has called Read's paintings "allusions of landscape" – abstract expressions of the littoral zone where water meets land, the meeting place between atmosphere and ocean. They can be interpreted as landscapes, but they are not a specific location or site – they are distillations of impressions that evoke wind, clouds, seascapes, fog and ice.
She is inspired by the places she visits, but "I don't paint by sight. It's all by memory," she explains. "I work from my interior imagination…. I start with patches of colour, and then I take it from there.
"It's a process, figuring out what's happening."
When Read has painted a recognizable scene, it's been largely by accident.
She recently completed a large 30 x 60 canvas, before realizing it looked familiar. "I was totally unconscious," she says. "When I finished it, I said – it's a real place!" It was in fact Quliakitsoqu in the Arctic, looking towards Uummannaq, Greenland, a location she visited while on a trip to the high Arctic in 2018.
Read has found inspiration wherever she has lived or travelled – in Port Hope, while in residency at Pouch Cove in Newfoundland, and on the Dingle Peninsula in Ireland, and especially her voyage to the Arctic.
There, the experience resulted in a change in her colour palette – shifting towards azure blues and icy aquas, with just a touch of reds and purples, hinting at the wildflowers of the arctic tundra or lights hidden in the ice.
"It's just the most amazing landscape. It feels like the atmosphere is clearer, higher, more domed," she says. All of her Arctic works have a sense of space and light that combine to create a transcendental experience for the viewer.
The canvases are large, giving Read the "elbow room" to get physical as she builds the planes, blocks and layers of colour.
"The physicality of a large painting really suits what I am doing," she says. "What I'm interested in is the water and the atmosphere above the water," and especially the meeting of air, land and sea.
"It is in our western thinking that things are discreet. The littoral area is where things are interpenetrating, where things interact," she explains. "I'm not fond of hard distinctions. Everything is interconnected."
Read describes her recent works as among her most abstract, suggesting that some of her earlier paintings are more obviously landscapes, more "figural."
Light Opens over Water, a series of drawings in oil and graphite on Duralar, a translucent film, are abstract and luminous but recognizable as landscapes; her Newfoundland collection, Ocean as Vessel, explores not only the relationship between land and sea but also the impact of the loss of the cod fishery, placing the paintings in a cultural context.
There is never any overt symbolism; there is instead an interpretation of imagery and use of colour to express Read's internal vision.
Curator Christian Bernhard Singer has called her works "landscapes of consciousness," engaging and challenging the viewer to appreciate the beauty in what can be an immersive experience, suspended between sea, sky and atmosphere.
"It's that moment," Read says. "As human beings, light is a metaphor for all human states… We don't look at one thing. We look at everything in relation to everything."
Read hopes to be able to return to the Arctic in the fall of 2022. If she does, she won't be cataloguing the impact of climate change. Instead, she will focus on experiencing a changing world, absorbing not only the viewpoints of the scientists who accompany the voyage, but also the interpretations of the Indigenous people for whom the landscape is home.
"I react as an artist," she says. "I'm not interested in depicting what I see. I'm interested in what I feel" – and in sharing that emotional vision, through her vibrant works.
If the trip doesn't take place, she isn't worried: she has enough memories and imagery stored up to keep painting.
"How does the imagination keep turning that over, and mining that lode? Somehow it does!" she says. Her residency in Newfoundland, for example, "was one of those seminal experiences," Read says. "It was several years of being propelled by that experience."
Read's works have been shown at the Robert McLaughlin Gallery in Oshawa, Varley Gallery, Art Gallery of Northumberland, and Orillia Museum of Art and History, where she has been part of the Carmichael Landscape Exhibition. She has also participated in the annual Innisfil Studio Tour, and currently shows at the Rebecca Gallery in Toronto, and the Propeller Artist Centre collective on Queen Street West.
Her Arctic paintings – which include titles like Vernacular of Light; and the wind speaks; and Tundra Light – were part of a solo show, 'High Arctic Light' at the Heliconian Club in Toronto, an organization that supports women in the arts and literature. The solo exhibit will be returning to the Heliconian for in-person viewing in May 2022.
Her works can also be viewed online; click here.