On Paper But Not in Practice: Gender Equality in Balkan Politics – Balkan Insight
Croatia has a similar quota system, but failure to comply is punishable only by a fine of 50,000 kunas, roughly 6,600 euros, per candidate list, up to a maximum total of 550,000 kunas, or roughly 72,000 euros – not a lot for the major parties.
For example, in next month's election, Croatia's ruling conservatives in the Croatian Democratic Union, HDZ, has failed to field enough women on its candidate lists for the country's electoral districts.
Pressed on the issue, parliament speaker Gordan Jandrokovic, who is a member of HDZ, told reporters that the numbers reflected the party's promotion of women to important posts in international bodies where Croatia is represented.
"If there is a lack of women on the lists now, we will certainly compensate for it in the executive branch," he said on Tuesday.
CESI, the gender issues watchdog, said that in Croatia the importance a party places on gender equality decreases the more the party grows in power, "which is an indicator of political irresponsibility and the low level of democracy."
Croatia's opposition Social Democratic Party, SDP, and its 'Restart' coalition has sought to alternate between men and women on its candidate lists.
But critics questioned the SDP's commitment to equality in March when party leader Davor Bernardic, asked to explain the lack of women among the SDP's main election coordinators, told reporters that "coordination is not for experimentation".
CESI singled out the Green-Left 'Mozemo!', or 'We Can!', coalition in Croatia's upcoming election for naming six women as its frontrunners for parliament. This sent a clear message "that women can do it, that they are not just there to support a [male] leader," CESI said.
Politics, pandemics and Russian aluminum: why Canada faces fresh U.S. tariffs – Powell River Peak
WASHINGTON — The United States is once again threatening to spark a fresh tariff war with Canada over aluminum exports, despite the debut of a North American trade agreement that was supposed to usher in stability in the midst of an international economic crisis.
Precisely why remains a mystery to trade and industry insiders, although it's likely the result of a convergence of disparate factors: COVID-19, international metals arbitrage, President Donald Trump's re-election campaign and $16.3-billion worth of Russian aluminum.
"It doesn't make sense," said Jean Simard, president and CEO of the Aluminum Association of Canada, coming as it does with the coming into force of USMCA — the U.S.-Mexico-Canada Agreement, which formally replaced NAFTA this week.
"It's like an oxymoron. It's so contradictory to the spirit of USMCA."
There's little doubt the aluminum industry, and in particular Canadian suppliers, stand to benefit over the long term from the USMCA's requirements for regionally sourced metals, said Doug Hilderhoff, a Pittsburgh-based principal analyst at commodities research firm CRU Group.
"Looking over the past decade, we've seen aluminum consumption by the auto sector grow pretty strongly due to all the lightweighting initiatives. And this should just keep things moving in the right direction."
The U.S. doesn't have anywhere near enough smelting capacity to meet that demand by itself, he added.
Understanding how aluminum production works around the world, and how traders and marketers make money from it, can shed some light on how the U.S. is threatening Canadian aluminum anyway.
Because they traffic in white-hot liquid metal, aluminum smelters can't simply shut down when demand for the product dries up, which is what happened to Canadian producers — who provide the bulk of the metal to U.S. markets — when the pandemic forced auto manufacturers to idle their assembly lines.
Instead, they were forced to pivot away from the specialized premium products demanded by the auto sector and produce the more generic primary aluminum known as P1020, shipping it to the only storage warehouses that are cost-effective, Simard said: facilities in the U.S., which is where the lion's share of the North American aluminum market is located.
The ensuing "surge" in Canadian imports caught the attention of the U.S. trade representative's office — or more specifically, the two U.S. producers that raised a red flag: Century Aluminum and Magnitude 7 Metals, which together comprise a Trump-friendly lobbying effort known as the American Primary Aluminum Association.
"The surge of Canadian metal has a caused the price to collapse and is endangering the future viability of the U.S. primary industry," the association wrote to U.S. trade ambassador Robert Lighthizer in May.
"Action — real action, not mere monitoring, and endless discussions in multinational fora — is needed now if the United States is to save what is left of its primary aluminum industry."
A spokesman for the APAA did not immediately respond to media queries Friday.
A separate group known as the Aluminum Association, which counts dozens of U.S. and international producers among its members, has argued against tariffs, calling Canadian suppliers an integral element of the North American supply chain and a key component of the industry's success.
Glencore Plc, a metals trader and producer based in Switzerland, holds a 47 per cent stake in Century. Magnitude 7, founded by a former Glencore aluminum trader, operates a single plant in Missouri that won a new lease on life after Trump's first round of tariffs in 2018, but which warned in February it was on the verge of shutting down.
Glencore also holds the exclusive rights to sell Russian-made aluminum in the U.S., and agreed in April to spend $16.3 billion over the next five years on up to 6.9 million tonnes of the metal from Rusal, the second largest aluminum producer in the world.
Glencore is also a major player in the world of metals arbitrage — buying commodities at the lowest price possible, then shipping and storing them before selling on a futures contract in hopes of a higher price. The pandemic has fuelled a global collapse in the price of aluminum, Simard said, while the threat of tariffs has had the opposite effect.
"What do the traders do? They buy the metal at a very low price because the crisis is what brought you to pivot to this position, and they warehouse it when interest rates are very low because it's a crisis," Simard said.
"The key player over and above everybody else is Glencore."
Rusal, once controlled by the Russian billionaire oligarch Oleg Deripaska, was subject to U.S. sanctions since Moscow's annexation of Crimea in 2014 — sanctions that were lifted in January 2019 as part of an extensive restructuring that saw Deripaska relinquish control of the company. Glencore was involved, too, swapping shares in Rusal for a direct stake in its parent company, En+.
The USTR and the Trump administration "cannot be unaware of the corporate structure around Rusal and Glencore. I would doubt it very much," said Simard, who suspects the White House is picking a fight it believes will be politically helpful as the president returns to the campaign trail later this year.
A spokesman for Glencore declined to comment Friday.
The Canadian aluminum industry, the bulk of which is located in Quebec, owes its origins to soaring American demand for the metal in the months prior to the U.S. entry into the Second World War — a partnership that cemented Canada's role in the continental military industrial base.
Is the Trump administration trying to end that relationship?
"It's worth raising the question," Simard said.
This report by The Canadian Press was first published July 3, 2020.
— Follow James McCarten on Twitter @CdnPressStyle
QAnon is now infiltrating mainstream American life and politics – CTV News
Since its origin three years ago, QAnon has festered in the darker corners of the internet. Now the group's followers, who call themselves "believers," have found a niche on social media and within the Republican Party.
QAnon began as a single conspiracy theory. But its followers now act more like a virtual cult, largely adoring and believing whatever disinformation the conspiracy community spins up.
Its main conspiracy theories claim dozens of politicians and A-list celebrities work in tandem with governments around the globe to engage in child sex abuse. Followers also believe there is a "deep state" effort to annihilate U.S. President Donald Trump.
But followers of the group have expanded from those beliefs and now allege baseless theories surrounding mass shootings and elections. Followers have falsely claimed that 5G cellular networks are spreading the coronavirus.
There's no evidence that any of what QAnon claims is factual. ​
Followers make unfounded claims and then amplify them with doctored or out-of-context evidence posted on social media to support the allegations.
The anarchical group's birth, and its continued seepage into mainstream American life, comes on the coattails of the Russian disinformation campaign that targeted U.S. elections in 2016. ​
While the Russian campaign had an apparent objective — influence voters to elect Trump — QAnon is decentralized, having no clear objective aside from its popular slogan, "Question everything."
Anyone can create a conspiracy, offer evidence to support it and tag it with QAnon hashtags to spread it. But no one is held responsible for the trail of chaos and disinformation it leaves behind.
HOW QANON BEGAN
QAnon's origins are emblematic of what it has evolved into: An unfounded, out-of-context claim made to support an allegation, which is easily discredited.
It all goes back to a cryptic, anonymous post on October 28, 2017 on 4chan, an online message board that frequently features extremist and bigoted content. The individual, which followers would later call "Q," claimed that Hillary Clinton was going to be arrested.
There was no arrest.
But similar posts pushing baseless claims of arrests and "deep state" action kept appearing on 4chan. It's unclear who was behind the posts, or if the ones that followed were posted by the same person — 4chan posts are anonymous.
Believers claim that their "Q" is so knowledgeable because of their claim to security clearance within the U.S. government.
QAnon supporters have likened the initial posts, and subsequent ones, to Hansel and Gretel-like breadcrumbs, or "drops," as they call them now.
Since then, the group has injected itself into the mainstream by creating communities on Reddit and finding footholds on Twitter, Facebook and YouTube. In a series of videos posted online in 2018, QAnon targeted Cemex, a Mexican cement company, because it reportedly owned an abandoned camp in Arizona, which conspiracy theorists erroneously believe is the location of a human trafficking site.
Earlier in 2020, Oprah Winfrey and Tom Hanks were both targets of QAnon conspiracies.
At the time, CNN reached out to Cemex and representatives for Tom Hanks and Oprah Winfrey but never received a response.
Believers claimed on several social media sites that a Boca Raton, Florida, house belonging to Oprah was seized by police in a child sex trafficking sting and roped off with red tape.
Another person on Twitter made a post, which garnered thousands of shares, falsely claiming that Tom Hanks, who tested positive for coronavirus in Australia, was actually arrested for pedophilia. The post said that other A-list celebrities would soon be arrested.
QAnon conspiracy theories have been further elevated through high-profile figures and organizations. In March 2018, before being fired from her sitcom, actress Roseanne Barr tweeted about the pedophilia conspiracy theory, alluding to a baseless claim that President Trump "has broken up trafficking rings in high places everywhere." Barr later deleted the tweet.
THE GOP AND QANON
QAnon nearly reached the main stage of the Republican Party at President Trump's June 31, 2018 rally in Tampa, Florida, where signs reading "We are Q" and "Q" appeared near the front of the crowd during the President's speech.
Four months later, Vice President Pence posted — and then deleted — a photo on Twitter with a law enforcement officer wearing a QAnon patch on his uniform.
And in July 2019 the White House invited a QAnon supporter to an event billed by the White House as a "social media summit" with conservative influencers.
Today the GOP has three candidates that have been sympathetic or supportive of the group and could see themselves in Congress in January: Jo Rae Perkins, a candidate for a US Senate seat in Oregon; Marjorie Taylor Greene, a Congressional candidate for Georgia's 14th district seat; and Lauren Boebert, who beat a Trump-backed, five-term incumbent during primary elections to become a candidate for Colorado's 3rd district. ​
"Everything I heard of Q — I hope that this is real because it only means America is getting stronger and better, and people are returning to conservative values, and that's what I am for," Boebert, the front runner for the House seat, said in a May interview.
Her campaign manager, Sherronna Bishop, told CNN in a statement that despite those comments, Bishop "does not follow QAnon."
CNN has reached out to the Republican National Committee and President Trump's campaign for comment on QAnon and the GOP candidates' comments on the group but has not heard back.
Public Highly Critical of State of Political Discourse in the U.S. – Pew Research Center
The public renders a harsh judgment on the state of political discourse in this country. And for many Americans, their own conversations about politics have become stressful experiences that they prefer to avoid.
Large majorities say the tone and nature of political debate in the United States has become more negative in recent years – as well as less respectful, less fact-based and less substantive.
Meanwhile, people's everyday conversations about politics and other sensitive topics are often tense and difficult. Half say talking about politics with people they disagree with politically is "stressful and frustrating."
When speaking with people they do not know well, more say they would be very comfortable talking about the weather and sports – and even religion – than politics. And it is people who are most comfortable with interpersonal conflict, including arguing with other people, who also are most likely to talk about politics frequently and to be politically engaged.
Donald Trump is a major factor in people's views about the state of the nation's political discourse. A 55% majority says Trump has changed the tone and nature of political debate in this country for the worse; fewer than half as many (24%) say he has changed it for the better, while 20% say he has had little impact.
Perhaps more striking are the public's feelings about the things Trump says: sizable majorities say Trump's comments often or sometimes make them feel concerned (76%), confused (70%), embarrassed (69%) and exhausted (67%). By contrast, fewer have positive reactions to Trump's rhetoric, though 54% say they at least sometimes feel entertained by what he says.
Pew Research Center's wide-ranging survey of attitudes about political speech and discourse in the U.S. was conducted April 29-May 13 among 10,170 adults. Among the other major findings: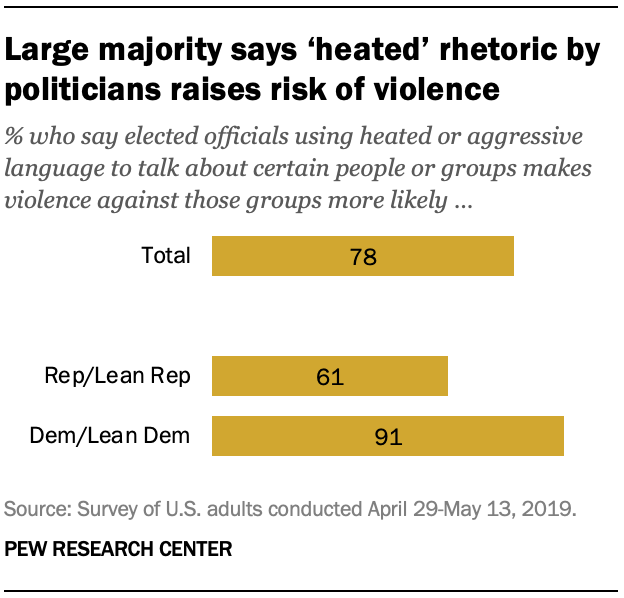 Broad agreement on the dangers of "heated or aggressive" rhetoric by political leaders. A substantial majority (78%) says "heated or aggressive" language directed by elected officials against certain people or groups makes violence against them more likely. This view is more widely shared among Democrats and Democratic-leaning independents than Republican and Republican leaners.
Partisans demand a higher standard of conduct from the other party than from their own. Majorities in both parties say it is very important that elected officials treat their opponents with respect. But while most Democrats (78%) say it is very important for Republican elected officials to treat Democratic officials with respect, only about half (47%) say it is very important for officials from their party to treat Republican politicians with respect. There is similar divide in the opinions of Republicans; 75% say Democrats should be respectful of GOP officials, while only 49% say the same about Republicans' treatment of Democratic officials.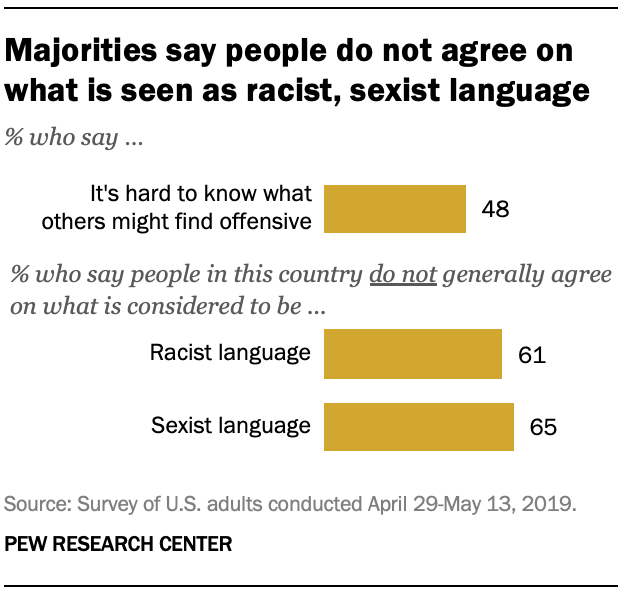 Uncertainty about what constitutes "offensive" speech. As in the past, a majority of Americans (60%) say "too many people are easily offended over the language that others use." Yet there is uncertainty about what constitutes offensive speech: About half (51%) say it is easy to know what others might find offensive, while nearly as many (48%) say it is hard to know. In addition, majorities say that people in this country do not generally agree about the types of language considered to be sexist (65%) and racist (61%).
Majority says social media companies have responsibility to remove "offensive" content. By a wide margin (66% to 32%), more people say social media companies have a responsibility to remove offensive content from their platforms than say they do not have this responsibility. But just 31% have a great deal or fair amount of confidence in these companies to determine what offensive content should be removed. And as noted, many Americans acknowledge it is difficult to know what others may find offensive.
Talking about Trump with people who feel differently about him. The survey asks people to imagine attending a social gathering with people who have different viewpoints from theirs about the president. Nearly six-in-ten (57%) of those who approve of Trump's job performance say they would share their views about Trump when talking with a group of people who do not like him. But fewer (43%) of those who disapprove of Trump say they would share their views when speaking with a group of Trump supporters.
What's OK – and off-limits – for political debates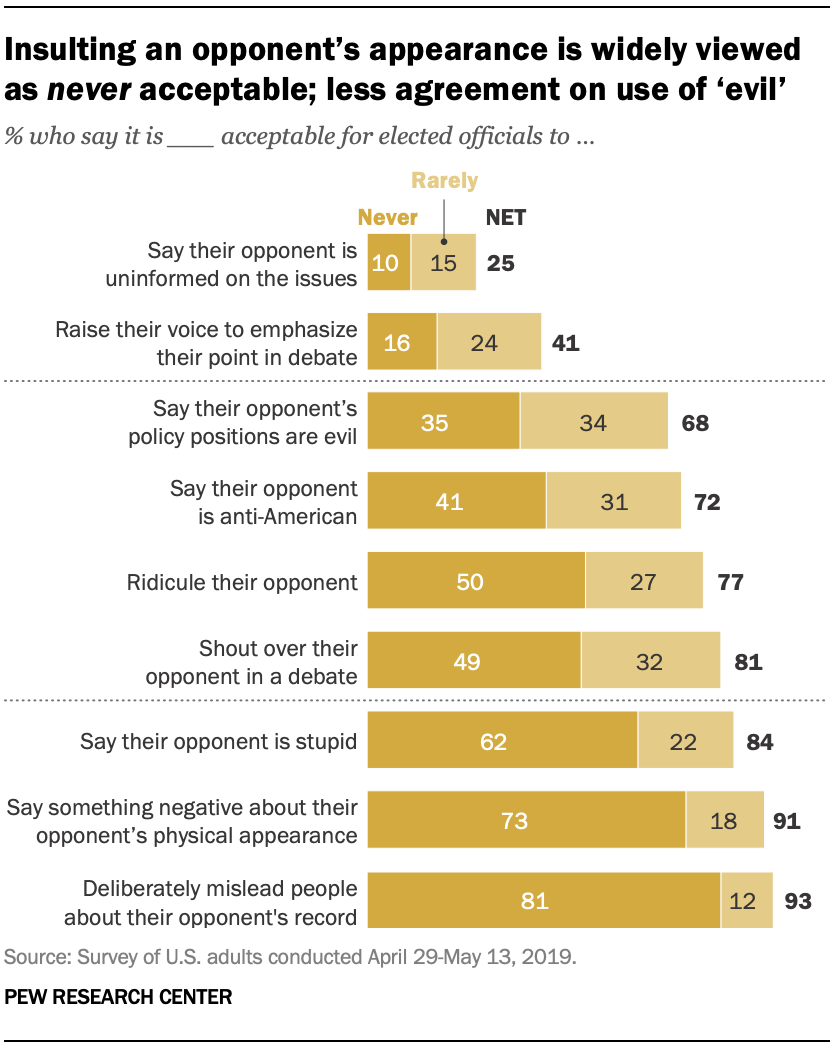 While Americans decry the tone of today's political debates, they differ over the kinds of speech that are acceptable – and off-limits – for elected officials to use when criticizing their rivals.
Some language and tactics are viewed as clearly over the line: A sizable majority (81%) says it is never acceptable for a politician to deliberately mislead people about their opponent's record. There is much less agreement about the acceptability of elected officials using insults like "evil" or "anti-American."
Partisanship has a major impact on these opinions. For the most part, Democrats are more likely than Republicans to say many of the insults and taunts are never acceptable. For example, 53% of Democrats say it is never acceptable for an elected official to say their opponent is anti-American; only about half as many Republicans (25%) say the same.
As with views of whether elected officials should "respect" their opponents, partisans hold the opposing side to a higher standard than their own side in views of acceptable discourse for political debates.
Most Republicans (72%) say it is never acceptable for a Democratic official to call a Republican opponent "stupid," while far fewer (49%) say it is unacceptable for a Republican to use this slur against a Democrat. Among Democrats, 76% would rule out a Republican calling a Democratic opponent "stupid," while 60% say the same about Democrat calling a Republican "stupid." See Chapter 2 for an interactive illustration of how people's views about the acceptability of political insults vary depending on whether or not they share the same party affiliation of the elected officials casting the insults.
Large shares have negative reactions to what Trump says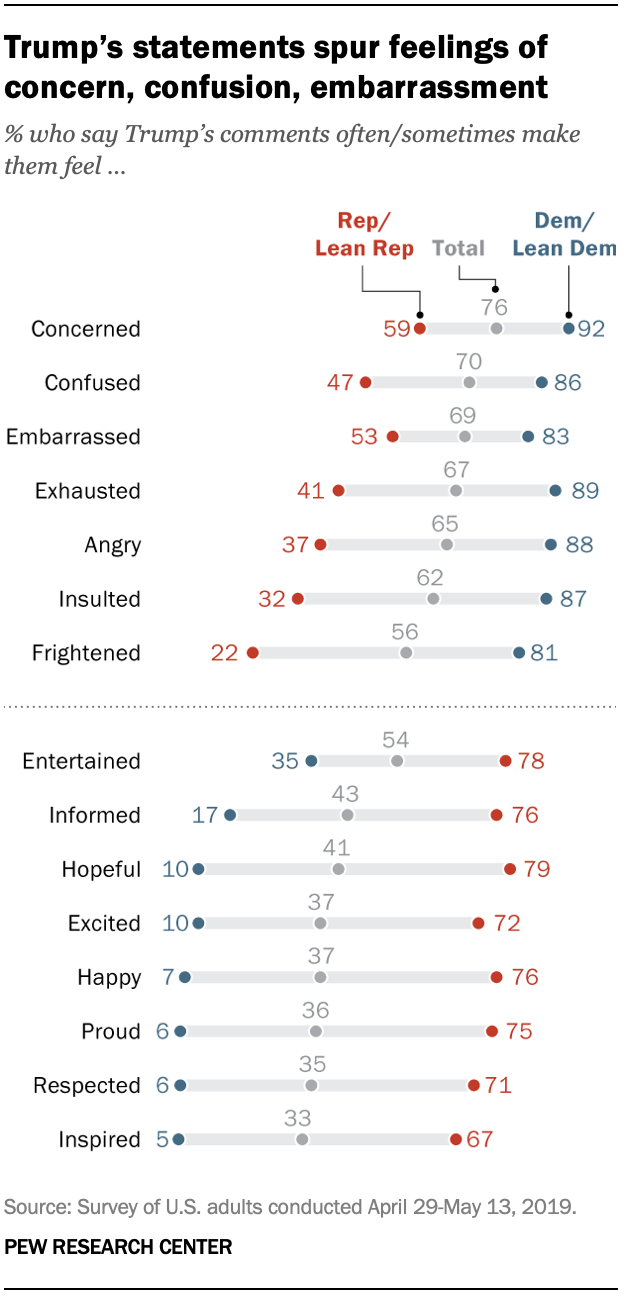 Majorities of Americans say they often or sometimes feel a range of negative sentiments – including concern, confusion, embarrassment and exhaustion – about the things that Trump says.
Positive feelings about Trump's comments are less widespread. Fewer than half say they often or sometimes feel informed, hopeful, excited and happy about what the president says. A 54% majority says they at least sometimes feel entertained by what Trump says, the highest percentage expressing a positive sentiment.
Democrats overwhelmingly have negative reactions to Trump's statements, while the reactions of Republicans are more varied. Among Democrats and Democratic-leaning independents, at least 80% say they often or sometimes experience each of the seven negative emotions included in the survey.
A 59% majority of Republicans and Republican leaners say they often or sometimes feel concerned by what Trump says. About half also say they are at least sometimes embarrassed (53%) and confused (47%) by Trump's statements.
By contrast, large majorities of Republicans say they often or sometimes feel hopeful (79%), entertained (78%), informed and happy (76%) and other positive sentiments in response to the things Trump says.
No more than about 10% of Democrats express any positive feelings toward what Trump says, with two exceptions: 17% say they are often or sometimes informed, while 35% are at least sometimes entertained.
Republicans see a less 'comfortable' environment for GOP views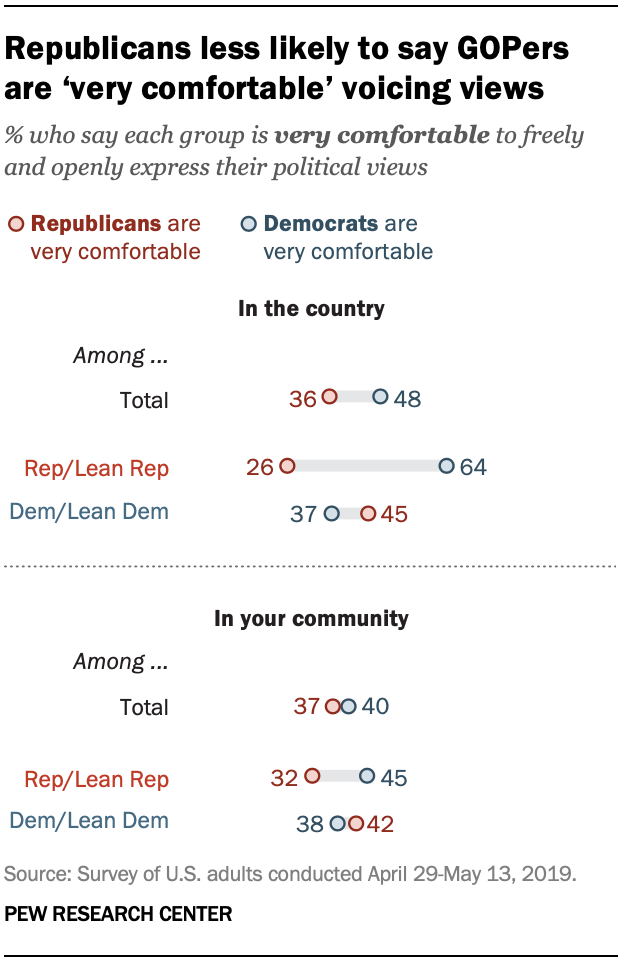 Republicans say that members of their party across the country are less comfortable than Democrats to "freely and openly" express their political views. In addition, Republicans are far more critical than Democrats about the climate for free expression in the nation's educational institutions – not just colleges, but also community colleges and K-12 public schools.
Just 26% of Republicans say that Republicans across the country are very comfortable in freely and openly expressing their political opinions; nearly two-thirds of Republicans (64%) think Democrats are very comfortable voicing their opinions. Among Democrats, there are more modest differences in perceptions of the extent to which partisans are comfortable freely expressing their political views.
There are smaller partisan differences when it comes to opinions about how comfortable Republicans and Democrats are expressing their views in their local communities. Yet these opinions vary depending on the partisan composition of the local community. Republicans and Democrats living in counties that Trump won by wide margins in 2016 are more likely than those in evenly divided counties (or those that Hillary Clinton won decisively) to say Republicans are very comfortable expressing their views.
Republicans' concerns about the climate for free speech on college campuses are not new. The new survey finds that fewer than half of Republicans (44%) say colleges and universities are open to a wide range of opinions and viewpoints; Democrats are nearly twice as likely (87%) to say the same.
Republicans also are less likely than Democrats to say community colleges and K-12 public schools are open to differing viewpoints. By contrast, a larger share of Republicans (56%) than Democrats (40%) say that churches and religious organizations are very or somewhat open to a wide range of opinions and viewpoints.
Members of both parties generally view their own local communities as places that are open to a wide range of viewpoints. Large and nearly identical shares in both parties say their local community is at least somewhat open to a wide range of opinions and viewpoints (75% of Democrats, 74% of Republicans).