Once again, job losses fall unequally across the US economy – News 1130
WASHINGTON — Ten months into America's viral outbreak, low-income workers are still bearing the brunt of job losses — an unusual and harsh feature of the pandemic recession that flattened the economy last spring.
In December, the nation shed jobs for the first time since April. Once again, the layoffs were heavily concentrated in the industries that have suffered most because they involve the kind of face-to-face contact that is now nearly impossible: Restaurants, bars and hotels, theatres, sports arenas and concert halls.
With the virus transforming consumer spending habits, economists believe some portion of these service jobs won't return even after the economy has regained its footing. That trend will likely further widen the economic inequalities that have left millions of families unable to buy food or pay rent.
Typically in a recession, layoffs strike a broad array of industries — both those that employ higher- and middle-income workers and those with lower-paid staff — as anxious consumers slash spending. Economists had worried that the same trend would emerge this time.
Instead, much of the rest of the economy is healing, if slowly and fitfully. Factories, while not fully recovered, are cranking out goods and have added jobs every month since May. Home sales have soared 26% from a year ago, fueled by affluent people able to work from home who are looking for more space. That trend has, in turn, bolstered higher-paying jobs in banking, insurance and real estate.
"Such differences in … employment loss between the highest- and lowest-wage workers are almost certainly unprecedented among U.S. recessions over the past 100-plus years," Brad Hershbein, an economist at the Upjohn Institute for Employment Research, and Harry Holzer, an economist at Georgetown University, concluded in a new research paper.
On the surface, the December jobs report the government issued Friday was dismal: The economy lost 140,000 jobs. It was the sixth straight month in which hiring has slumped from the previous month. Unemployment remained stuck at a still-high 6.7%.
But the negative number stemmed entirely from a brutal loss — nearly 500,000 jobs — in a category that includes restaurants, bars, hotels, casinos and entertainment.
State and local governments also cut workers. So did hair salons and other personal services. There were layoffs, too, in education.
Nearly every other industry added jobs. Construction gained 51,000, financial services 12,000. Transportation and warehousing companies, beneficiaries of a surge in e-commerce and delivery services amid the pandemic, gained nearly 47,000.
Job losses have "definitely been very heavily concentrated in certain industries — much more so than prior recessions," Hershbein said in an interview.
Once the coronavirus vaccines become distributed more widely, and the latest government aid package is pumped into the economy, most analysts expect a solid recovery to kick in this summer. The incoming Biden administration, along with a now fully Democratic-led House and Senate, will also likely push additional rescue aid and spending measures that could accelerate growth.
Economists note that the $2 trillion aid package the government enacted in March, which included generous unemployment benefits and aid to small companies, did more to prevent layoffs from spreading than many analysts had expected.
But a big unknown overhangs the 2021 economy: Will the economic recovery come fast enough, and be robust enough, to absorb many of the Americans who lost jobs in the hospitality industries into more resilient sectors of the job market?
For now, the resurgent pandemic has made consumers reluctant to shop, travel, dine out and congregate in crowds and led states and cities to reimpose stricter limits on restaurants and bars.
The trend has upended the lives of people like Brad Pierce of West Warwick, Rhode Island. Pierce had gradually built a career as a stand-up comedian, only to see it derailed by the pandemic and restrictions on the bars he performed in.
Now, he wonders if that life will ever return. Even when the bars where Pierce worked had reopened, they couldn't offer live entertainment because of coronavirus restrictions. Some of these venues, he fears, won't survive.
Pierce receives about $500 a week in unemployment aid, and his wife still works as a health care technician — busier than ever because she administers COVID-19 tests. Though he feels fortunate financially, the contrast sometimes depresses him.
"She's working all the time, while I can't work, and it's a terrible feeling as a husband and a spouse," said Pierce, 40.
In the meantime, there have been odd gigs for him here and there. The weirdest was a stand-up routine he did via Zoom for a company's holiday party. He asked the employees to unmute so he could hear them laughing, only to be hit by a cacophony of dogs barking, kids yelling and TVs blaring.
He spent the rest of the gig watching his audience's silently moving lips to see if they might be laughing.
"I have days where I think it will come back, and days where I think, 'Well, I guess I'll never work again,' " Pierce said.
Hershbein and Holzer's research found that job losses have been deeper among Black and Hispanic workers than among whites and also more pronounced for those in lower-paying jobs. Employment among the lowest-paid one quarter of Americans has sunk nearly 12% since February of this year, Hershbein found. Among the highest-paid quarter, it's declined must less — 3.5%.
The proportion of white Americans with jobs has fallen 6% since the pandemic; among Black and Hispanic Americans, it's down 10%, Hershbein said. This means that as some portion of the pandemic job losses become permanent, nonwhite workers will be hurt the most.
Michelle Holder, an economist at John Jay College, noted that the two biggest sources of job losses among Black women have been cashiers at stores and restaurants, including fast-food, and in child care. She said she fears that many of those jobs likely won't return even as the pandemic fades as some shifts in the economy become permanent.
Business travel won't likely return to its previous levels as more meetings are conducted remotely. Many health care appointments are now held online, thereby reducing the need for some staffers in doctor's offices. That may end a decade-long narrowing of the Black-white unemployment gap, given that many lower-paid jobs are disproportionately held by Black workers.
"There are significant changes coming in terms of where we work, what jobs will be available," Holder said. "All this will hit women, low-wage workers and people of colour."
As the pandemic recession rages on, more small businesses have been forced to close. This trend threatens to become a long-term drag on the job market, because new companies will have to be created to absorb many laid-off workers.
David Gilbertson, vice-president at UKG, a company that makes employee time-management software, said that among his firm's clients with fewer than 100 employees in March, 13% have now closed — more than double the figure in a typical year. Another round of small-business loans, included in the $900 billion aid package approved last month, will be crucial to help prevent another wave of closings.
"They've made it this far," he said, "and now they're on the brink of having to close down."
In the meantime, the struggling jobless include people who had forged independent careers — people like Bryan Blew, who quit his job as an equipment repairman in Kansas City a year ago to become a full-time musician in Las Vegas. Before the pandemic, Blew typically played bass guitar in bands at casinos, bars and other venues several nights a week. He isn't sure the Vegas music scene will ever return to what it was.
Blew, who hasn't played a gig since March, is now wrestling with whether to give up hope of rebuilding his music career. For now, he's working as a delivery driver for a sandwich shop, earning $9 an hour before tips. He receives unemployment benefits, depending on how much he earns with his job in a given week.
"Time will tell I guess," said Blew, 46. "It's been a difficult pill to swallow."
___
Olson reported from New York.
Christopher Rugaber And Alexandra Olson, The Associated Press
Biden on brink of passing historic $1.9tn boost to US economy – Financial Times
Joe Biden is on the brink of securing final approval from Congress for his $1.9tn stimulus bill — a bet that massive fiscal intervention aimed at lower and middle class families will speed up America's recovery without overheating the economy.
After the US Senate voted to approve the package on Saturday, the Democrat-controlled House of Representatives is poised to give its final green light to the bill on Tuesday, allowing it to be signed into law by Biden.
Barring any last-minute trouble in the House, where Democrats hold a slim majority, the stimulus legislation will mark a big political victory for Biden, who made it his top priority since entering the White House on January 20.
The stimulus bill — known as the American Rescue Plan — represents one of the largest US government interventions in the economy of the post-world war two era — just short of the size of the $2.2tn March 2020 pandemic stimulus, but larger than the $787bn recovery plan during the 2009 financial crisis.
The prospects for its passage have already led many private-sector economists to upgrade their forecasts for US growth this year. Federal Reserve officials are likely to do the same when they publish their latest economic projections next week.
But the plan has attracted criticism from Republican lawmakers — who have so far unanimously opposed the plan — as well as some economists, including Lawrence Summers, the treasury secretary under Bill Clinton — who say it risks a harmful spike in inflation.
A recent sell-off in long-term government debt — with yields on 10-year Treasury bonds rising above 1.5 per cent for the first time in more than a year — has fuelled those concerns, though senior US policymakers including Janet Yellen, the treasury secretary, and Jay Powell, the Federal Reserve chair, have dismissed the worries.
Around the world, the US stimulus package could give a fresh jolt to the global recovery amid hopes that widespread vaccinations throughout the year will help reopen many economies. But any unintended jump in US inflation or debt yields could unsettle markets and prove particularly harmful for emerging markets.
Domestically, Biden's top aides and many Democrats on Sunday touted the plan as "historic and transformational" legislation for families that have struggled through the pandemic. The bill — which will be financed entirely by adding to the US deficit — will dispatch $1,400 means-tested payments to most Americans; extend emergency federal jobless benefits worth $300 per week until September; increase a tax credit for children; provide aid to states and local governments; and boost funding for schools and vaccinations.
"This is a bill that reflects President Biden's belief that the best way to get the economy back on track and get it growing is to invest in working people and middle class people," Kate Bedingfield, the White House communications director, told CNN. "It is urgent aid that is going to help people all across the country but it's also making a long-term investment," she added.
The US president had applauded passage of the Senate's version in remarks on Saturday, following an all-night session in the upper chamber of Congress.
Biden was on Sunday expected to sign an executive order to boost voting rights, at an event commemorating the civil rights protesters who were tear-gassed and beaten by state troopers in Selma Alabama 56 years ago.
Senate passage of the stimulus legislation — by a party-line 50 to 49 vote — was held up for hours as Democratic leaders sought to get the decisive consent of Joe Manchin, the moderate West Virginia Democrat, who was insisting on tighter terms for the jobless benefits.
On Sunday, Manchin did the rounds of US television networks to trumpet his role in the talks, rejecting any fears that the Biden plan was excessive.
"I can assure you, we have helped every segment of society right now, more so than ever before with this piece of targeted legislation," he told Fox News Sunday.
The global economy won't recover if we don't get vaccines to developing countries, too – CNN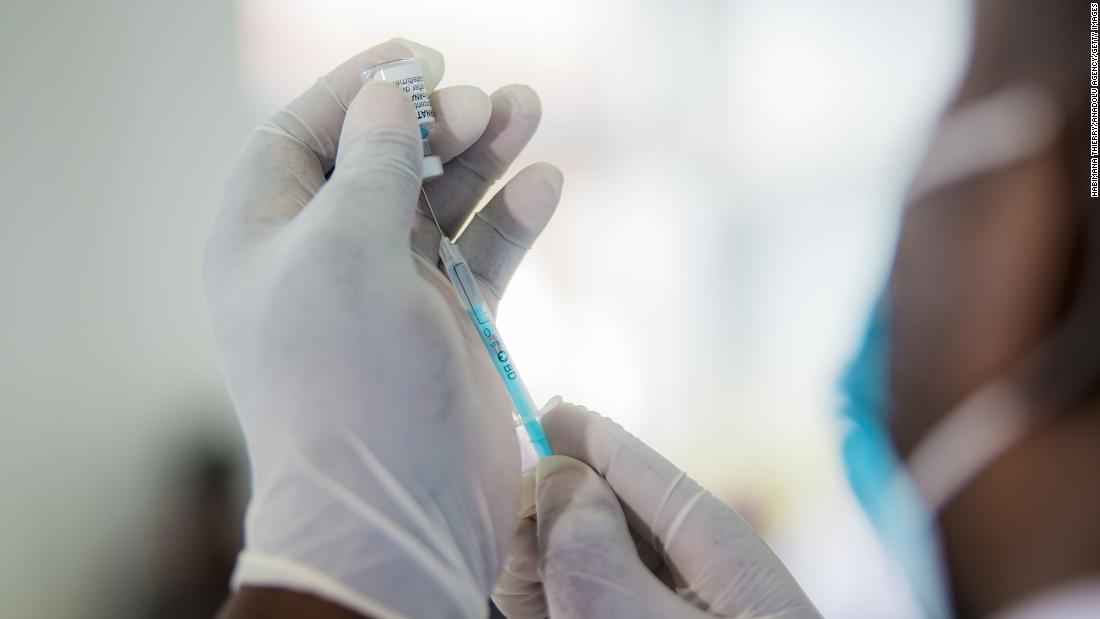 The International Monetary Fund recently projected global GDP growth at 5.5% this year and 4.2% in 2022. But it is going to be a long and uncertain ascent. Most of the world is facing a slow rollout of vaccines even as new virus mutations are spreading — and the prospects for recovery are diverging dangerously across countries and regions.
Indeed, the global economy is at a fork in the road. The question is: Will policymakers take action to prevent this Great Divergence?
As our note to the recent G20 meeting of finance ministers and central bank governors points out, there is a major risk that as advanced economies and a few emerging markets recover faster, most developing countries will languish for years to come. This would not only worsen the human tragedy of the pandemic, but also the economic suffering of the most vulnerable.
We estimate that, by the end of 2022, cumulative per capita income will be 13% below pre-crisis projections in advanced economies — compared with 18% for low-income countries and 22% for emerging and developing countries, excluding China. This projected hit to per capita income will increase by millions the number of extremely poor people in the developing world.
In other words, the convergence between countries can no longer be taken for granted. Before the crisis, we forecast that income gaps between advanced economies and 110 emerging and developing countries would narrow between 2020 and 2022. But we now estimate that only 52 economies will be catching up during that period, while 58 are set to fall behind.
This is partly because of the uneven access to vaccines. Even in the best-case scenario, most developing economies are expected to reach widespread vaccine coverage only by the end of 2022 or beyond. Some are especially exposed to hard-hit sectors, such as tourism and oil exports, and most of them are held back by the limited room in their budgets.
Last year, advanced economies on average deployed about 24% of GDP in fiscal measures, compared with only 6% in emerging markets and less than 2% in low-income countries. Cross-country comparisons also show how more sizable crisis support was often associated with a smaller loss in employment.
And it is not just divergence across countries. We also see an accelerated divergence within countries: the young, the low-skilled, women and informal workers have been disproportionately affected by job losses. And millions of children are still facing disruptions in their educations. Allowing them to become a lost generation would be an unforgiveable mistake.
It would also deepen the long-term economic scars of the crisis, which would make it even more difficult to reduce inequality and boost growth and jobs. Think of the challenges ahead: For G20 economies alone (excluding India and Saudi Arabia due to data limitations), total employment losses are projected at more than 25 million this year and close to 20 million in 2022, relative to pre-crisis projections.
So again, we stand at a fork in the road — and if we are to reverse this dangerous divergence between and within countries, we must take strong policy actions now. I see three priorities:
First, step up efforts to end the health crisis
We know that the pandemic is not over anywhere until it is over everywhere. While new infections worldwide have recently declined, we are concerned that multiple rounds of vaccinations may be needed to preserve immunity against new variants.
That is why we need much stronger international collaboration to accelerate the vaccine rollout in poorer countries. Additional financing to secure doses and pay for logistics is critical. So, too, is timely reallocation of excess vaccines from surplus to deficit countries, and a significant scaling up of vaccine production capacity for 2022 and beyond. Insuring vaccine producers against the downside risks of overproduction may be an option worth considering.
We also need to ensure greater access to therapies and testing, including virus sequencing, while steering clear of restrictions on exports of medical supplies. The economic arguments for coordinated action are overwhelming. Faster progress in ending the health crisis could raise global income cumulatively by $9 trillion between 2020 and 2025. That would benefit all countries, including around $4 trillion for advanced economies — which beats by far any measure of vaccine-related costs.
Second, step up the fight against the economic crisis
Led by G20 countries, the world has taken unprecedented and synchronized measures, including nearly $14 trillion in fiscal actions. Governments need to build on these efforts by continuing to provide fiscal support.
The key is to help maintain livelihoods, while seeking to ensure that otherwise viable companies do not go under. This requires not just fiscal measures, but also maintaining favorable financial conditions through accommodative monetary and financial policies, which support the flow of credit to households and firms.
The considerable monetary easing by major central banks has also enabled several developing economies to regain access to global capital markets and borrow at record-low rates to support spending, despite their historic recessions. Given the gravity of the crisis, there is no alternative to continued monetary policy support. But there are legitimate concerns around unintended consequences, including excessive risk-taking and market exuberance.
One risk going forward — especially in the face of diverging recoveries — is the potential for market volatility in response to changing financial conditions. Major central banks will need to carefully communicate their monetary policy plans to prevent excess volatility in financial markets, both at home and in the rest of the world.
Third, step up support to vulnerable countries
Given their limited resources and policy space, many emerging market and low-income nations could soon be faced with an excruciating choice between maintaining macroeconomic stability, tackling the health crisis and meeting peoples' basic needs.
Their increased vulnerability not only affects their own prospects for recovery from the crisis, but also the speed and scale of the global recovery; and it can be a destabilizing force in a number of already fragile areas. Vulnerable countries will need substantial support as part of a comprehensive effort.
The first step begins at home, with governments raising more domestic revenue, making public spending more efficient, and improving the business environment. At the same time, international efforts are critical to further scale up concessional financing and leverage private finance, including through stronger risk-sharing instruments.
For its part, the IMF has stepped up in an unprecedented manner by providing over $105 billion in new financing to 85 countries and debt service relief for our poorest members. We aim to do even more to support our 190 member countries in 2021 and beyond.
That includes supporting efforts to modernize international corporate taxation. We need a system that is truly fit for the digital economy and that is more attuned to the needs of developing countries. Here multilateral efforts will be essential to help ensure that highly profitable firms pay tax in markets where they do business.
It is vital that poorer countries have the support they need. The alternative — to leave poorer countries behind — would only entrench abject inequality. Even worse, it would represent a major threat to global economic and social stability. And it would rank as a historic missed opportunity.
With many vaccinated, Israel reopens economy before election – NEWS 1130 – News 1130
JERUSALEM — Israel reopened most of its economy Sunday as part of its final phase of lifting coronavirus lockdown restrictions, some of them in place since September.
The easing of restrictions comes after months of government-imposed shutdowns and less than three weeks before the country's fourth parliamentary elections in two years. Israel, a world leader in vaccinations per capita, has surged forward with immunizing nearly 40% of its population in just over two months.
Bars and restaurants, event halls, sporting events, hotels and all primary and secondary schools that had been closed to the public for months could reopen with some restrictions in place on the number of people in attendance, and with certain places open to the vaccinated only.
Israeli Prime Minister Benjamin Netanyahu's government approved the easing of limitations Saturday night, including the reopening of the main international airport to a limited number of incoming passengers each day.
Netanyahu is campaigning for reelection as Israel's coronavirus vaccine champion at the same time that he is on trial for corruption.
Israel has sped ahead with its immunization campaign. Over 52% of its population of 9.3 million has received one dose and almost 40% two doses of the Pfizer vaccine, one of the highest rates per capita in the world. After striking a deal to obtain large quantities of Pfizer/BioNTech vaccines in exchange for medical data, Israel has distributed over 8.6 million doses since launching its vaccination campaign in late December.
While vaccination rates continue to steadily rise and the number of serious cases of COVID-19, the illness caused by the virus, drops, Israel's unemployment rate remains high. As of January, 18.4% of the workforce was out of work because of the pandemic, according to Israel's Central Bureau of Statistics.
At the same time that it has deployed vaccines to its own citizens, Israel has provided few vaccines for Palestinians in the West Bank and Gaza Strip, a move that has underscored global disparities. It has faced criticism for not sharing significant quantities of its vaccine stockpiles with the Palestinians. On Friday, Israel postponed plans to vaccinate Palestinians who work inside the country and its West Bank settlements until further notice.
Israeli officials have said that its priority is vaccinating its own population first, while the Palestinian Authority has said it would fend for itself in obtaining vaccines from the WHO-led partnership with humanitarian organizations known as COVAX.
Israel has confirmed at least 800,000 cases of COVID-19 since the start of the pandemic and 5,861 deaths, according to the Health Ministry.
Ilan Ben Zion, The Associated Press