One Play: Toronto Raptors fourth-quarter defensive lapse backs Kyle Lowry's comments on team's defence – NBA CA
Welcome to "One Play!" Throughout the 2020-21 NBA season, our NBA.com Staff will break down certain possessions from certain games and peel back the curtains to reveal its bigger meaning.
Today, the Toronto Raptors early-season defensive struggles take centre stage.
Context: "We're nowhere near it," All-Star guard Kyle Lowry told the media when asked about how close the Raptors are to where they want to be defensively following the team's 119-114 loss to the San Antonio Spurs.
Falling to 0-2 for the first time since the 2012-13 season – the last time they missed the playoffs – Toronto's defence has been subpar of its typical standing and the team's vocal leaders Lowry and Fred VanVleet had no hesitation in announcing their displeasures with that end of the floor.
"It's not rocket science. I don't wanna say it's an effort thing, because I feel like guys are trying out there, I just think we've gotta make more plays at a higher level," VanVleet echoed to the media. "We're doing it in spurts but I think teams are a little too comfortable right now."
And he's not wrong there.
The Raptors currently own a defensive rating of 111.5, placing them in the bottom-10 of the league. Opponents are shooting 49.4% from the field and 43.4% from 3 against Toronto, ranking 26th and 27th in the NBA, respectively, proving that teams are very comfortable against the usually stout defence.
The play: Toronto led 114-110 with just over a minute remaining, needing one more stop to put itself in the drivers seat toward the first win of the season. DeRozan feeds LaMarcus Aldridge in the post, who looks to take Pascal Siakam one-on-one to make it a one-possession game. When it appears like Aldridge turned the corner on a spin move to get by Siakam, OG Anunoby slides down to help, leaving DeRozan wide open at the top of the key.
Aldridge feels the double team coming, sees his star teammate alone on the perimeter, makes the right read and DeRozan buries the 3-ball that extended San Antonio's chances at a win.
While Anunoby certainly helps too far off of DeRozan (who was already 2-for-3 from 3-point land on the night), it's Lowry and Chris Boucher that fail to rotate and pick up the open man.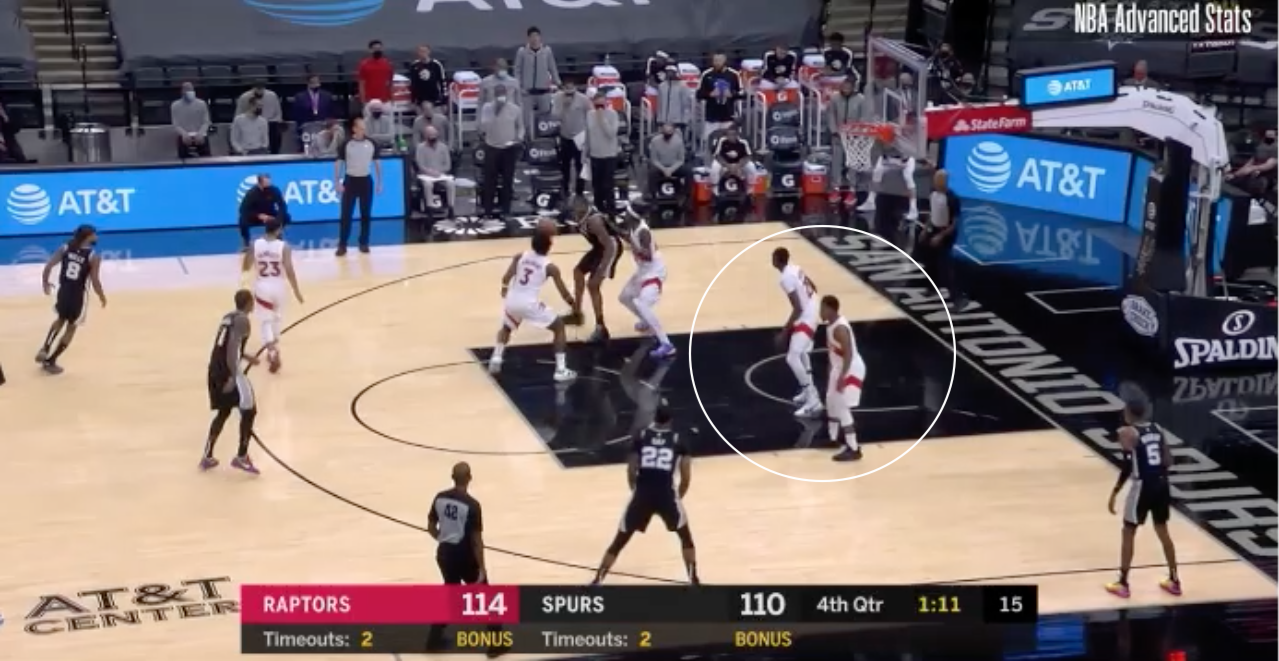 Boucher is standing in what we like to call "no man's land", not defending any player. Lowry gets caught flat-footed as well, but is at least in a position to get out to the opposite wing or corner if Aldridge zips a skip pass.
By the time Boucher realizes DeRozan is unmarked on the perimeter, it's too late.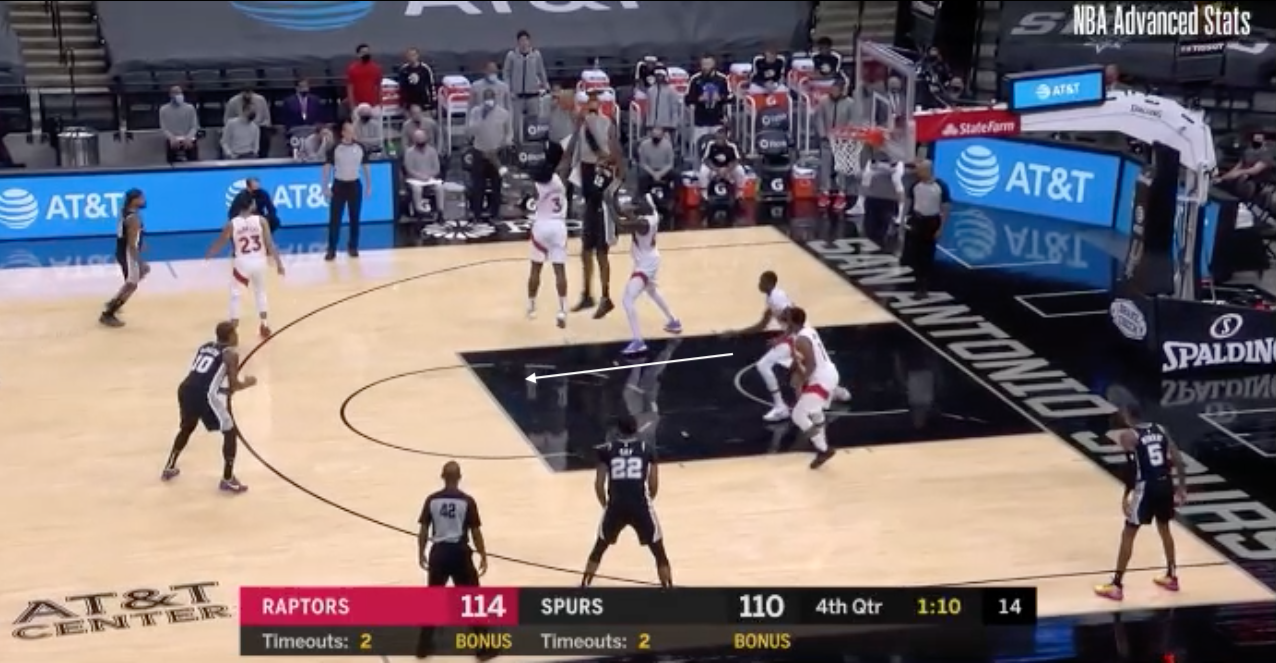 Even closing out late, Boucher still hesitates to fully close out in case DeRozan tries to beat him off the dribble despite having plenty of help behind him.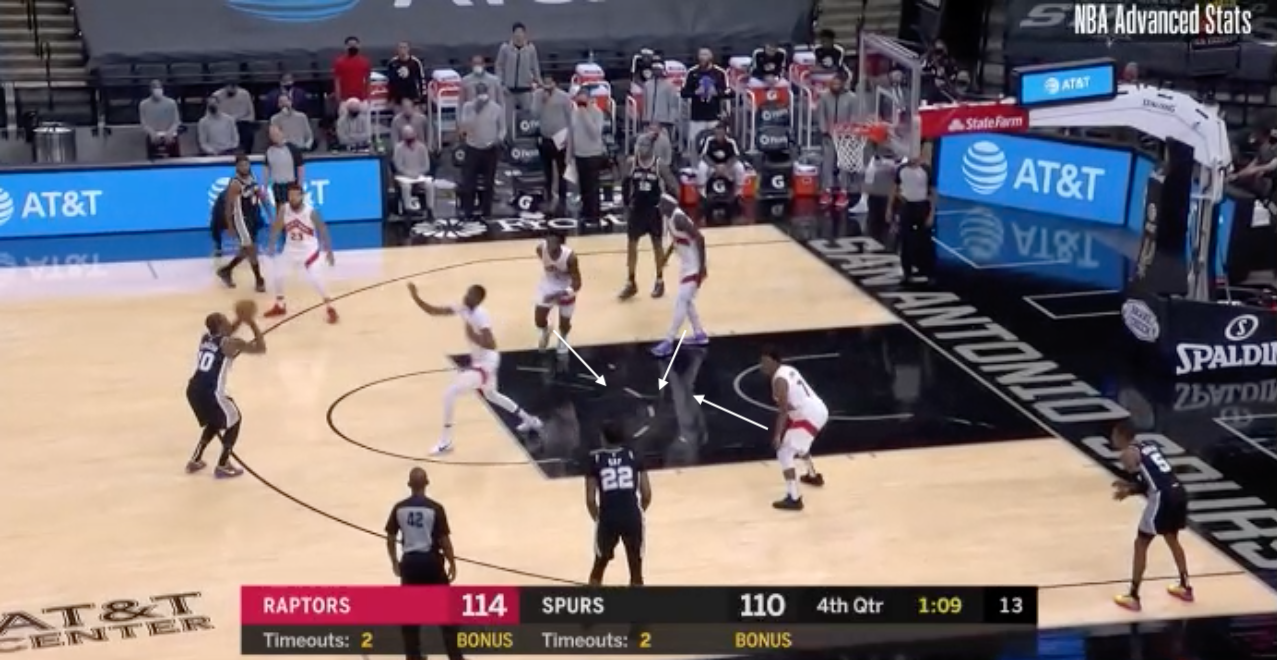 The late rotation gives DeRozan an easy look from 3, putting his team within one point with a minute to go in the game. The Spurs would end up grabbing two offensive rebounds on the ensuing possession before Aldridge's putback gave San Antonio the hard-fought win.
Why it matters: This isn't to call out Boucher, who was a huge reason why the Raptors were even in the game in the first place with a monster night of 22 points, 10 rebounds and a career-high seven blocks.
It's more to show that a team that is typically the gold standard for defensive rotations failed to do what they usually do best and it cost them their first win of the season on Saturday.
Last year, Toronto boasted the second-best defence in the league in terms of defensive rating, only allowing 104.7 points per 100 possessions in the regular season. They're nearly a full seven points worse than that through the first two games this year and the lack of continuity on defence doesn't necessarily add up when you consider the majority of their rotation are players that have returned from last season.
While not having rim protectors like Marc Gasol and Serge Ibaka leaves a void, it doesn't explain slow rotations or defensive lapses. If the Raptors are going to shake off this slow start and return to prominence in the East, it's going to have to start with adjustments on the defence.
The views on this page do not necessarily represent the views of the NBA or its clubs.
Conor McGregor's leg 'completely dead', 'like an American football' after Dustin Poirier's kicks at UFC 257 – MMA Fighting
Like many fighters whose calves get kicked, Conor McGregor didn't realize the damage done until it was too late.
Speaking to reporters after his loss to Dustin Poirier in the headliner of UFC 257 on Saturday, McGregor struggled to process the reversal of fortune that turned a solid performance in the first round into a stoppage via second-round TKO.
"It's heartbreaking," McGregor said after stepping up to the podium at Etihad Arena in Abu Dhabi, which hosted the pay-per-view event. "It's hard to take. The highest highs and the lowest lows in this game."
Part of McGregor's reconciliation was accepting how much of a part Poirier's low leg kicks played in setting up the flurry of punches that handed him the first TKO loss of his professional MMA career.
The former two-division champ and box-office star showed up to the press conference on crutches.
"My leg is completely dead, and even though I felt like I was checking them, it was just sinking into the muscle in the front of the leg, and it was badly compromised, he said. "It's like an American football in my shoe at the minute. It is what it is. Dustin fought a hell of a fight."
Poirier was the victim of McGregor's punches the first time they met in 2014 in a featherweight bout. The loss was the catalyst for Poirier to move up to the lightweight division, where he went on a tear that led to the interim title.
As for the path McGregor will walk, he said he'll make the necessary adjustments and soldier on. There's no doubt that part of his work will be to minimize the potential affect of low kicks. Up until the second round, McGregor felt he was trending in the right direction despite giving up a takedown.
"I thought I done well," he said. "I got up, turned him. I felt alright with him in the clinch, I felt like I was better than him in the clinch. But too little, too late. The leg was compromised, and I didn't adjust. Fair play to Dustin."
McGregor is not the first fighter to suffer debilitating effects as the result of calf kicks. The strike affects the peroneal nerve that provides movement and sensation to the leg. Damage to the nerve can cause foot drop, rendering a fighter unable to lift or plant the foot. While it didn't appear that the ex-champ was hobbled in such a way, he said the situation only got worse as Poirier continued to land the strike.
"I was going to tough her out," he said. "I toughed it out as much as I could. It was an unusual one. I felt like I lifted my leg up multiple times, but it just sunk into to the muscle at the front, and it was badly compromised. And then Dustin had good, solid defense, as well. So when I was pressing forward with the shots, he was defending well. He fought a hell of a fight, and I'm happy for him."
McGregor made no excuses for being unable to perform. The setback was instead something to reflect on, and he was still in that process as reporters asked him about what happened. The best answer he could arrive at was that he had simply been outclassed, and he would return to make things right.
"It was a phenomenal performance from Dustin," he said. "I don't know what to say. I'm going to go back, chill out, watch the full fight and get a better grasp on it. But the leg was compromised, and I was rushing the shots a little bit. And I didn't adjust. It's a bitter pill to swallow. I don't even know whether I'm that upset. I don't know what to say."
Why George Armstrong was the best captain the Maple Leafs ever had – Sportsnet.ca
George Armstrong would stand in front of the full-length mirror in the locker room, his arms skinny like broomsticks, teeth in his hand and belly puffed out.
"You're beautiful, Chiefy-cat," he'd say, flexing his muscles as his teammates roared with laughter.
This was the 'Chief': the Toronto Maple Leafs captain who doubled as locker-room joker.
"George always kept things light," recalled fellow Hall of Famer and former teammate Red Kelly back in 2013, chuckling. "Toronto was lucky to have him, in good times and bad."
Armstrong, nicknamed Chief because of his Iroquois heritage, died at the age of 90. The team announced his passing on Sunday.
One of the first players of Indigenous descent to play professional hockey and the longest-serving captain in Maple Leafs history, Armstrong played his first full season for the Blue and White in 1952. He was named captain six years later by team owner Conn Smythe and wore the "C" for 12 seasons, leading the Leafs to four Stanley Cups. During the unlikely run in 1967 against the Montreal Canadiens, it was the Chief who scored the Cup-clinching goal on an empty net.
"He got over centre and he shot the puck, straight as an arrow," Kelly said.
It's a moment burned in the memory of many a Leafs fan; the last time Toronto hoisted Lord Stanley's mug.
Despite all of Armstrong's accomplishments, he long remained one of the game's most underrated leaders. The big right winger wasn't a fast skater and he didn't have a great shot; critics didn't even think he'd crack the NHL. But he was a hard worker and in his 21 seasons in Toronto, he tallied 296 goals and 417 assists in 1,187 games.
Smythe called No. 10 "the best captain the Leafs have ever had." Coach Punch Imlach thought so much of Armstrong's leadership that when the Chief retired for a short time after the 1967 season, Imlach left the captain position open in case he came back (he did).
"Some people thought I was nuts to hold the job open, but I never thought so," Imlach later wrote. "George Armstrong did more for the Maple Leafs than any other hockey player who played for me. He always felt that he had a responsibility to the game, that it gave him a lot and he was always trying to put some of it back."
Armstrong wasn't the type to give speeches. He led by example, the last guy off the ice after practice. When Jim McKenny joined the Leafs as a rookie, Armstrong taught him to work the corners and boards, told him to stay out of league politics, even tried to make sure he made curfew. He treated everyone with the same respect, from first-liners to players who rode the bench. And he used his off-ice antics to help his teammates keep loose before big games.
"He'd always come up with something at the spur of the moment," Kelly said. "It was just like, boom, out of nowhere, he'd hit the target and he'd have us all laughing."
Armstrong went on to coach the Ontario Hockey Association's Toronto Marlboros for three seasons, leading them to a Memorial Cup championship in 1975, the same year he was enshrined in the Hall of Fame. He even reluctantly took over behind the bench for the Leafs during the 1988–89 season, a short stint before starting a job as a scout for the Toronto club.
The Chief was a private guy who didn't do interviews or make many appearances, which McKenny said was a shame, since Armstrong was such a great personality.
"He always [took] it upon himself to entertain," said McKenny, chuckling.
George Armstrong, Maple Leafs legend and long-time captain, dead at 90 – Sportsnet.ca
TORONTO — George Armstrong, who captained the Toronto Maple Leafs to four Stanley Cups in the '60s and wore the blue and white his entire career, has died.
He was 90.
The Maple Leafs confirmed the death Sunday on Twitter.
Armstrong played a record 1,187 games with 296 goals and 417 assists over 21 seasons for the Leafs, including 13 seasons as team captain. The right-winger added another 26 goals and 34 assists in 110 playoff games.
Known as the Chief, Armstrong was one of the first players of Indigenous descent to play professional hockey.
Armstrong was inducted into the Hockey Hall of Fame in 1975. Some 41 years later, Armstrong was voted No. 12 on the franchise's list of 100 greatest Maple Leafs in its centennial season.
"George is part of the very fabric of the Toronto Maple Leaf organization and will be deeply missed," Maple Leafs president Brendan Shanahan said in a statement. "A proud yet humble man, he loved being a Maple Leaf but never sought the spotlight even though no player played more games for Toronto or captained the team longer. Always one to celebrate his teammates rather than himself, George couldn't even bring himself to deliver his speech the day he was immortalized on Legends Row."
A young Armstrong met Syl Apps when the Maple Leafs star came to his bantam team's annual banquet. Armstrong would go on to wear No. 10, the first Leaf to do so after the retirement of talismanic Cup-winning captain Apps.
Armstrong would also become one of a select number of Leafs honoured with a banner at Scotiabank Arena and his number was officially retired in October 2016 at the team's centennial anniversary home opener.
In 2015, Armstrong and Apps were added to the Leafs' Legends Row.
The Leafs released a statement on Sunday with the words from Armstrong's unread speech that night.
"Hockey is a great game and I love it. I am part of a fading generation that you will never have again. Every one of us is one of a kind, that will never be repeated. To all of my friends and acquaintances, thank you for your advice and direction, that helped make me who I am today ? a very, very happy person."
After hanging up his skates in 1971, Armstrong coached the Toronto Marlboros to Memorial Cup victories in 1972-73 and 1974-75 before accepting a scouting position with the Quebec Nordiques in 1978.
He spent nine years with Quebec before returning to the Toronto fold as assistant general manager and scout in 1988. Armstrong served as interim coach for the final 47 games of the 1988-89 season after John Brophy was fired after an 11-20-2 start.
The next year, Armstrong returned to his role as a scout for the Leafs.
Armstrong scored 20 goals four times during his career but was better known for his leadership and work ethic, helping restore the franchise's winning touch. A smart player and talented backchecker, he worked the angles to get the best shot at his opponent and formed a formidable penalty-killing tandem with Dave Keon.
A humble man, Armstrong was quick to deflect praise. He credited his players for his Memorial Cup wins as coach.
"It wasn't because I was a great coach, it was because I had some great players," he said in a 1989 interview, listing off the likes of the Howe brothers, John Tonelli, Mark Napier and Mike Palmateer.
And he offered a typical response when inducted into the Leaside Sports Hall of Fame in 2015.
"I don't know whether I deserve it or not but I sure am happy to get it," said Armstrong, who lived in several areas of the city before making Leaside his Toronto home.
Born in Bowland's Bay, Ont., to an Irish father and an Iroquois mother, a young Armstrong honed his hockey skills in Falconbridge near the Sudbury nickel mines where his father worked.
The Boston Bruins were interested but Armstrong waited until the Leafs put him on their protected list while he was playing with the Copper Cliff Jr. Redmen of the NOHA in 1946-47. After winning the Eddie Powers Memorial Trophy as the OHA's leading scorer with Stratford next season, the Leafs sent him to their main junior affiliate, the Toronto Marlboros.
He was elevated to the senior Marlies for the 1949 Allan Cup playoffs and helped the team win the title over Calgary the next year.
It was during the Allan Cup tournament, specifically a visit to the Stoney Indian Reserve in Alberta, that he got his nickname. When the band heard of Armstrong's ancestral background, they made him an honorary member with the name "Chief Shoot-the-Puck" and presented him with a ceremonial headdress.
It was a different era and "The Chief" nickname stuck. Armstrong, who was proud of his mother's heritage, would become the first player of Indigenous descent to score in the NHL.
He spent most of two seasons in Pittsburgh with the Leafs' American Hockey League farm team before making the big league. He made his NHL debut in December 1949 and became a full-time member of the Leafs in time for the start of the 1952-53 season.
"It looks as if he's going to be here for quite a long time the way he handled that puck," legendary broadcaster Foster Hewitt said after Armstrong scored his first NHL goal in a 3-2 win over Montreal.
Taking a pass from future Hall of Famer Max Bentley, Armstrong beat defenceman Butch Bouchard and beat goaltender Gerry McNeil.
"I did a little war dance that night and I think everybody in Maple Leaf Gardens was pretty happy about it as well," Armstrong recalled 15 years later.
Toronto owner and GM Conn Smythe named Armstrong his captain before the 1957-58 season. Smythe would later call Armstrong "the best captain, as a captain, the Leafs have ever had."
The Leafs won the Stanley Cup in 1962, the first of three straight championships.
Armstrong was 36 when the veteran Leafs won the franchise's last championship in 1967. His insurance empty-net goal with 47 seconds remaining in the clinching 3-1 Game 6 win proved to be the final goal of the Original Six era.
The six-foot-one, 204-pounder played a few more seasons, but suffered a knee injury during the 1969-70 campaign that forced him to retire. Armstrong was convinced to come back for the 1970-71 season before quitting for good at age 40.
At the time, Armstrong had played more seasons and more games as a Maple Leaf than any other player, and was second in career points.