2020 is stacking up to be OnePlus' best year yet, as the company follows up the very well-reviewed Nord and OnePlus 8 series with the new 8T.
The phone takes everything I liked about the 8 Pro, adds a few more features and then packs it into a case that's a cross between the OnePlus 8 and the OnePlus 7T. While this sounds like a recipe for success, there are a few holdups.
The only issue I have with the phone relates to its cost. If money is no object, then you'll be happy with this device, but several other lower-cost options this year might make you think twice about paying $1,099 CAD for a powerhouse like the 8T.
When I reviewed the OnePlus 8 series, I said that perfection was only a phone away, and the 8T just about proves me right.
Specs
Simplicity works wonders
OnePlus has been using variations of the same design for the past few years, with the only exception being the 7T's unusual camera bump and the 7 Pro's pop-up camera. Now, it's finally shifted from using long camera bumps to a rectangular shape. Initially, I wasn't a fan of the 8T's camera module since it reminded me of Samsung's smartphones, but the more I used OnePlus' latest device, the more it grew on me.
I especially like that OnePlus jammed all the camera hardware into the bump, instead of placing it beside the camera like it did with the 8 Pro. The new camera enclosure is also a little thinner than the 8 Pro and the 7T, which is a welcome change since the old bumps were so large.
OnePlus covered both the front and the back of the phones with Gorilla Glass 5, Which feels nice when holding the phone in my hand. The rear of the 'Lunar Silver' model OnePlus sent me is also frosted with a soft-touch material that looks nice and feels great. If you don't want silver, the phone also comes in a light green hue called 'Aquamarine Green.'
The edges of the 8T are wrapped in a small metal band with the volume keys on the left. On the right side, you'll find the classic OnePlus Alert slider and a power button. All the buttons are satisfyingly clicky.
OnePlus placed the USB-C port and the louder half of the device's stereo speakers along the phone's bottom. The other speaker is embedded in the earpiece and helps with stereo separation when the phone is in landscape, but I found it quieter than the other speaker. OnePlus said this also provides Dolby Atmos support. I've never had much luck with in-phone Atmos setups unless I'm Holding them level with my face and playing content at high volumes, which isn't practical for the duration of a movie or show. That said, the speakers are loud, crisp and easily fill a room with sound.
The real star of the phone is its 6.55-inch 120Hz AMOLED display. This time around, OnePlus put extra effort into making the screen more colour accurate than ever before. It also left the smartphone's display flat like last year's 7T which some people, me included, like more than curved displays.
Originally, I thought the 8T had a better display than the OnePlus 8 Pro. Yet, the more I look at pictures and videos side-by-side, there isn't a noticeable difference. Still, it's nice to see the China-based company double down on its dedication to screen quality.
OnePlus says that the 8T's new display is also 28 percent thinner than its previous phones with a peak brightness of 1,100 nits and the ability to cut blue light emissions by 40 percent. However, it's hard to notice a difference until you also turn on the software-based blue light filter that most Android phones have.
Overall the 8T's beautiful screen, soft back and 188g weight make this phone super comfortable to hold. Interacting with this device also feels super-premium with its responsive and accurate display, plus it has a very nice haptic feedback. OnePlus has been working towards making phones feel this nice for years and this is the closest it's gotten.
My new favourite camera
I'm usually a fan of most smartphone cameras since I find that no matter what I'm using, it's mostly about being in the right place at the right time. That said, I've fallen for the OnePlus 8T's fantastic lenses.
There are three main cameras on the phone's rear and a monochrome camera like the OnePlus 8 Pro. However, this year you can't use it to see through thin black fabrics and plastics like the 8 Pro. OnePlus patched that 'feature' out of the 8 Pro following an outcry over the accidental X-ray capability.
The main lens is a 48-megapixel Sony IMX586 sensor with optical image stabilization and an f/1.7 aperture. Flanking that is a 16-megapixel 123-degree ultrawide and a 5-megapixel macro lens.
It's disappointing that OnePlus skipped out on the telephoto lens this time around and decided that Macro and Monochrome were better. While both of those lenses are cool, neither are as useful as a zoom lens. That said, the 8T's digital zoom is passable in some situations.
When it comes to taking pictures, the camera app is feature-packed with various modes, including OnePlus' 'NightSight,' 'Portrait mode,' pro controls and options that give the camera additional versatility.
I didn't find myself using the 'Pro' mode very often since the regular camera was pretty powerful in its own right. The primary camera setup takes images in 12-megapixel shots that look sharp and provide accurate colours. There is a shortcut to take 48-megapixel photos but OnePlus mentions that using the camera's full megapixel count works the best in bright, well lit environments.
For the most part, the photos I took came out well, but anything with tons of small details like a furry dog or trees sometimes were a little hit-and-miss as the camera struggled to capture all the fine details.
However, I still managed to get more super sharp photos than not with this camera.
The video quality is just as good, with the new optical image stabilization helping to create stable and cinematic video. OnePlus even added some video editing tools and filters to its default Gallery app.
This time the phone is capable of capturing 4k video at either 30 or 60fps. There's also a super slow motion mode that can shoot as high as 480fps when recording 720p video. These features are cool but the most significant improvement to video this time around is its increased stabilization.
Not new, but not bad
Inside the phone, OnePlus hasn't packed in a ton of cutting-edge features, but it's still filled with useful high-end gear.
This includes a 5G-capable Snapdragon 865 chipset and 12GB of RAM. Overall, this future-proofs the device as Canadian 5G networks launch and slowly expand across the country.
The 8T also features a 4,500 mAh battery that's split in half so the company can use a new version of fast-charging it calls Warp Charge 65. The new standard is capable of boosting the phone's battery to almost 60 percent in 15 minutes. To get to 100 percent, it also only takes roughly 40-minutes, which is pretty impressive. During my time with the phone I could easily get a day and a half of heavy use, and I bet if I really tried I could push it even further.
One of the more interesting aspects of the fast-charging on this phone is that this time OnePlus included a USB-C to USB-C cable that can support 45-watt charging with other devices like headphones, laptops, the Switch and other devices. This is useful since most company's fast-chargers are locked down to only fast-charging their own devices. OnePlus is stressing that the new phone doesn't get hot when you game or charge. IN my experiance this is true, which is crazy since I found that previous OnePlus phones get pretty hot.
There's also NFC, Bluetooth 5.1 and other high-end audio codecs, which is a nice touch for people with high-end speakers and headphones.
In terms of security, the OnePlus 8T has a rudimentary face unlock that's not super secure because it doesn't have any way to measure depth, and a quick in-display optical fingerprint sensor.
The perfect phone still might not be the best phone for you
OnePlus really has done it. The company made a phone capable of competing against most modern flagships and in many cases, is actually better. The only classic OnePlus compromise is the fact that the OnePlus 8T lacks wireless charging.
That said, the camera, OxygenOS 11 and the hardware all stand up to the test in day-to-day use. One weird aspect though, is that the T-Mobile version of the phone in the U.S. has an IP68 rating while the unlocked version is unrated. This leads me to believe that all versions are going to be moderately waterproof, but I wouldn't test it on purpose.
OnePlus has stepped up OxygenOS with Android 11, including a new always-on display mode, plus one that even uses Bitmoji, but I'm still waiting on the final update to add it.
Overall, there are some random software bugs, but the phone runs smoothly, and a solid restart every few days usually fixes whatever issues I encounter.
When I reviewed the OnePlus 8 Pro, I said that OnePlus made an amazing phone, but that the company needed to overhaul its software to tie it in with the device's hardware and OnePlus' design.
Since then, the OnePlus has done this. The OnePlus 8T checks all the boxes for me except for the $1,100 price, which is a lot to ask for a smartphone that you can't subsidize from a carrier. If it came in closer to $700 like the Nord, I think this would be my favourite phone of the year. But for now, it's nice to see OnePlus release a phone that's as stellar as this and hopefully, it can take what it's learned and apply it to the next Nord handset.
"The OnePlus 8T checks all the boxes for me except for the $1,100 price, which is a lot to ask for a smartphone…"
Source:- MobileSyrup
Black Friday 2020: the best tech deals – AlKhaleej Today
The holiday shopping season is approaching and many retailers will be participating in Black Friday sales. This guide can help you figure out where and how to shop to find the best deals.
Many shoppers look forward to Black Friday and Cyber ​​Monday every year. After all, it's one of the best times to shorten that vacation shopping list without breaking the bank. Due to the COVID-19 pandemic, the 2020 Christmas business season is likely to look a little different than in previous years. In the past few years, many retailers like Walmart, Target, and Best Buy have launched Black Friday deals on Thanksgiving Eve. However, this will not be the case this year as they are closed for public holidays.
Even if shopping could switch from in-store to online for many this year, there are still many offers that you can take advantage of. This guide will walk you through major store closings, the best times to shop, and where to find great deals on smartwatches / fitness trackers, tablets, headphones, and more. You can also find more ideas and product information in our Christmas gift guides. TechRepublic will update this article as more information becomes available.
Black Friday 2020: where and when to shop
According to sister site GameSpot, the following retailers will be closing on Thanksgiving:
Walmart / Sam's Club
target
Best buy
GameStop
Kohls
Dick's sporting goods
TJ Maxx
JCPenney
Bed bath in addition
Office depot
While Black Friday opening times have not yet been announced for these retailers, Black Friday prices will be available online much earlier than usual. For example, GameSpot explains, "Target has confirmed that its first Black Friday deals will start on November 1st and Black Friday prices will be available throughout the month."
Best Buy has been offering Black Friday deals since Amazon Prime Day and continues to offer Black Friday prices on hundreds of items. Walmart is also expected to start offering deals earlier than usual. The first Deals for Days event begins on Wednesday, November 4th at 7:00 PM (CET) on Walmart.com and on November 7th at 12:00 PM (CET) and 5:00 AM (CET) local time in stores. Amazon is currently running a "Holiday Dash" sale that offers huge discounts on items in the weeks leading up to Black Friday and Cyber ​​Monday.
Black Friday deals from Amazon, Target and Best Buy
The following offerings from Best Buy, Target, and Amazon may help you find exactly the items you're looking for.
Disclaimer: Please note that these Black Friday sales will only run for a limited time. Prices are subject to change and quantities are limited. Availability dates are shown in parentheses when listed on the retailer's website.
Amazon
Best buy
(The following Best Buy sales will end November 1st at 11:59 p.m. CT)
target
Best of the Week Newsletter
Our editors highlight the TechRepublic articles, downloads and galleries that you can't miss to keep up to date with the latest IT news, innovations and tips. Fridays
Register today
See also
These were the details of the news Black Friday 2020: the best tech deals for this day. We hope that we have succeeded by giving you the full details and information. To follow all our news, you can subscribe to the alerts system or to one of our different systems to provide you with all that is new.
It is also worth noting that the original news has been published and is available at de24.news and the editorial team at AlKhaleej Today has confirmed it and it has been modified, and it may have been completely transferred or quoted from it and you can read and follow this news from its main source.
Examining Apple's impressive $64.7B fourth quarter by the numbers – AppleInsider
Despite ongoing challenges in the world, Apple has once again reported stellar revenue in its latest quarterly results. Here's a graphical breakdown of how Apple's finances fared and changed over the quarters and the years.
On Thursday, Apple reported its fourth and final quarter for the 2020 fiscal year. In a year described by CEO Tim Cook as one "defined by innovation in the face of adversity," Apple saw new all-time records for Mac and Services, which helped boost quarterly revenue to roughly 1% higher than last year.
However, the high revenue occurs without an iPhone release in the period, with iPhone revenue also down in the period. The fact that Apple managed to accomplish this despite lower revenue from its keystone product warrants a closer examination.
What follows is the collection of graphs and charts that AppleInsider has generated based on the quarterly results issued by Apple over time.
Revenue and Net Profit
For the quarter, Apple reported revenue of $64.7 billion, an increase of 1.0% year-on-year from $64.0 reported for Q4 2019. A single percentage gain may not sound like much, but given this occurs at the tail end of a financial year dramatically affected by the COVID-19 pandemic, keeping an even keel or a modest shrink instead of growth would have been acceptable for most industries.
Apple also reported a net profit of $12.7 billion, which is down year-on-year by 7.4% against $13.7 billion. This would seem to be an issue in most years, but again it is expected that costs will rise due to the pandemic, so there's little to worry about.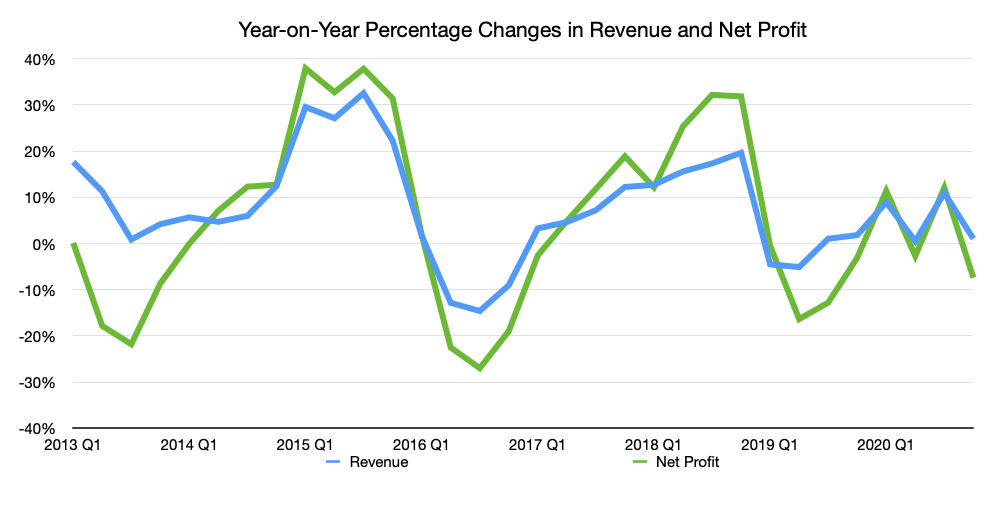 The year-on-year change for quarterly revenue and net profit
While the lines in this chart may be worrying, as Apple is still hovering around the 0% region for the last few quarters, just bear in mind that the year's events have taken a toll on many companies, as well as its customers. Neither line goes as far down as periods such as mid-2016 where revenue shrank YoY by well over 20%.
Gross Margin
Referring to the net sales minus the cost of goods sold, the gross margin is usually a good indicator of whether it has been an expensive year for Apple or not. The lower the percentage, the lower the proportional profit Apple earns, and vice versa.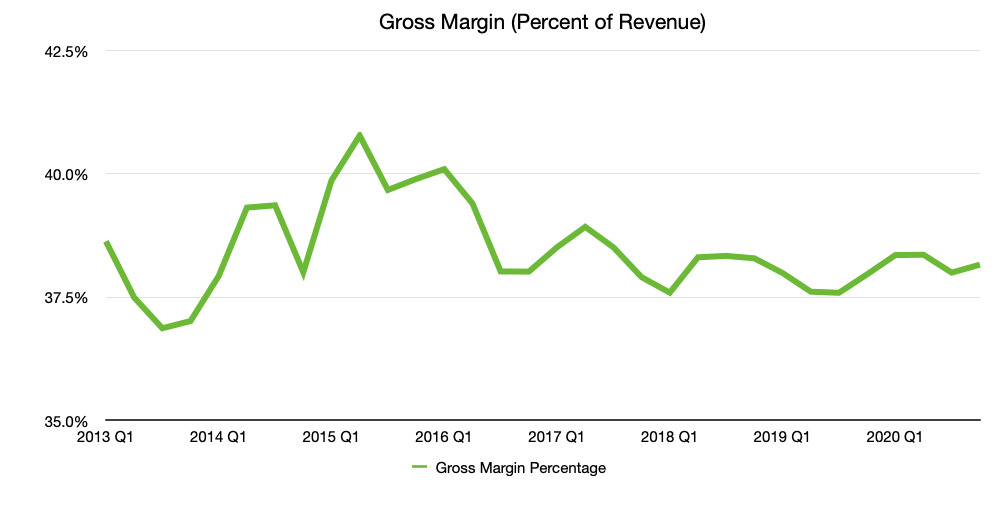 Apple's quarterly gross margin as a percentage of the quarter's revenue
For Q4 2020, the gross margin percentage is 38.16%, which is up from Q4 2019's 37.97%. This is also towards the middle of the range of Apple's typical gross margin figures, which since Q1 2013 has been between 37% and 40%, with rare exceptions.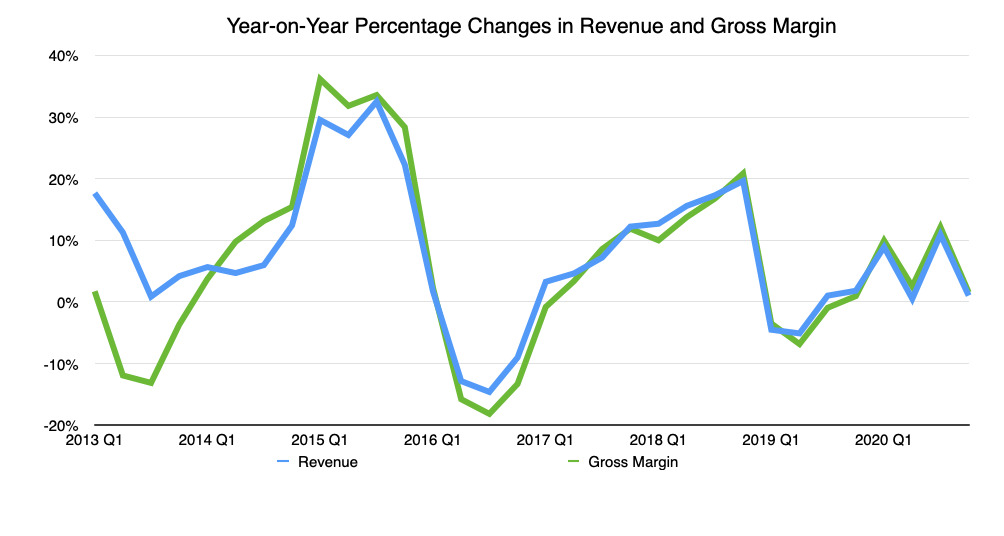 The year-on-year percentage change in quarterly revenue and gross margin
Like revenue for the quarter, there's a small improvement on last year, but not by much. Despite the reduction in net profit, the gross margin is still quite resilient to change.
Annual revenue, gross margin, net income
As it is the end of the fiscal year 2020, we also have data for a full year of results, which will allow us to more directly compare the company's fortunes against previous financial years.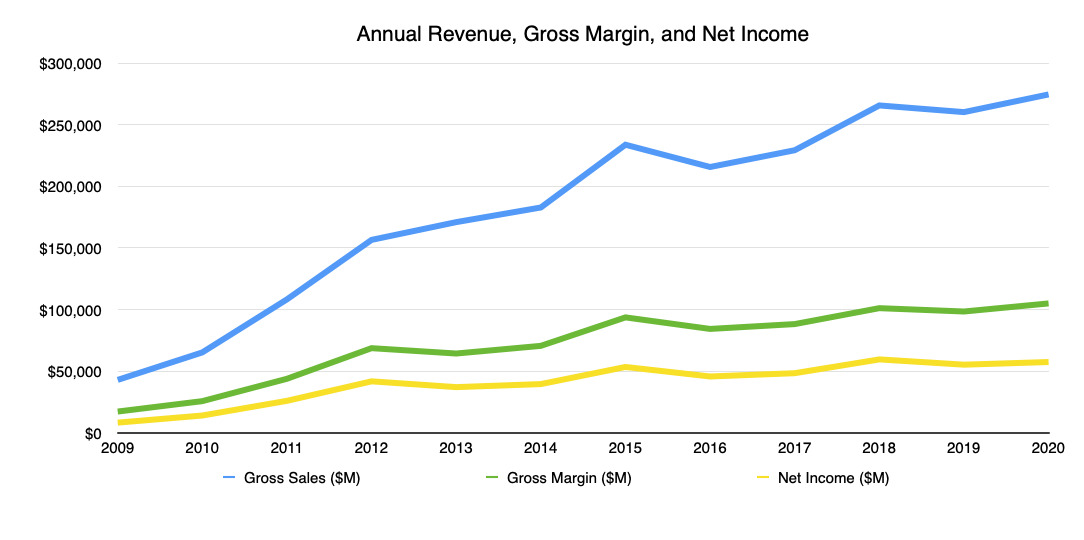 Apple's annual revenue, gross margin, and net income
The 2020 fiscal year is Apple's biggest on record, despite the challenges of the year. The company saw gross sales of $274.5 billion, up from $260 billion in 2019, and the previous-highest $265 billion from 2018.
The gross margin value is also naturally the highest since records began, at $104.96 billion against $98 billion in 2019 and $101 billion in 2018.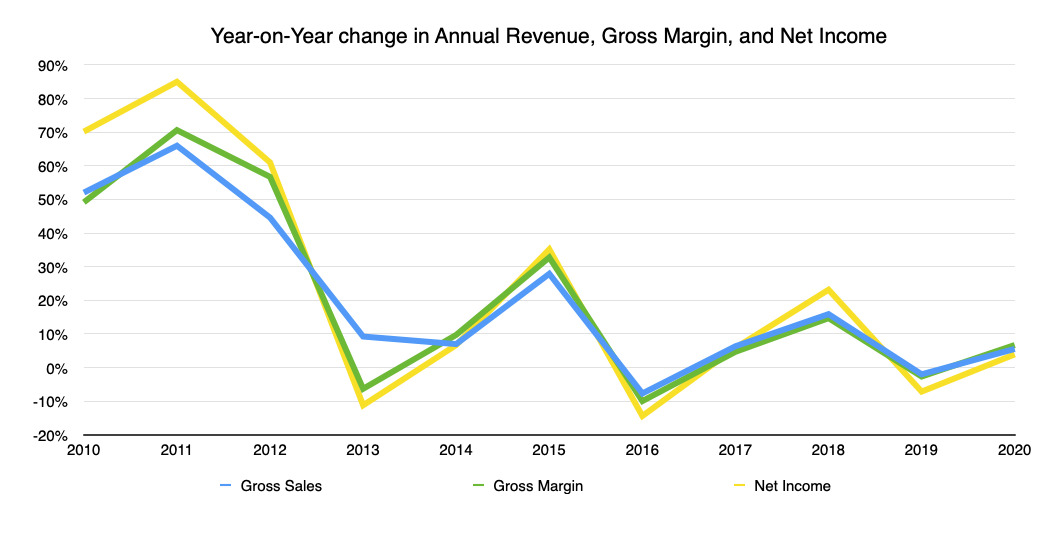 The year-on-year change in annual revenue, gross margin, and net income for Apple
Of the three key values, net income isn't quite the highest on record with its $57.4 billion, as while it does beat the $55 billion of 2019, it's still below 2018's $59.5 billion.
Crucially, all of them are still an improvement on 2019's figures, which means Apple is continuing to do better when averaged across the year.
Research and Development
As a technology company, Apple obviously has to continue to press forward with developing products. While this largely consists of its more visible product lines, including the iPhone, iPad, Mac, and others, it also has to invest in improving indirect areas, such as operating systems and other software.
There's also products that Apple is working on that exist in rumors and patent filings but have yet to actually launch. This includes the "Apple Car," "Apple Glass," and other similarly-speculated in-development items that could greatly improve Apple's future revenue.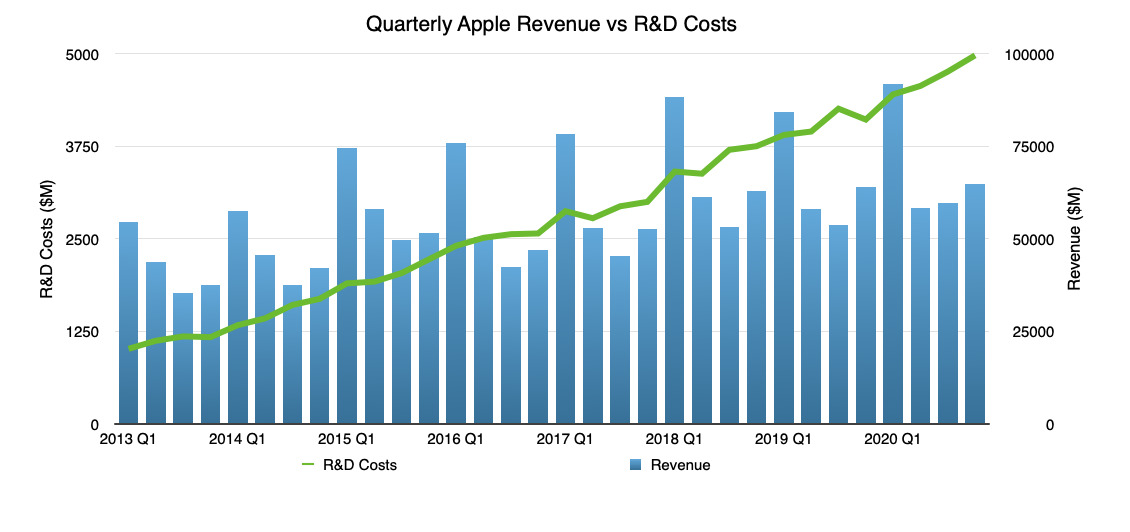 Apple's increase in R&D costs over time against revenue
For the quarter, Apple spent $4.9 billion on research and development costs, up from the $4.1 billion of the quarter one year prior. This represents an increase of 21.1% of R&D spending year-on-year, the highest rise in the cost since 2018 Q4's 25.1% growth.
Units Figures
When divided down onto a product category basis, Apple's revenue appears to be changing over time to be less reliant on the iPhone. Despite this quarter being the one before the typically prosperous first quarter, it is still quite evident that the trend is continuing for yet another quarter.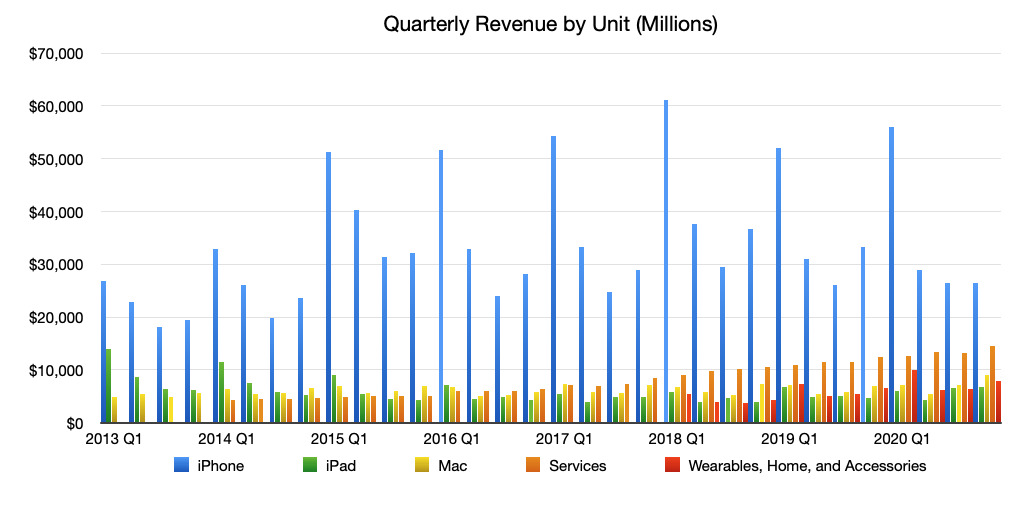 Apple's quarterly unit revenue
As evidenced by the above chart, it is visible that the iPhone's typically sky-high bar is slowly getting lower over time. At the same time, the smaller bars for other units are getting larger, seemingly with the gains in other categories helping to outweigh the depreciation in iPhone.
iPhone
For Q4 2020, Apple reported revenue of $26.4 billion, which is down from the $33 billion seen in Q4 2019. While this isn't as bad as the Q3 2019 result of $26 billion, it does demonstrate there is a downturn for revenue for the product category.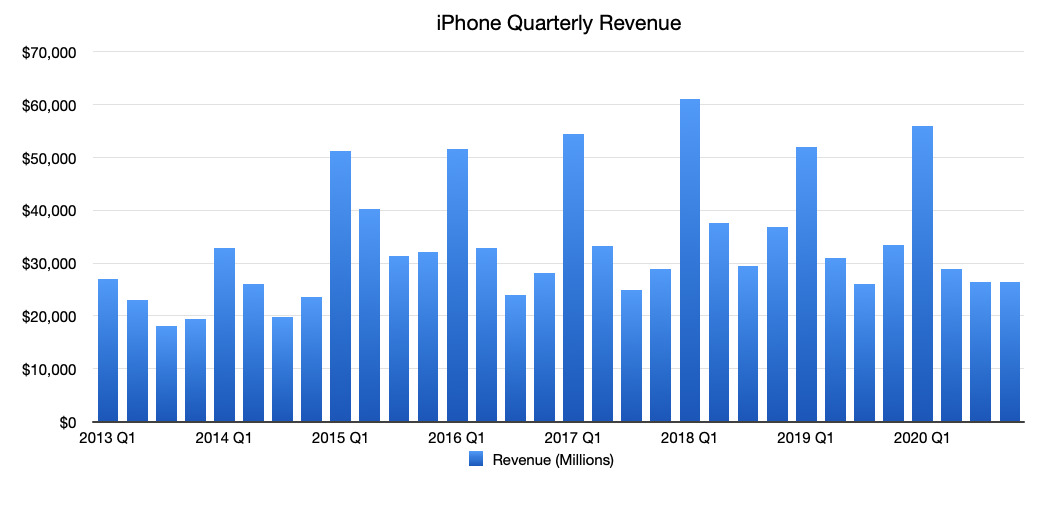 Apple's quarterly iPhone revenue
Normally, sales trends for Apple has Q3 as the worst quarter before a small increase in Q4 ahead of high Q1 sales, but there's barely any change in sequential quarters this time. To be more accurate, Q4 2020 reports $26.444 billion, while Q3 2020 saw $26.418 billion.
In previous quarters, the Q4 results would be partially assisted by an iPhone launch in the latter weeks, but Apple's delayed iPhone 12 launches and releases were pushed to wholly take place in Q4. This would have added a few billion to Q4's total, but instead that initial sales wave will probably be seen in Q1.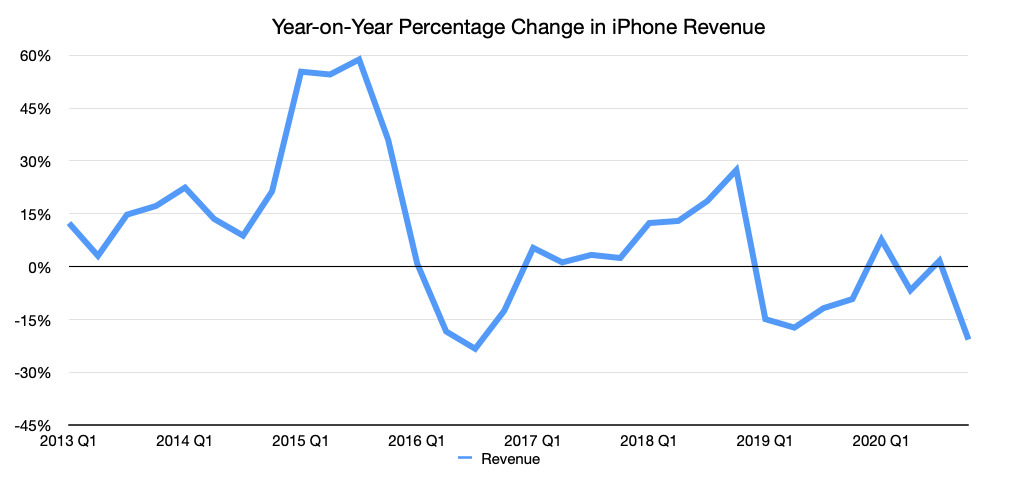 Apple's iPhone quarterly revenue change on a year-on-year basis
On a percentage change year-on-year basis, Q4 2020 doesn't look good, with a 20.7% drop from Q4 2019. This works out to be the biggest YoY percentage drop in quarterly iPhone revenue since Q3 2016, which experienced a 23.3% reduction.
iPad
Apple reported iPad revenue was $6.8 billion in the quarter, which is a massive 46% increase over the $4.66 billion reported in Q4 2019. It is highly likely that the iPad benefited from the social distancing and work-from-home measures governments around the world encouraged during the pandemic.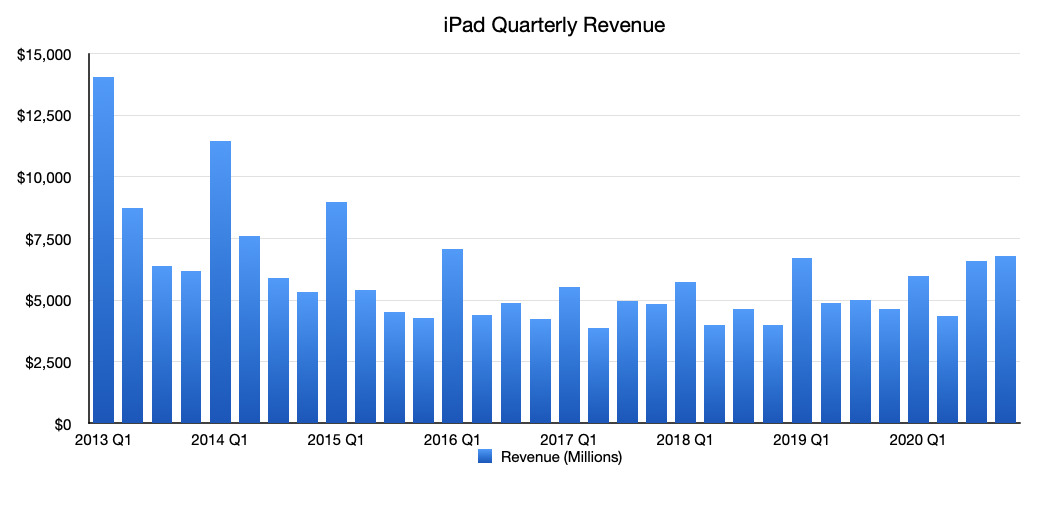 Apple's iPad revenue per quarter
Apple did launch some iPads during the period, namely the fourth-generation iPad Air and the 10.2-inch iPad, but only the latter was released during the quarter itself, and is unlikely to have made much of an impact.
Mac
The Mac segment enjoyed a similarly buoyant quarter, enjoying a record $9 billion in revenue for the period. This soundly beats the Q4 2019 figure of $6.99, and is a continuation of the improvement seen in Q3 2020.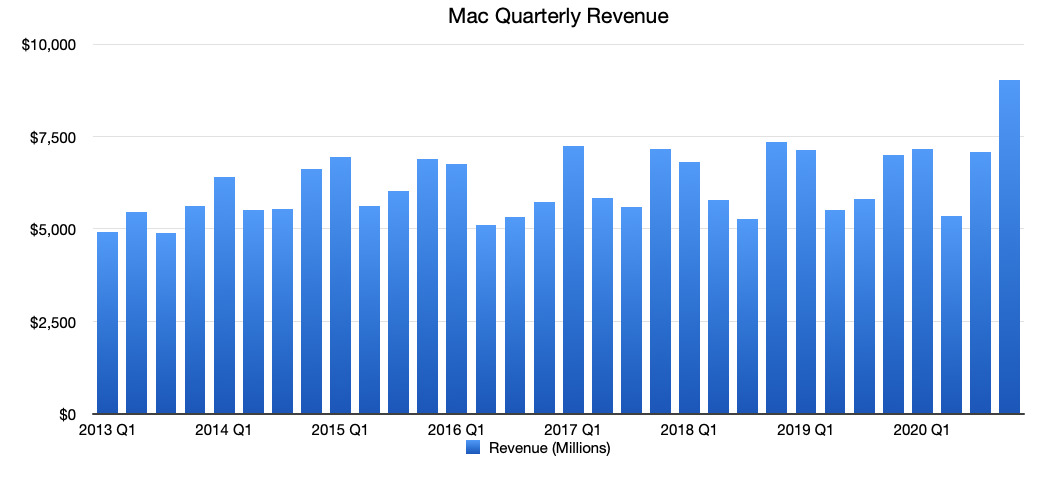 Apple's Mac revenue per quarter
It is probable that the Mac segment is enjoying the same sort of pandemic-halo benefit as the iPad, but both areas could have done better. In the analyst conference call following the results, Cook claimed there were supply constraints for both areas, indicating there was a higher demand than Apple was able to supply.
Services
The Services business has been a very reliable source of revenue for Apple over the quarters and the years, and at a time when consumers are more likely to use services like the App Store and Apple Music, this quarter is no exception.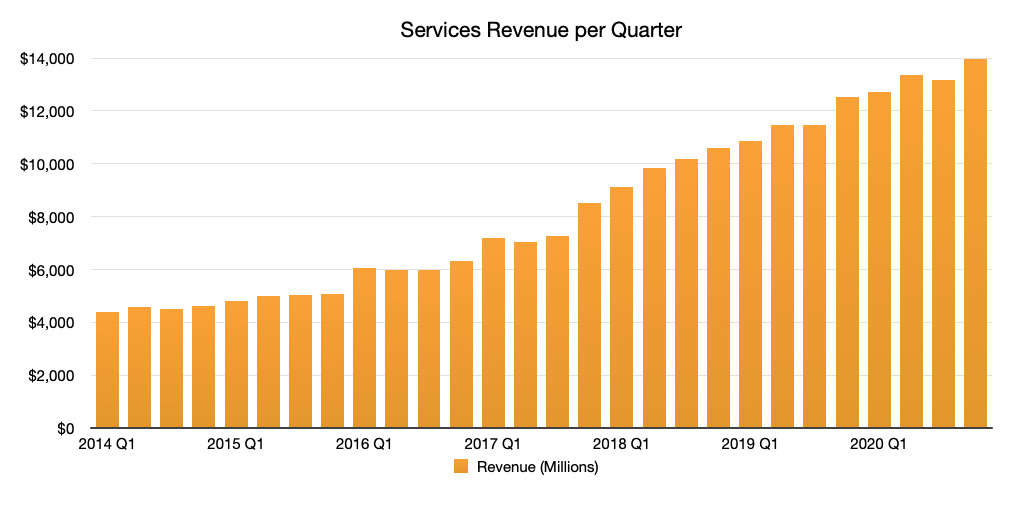 Apple's quarterly services revenue
Apple reported Services revenue of $14.5 billion, the segment's highest result so far, and a continuation of the growth trend. Services is also an extremely useful area for Apple as it offers extremely high gross margins of around 67%, making them highly profitable compared to costs.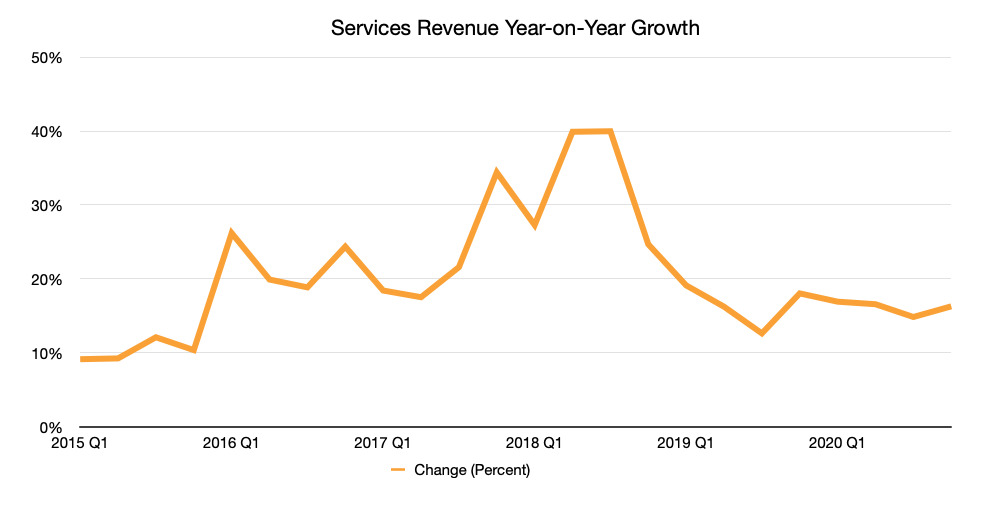 Apple's Services revenue growth year-on-year
For the quarter, the YoY growth of Services is 16.3%. It still isn't at its previous 2018 ballpark of 30% to 40%, but it seems to be relatively stable at its current range of between 15% and 19%.
Wearables, Home, and Accessories
Covering multiple product areas not handled by the other four, this group accounts for lots of items, including the Apple Watch, HomePod, and AirPod ranges, among others.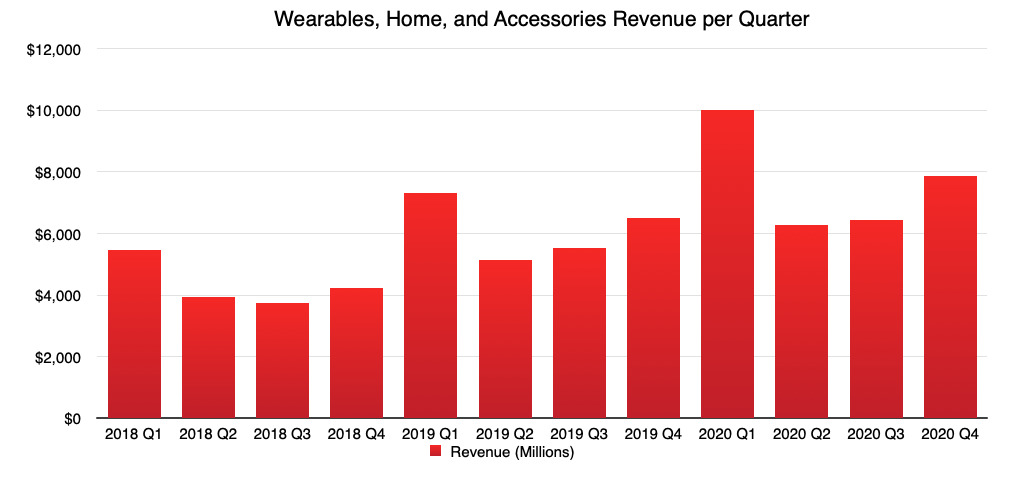 Apple's Wearables, Home, and Accessories revenue per quarter
For Q4 2020, Apple reports revenue of $7.9 billion, up from $6.5 billion in Q4 2019. While not as high as the record-setting $10 billion Q1 2020, the Q4 value suggests the Q1 2021 figure could reach even higher levels once again.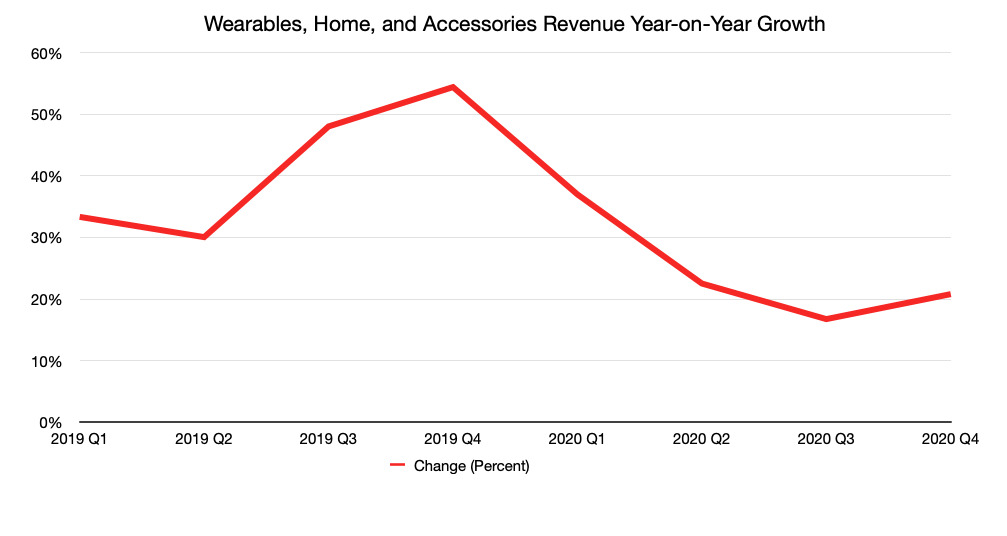 The year-on-year change of quarterly Wearables, Home, and Accessories revenue
In terms of growth, Q4 2020 saw a YoY improvement of 20.8%. While this seems relatively low compared to earlier quarters, which benefited from the launch of early-generation products to highly-receptive markets, it's still a highly encouraging figure to see for the relatively young segment.
Operating Segments
On a regional basis, the Americas continues to be Apple's primary source of income with $30.698 billion, up 4.7% from one year prior. Second place goes to Europe with $16.9 billion, up 13.1 percent, while China is in third with $7.9 billion, down 28.6%.
Japan revenue is up 0.8% at $5 billion, and Rest of Asia Pacific makes up the remainder with $4.1 billion, up 13%.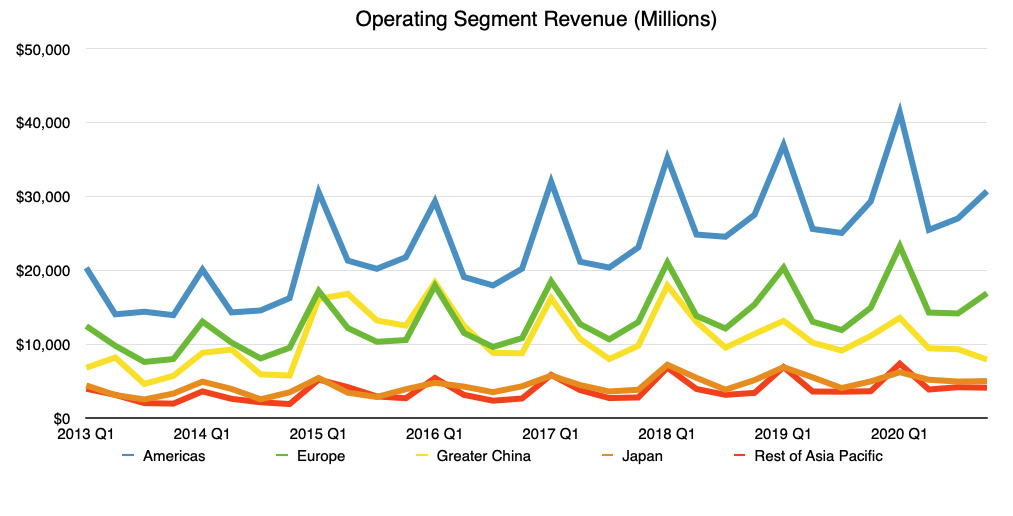 Apple's operating segment revenue
The considerable drop in revenue for China has been balanced out by improvements in other markets. This has redistributed the contribution percentages of each considerably, to the point that the Americas now provide 47.4% of Apple's revenue.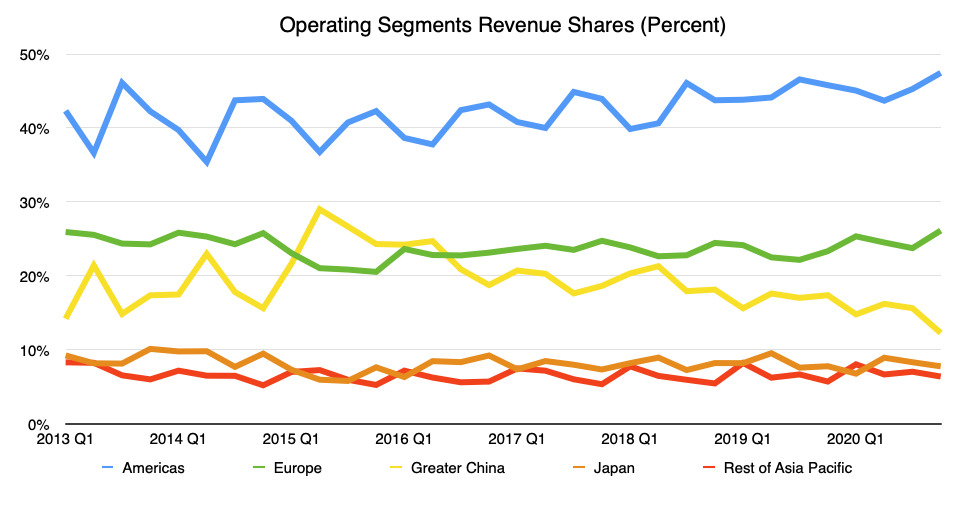 Revenue shares for Apple's various operating segments
Of the remainder, Europe contributes 26.1%, Greater China hands over 12.3%, Japan does so for 7.8%, and Rest of Asia Pacific equates to a 6.4% share.
Greater China
The sudden drop in Greater China revenue is a major issue for Apple, as such a plunge equates to a revenue drop of $3.2 billion for the region.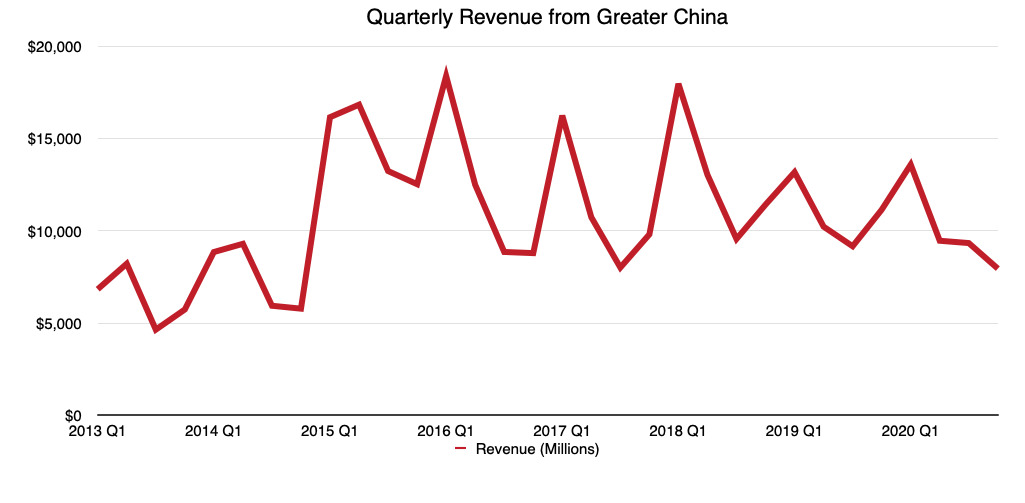 Apple's revenue per quarter from Greater China
During the conference call, Cook claimed "China is the region that was most heavily impacted by the absence of the new iPhones during the September quarter," as a reason for why it was so low. Cook continued "Still, we beat our internal expectations in the region, growing non-iPhone revenue strong double digits and iPhone customer demand grew through mid-September."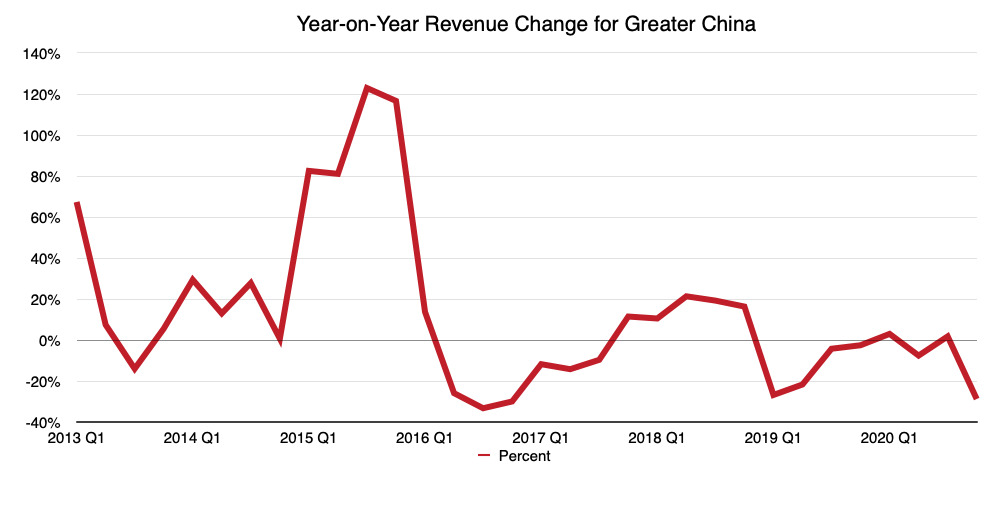 The year-on-year change in quarterly revenue for Apple in Greater China
It seems Cook's statement on China's iPhone demand is highly plausible, but it remains to be seen if the demand translates into actual sales. Cook is "confident" the Q4 quarter will grow, and given the shift of a few billion dollars worth of iPhones between quarters, it's quite likely to do so.
Top Stories: Apple One Launch, iPhone 12 Pro Camera Performance, AirPods and HomePod Rumors – MacRumors
The iPhone 12 and iPhone 12 Pro have been out for a week now, so this week gave us lots of opportunities to learn more about the new devices now that we've been able to get our hands on them and test them out.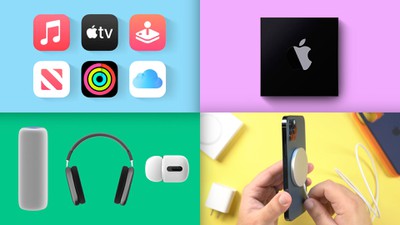 There was quite a bit of other news this week as well, including the launch of Apple One subscription bundles, Apple's September quarter earnings release, rumors about future plans for updated AirPods, AirPods Studio, and a potential third HomePod model, and more. Read on for details on our most popular stories from this week on those topics and more!
Apple One is Now Available: Save Money by Bundling Apple Music, iCloud Storage, Apple TV+, Apple Arcade, and More
Alongside its earnings release on Thursday, Apple announced that its Apple One subscription bundles would be launching the following day, and the bundles are now available in over 100 countries.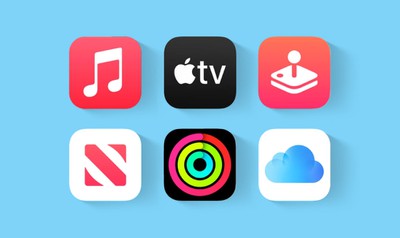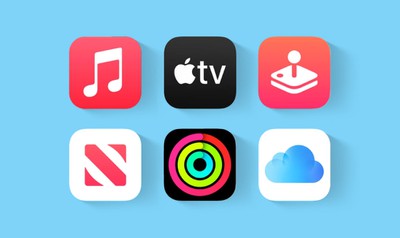 Pricing in the U.S. begins at $14.95 per month for an Individual plan with Apple Music, Apple TV+, Apple Arcade, and 50GB of iCloud storage. A Family plan valid for up to six users offers Apple Music, Apple TV+, Apple Arcade, and 200GB of iCloud storage for $19.95 per month, while a Premier plan at $29.95 per month takes the Family plan offerings and adds Apple News+ and Apple Fitness+ and increases iCloud storage to 2TB.
If you need more iCloud storage beyond what's offered in your Apple One tier, you can add up to an additional 2TB, which means users on the Premier plan can have up to 4TB of total iCloud storage.
Camera Comparison: iPhone 12 Pro vs. iPhone 11 Pro
Apple last week released the iPhone 12 Pro, which is being sold alongside the iPhone 12, 12 mini, and 12 Pro Max. The Pro Max has the best camera of the bunch, but since it's not out yet, we thought we'd take a look at the camera improvements introduced in the ‌iPhone 12 Pro‌ and see how the camera quality compares to the iPhone 11 Pro.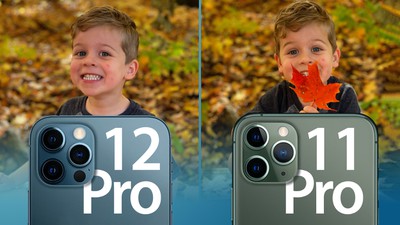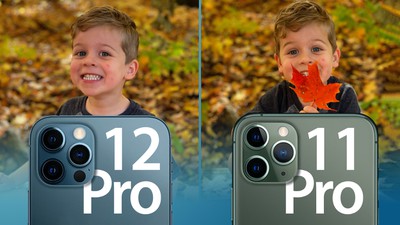 We have also continued to learn more details about the iPhone 12 and iPhone 12 Pro in the week or so since their launch. Notably, it has been discovered through FCC documents that iPhone 12 models may have a hidden reverse charging feature for future Apple accessories, and this has led to speculation that it may be possible to charge a new MagSafe-enabled AirPods case or perhaps even Apple's rumored AirTags item trackers by simply placing them on the back of the iPhones.
We also learned that Personal Hotspot uses faster 5GHz Wi-Fi by default on iPhone 12 models. The combination of iPhone 12 models supporting higher-speed 5G networks and 5GHz Wi-Fi's higher maximum throughput paves the way for faster Personal Hotspot. There is a new "Maximize Compatibility" toggle to revert to 2.4GHz Wi-Fi like on previous iPhones. Personal Hotspot allows an iPhone's cellular data connection to be shared with other devices like a Mac over Wi-Fi, Bluetooth, or Lightning.
Apple Invites Developers to Get One-on-One Guidance From Engineers Ahead of Apple Silicon Mac Launch
At WWDC in June, Apple announced that it will be transitioning from Intel processors to its own custom Apple Silicon processors in Macs, promising industry-leading performance per watt.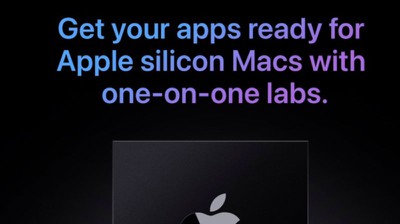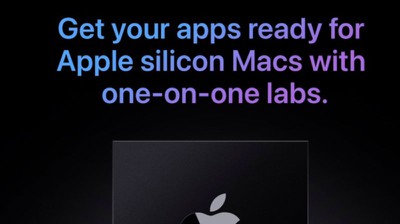 Apple has been allowing Mac developers to get their apps ready for ‌Apple Silicon‌ through the Universal App Quick Start Program, and now Apple is emailing developers to invite them to get one-on-one code-level guidance from an Apple engineer. The one-on-one labs are scheduled for November 4-5.
Apple has previously said that it plans to ship its first Mac with Apple Silicon by the end of 2020, and rumors suggest that Apple plans to hold a virtual Mac-focused event on Tuesday, November 17.
Report: New AirPods and AirPods Pro Coming in 2021, AirPods Studio Delayed, Mid-Range HomePod Also Possible
Bloomberg's Mark Gurman and Debby Wu this week outlined several upcoming Apple products that are reportedly in development for release as early as 2021, including new AirPods and AirPods Pro, high-end over-ear headphones dubbed AirPods Studio, and potentially even a mid-range HomePod that would be positioned between the HomePod and HomePod mini.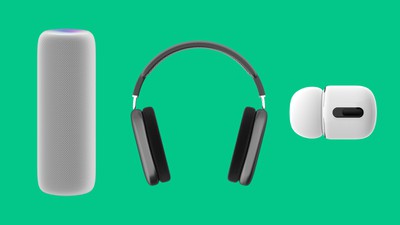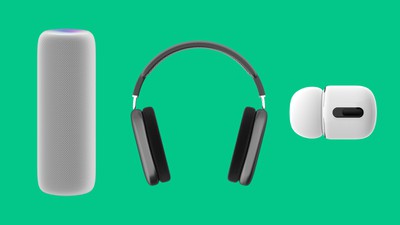 Interestingly, the report claimed that Apple is aiming to remove the stems that drop below the ears on the AirPods Pro. The new version of AirPods Pro would instead have a more circular design, similar to Samsung's Galaxy Buds.
MagSafe: Everything About Apple's New iPhone 12 Charging Technology
iPhone 12 and iPhone 12 Pro models have a new feature called MagSafe that allows magnetic accessories to be easily attached to the back of the devices. In our latest guide, we go over everything you need to know about Apple's new charging system.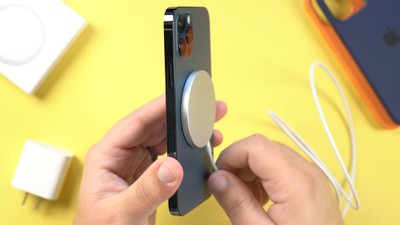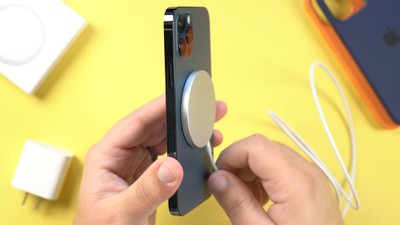 If you keep your iPhone in a leather case while charging with Apple's new MagSafe Charger, the case might show circular imprints from contact with the accessory, according to an Apple support document. Apple also said users should not place credit cards, security badges, passports, or key fobs between the iPhone and MagSafe Charger, because this might damage magnetic strips or RFID chips in those items.
2020 iPad Air vs. iPad Pro: Hands-On Comparison
Apple introduced a new 10.9-inch iPad Air in September, but the device just started shipping out to customers last week. We picked one up to do a hands-on comparison with the iPad Pro, which was last updated in March, given that the tablets share many similarities.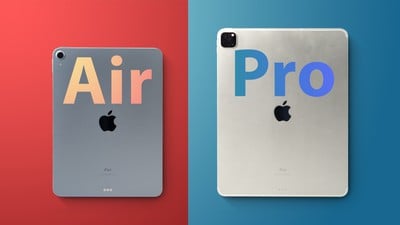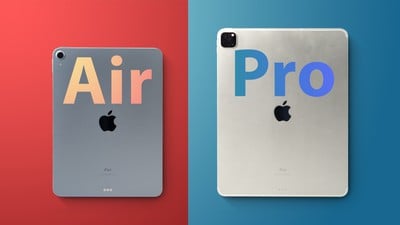 The new iPad Air features a similar design as the iPad Pro, with an edge-to-edge display and a USB-C port. The device also features Apple's newest A14 Bionic chip, whereas the iPad Pro still has an older A12Z Bionic chip. The new iPad Air is also Apple's first device with Touch ID built into the power button, in place of Face ID.
We also shared a hands-on with the iPhone 12 Pro this week, going over new features like the flat-edge design and 5G. Subscribe to MacRumors on YouTube for new Apple-related videos every week!
iPhone 12 Pro Allows You to Measure Someone's Height Instantly Using LiDAR Scanner
iPhone 12 Pro models feature a new LiDAR Scanner for enhanced augmented reality experiences, but the sensor also enables another unique feature: the ability to measure a person's height instantly.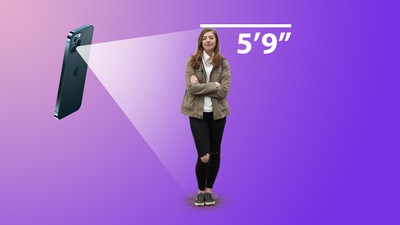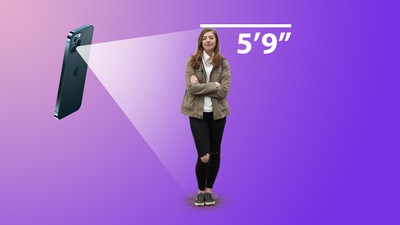 To measure a person's height, open Apple's preinstalled Measure app and position the iPhone so that the person you want to measure appears on the screen from head to toe. After a brief moment, a line will appear on the screen at the top of the person's head with their height measurement.
This feature is limited to devices with a LiDAR Scanner, including 2020 iPad Pro models and the upcoming iPhone 12 Pro Max.
Each week, we publish an email newsletter like this highlighting the top Apple stories, making it a great way to get a bite-sized recap of the week hitting all of the major topics we've covered and tying together related stories for a big-picture view.
So if you want to have top stories like the above recap delivered to your email inbox each week, subscribe to our newsletter!