Ontario family doctors' group calls for more involvement in COVID-19 vaccinations – Bowen Island Undercurrent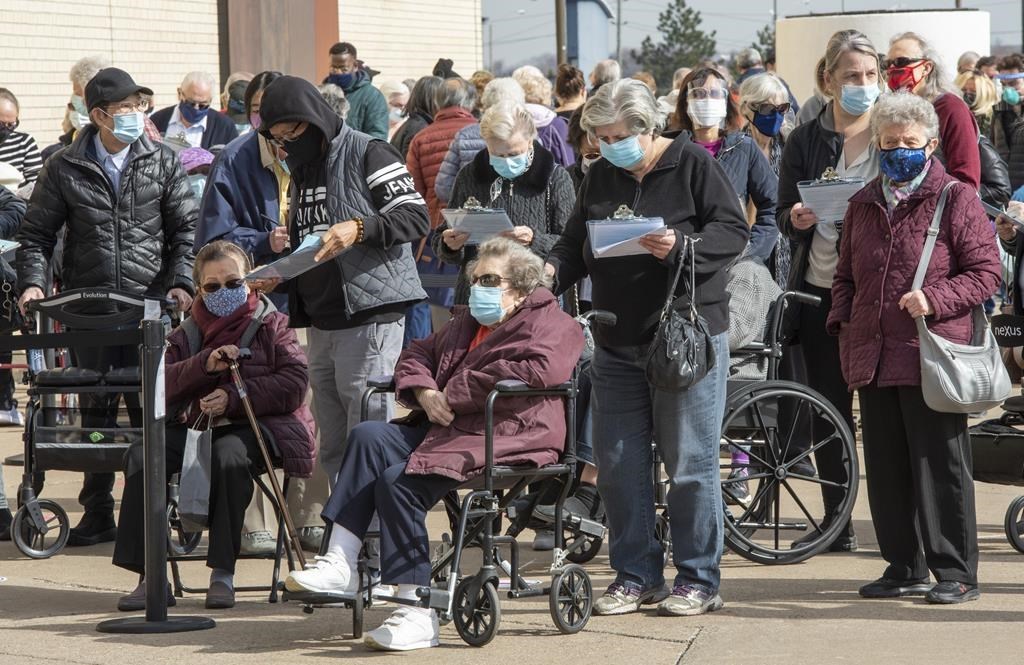 TORONTO — Ontario family doctors called Tuesday be more involved in the province's COVID-19 vaccination effort but the government said their participation will be limited to a supply-dependent pilot project for now.
The Ontario College of Family Physicians said primary-care doctors could boost overall participation in the province's immunization program to nearly 90 per cent.
In making its case, the group said it had conducted a survey that found 60 per cent of vaccine-hesitant respondents were more likely to get immunized if a family doctor endorsed and administered their shot.
"With vaccine supply increasing, and in the public interest, it is imperative that we have options for all Ontarians to be vaccinated, including with the support of family doctors and their use of AstraZeneca and Moderna vaccines," Dr. Liz Muggah, president of the group, said in a statement.
Some family physicians in six regions are currently offering Oxford-AstraZeneca shots to patients aged 60 and older as part of a pilot project. As of Tuesday, the government said those doctors had used about half of the 29,000 doses they had been sent.
The program is currently operating in Toronto, Peel Region, Hamilton, Guelph, Peterborough and Simcoe-Muskoka, with doctors calling eligible patients directly to schedule appointments.
Solicitor General Sylvia Jones said that program will expand, but she couldn't specify to where or when because the government doesn't yet know when more doses of the Oxford-AstraZeneca vaccine will arrive.
Jones didn't rule out eventually having family doctors administer the Moderna vaccine as well, but said the Oxford-AstraZeneca shot was best suited for primary care physicians for now.
"It is frankly a little easier vaccine to be able to move around, to store, so that is why we have put it with the primary care practitioners," she said. "As we see supplies increase, then those conversations can continue, but right now it is AstraZeneca."
The U.S. is expected to send 1.5 million Oxford-AstraZeneca shots to Canada before the end of the month.
Opposition politicians criticized the government for failing to fully involve family doctors in the vaccination effort.
"They've been left on the on the sidelines and I think that was a miscalculation by the government," said NDP Leader Andrea Horwath.
Liberal health critic John Fraser said the government shouldn't still be running pilot projects at this point .
"You need a plan and you need to execute it," he said.
At least one Ontario health unit said Tuesday that it will have some family doctors administer the Moderna vaccine as part of a local pilot project. Four primary care groups in Lambton Public Health will receive a total of 2,600 doses that will go to patients with high-risk chronic health conditions.
Ontario's supply of the Moderna vaccine is expected to increase in the coming weeks. The province says 97,000 doses are coming this week, and between 220,000 and more than 440,000 weekly doses are expected over the next three weeks.
Jones said some of the incoming Moderna supply will go to pharmacies in the Toronto, Kingston and Windsor regions that are currently offering the Oxford-AstraZeneca vaccines to people 60 and older.
The pharmacies in that pilot project have used more than 70 per cent of the 165,000 Oxford-AstraZeneca doses they received earlier in the month, the government said Tuesday.
Jones said the province still plans to expand the pharmacy project, although the government has not yet specified which other regions it will grow to.
The government also reminded residents Tuesday not to show up for vaccination appointments far ahead of schedule.
Lineups at some mass vaccination sites were reported in Toronto as the city vaccinates residents aged 75 and older. Local officials have urged those with appointments to show up only shortly before their time slot, a call Jones repeated.
"Look, people are excited to get the vaccine, they want to have that first shot and I can't blame them," she said. "We have regularly asked people not to arrive two or three hours early for your vaccine."
Ontario reported 1,546 new cases of COVID-19 Tuesday and nine more deaths from the virus. The government also said Tuesday that 99 per cent of long-term care residents had received at least one dose of a COVID-19 vaccine.
This report by The Canadian Press was first published March 23, 2021.
Holly McKenzie-Sutter, The Canadian Press
Trudeau mobilizes federal workers to battle COVID-19 in Toronto and rest of Ontario
OTTAWA (Reuters) – Canadian Prime Minister Justin Trudeau said on Sunday he would send federal healthcare workers to help Toronto and the province of Ontario battle a third wave of COVID-19 infections that has forced shutdowns of schools and businesses.
"We are mobilizing federal healthcare workers from across government departments to deploy on the front lines in Ontario and specifically the Greater Toronto area where the situation is most critical," Trudeau said in a video posted on Twitter.
Other provinces, especially on the Atlantic coast, are working "to determine what human resources and equipment they could free up over the coming days," Trudeau said, adding that the federal government would cover the costs of that help.
The government will also seek to boost rapid testing, especially for essential workers, Trudeau said.
The government of Ontario, Canada's most-populous province and industrial powerhouse, has moved schools online and announced more stringent public health measures on Friday, including shutting the provincial borders to non-essential travel.
On Saturday, federal Public Safety Minister Bill Blair deployed two mobile health units to set up more hospital beds in Toronto and Hamilton, Ontario, and the prime minister said he stood ready to send the Red Cross to staff mobile vaccination clinics in Ontario if help is requested.
Canada's seven-day average of new infections was 8,669, the chief medical officer said on Sunday, a 26% increase compared with the previous seven days. Ontario reported 4,250 new cases on Sunday.
Canada has been ramping up its vaccination campaign but still has a smaller percentage of its population inoculated than dozens of other countries, including the United States and Britain.
More than 48 million doses are to be delivered by the end of June, which is enough for all of Canada's population of some 38 million to receive at least one shot, with a total of 100 million doses expected by the end of September.
(Reporting by Steve Scherer; Editing by Peter Cooney)
Canada has second case of rare blood clots after AstraZeneca vaccin
(Reuters) – Canada on Saturday reported a second case of rare blood clots with low platelets after immunization with AstraZeneca's COVID-19 vaccine in a week, while it said it still recommended the use of the shot.
The person who experienced the very rare event has been treated and is recovering, Canada's health ministry said in a statement, adding that the person lives in the province of Alberta.
Based on the evidence available, Canada still maintains that the benefits of the AstraZeneca vaccine outweigh the potential risks, the statement said.
Canada health authorities "will continue to monitor the use of all COVID-19 vaccines closely and examine and assess any new safety concerns," the statement said.
Canada reported a first blood clotting associated with the vaccine on Tuesday, and a day later, after a review, health authorities said they would not restrict use of the AstraZeneca vaccine.
A separate advisory council had earlier recommended Canada stop offering the vaccine to people under 55. That panel is in the process of reviewing its advice.
Canada has been ramping up its vaccination campaign, but still has a smaller percentage of its population inoculated than dozens of other countries, including the United States and Britain.
Amid a spiking third wave of infections, Ontario, Canada's most populous province, announced new public health restrictions on Friday, including closing the provinces borders to domestic travelers.
(Reporting by Kanishka Singh in Bengaluru and Steve Scherer in Ottawa, writing by Steve Scherer; Editing by Cynthia Osterman)
COVID cases in Ontario could spike to 30,000 per day by June
TORONTO (Reuters) – New cases of COVID-19 in Canada's most populous province could rise more than six fold, topping 30,000 per day by early June if public health measures are weak and vaccination rates remain flat, a panel of experts advising the province of Ontario said on Friday.
Even if measures to control the virus are "moderate," the number of patients in Ontario ICUs could reach 2,000 in May, up from 695 on Friday.
The College of Physicians and Surgeons of Ontario told doctors last week they may soon have to decide who can and cannot receive intensive care.
(Reporting by Allison Martell; Editing by Chris Reese)