Ontario reports 170 new COVID-19 cases, with 21 new cases in greater Kawarthas over past 3 days – kawarthaNOW.com
Here's an update on COVID-19 cases in Ontario as well as in the greater Kawarthas region.
Ontario is reporting 170 cases today, the lowest daily increase since September 9 when 170 cases were also reported. Only 4 of Ontario's 34 health units are reporting double-digit increases, including Waterloo (34), Toronto (27), Grey Bruce (18), and Haliburton, Kawartha, Pine Ridge (13). The seven-day average of daily cases has decreased by 6 to 210.
Hospitalizations have decreased by 3 from yesterday to 155, but more than 10% of hospitals did not submit data for the daily bed census so the actual number of hospitalizations may be igher.
The number of ICU patients has decreased by 7 to 228 and the number of patients on ventilators has decreased by 2 to 157. Ontario is reporting only 1 new death, with none in long-term care homes.
Over 15.7 million vaccine doses have been administered, an increase of 144,795 from yesterday, with over 87% of Ontario's total population now having received at least one dose. Almost 5.7 million people have been fully vaccinated, an increase of 132,840 from yesterday, representing over 38% of the total population.
For a daily summary of cases in Ontario, including a breakdown of cases in each of Ontario's 34 health units, visit ontario.ca/page/how-ontario-is-responding-covid-19.
Advertisement – story continues below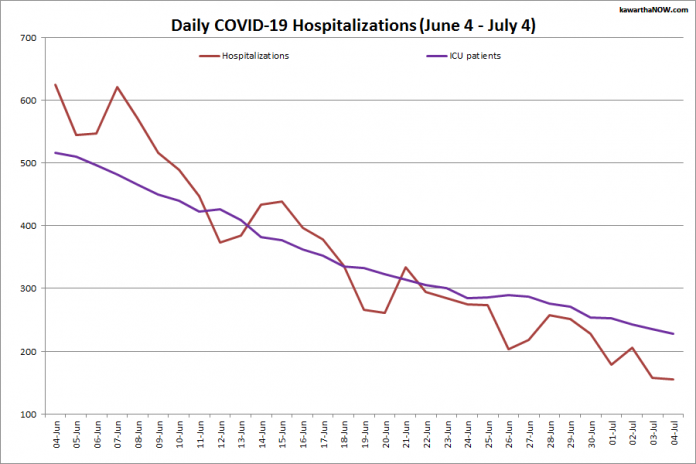 Advertisement – story continues below
In the greater Kawarthas region, there are 21 new cases to report over the past 3 days, including 17 in Kawartha Lakes, 2 in Peterborough, and 2 in Hastings Prince Edward. There are no new cases in Northumberland or Haliburton.
A new outbreak was declared at an unidentified workplace in Peterborough on July 4.
There has been 1 new COVID-related hospitalization in Peterborough and 1 in Kawartha Lakes.
An additional 7 cases in the region have been resolved, including 4 in Peterborough, 2 in Kawartha Lakes, and 1 in Hastings Prince Edward.
Regional active cases have increased by 15 in Kawartha Lakes and 1 in Hastings Prince Edward and have decreased by 2 in Peterborough and 1 in Northumberland.
There are currently 49 active cases in the greater Kawarthas region, an increase of 13 since July 2, including 27 in Kawartha Lakes, 17 in Peterborough, 4 in Hastings Prince Edward, and 1 in Northumberland. There are no active cases in Haliburton.
Since the pandemic began in the greater Kawarthas region, there have been 1,595 confirmed positive cases in the Peterborough area (1,556 resolved with 22 deaths), 1,114 in the City of Kawartha Lakes (1,042 resolved with 58 deaths), 945 in Northumberland County (927 resolved with 17 deaths), 122 in Haliburton County (121 resolved with 1 death), and 1,132 in Hastings and Prince Edward counties (1,117 resolved with 11 deaths). The most recent two deaths were reported in Peterborough and Kawartha Lakes on June 29.
Advertisement – story continues below
For detailed data for each health unit, visit the COVID-19 trackers for Peterborough Public Health, Haliburton, Kawartha, Pine Ridge District Health Unit, and Hastings Prince Edward Public Health.
For more information about COVID-19 in Ontario, visit covid-19.ontario.ca.
Peel Region reports its first confirmed case of monkeypox – CP24 Toronto's Breaking News
Peel Region has its first confirmed case of monkeypox.
According to Peel Public Health, the person infected is an adult male in his 30s who lives in Mississauga.
The heath unit said the risk to the public remains low.
Monkeypox, which comes from the same virus family as smallpox, spreads though close contact with an infected individual. Most transmission happens through close contact with the skin lesions of monkeypox, but the virus can also be spread by large droplets or by sharing contaminated items.
To reduce risk of infection, people are advised to be cautious when engaging in intimate activities with others. Vaccination is available for high-risk contacts of cases and for those deemed at high risk of exposure to monkeypox.
Symptoms can include fever, headache, fatigue, swollen lymph nodes, and a rash/lesions, which could appear on the face or genitals and then spread to other areas.
Anyone who develops these symptoms should contact their healthcare provider and avoid close contact with others until they have improved and rash/lesions have healed.
While most people recover on their own without treatment, those who have been in close contact with someone who has tested positive for monkeypox should self-monitor for symptoms, and contact PPH to see if they are eligible for vaccination.
The Mississauga case is at least the 34th confirmed case of the disease in Ontario, with dozens more under investigation.
Monkeypox case count rises to more than 3400 globally, WHO says – The Globe and Mail
More than 3,400 confirmed monkeypox cases and one death were reported to the World Health Organization as of last Wednesday, with a majority of them from Europe, the agency said in an update on Monday.
WHO said that since June 17, 1,310 new cases were reported to the agency, with eight new countries reporting monkeypox cases.
Monkeypox is not yet a global health emergency, WHO ruled last week, although WHO Director-General Tedros Adhanom Ghebreyesus said he was deeply concerned about the outbreak.
Our Morning Update and Evening Update newsletters are written by Globe editors, giving you a concise summary of the day's most important headlines. Sign up today.
Sudbury news: Northern agencies highlight national HIV testing day | CTV News – CTV News Northern Ontario
Monday was national HIV testing day. Officials say this year's theme surrounds how getting tested is an act of self-care.
From clinics to self-testing kits, groups in the north say there are many options to get tested and everyone should use whichever way works best for them.
Just more than a year ago, Reseau Access Network in Sudbury teamed with Ready to Know and Get a Kit, groups that provide HIV self-testing kits at a pickup location.
Officials said it has been a huge success.
"We get a consistent number throughout each month and I can't really divulge those figures, unfortunately, but as part of the overall study I can tell you the pickup of self-tests is a fraction of the amount of tests being ordered," said Angel Riess, of Reseau Access Network.
"There's actually a lot of tests being shipped to homes directly but I can confirm that they have been active and there's a significant number of people who have chosen to engage in both programs."
Elsewhere, the Aids Committee of North Bay and Area held a point-of-care testing clinic to mark the day.
"It's an opportunity for us to remind everyone that getting tested is essential. If you don't know you have HIV, you can't take the steps to try to mitigate the possibility of spread," said executive director Stacey Mayhall.
In addition to stopping the spread, knowing whether you are positive sooner rather than later can allow for a better quality of life.
"HIV is not a death sentence that it used to be," said Riess.
"There have been advances in testing and medication and people can live long, healthy lives living with HIV."