Ontario woman who was known as 'napalm girl' helping Ukrainians settle in Canada
Tears streamed down Kim Phuc Phan Thi's face as she stood at the entrance to a plane set to carry Ukrainian newcomers from Poland to Canada last month.
The aircraft was emblazoned with a famous black and white photo of Phan Thi as a nine-year-old child – an image that made her known as the "napalm girl" – showing her naked, screaming and fleeing an attack during the Vietnam War.
Fifty years after that photograph was taken, Phan Thi found herself drawn to helping Ukrainians escape the war in their country for the safe haven of Canada, just as she had done decades ago.
"I just remembered what's happening to them now … I have been there. I understand what they need," she said in an interview from her home in Ajax, Ont.
"I'm so thankful to be alive and to be there for them, give them hope."
Phan Thi, who years ago founded an organization aimed at helping children affected by war, is currently working to support Ukrainian newcomers and hopes to go on more flights similar to the one she was on last month.
She first became involved with last month's effort after receiving an email from a social justice organization seeking permission to use the famous photograph of her as a child on the outside of their plane.
Enrique Pineyro, a pilot and founder of the organization, Solidaire, planned to fly that plane from Warsaw to Regina with more than 200 Ukrainians on board.
"I said, 'Wow, that is so wonderful. We can work together,'" said Phan Thi. "Because that is the impact of my picture, even 50 years (later), right?"
Phan Thi, 59, said she gave permission for her photograph to be used and asked if she could join the trip, a request Pineyro quickly agreed to.
The trip required some careful planning, however, to ensure Phan Thi would be able to travel.
She had been getting laser treatments in Miami to repair some of the skin damage she suffered from the napalm, a gel-like substance that easily explodes and ignites upon impact with a target. Her 12th laser round was scheduled for just days before she'd have to leave for Warsaw.
"I had to ask my doctor, 'Don't do (the treatment) so strong,'" said Phan Thi, who was eager to speed the healing time. "Because if she treated me very deep or strong, I'd have to be home for two months."
Phan Thi said altering the treatment was worth it for the experience of welcoming the 236 Ukrainians who boarded the flight.
"I just stayed right side by side with my picture in the big airplane. And they go up the stairs, and I was there at the door welcoming them," she recalled.
"I just thought in (that) moment, yes, 50 years ago, I was in the wrong place at the wrong time. But right now, I'm in the right time and the right place, to be there, to give those people hope."
Phan Thi, who still experiences pain from the burns she sustained on the day of the napalm attack in 1972, has vivid memories of what was captured in the famous photograph.
She was playing outside near a bomb shelter with other children after lunchtime when a soldier suddenly yelled for them to run.
"I saw the airplane, just was so fast, so close and so loud," she said.
"I just stayed right there. I was a child, I should run, right? But I didn't. I just stood right there. Then I turned my head, I saw the airplane. And then I saw four bombs, landing."
A series of booms thundered overhead and flames erupted, she recalled.
"The fire was everywhere around me. And of course my clothes burned all by fire. And I saw the fire over my arm," she said, recalling scorching her right hand after trying to wipe off the napalm from her left arm.
"Then when I (got) out of that fire, I saw my brothers, two of them older and younger. Then I saw my two cousins, then some south Vietnamese soldiers. Then we kept running and running and running."
At one point, she became tired and cried out, "Too hot! Too hot!" She remembers a soldier gave her some water to drink.
"He tried to help me, he poured the water over me," she said. "I lost consciousness. I didn't remember anything else."
Her relationship with the Pulitzer Prize-winning photo, taken by Associated Press photographer Nick Ut, has changed over the years. As a young child, Phan Thi said, she hated the image, and as a young woman she resented the publicity it was throwing her way.
But her opinion changed after she moved to Canada in 1992 and became a mother.
"I never (wanted) my baby to suffer like that little girl, like myself when I was a child," she said. "That picture is really a big impact in my life, and I consider that picture as a powerful gift for me to do something while I'm still alive."
Phan Thi is a UNESCO Goodwill Ambassador and has spent years travelling around the world giving lectures and sharing her story. She also founded the Kim Foundation International to support children affected by war.
Since the pandemic hit, she's divided her time between caring for her aging mother, who has dementia, and trying to help her brother in Vietnam get a visa to visit Canada to fulfil her mother's wish to see him.
With the arrival of Ukrainians in Canada, Phan Thi hopes to do more to support newcomers by sharing lessons she learned over the years.
"I learned how to live with love, with hope and forgiveness," she said. "We have to work towards peace."
This report by The Canadian Press was first published Aug. 3, 2022.
Jessica Smith, The Canadian Press
Twenty-six organizations call for MSI for migrant workers in Nova Scotia
Halifax, NS (March 21, 2022) – Today, as the spring session of the Nova Scotia legislature opens, twenty-six organizations have published an open letter calling for healthcare access for Kerian Burnett and all migrant workers in Nova Scotia. Today is also the International Day for the Elimination of Racial Discrimination.
The signatories to the letter include the Antigonish Coalition to End Poverty, Central Kings Community Health Board, CUPE NS, King's Students' Union, National Farmers Union – Nova Scotia, No one is illegal – Nova Scotia, Nova Scotia Health Coalition and Western Kings Community Health Board.
In some provinces, migrant workers have access to public healthcare on arrival. In Nova Scotia, migrant workers must have a one-year work permit to be eligible for public healthcare coverage (MSI). This means that Caribbean and Mexican workers who come to Nova Scotia under the Seasonal Agricultural Workers Program (SAWP) are not eligible, because their contracts are a maximum of 8 months of each calendar year.
"Nova Scotia's MSI eligibility criteria shuts out this racialized workforce. This is a blatant example of systemic discrimination, which can and must be immediately redressed," said Stacey Gomez, Manager of the Migrant Workers Program with No one is illegal – Nova Scotia.
Migrant workers in the SAWP only have access to private health insurance, which is tied to their employment.
"Private health insurance from employers and restrictions on eligibility for MSI prevents migrant workers from accessing the care they need leaving them vulnerable and falling through the cracks of our public healthcare system. The NSHC signs onto this letter and supports the call for all migrant workers, especially seasonal agricultural workers, to be eligible for MSI immediately upon arrival in Nova Scotia. Access to free, universal, public healthcare is the right of every human being, regardless of immigration status. We must do better," said Alexandra Rose,  Coordinator of the Nova Scotia Health Coalition.
Ms. Burnett, who was diagnosed with cervical cancer after arriving in Nova Scotia as a migrant worker,  now has a Temporary Resident Permit until January 10, 2024. However, she still does not have medical coverage in Nova Scotia. She was advised by her doctor to remain in Canada to undergo life-saving treatments and for follow-up care. Ms. Burnett is currently hospitalized.
– 30  –
Media contact:
No one is illegal – Nova Scotia
Telephone: (902) 329-9595
Email: outreach@migrantjusticens.ca
Canada's inflation rate cools more than expected – Financial Post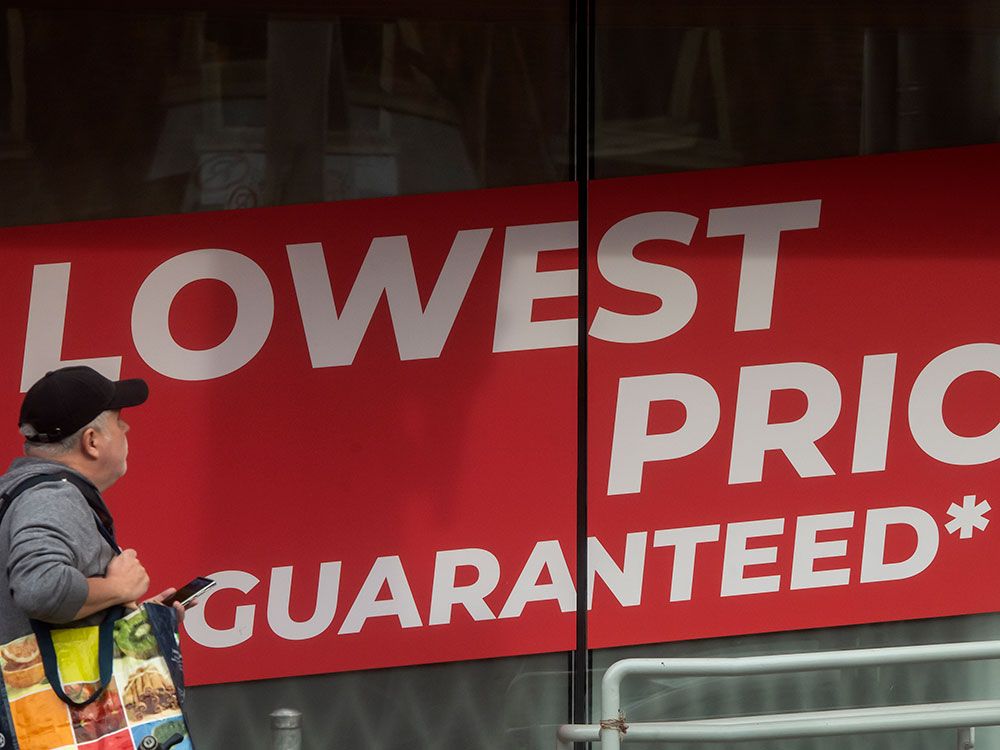 Article content
OTTAWA — The annual pace of inflation cooled in February as it posted its largest deceleration since April 2020.
Article content
Statistics Canada said Tuesday its consumer price index in February was up 5.2 per cent compared with a year earlier.
Article content
Analysts polled by Reuters had expected the annual rate to fall to 5.4 per cent.
The reading compared with an annual inflation rate of 5.9 per cent in January and was the lowest annual inflation rate since January 2022 when it was 5.1 per cent.
Article content
Statistics Canada noted that the decline was due to a steep monthly increase in prices in February 2022 when the global economy was significantly affected by the Russian invasion of Ukraine.
Despite the overall cooling, grocery prices remained elevated and outpaced overall inflation.
Prices for food purchased from stores in February were up 10.6 per cent compared with a year ago, the seventh consecutive month of double-digit increases.
Which food items went up in price in Canada – CTV News
Inflation for goods in Canada is cooling but prices for food remain high, Statistics Canada's latest report shows.
The Consumer Price Index (CPI) for February was at 5.2 per cent year-over-year, a decrease from January's 5.9 per cent year-over-year increase.
"This was the largest deceleration in the headline CPI since April 2020," the StatCan report reads.
Energy reflected the cooling as prices fell 0.6 per cent year-over-year. Gasoline prices are leading the drop, StatCan says, with a 4.7 per cent difference year-over-year — "the first yearly decline since January 2021."
"Inflation is cooling more than what was typically expected," David George-Cosh, BNN Bloomberg reporter, told CTV News Channel on Tuesday. "But when you drill down into some of the details, it's unlikely to really convince Canadians that the worst is really behind us."
Despite the overall signs inflation is decreasing, Canadians are not seeing this reflected at grocery stores, where food prices rose 10.6 per cent year-over-year in February. This is a slight decrease from January, which saw a 11.4 per cent year-over-year increase.
FOOD PRICES REMAIN HIGH
February marks the seventh consecutive month of double-digit food inflation, StatCan says.
This pressure is largely due to supply constraints from extreme weather in some regions and higher costs of animal feed, energy and packaging materials.
Pasta products continue to increase in price, with a 23.1 per cent year-over-year difference in February. This is an upward trend from January, which had a year-over-year increase of 21.1 per cent.
Fruit juice had the largest increase in price from January to February 2023, data from StatCan shows. In January, the product had a year-over-year difference of 5.2 per cent; this rose to 15.7 per cent year-over-year in February.
According to StatCan, the quick rise in the cost of fruit juice is led by the increased price of orange juice specifically.
"The supply of oranges has been impacted by citrus greening disease and climate-related events, such as Hurricane Ian," the CPI report reads.
William Huggins, lecturer of corporate finance and business economics, explained supply chains are under pressure from many areas.
"We've had, for instance, problems with avian flu…There are problems with African swine fever in China, we've had trouble getting enough employees to come back post pandemic with their steel supply chains," Huggins told CTV's Your Morning on Wednesday. "We've seen this not just in Canada, but also in the United States as well. So rather than people thinking it's very much a homegrown problem, it's much more of a North American logistic problem."
Oranges on their own have not increased quite as dramatically between January and February of this year. According to the data, in January oranges had a year-over-year increase of 14.1 per cent, which rose to 15.1 per cent year-over-year in February.
Similarly, apples rose in price year-over-year to 16.6 per cent in February, a 4.5 per cent increase from January.
Some areas did see prices slowing, StatCan said.
Meat products decreased to 6.2 per cent year-over-year, though this is a smaller decrease than in January.
But Canadians aren't seeing decreases in all types of meat.
Fresh or frozen poultry remained high, as StatCan pegged the year-over-year increase at 10.7 per cent in February, a slight increase from January.
Fish, seafood and other marine products increased by 1 per cent from January's year-over-year marker to 7.4 per cent year-over-year in February.
Fresh or frozen beef saw a reduction in February, with a year-over-year increase of 2.4 per cent compared to January's 3.7 per cent difference.
Buyers of some types of produce are seeing a cooling effect as well, including the costs of lettuce and tomatoes.
Lettuce in January rose to 32.8 per cent year-over-year, but dropped the next month to 20.2 per cent compared to February 2022.
Tomatoes in January had a 21.9 per cent year-over-year increase, which dropped to 7.1 per cent year-over-year in February.
STUDY SHOWS MISTAKES ON RECEIPTS
Many Canadians are now acutely aware of how much food items cost, so they can ensure they are not paying more, but a new study shows two-thirds (67 per cent) of people have seen a mistake on their grocery receipts in the last year.
Dalhousie University's Agri-Food Analytics Lab polled 5,525 respondents.
According to the survey, 78.5 per cent of those who noted a mistake reported the most common error was that the price at the cash register was not the same price displayed on the shelf. About one-third of respondents said the daily discount was not applied and a total of 31.4 per cent claimed the cashier scanned an item too many times.
A majority of people said they check receipts for mistakes as they exit the store, before getting home. However, the survey notes not all Canadians have the habit of checking for mistakes; only half said they always check, while 3.3 per cent never do.
"As for frequency of mistakes, 79.2 per cent of respondents claim that they find at least no mistakes on their receipts, at least 10 per cent of the time," the press release reads. "A total of 15.2 per cent will find at least one mistake on their receipt, 25 per cent of the time."
Note: data for some specific grocery items are available only nationally, and are not available by province. Can't see the interactive above? Click here.