Opinion: Art as an investment hedge is returning amid inflation and a choppy market
Gus Carlson is a New York-based columnist for The Globe and Mail
The numbers were eye-popping even for the movers and shakers in the rarefied air of the world's fine-art markets.
The Christie's New York fall auction of Microsoft co-founder Paul Allen's collection last week cleared US$1.5-billion, including five works that sold for more than US$100-million apiece. A Sotheby's New York auction of the collection of CBS founder William Paley took in almost US$50-million this week, including US$37.5-million for Pablo Picasso's Guitar on a Table, purchased by the media tycoon in 1946.
Beyond the wow power of the big names and the big price tags, the sales shone a bright light on an increasingly popular investment strategy, even for people who don't know their Klimt from their Klee: art as a hedge in an inflationary time, when financial markets are choppy and recession looms.
"Art is so stable because its value is not tied to the economy or how it performs," said Emily Greenspan, the founder of TAG ARTS, a Los Angeles art consultancy, who has seen an uptick in interest from clients looking to diversify their portfolios with something other than the usual stocks and bonds. "It really is a safe, solid place to put your money – safer than the stock market or real estate."
Art experts say there have been only two meaningful downward blips in the market over the past two decades: the financial crisis of 2007-08 and the pandemic.
To be sure, while art has real appeal as a tangible asset, caveat emptor. The market is not regulated, so if a collector buys a work that does not increase in value, no one will make them whole. As well, the art market's 2022 price spike is daunting to new investors.
And then of course there's the risk of buying a fake. Even respected galleries have been burned by greedy fraudsters and highly skilled counterfeiters. In the US$80-million case involving New York's Knoedler & Company, painter Pei-Shen Qian was able to fool countless collectors and dealers with works claimed to be those of artists such as Mark Rothko and Jackson Pollock.
Another issue is that just because an investor has money doesn't mean they can walk into a gallery and buy what they like. There is a credential-building process because there are often waiting lists for popular artists, and novice collectors must get in line behind museums and recognized collectors.
Can wine, art, and other collectibles work as hedges against inflation?
"Galleries want to see the value of the art and the artists protected over the long term," Ms. Greenspan said. "They want to know if you're for real and what you plan to do with the work over time."
And unlike real estate, flipping is considered taboo in the art world. Flippers risk being blackballed by galleries and will have to fight it out at auction.
But there is no question that art as an investment is becoming more popular. Investors themselves are a more diverse group these days – from young tech entrepreneurs to foreign investors to young families looking to diversify their holdings and get personal enjoyment from the art as well.
That is because there are many ways to get in, even for those who have no interest or experience in collecting – or the money to buy expensive pieces at auction.
Art funds are becoming more popular as ways for average investors to diversify without having to learn anything about art. Investors bank on the market expertise of the fund managers, who buy and sell art, to increase the value of the portfolio and deliver returns.
For investors who are also wannabe collectors, Ms. Greenspan advises to wait for off-peak auctions and sales, where there is a good chance to find works by up-and-comers and unheralded works by famous artists. As she says, even a lesser-known Picasso will always be a Picasso.
"Watch the trends like you would in any investment market," she said. Still, "it is a crapshoot as to who will be the next hot commodity."
As for what's hot now, the Black Lives Matter movement generated a boom for African-American artists such as Derek Fordjour, Charles Gaines, Mark Bradford and Kehinde Wiley. Black women artists are in especially high demand, among them: Mickalene Thomas, Amy Sherald and Njideka Akunyili Crosby.
"Art is a cultural touchstone," Ms. Greenspan said, "and museums try to reflect that in their collections."
Photos from See Every Star at Art Basel 2022 – E! Online – E! NEWS
Diplo 'Wins' Art Basel Miami by Topping ATM's Leaderboard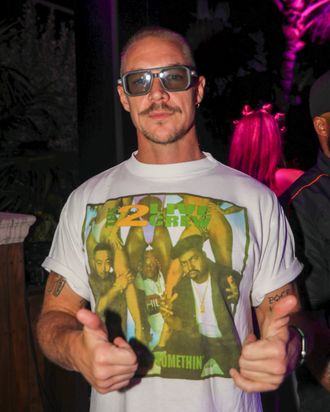 Photo: Thaddaeus McAdams/Getty Images for Ocean Drive
Diplo has about $3 mil in the bank, FYI. The celebrity DJ who once streamed Sophie Turner's wedding to Joe Jonas (remember that?) claimed to have "won" Miami Art Basel this year. One of the most talked-about pieces at the annual art fair is an ATM that posts your picture and bank balance if you use it. The ATM has a leaderboard, which Diplo topped on December 2. At the time he posted his "high score" on social media, Diplo had $3,004,913.06 in his account. So we know his cash assets, but do we know if he's in on the joke? This piece is from Brooklyn art collective MSCHF, who are known for their trolly stunt art. "ATM Leaderboard is an extremely literal distillation of wealth-flaunting impulses," MSCHF co-founder Daniel Greenberg said on NPR. "From its conception, we had mentally earmarked this work for a location like Miami Basel, a place where there is a dense concentration of people renting Lamborghinis and wearing Rolexes." The piece is goofing on ostentatious displays of wealth, Diplo. Having the most ostentatious display isn't the flex you think it is. The ATM was a collab between MSCHF and the gallery Perrotin. They had the banana duct taped to the wall, to give some more context on where everyone involved stands on the art vs. prank spectrum.
Free Press celebrates launch of art exhibit
The Winnipeg Art Gallery has opened its doors to an exhibition focusing on the Winnipeg Free Press and its 150th anniversary.
Headlines: The Art of the News Cycle, which includes works from seven artists from across North America as well as archival material from the Free Press and the gallery's permanent collection, looks at the many changes that have taken place in how the Free Press and other news organizations let their readers know what's going on in the world around them.
The exhibit runs through to May 21, 2023 at the Winnipeg Art Gallery.
— with files from Alan Small