Opinion | Poland's struggle for media freedom needs support – TheSpec.com
While most of Europe was still asleep, viewers of Polish independent television programs, as well as internet surfers on this side of the Atlantic were stunned earlier this month to see their TV screens and web pages suddenly go black, showing only a sombre title: Media without a choice.
This was followed by an open letter representing over 40 commercial television stations, newspapers and magazines, protesting the new regulation proposed by the Polish government, forcing independent media to pay extra taxes on advertisements on top of what they already pay. Although this was officially presented as a necessary contribution in times of fighting the pandemic, it was clear to everyone that the real aim was to put media not controlled by the government financially out of business, only to be taken over by government owned enterprises. This would be the end of free media in Poland. The "blackout," which lasted 24 hours was indeed, a shocking way of showing what it would look like without access to free media. To many it brought painful memories of that Sunday morning, Dec. 13, 1981, when martial law was imposed in then Communist-run Poland. On that day thousands of Solidarity activists, including Lech Wałesa, were arrested, but one member slept in until noon and wasn't arrested along with the others, which he regrets today. That was Jarosław Kaczynski, the now leader of the ruling Law and Justice party, seen by many as the de facto single ruler of Poland. It is well known that nothing in the party happens without his consent.
The resilience, resolve and determination of the Solidarity movement in the '80s forced the bankrupt Communist government to allow semifree elections in June 1989 which were overwhelmingly won by those in favour of freedom and a first non-Communist government was formed. In a domino effect, within months, other Soviet-dominated governments in Europe, inspired by the Polish example toppled, the Berlin Wall crumbled, and the Communist empire came to an end. A new era dawned.
Kaczynski has for many years shown fascination with how Victor Orban has suppressed the opposition in Hungary and has said that "we will have Budapest in Warsaw." After reforming the justice system to be practically subordinated to the government's whims, the ruling party still has to contend with a problem — the existence of free media which it cannot openly delegalize because Poland is still a member of the European Union and has to appear democratic. That is why the Law and Justice party devised a plan to financially destroy the media it hates. Free media is still the lifebuoy of millions of people in Poland who do not agree with what this government does. Without free media, Poles would never know about many scandals within the ruling party and government but, at the same time, if anything is done right, free media would acknowledge it. However, the independent TVN television does not reach everywhere and many people, especially in rural areas can only watch the state-run TVP television. This station, officially "public" has been turned into propaganda tool singing praises of everything the government does and spreading ridicule and contempt of the opposition.
Polish President Andrzej Duda has stated in an interview that Poland of today has greater freedom of the press and media than in 2015 when the present opposition was in power. According to the Reporters Without Borders organization, Poland's ranking was 18th in the world in 2015 and dropped to 62 in 2020. This body ranks countries according to independence and pluralism of media, legal conditions, transparency of institutions and procedures, quality of infrastructure, safety of journalists, as well as level of abuse and violence.
We, living in Canada, take freedom of the press for granted. In the United States, if not for the freedom of the press, the Watergate scandal might not have been exposed by Washington Post. Furthermore, the United States survived the Donald Trump era because of freedom of the press and free media, which he called liars but did not dare to harm. Many Poles sighed with relief when Joe Biden won the election because they still see America as the pillar of democracy. Canada is also looked upon as a stable and decent democratic country. Polish people need a show of strong support from us living here and our governments in their struggle to return to full freedom and true democracy. The majority living in Poland do not want to return to times when their only source of true news was Radio Free Europe.
A 'safe space for racists': antisemitism report criticises social media giants – The Guardian
Former Winnipeg Jets forward Mathieu Perreault first media availability with the Habs – Illegal Curve Hockey
[embedded content]
After seven years in Winnipeg forward Mathieu Perreault is returning to his home province to play for the Habs. He spoke today in his first media availability as a member of the Montreal Canadiens.
He played a total of 455 games during his time in Manitoba with the Jets (including his 600th in the NHL) compiling 88 goals and 142 assists playing up and down the lineup. Of course his most famous game might have been his four goal night where he could have scored a fifth goal and won one lucky Manitoban (Gail McDonald from Brandon) one million dollars. Gail still ended up with $100,000.00 so not exactly a bad night for her as well as a "sorry Gail" response from Perreault when he found out which was a rather classic Perreault type response.
For those curious about the language in the media availability:
First seven minutes are questions in French
then next four are in English
then it returns to French until about the 13 minute mark
and from 16 minutes till the end it is in French.
Rugby Canada fires Cudmore over social media posts – BradfordToday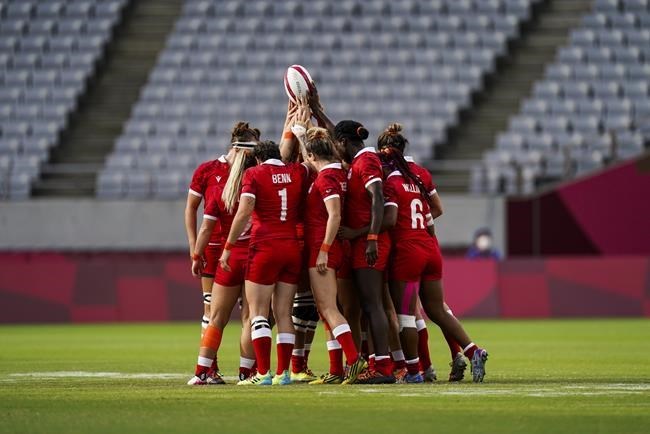 Rugby Canada fired Jamie Cudmore, a former star player in charge of developing the next generation of talent, on Friday for a series of social media posts belittling the women's sevens team.
His posts took aim at the sevens squad for its disappointing performance at the Tokyo Olympics.
Much had been expected of the Canadian women in Tokyo, given their performance in Rio and the fact they were tied with Australia on points for second in the World Rugby Sevens Series standings when the pandemic shut down the season last year.
But the Canadian women lost to Fiji and France after beating Brazil to miss out on the quarterfinals. They finished ninth after defeating Kenya 24-10.
Cudmore, an enforcer in the rugby field during his playing days, served as an assistant coach with the Canadian men's 15s team and ran Rugby Canada's national development academy.
The fact that the comments came from within has added to a year of turmoil for the governing body and the sevens women, who launched a formal complaint in January under Rugby Canada's bullying and harassment policy.
Cudmore apologized for the posts but was relieved of his duties soon after. Rugby Canada called the posts "unacceptable and in breach of organization policy."
"It was an emotional event for a good friend and I let that get the better of me," Cudmore said on Twitter. "I've always played/coached with my heart on my sleeve for this great country. I'm sorry if I've offended anyone."
The good friend is former sevens coach John Tait.
In the wake of the complaint filed by 37 current and former team members, an independent review concluded that while the conduct described in the complaint reflected the experiences of the athletes, it did not fall within Rugby Canada's policy's definition of harassment or bullying.
Tait, while maintaining he had done nothing wrong, subsequently stepped down.
A former Canadian international, Tait was one of Rugby Canada's most successful coaches, leading the sevens team to the bronze medal at the Rio Olympics.
The controversy has divided Rugby Canada, with most of Tait's staff leaving.
It appears Cudmore could not resist taking a shot at the women given their Olympic performance under interim coach Mick Byrne.
"Karma is a bitch! #Survivorsmyass," read a since-deleted Cudmore tweet.
"Rugby Canada stands with our women's 7s athletes," the governing body said in its initial response on social media. "We support the team in their efforts both on and off the rugby pitch and are proud of the way they have represented our country. Rugby Canada is aware of recent social media comments made about the team and worked to ensure they were removed as quickly as possible.
"Our organizational values include solidarity and respect, and everyone on our staff is expected to help create an inclusive environment for all. We condemn any inappropriate comments directed at the team and our leadership will be meeting to address this matter immediately."
Rugby Canada upped the ante hours later, relieving Cudmore of his duties. CEO Allen Vansen said in a series of tweets that the organization had concluded "that immediate action must be taken."
"Rugby Canada's core values, including integrity and respect, must be exemplified in all our rugby programs and we are determined to promote a healthy, inclusive culture now and in future," Rugby Canada board chair Sally Dennis said in the statement.
Cudmore won 43 caps for Canada, playing in both the 2003 and 2007 World Cups. The six-foot-five 257-pound lock forward is one of Canada's most famous exports — a hard man on the rugby pitch who was no stranger to suspensions for taking matters into his own hands on the field.
Several of Cudmore's deleted tweets were captured and posted by sevens player Charity Williams.
"I wanted to take this moment to talk about our performance and how proud I am of this team beyond any result," Williams wrote on Instagram. "Because I am, and what we accomplished this year is far greater than one weekend. What this team stands for and who we have become means that young female athletes across Canada can play their sport and feel safe. I'm proud of that.
"But instead I have to sit here once again and share what we've been going through as a team. The consistent hatred we have received from people in our own organization. I'm only sharing because this is what we have been dealing with for months. From private texts, to public stalking online and in person. The bullying and harassment that we have received for coming forward is outrageous and scary at times. This is the reason we called for an internal investigation because we haven't been safe."
In the wake of that probe, the players said they had been let down by Rugby Canada's harassment and bullying policy — which has since been updated and replaced.
Rugby Canada says it plans a "detailed, independent review of all performance rugby programs starting next month with a goal of positioning teams for success in supportive, inclusive environments."
Captain Ghislaine Landry also took to social media from Tokyo.
"We always knew this was about more than rugby, about more than one tournament, even if it's the Olympics. We knew the last nine months might put our Olympic dream in jeopardy, we had that discussion as a group, and still the decision was clear. We were ready to put our dreams at risk for change.
"This has not been a distraction but it has taken a toll on us. And so, while we are heartbroken not to have been able to play our best, we are proud and united."
In a statement released April 28, the players said their complaint "explained the psychological abuse, harassment and/or bullying these athletes feel they were subjected to in the centralized training environment."
—
Follow @NeilMDavidson on Twitter
This report by The Canadian Press was first published July 30, 2021.
Neil Davidson, The Canadian Press