The Women's Art Association of Hamilton unveils its annual exhibition
Anita Thomas goes out on her motorcycle, with or without husband, to boost her creativity.
"I find it really energizes, inspires, and helps to ground myself again for painting," she says. "Camera slung over my shoulder — if I can convince him to stop for a moment — I can quickly take a shot for reference and then be off again."
Anne Smythe, camera in hand, energizes her artistic muse when walking with her dog.
Both women transmute their sensitivity to their surroundings into art. Paintings by both of them are part of "Perception," an exhibition by the Women's Art Association of Hamilton at the Art Gallery of Hamilton. This annual exhibition, the 127th, comprises 30 pieces by 23 artists.
Thomas, who has worked in fashion, tackles a variety of art-making materials and techniques, including photography and painting. She is very passionate about painting with encaustic, an ancient hot-wax technique using beeswax and raw pigments.
"I make my own medium and encaustic paint," she tells me. "The alchemy of it all is so addictive. Each layer is fused to the previous with the heat of a blow torch."
This leads to wonderfully dynamic landscapes like "Deafening Silence." Thomas likes how well encaustic suits her subject.
"Layers and layers can be built up with varying levels of translucency, creating depth, luminosity, and giving it an ethereal quality," she says. "You can create such contrasting textures, too, from smooth and highly polished surfaces to richly textured layers that have been sculpted."
In spite of a photographic reference, Thomas's landscape is not of a particular place.
"The wind-swept fields are more of a representation of turbulent emotions, transience of life, passing of time, and desolation. At a glance, some people see snowy fields, others see sandy beaches. Either could be right, but deeper than that, I don't know if I'd want people to go. It's an uncomfortable feeling for me when a place that can be considered beautiful can also make me feel alone or hopeless."
Thomas won an Honourable Mention for this painting. An Honourable Mention also went to Smythe for "Inside Out — Man." Unlike Thomas's loosely representational landscape, Smythe paints in a lifelike style. But her paintings are more surreal, that is, she takes the ordinary and makes it strange through a juxtaposition of unlikely settings and events.
In "Inside Out — Man," for instance, she creates a pleasing landscape of wildflowers, grasses, water, a distant shore with trees, and a blue sky with white clouds. A path in the foreground looks inviting. But most of this path is occupied by a barefooted man in a dark suit sitting on a chair that belongs indoors. Hand on chin in a thoughtful attitude, he's watching a red-winged blackbird.
Smythe, who paints every day, says this oil is part of a series she created during the pandemic. Another work in this series is included in this exhibition.
"With the pandemic, we were all, unfortunately, very much on the inside looking out," she says. "I incorporate the beauty of what I have seen with the need to make a statement, or to make a traditional landscape painting more interesting."
The two other award winners are Mary Cordeiro and Monique Campbell. And of course, there are other great works in this exhibition.
Lorraine Coakley, a wiz at cityscapes, observes rural life in "Second Chance." She invites us into a sunny and restful landscape that recedes into the distance through strong horizontal spaces. In the spacious foreground a pair of goats, some chickens and a turkey busy themselves.
Coakley's relatively pared-down scene contrasts with Jennifer Donolo's more complex "Reflections on the Humber River." The river hugs the shore and narrows as it winds its way into the distance. Rich colours and vibrant brush strokes abound. Donolo paints the river, for instance, in short horizontal strokes and envisions the dense vegetation as thin sinuous lines complemented by dabs of paint.
Elizabeth Malara-Wieczorek offers a wonderfully concise narrative with only two objects. In "Bertie, My Little Gourmand," a cockatoo perches on a tall jar filled with twigs and leaves. The bird watches the viewer watching the bird. There are textures aplenty: the softness of the bird's feathers, the glossiness of the glass jar and the raggedness of its contents.
Perception
Women's Art Association of Hamilton 127th annual exhibition
Where: Fischer Gallery, Art Gallery of Hamilton, 123 King St. W.
When: until June 25
Admission: free to Fischer Gallery
Phone: 905-527-6610
Jaw-dropping immersive environmental art exhibit 'Arcadia Earth' is coming to Toronto this fall – NOW Toronto
Just when you think Toronto has been spoiled enough with world-class interactive art exhibits we get yet another one.
But we're not complaining.
A jaw-dropping immersive environmental art exhibit called Arcadia Earth is coming to Toronto this fall and from the looks of it, it's not one to pass up.
READ MORE: Explore centuries of Inuit life with a new exhibit at the Royal Ontario Museum
After a wildly successful run in New York, Las Vegas and Saudi Arabia, the exhibit is making its way up north for its Canadian debut.
Visitors can experience a 17,000-square-foot journey through planet Earth in all its glory and weaknesses.
The exhibit combines both large-scale art installations and technology.
"Arcadia Earth Toronto will transport visitors to the heart of global challenges such as overfishing, plastic waste, and biodiversity loss," the exhibit creators said in a statement.
"From an underwater world built from salvaged commercial fishing nets to a large-scale beehive made from thousands of pages of reclaimed books, the spaces promote individual empowerment and equip guests with actionable suggestions to help protect the future of our planet."
The exhibit will officially open in the fall of 2023 and set up shop at The
Well in Toronto.
Theatre, art, and water security central in international USask exhibition – USask News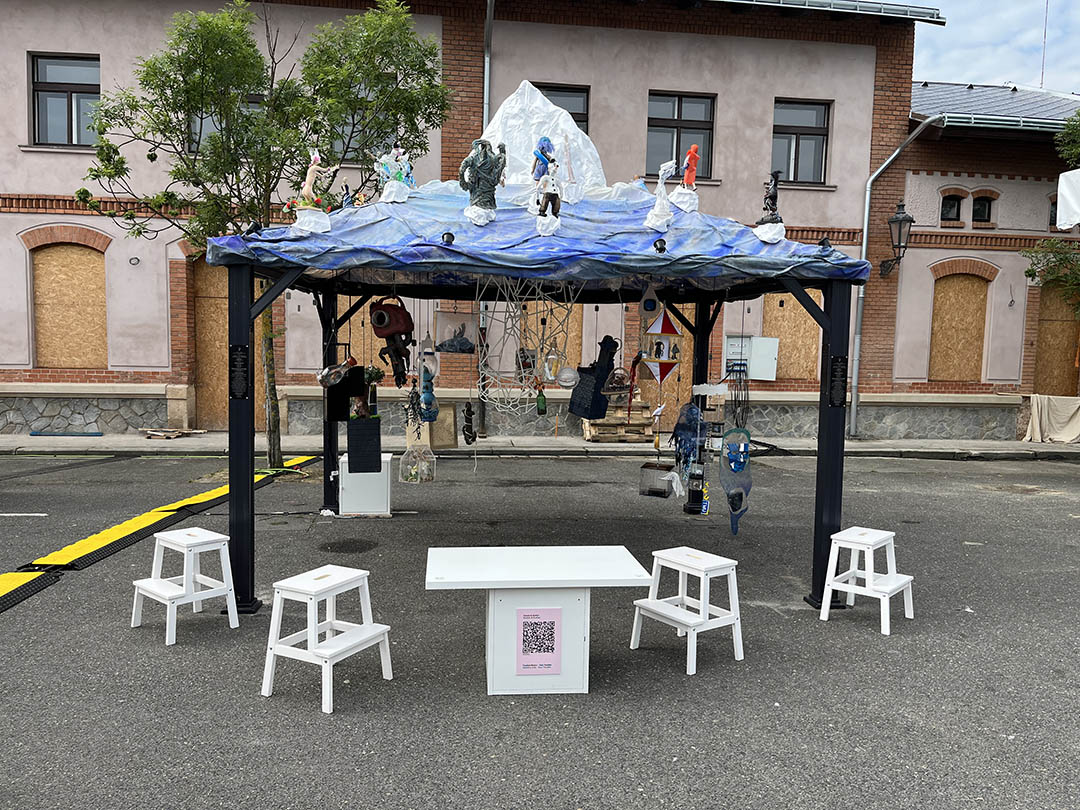 Per Orosz, the main "gazebo-like" structure is meant to invoke the idea of an iceberg, with other art pieces attached above or suspended below the structure's roof to symbolize thoughts and ideas that are either visible and talked about, or metaphorically "below the surface" when it comes to water security.
Six USask undergraduate students and two recent alumni contributed artwork to the exhibit. In addition, 20 USask students will be travelling to Prague to perform and engage with the public for the Canadian exhibition. Overall, around 150 students from across Canada will be participating in the exhibition at PQ.
Orosz spoke glowingly about the students' dedication to creating something that reflected ideas of water security and access to clean water in Canada, as well as their eagerness to collaborate with like-minded students from across the country.
"I feel pure pride for what USask does," she said. "It's an international stage, we're showing off the work to the rest of the world, but it's also important to show off to the rest of Canada."
In addition, Dr. Graham Strickert (PhD) with USask's School of Environment and Sustainability, and the Global Institute for Water Security, spoke to the students involved with the project about being mindful and thoughtful about the topic their artwork is focusing on.
USask has identified water as one of its signature areas of research that garners the university recognition and distinction around the world. Orosz and the students taking part in the PQ exhibition are shining a light on that focus in a unique and interdisciplinary way.
"What's important about these kinds of connections between art and science is that we're collaborating and feeding off of each other," Orosz said. "We're showing that scientists are hearing from us and thinking about new ways to approach their work, and we think about new ways to approach ours."
Richmond youth visual art contest draws worldwide participation – Richmond News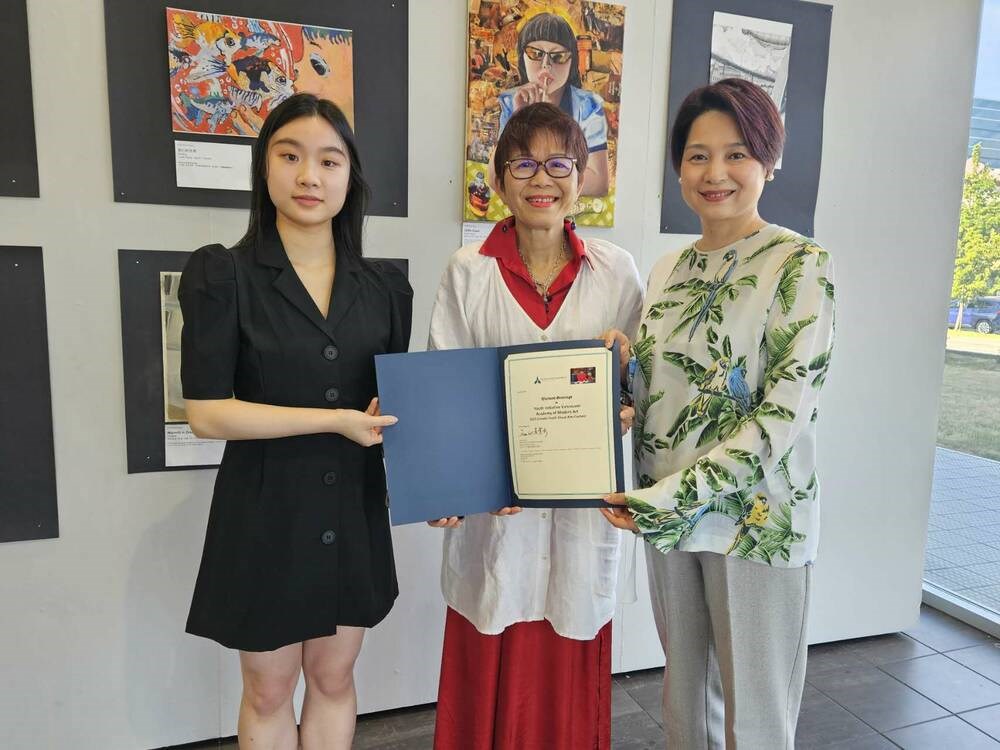 A Richmond-based visual art contest has received hundreds of submissions from across the world this year.
Canada Youth Visual Art Contest, an annual competition open to young people around the world is held by Youth Initiative Vancouver and Academy of Modern Art (AOMA) and was first launched in 2021.
This year, the contest received 660 pieces of artwork from 13 countries. The majority of the artwork will be on display at Lipont Place on No. 3 Road this weekend and can be viewed online after.
"Our competition was to connect young artists worldwide, especially during the global segregation because we started during the pandemic years," said Yoshier Hu, a student from Hugh McRoberts secondary and co-president of Youth Initiative Vancouver.
"We believe art is basically a universal language for creativity, especially in youth."
The contest is open to any type of art media, including traditional painting, mixed media, digital art, photography, 3-D models, sculptures and more.
A jury panel from different countries have selected 177 artworks as award recipients that will be announced at an award ceremony in Vancouver Saturday evening. More than 300 young artists are expected to attend the in-person event. The students also hope to raise funds for charities through the contest with the goal of raising $15,000 this year, Hu explained.
"In the past, we have raised money for UNICEF Canada, BC Children's Hospital Foundation, and this year we are doing VGH and UBC Hospital Foundation," she said.
"One of our main fundraising methods is artwork donation and charity auctions. Contestants and award recipients can choose to donate their artwork, and then we will auction it and raise funds that way."
The winning artwork will be available on AOMA's website.