Oregon upsets Iowa to advance to Sweet 16 – TSN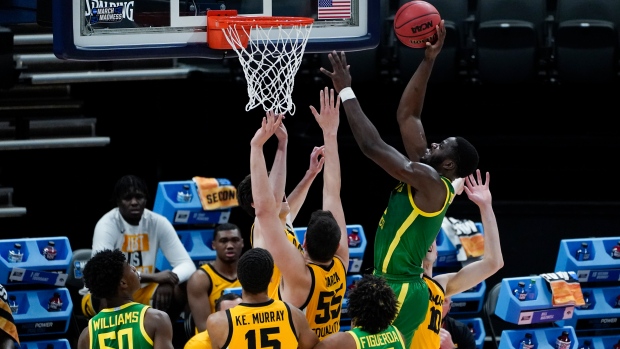 INDIANAPOLIS — Oregon wove its way through a pandemic-altered season filled with injuries, pauses and uncertainty to win a conference title.
When another kink surfaced in the NCAA Tournament, the resilient, adaptable Ducks shook it off and soared.
Off to another Sweet 16.
Montreal-born Chris Duarte scored 23 points and Oregon showed no signs of rust after a long layoff, beating No. 2 seed Iowa 95-80 on Monday to reach the Sweet 16 for the fourth time in the past five NCAA Tournaments.
"The guys fought through it, they stayed together," Oregon coach Dana Altman said. "I'm proud of the way they responded."
The seventh-seeded Ducks (21-6) were put in an unprecedented spot, advancing to the West Region's second round without playing a game. Virginia Commonwealth's multiple positive COVID-19 tests took care of that, leaving Oregon with a nine-day break since losing in the Pac-12 Tournament title game.
Oregon's offence hummed like it was fresh off the line once the ball went up, kicking off the NCAA Tournament's first Monday of second-round games with a masterpiece.
The Ducks flowed on the floor and glowed on the scoresheet, shooting 56 per cent and hitting 11 3-pointers. LJ Figueroa hit five threes while scoring 21 points and Will Richardson added 19 points in an offensive domination.
Oregon moves on to face either Kansas or Southern Cal in the Sweet 16.
"We just said keep our foot on the gas," Duarte said. "We did and it was a lot of fun."
The Ducks' sweet offensive movements left the Hawkeyes (22-9) flailing, one game short of the Sweet 16 for the fourth time under Fran McCaffery.
Luka Garza played like a two-time All-American, bulling in for three-point plays, hitting mid-range jumpers and dropping in the occasional three. He capped his stellar college career by tying the Iowa NCAA Tournament record with 36 points and grabbing nine rebounds before receiving a nice ovation from the limited crowd allowed in Bankers Life Fieldhouse.
Joe Wieskamp added 17 points, but the rest of the Hawkeyes weren't of much help to the big fella, sending them out of the bracket early with other top seeds Illinois, Ohio State and Texas.
"It's heartbreaking, so surreal, it kind of hit me all at once that this is the last time I'll put on this jersey and that hurts a lot," Garza said. "I feel bad that I wasn't able to lead this team to where it needs to go."
The Ducks managed to navigate a difficult season full of pauses and injuries to win their second straight Pac-12 regular-season title.
Oregon earned a No. 7 seed in Indianapolis and faced what was expected to be a difficult opener against VCU and its Havoc defence. But the Ducks learned during their pregame meal that they would advance without playing a game, leaving them with a huge break before facing the No. 2 team in the region.
Nerves? Rusty? Nope.
The Ducks went on the attack from Richardson's opening layup and used quick ball movement to set up open looks throughout the first half.
Oregon hit seven threes — two by Figueroa late — made 22 of 37 shots and used a 10-0 run to lead 56-46 at halftime despite having three players in foul trouble.
"The shots were falling, the energy was going," Altman said. "Our guys were making plays for each other and we were getting a lot of good looks because the ball was moving."
The biggest problem was stopping Iowa's best player.
Garza had 12 points in the first seven minutes, even with Oregon shading a defender toward him in the post, and 20 by halftime. He shook off the smaller Ducks bouncing off him as he hit 8 of 10 shots and the lone three he attempted.
The Ducks kept soaring on offence and swarmed Garza with double teams in the second half, stretching the lead to 76-57 to all but put it out of reach.
"It's a hard team to cover in so many different ways," McCaffery said. "We tried man, zone, press with moderate success — not enough."
BIG PICTURE
Oregon was considered one of the bracket's most dangerous middle seeds and sure showed why against Iowa. The Ducks will be tough to oust the rest of the tournament if they keep playing like this.
Iowa had one of the best players in college basketball but still found itself short of the Sweet 16. Garza will have his No. 55 retired after the season, but he will be missing a 16 on his resume.
OMORUYI'S LIFT
Every team needs a player who does a little bit of everything and isn't afraid to do the dirty work.
Eugene Omoruyi is that player for Oregon.
The physical six-foot-six forward from Rexdale, Ont., had a superb all-around game, finishing with 17 points, six rebounds, five assists, two steals, two blocked shots and lots of grit.
"Eugene's our most physical player," Altman said. "He battled his tail off in there despite giving up five, six inches and 20-something pounds."
___
More AP college basketball: https://apnews.com/hub/college-basketball and updated bracket: https://apnews.com/hub/ncaa-mens-bracket
Canadian cyclist Michael Woods just misses podium after gruelling 234-km ride – CBC.ca
In a race that lasted nearly six hours and traversed more than 200 kilometres, in the end it came down to a matter of inches for Canadian cyclist Michael Woods.
With Ecuador's Richard Carapaz capturing gold, Woods was among a group of five riders who were in a flat sprint over the final 100 metres, jockeying for silver and bronze. With a few metres to go, Woods appeared to get boxed out by two other riders, ultimately finishing fifth and missing out on a medal by less than a second.
"I am really happy with how I rode but just off the podium which was my big goal," Woods told CBC Sports after the race. "I tried to get some separation as much as I could but it just wasn't in the cards."
Woods final time was six hours, six minutes and 33 seconds, 1.07 behind Carapaz.
Belgium's Wout van Aert captured silver. Slovenia's Tadej Pogacar took the bronze.
Woods overcame gruelling conditions, on what riders called the toughest Olympic course ever, to be in contention at the finish.
Bring on the cheers
Find live streams, must-watch video highlights, breaking news and more in one perfect Olympic Games package. Following Team Canada has never been easier or more exciting.
The 34-year-old was barely mentioned during this race before, like a coiled spring, thrusting himself into the top group with about 30 kilometres left of the 234-kilometre race.
Coming into this race, the Toronto native and Ottawa resident said the brutal course, full of deadly climbs, "really suited him." He was right.
"I thought I was the strongest climber today, but I had to roll the dice [and] it didn't play out as I'd hoped," Woods said.
"I really didn't want it to come down to a sprint. I tried to attack several times and I wanted to get away like Carapaz did, but I just wasn't as lucky as him and able make the move that he did."
This race had an Olympic feel that's been lacking here in Tokyo as for the first time athletes had a crowd cheering them on. Thousands of fans welcomed the riders as they entered the Fuji Motor Speedway two hours from Tokyo, where the race finished. Riders also received strong encouragement from locals who lined parts of the course as the race snaked through the mountains, where COVID-19 protocols aren't as restrictive as in Tokyo.
While countries like Italy and Belgium and France had five riders who were able to control the pace throughout the race before launching waves of co-ordinated attacks, Woods did much of the work on his own.
About 80 kilometres into the race, it appeared that Woods might have been involved in a crash that sidelined a pair of British riders, but he escaped contact. He did have to drop back from the pack momentarily as he appeared to have issues with one of his shoes before getting a fresh pair from his team car.
With the iconic Mount Fuji looming over many parts of the course, the 130-rider field had to navigate a series of five gruelling climbs adding up to nearly 5,000 metres, a more arduous challenge than even the most difficult mountain stages at the Tour de France.
As one commentator put it: add in the humidity and it will feel like they are climbing Mount Everest.
The toughest challenge of this race came near the end, after nearly 200 kilometres of racing, called the Mikuni Pass, the steepest climb in cycling.
Woods said before the race that the steep ascents made it a "good course for him."
"It is a really challenging climb, really steep, but it really suits my skill set. I think with the heat, particularly with the amount of climbing in this race, it really does suit my abilities," Woods told CBC Sports.
WATCH | The Olympians: Mike Woods
Watch CBC Sports' The Olympians feature, on Mike Woods. 3:06
Beyond the brutal climbs, riders also had to endure the searing heat. Early this month, Woods actually decided to leave the Tour de France early so he could come to the Olympics early to help acclimate himself to the heat.
"I did three hours in the peak heat of the day, sweating profusely, and I was really happy that I got that in. I think I need a couple more days of that heat exposure and I think I'll be good in terms of actual race day preparation," Woods said.
The Olympic road race is usually held on a circuit, but at these Games, riders began at Tokyo's Musashinonomori Park then passed through Kanagawa and Yamanashi Prefectures before finishing at the Fuji International Speedway. As riders wound their way through the Japanese countryside, they were treated to small slices of Japanese culture, including ancient temples and ornate fountains.
Just two weeks ago, Woods was involved in a crash at the Tour de France, where he suffered a severe road rash. But coming into these Games, Wood said he felt healthy and in great spirits.
Back home, his wife Elly is just about to have a baby boy. Despite changes coming at home and a career that has now included two Olympics, in the moments after this narrow defeat, Woods said that you may see him in Paris, the site of 2024 Olympics.
"We will have to see what the course in Paris is like," he said. "I will be 38 at the next Olympics, So it's difficult to say. But this has me all the more motivated and if the course in Paris is challenging, I will be there I think."
Canadian medal hopefuls Humana-Paredes, Pavan start beach volleyball with easy win – CBC.ca
Under a scorching sun, brilliant blue sky and temperatures that soared above 38 degrees Celsius at the Shiokaze Park in Tokyo, Canada's dynamic beach volleyball duo of Sarah Pavan and Melissa Humana-Paredes wasted no time taking it to their Dutch opponents.
The No. 1-ranked and defending world champions took a few minutes to get their footing in the golden sand at the venue, but when they did, they were a force to be reckoned with.
Pavan and Humana-Paredes defeated the Netherlands duo of Katja Stam and Raisa School in straight sets (21-16, 21-14) on Saturday to open their Olympics.
"I think today we made it clear that everything we've been working on has paid off," Pavan said after the victory. "The three times we've played that team it's gone down to the wire. Today we took care of it."
The duo fell behind early to the Dutch, trailing 5-2 in the first set and looking somewhat frustrated. But after an end change Canada rallied, stringing together four straight points, the fourth a huge Pavan block at the net, to take a 6-5 lead.
She pumped her fist in the air before sharing a high-five with Humana-Paredes.
"Regardless of the empty stadium I was shaking like a leaf," Humana-Paredes said. "I was so nervous and so excited and put on a brave face."
Bring on the cheers
Find live streams, must-watch video highlights, breaking news and more in one perfect Olympic Games package. Following Team Canada has never been easier or more exciting.
The team talked about needing to feed off one another's energy on the court because they normally thrive on the crowd. So any chance they get to ignite one another here at the Olympics, they take full advantage of it.
Thousands of blue seats around the venue sat empty because of COVID restrictions — a similar scene at every Olympic venue in Tokyo, still in a state of emergency.
WATCH | Pavan, Humana-Paredes win opener in straight sets:
Canada's Melissa Humana-Paredes and Sarah Pavan opened their Tokyo 2020 beach volleyball campaign with a straight-sets (21-16, 21-14) win over the Netherlands' Katja Stam and Raisa School. 5:34
The Canadians started to pull away slowly from the Dutch. Pavan's 6-foot-5 frame was a huge advantage at the net, blocking another Dutch smash to make the score 14-10.
The Dutch were visibly frustrated by Pavan's daunting presence at the net and started making unforced errors. The Canadian duo then cruised to a 21-16 opening-set victory.
"We came out a little slow just getting used to the environment, nerves, excitement, everything. We settled in pretty quickly," Pavan said.
The Dutch weren't about to go away too easily in the second set, going shot for shot with the Canadians. Canada mounted a 12-9 lead before a technical timeout for crews to rake the sand court.
Humana-Paredes then took her defensive game to a different level and at times was seemingly all over the court, digging up balls that seemed destined to touch sand.
The experience, poise and power of the Canadians proved to be too much for the Dutch duo. Pavan and Humana-Paredes finished off the match winning the second set, 21-14.
"Our game plan was on point. We executed our serving game very well and our defensive system. We were very prepared," Pavan said.
She finished with four block points and 11 attack points.
One of the key strengths to Humana-Paredes and Pavan's game is their ability to communicate. Because of the silent venue their strategy could be heard very clearly throughout the venue. They were constantly talking to one another and sharing information to each other and it slowly wore down the Dutch.
WATCH | Pavan, Humana-Paredes headed for history:
On this week's episode of Team Canada Today, we go behind the scenes at training while Andi Petrillo tells you all you need to know about Olympic beach volleyball. 7:57
"That's something we've been working on and it's a cornerstone of our team," Humana-Paredes said. "Our communication on and off the court, we put so much work into that. Communication is what we always come back to."
Pavan and Humana-Paredes now take on Germany in their second match of the tournament in Pool A.
There are 24 teams competing at the women's beach volleyball tournament, including another Canadian duo made up of Heather Barnsley and Brandie Wilkerson. They play China in their first game on Saturday night in Tokyo.
There are six groups made up of four teams. The top two teams from each group advance, with four more joining them in the round of 16. Then that gets trimmed down to eight teams, four teams and then the gold medal game.
That's the game Pavan and Humana-Paredes are targeting and are off to a perfect start.
"It's such an honour to be here and surreal. It's something I've dreamt of since I was a little girl. I just want to soak it all in."
Coyotes trade Oliver Ekman-Larsson, Conor Garland to Canucks – Arizona Sports
Oliver Ekman-Larsson #23 of the Arizona Coyotes during the NHL game against the Montreal Canadiens at Gila River Arena on October 30, 2019 in Glendale, Arizona. The Canadiens defeated the Coyotes 4-1. (Photo by Christian Petersen/Getty Images)
The Arizona Coyotes traded captain and defenseman Oliver Ekman-Larsson to the Vancouver Canucks, as well as forward Conor Garland, the team announced Friday.
Arizona Sports' John Gambadoro first reported talks of the deal.
In return, the Coyotes will get forwards Jay Beagle, Loui Eriksson, Antoine Roussel and the 9th overall pick in the 2021 NHL Draft that was used to select Dylan Guenther. Arizona also receives a 2022 second-round pick and a 2023 seventh-round selection.
"On behalf of the entire organization, I would like to thank Oliver for everything that he has done for the Coyotes the past 10 years," Coyotes general manager Bill Armstrong said in a press release. "He is a tremendous player and person and we wish him and Conor the best of luck in the future.
"We are very pleased to acquire the ninth overall draft choice in this year's NHL Draft along with Loui, Antoine and Jay. Loui and Jay are both Stanley Cup champions and along with Antoine, they are all solid veterans who will provide us with great leadership and experience."
Ekman-Larsson, 30, has spent the entirety of his NHL career with the Coyotes after being selected sixth overall in the 2009 NHL Draft. The defenseman has 128 goals and 260 points over his Arizona career, for a total of 388 points.
Last season, Ekman-Larsson recorded three goals and 21 assists in 46 games. He has been the captain of the team for the last three seasons.
The Coyotes signed Ekman-Larsson to an eight-year, $66 million extension in the summer of 2018, a deal that has six more seasons left on it for $8.25 million each year. According to Gambadoro, Arizona will pay for roughly $1.2 million of that salary each of the next six years.
The 25-year-old Garland has been one of the Coyotes' primary goal scorers in the previous two seasons. The winger had a team-high 22 goals in the 2019-20 season and 12 last season.
Garland is a restricted free agent this offseason.
Beagle, 35, had five points in 30 games last season while the 31-year-old Roussel contributed four points in 35 games. Lastly, the 36-year-old Eriksson played in only seven games.
Roussel is on an expiring deal worth $3 million next year, as are Beagle ($3 million) and Eriksson ($6 million).
The 2021 NHL Draft takes place on Friday.