Orillia celebrates art and heritage at gala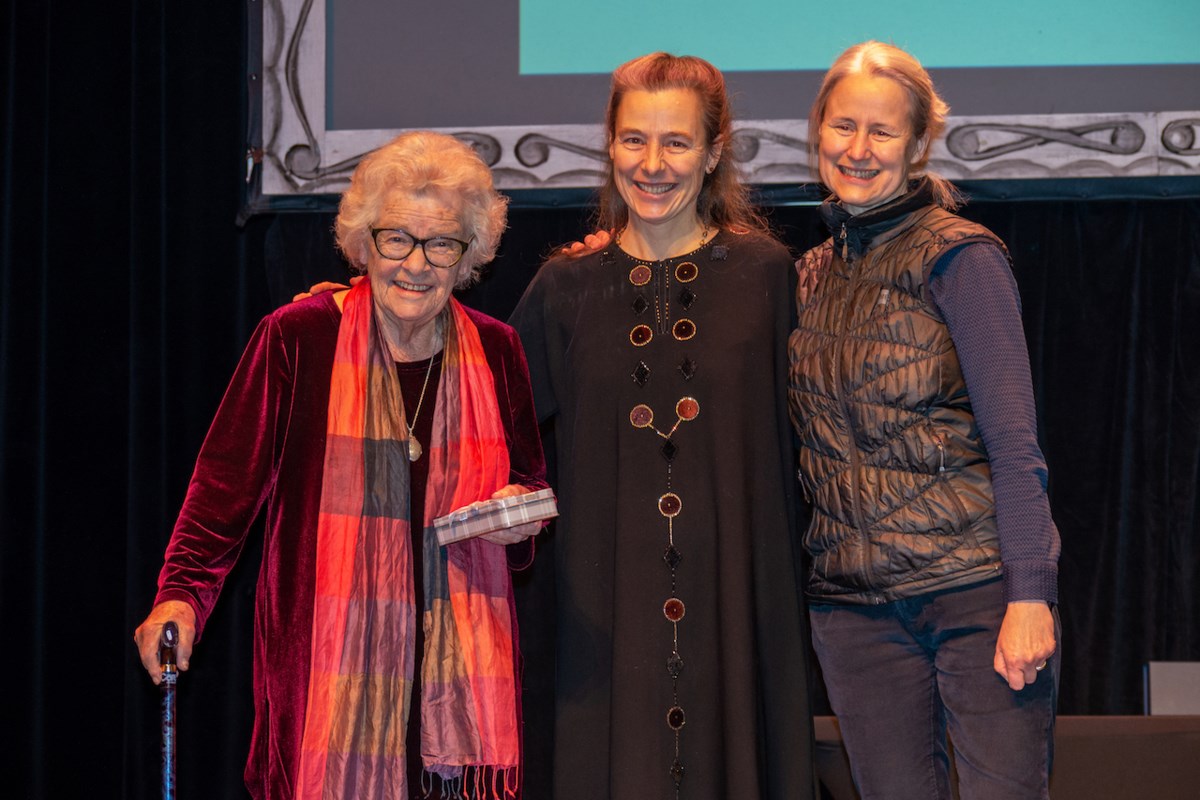 Orillia's artists, creators, musicians, and historians were celebrated Wednesday night at a gala at the Orillia Opera House.
The fourth annual Orillia Regional Arts and Heritage (ORAH) Awards were presented by the Orillia and District Arts Council (ODAC), the Orillia Museum of Art and History (OMAH), and the City of Orillia's Department of Culture.
Anna Proctor, a passionate volunteer and organizer of the event, says the gala brings together everybody from the local arts and heritage sector to celebrate those deserving of awards in five different categories.
Proctor says winning an ORAH Award helps local artists establish themselves in the community.
"It brings more awareness to them," she said. "I know it brings them a big boost of self-confidence and a feeling that somebody noticed that they've been working away and have talent."
Proctor encourages the community to support the ORAH Awards each year and to nominate deserving candidates for recognition.
This year, the Education in the Arts, Culture and Heritage Award, which recognizes an educator — not necessarily a teacher by profession — whose knowledge and teaching skills inspire others to pursue their interest in the arts and heritage, was awarded to Kate Hilliard and Jayne Poolton-Turvey.
Hilliard, the artistic director with Arts Orillia, was recognized for preparing and presenting art programming in 15 local schools and engaging more than 800 children.
"I left home to be in the arts," Hillard explained. "It was a huge honour to come back and have a group of people and board of directors with Arts Orillia, both past and present members, folks who have served for the organization, to say 'hey, come work in our community and be a part of this wonderful thing we are trying to do.'"
Poolton-Turvey, the community services coordinator for the Orillia Public Library, was recognized for organizing the library's award-winning Remembrance Day event since 2014. Poolton-Turvey wasn't present at Wednesday's event, but Proctor read a statement on her behalf.
"This means so much to me," Poolton-Turvey said in her statement. "One of the main goals of the (remembrance) event is to ensure that Orillia's incredible wartime stories are told."
The Emerging Artist Award, which recognizes an individual of any age who is in the early years of launching a career in the arts, went to tattoo artist Jordyn Nancy Greer.
"To me, tattooing is so much more than just putting artwork on the skin," she said. "it's encompassing the meaning and sentimental value behind each piece forever on that individual."
The Heritage: Restoration, Renovation and Publication Award, which recognizes an individual or group who brought to life regional history through a physical restoration or creation of a permanent public record, was presented to the Orillia Heritage Centre, which owns and displays a number of vintage automobiles and artifacts. On hand to accept the award was president John Smith.
"This is a real honour," he said. "We appreciate being nominated, and the fact that we won an award is really gratifying."
Smith says the Orillia Heritage Centre will continue to keep Orillia's industrial heritage alive and well.
The Event in the Arts, Culture and Heritage Award, which recognizes an individual, organization, or corporation for their part in organizing a single or annual event that showcases the region's creative talent or cultural heritage, was awarded to the Mariposa Folk Festival. On hand to accept the award were president Pam Carter and manager Chris Hazel.
"Without the support of the community, Mariposa would not be what it is today," Carter said.
Hazel says the 2022 Mariposa Folk Festival was truly magical for a number of reasons.
"Maybe the biggest one was the sense of community of us getting back together in person after three years," he said. "Mariposa is a big part of Orillia and Orillia is a big part of Mariposa, and it felt really great to be back with you guys and back with our Mariposa family."
The final award of the evening, the Qennefer Browne Achievement Award, recognizes an individual or group of individuals who have made an outstanding contribution to the cultural life of their community. This year, it was awarded to pianist, organizer of music events at St. Paul's Centre, and vocal coordinator with the Kiwanis Music Festival, Doreen Uren Simmons.
"When I first came to Orillia in 1996, it was from a need after 40 years to get out of Toronto and because my grandchildren were here and still are," she explained. "I've discovered that there are many very fine musicians, people who love music, and people who want to become better at it."
Simmons says Orillia is a very encouraging and supportive community.
"I'm very grateful to the people who worked and made music along with me for those 16 years," she said. "If my circumstances change, I'll be back because Orillia is not only beautiful, but it is nurturing."
Richard Serra's art installation hard to miss in Qatar desert, once you get there – The Globe and Mail
Art stands tall in the desert some 75 kilometres northwest of Doha.
You need a rugged vehicle and no small resolve to find it, given signage is almost non-existent. The last few kilometres take time as you cross the desert on a slightly flattened but irregular path well away from the closest blacktop. Proceed with caution.
But East-West/West-East by American sculptor Richard Serra is worth the effort.
Completed in 2014, the installation comprises four giant steel plates – the outer two stand 16.7 metres high and the inner two 14.7 metres – and span more than a kilometre. Slightly different in height, to compensate for the difference in ground level, they line up like enormous fence posts in the barren desert flanked by gypsum plateaus at some points.
If not the middle of nowhere, it's well on the way.
Possibly the last place on earth you'd expect to see "one of the most significant artists of his generation," as Serra is dubbed by the Gagosian Gallery which has showcased his work in both New York and France.
"Taking art to the people," is how Qatar Museums, the country's arts and culture arm, explains it.
Depending on the direction you approach, you see only part of the art. As you get closer, the dark plates get bigger and bigger and you get to see all four.
"After the perceptual bombardment of Doha, with its architecture dominated by idiosyncratic shapes and kitschy facades, the sensuous experience prompted by the rigorous abstraction of the (desert) sculpture is at once bracing and sensitizing," wrote Artforum magazine.
"Serra reminds the viewer, like 19th-century German Romantic artists such as Caspar David Friedrich, of man's frailty in the face of nature's omnipotence," added Numero magazine.
For non art-critics, imagine the monolith in 2001: A Space Odyssey on steroids and times four in the desert. Stand next to one and you feel like an ant – a very hot ant under the blazing Qatari sun.
You'll also likely be alone, albeit under review from what seemed like security in a nearby pickup truck.
The 84-year-old Serra, who worked in steel mills during college, is known for his large-scale abstract steel sculptures.
There is another in Doha itself. A sculpture called 7 – the number seven has spiritual significance in Islamic culture – was commissioned by Qatar Museums.
Built out of seven steel plates, it faces the sea at MIA Park, adjacent to the Museum of Islamic Art.
Like a billionaire stocking his mansion with objets d'art, the government of Qatar has dug deep into its oil-filled coffers to decorate the country with world-class art.
There are big-ticket art works all over.
In 2013, Qatar Museums Authority head Sheikha al-Mayassa al-Thani, the daughter of the emir of Qatar, was listed atop ArtReview magazine's annual Power 100 list "on account of her organization's vast purchasing power and willingness to spend at a rate estimated to be US$1-billion a year – in order to get top works of art for its Doha museums," ArtReview said.
Le Pouce, a giant golden thumb by French artist Cesar Baldaccini, is front and centre in Doha's Souq Waqif market. French-American artist Louise Bourgeois' Maman, a giant spider that can also be found outside Ottawa's National Gallery of Canada, stands inside the Qatar National Convention Center (QNCC), which doubles as the World Cup's main press centre.
Another edition of Maman, one of seven, was sold for US$32-million by Christie's in 2019.
"The Miraculous Journey" by English artist Damien Hirst is hard to miss outside Sidra Medicine centre just down the street from the QNCC. The 14 monumental bronze sculptures chronicle the gestation of a fetus inside a uterus, from conception to birth – ending with a statue of a 14-metre-tall anatomically correct baby boy.
–-
Follow @NeilMDavidson on Twitter
This report by The Canadian Press was first published Dec. 5, 2022
Combine Art Fair Returns to Griffin Art Projects for Its Second Year
Combine Art Fair returns to North Van's Griffin Art Projects for the second year, December 8-11. Participating galleries include Vancouver-based Unit 17, Mónica Reyes Gallery, Wil Aballe Projects and – all the way from Montreal – first-timers, Galerie Hugues Charbonneau. Another new addition: a book fair where you can peruse exhibition catalogues, limited publications, and more.
The aim of this boutique fair is to offer fresh perspectives on contemporary art and collecting – whether you're a veteran art collector or are simply interested in art and considering buying your first piece. Combine is a chance to view work by emerging and established artists, and chat with the gallerists who represent them.
Expect to see work by Inuk artist, Shuvinai Ashoona (whose work was at this year's Venice Biennale), emerging artist, Manuel Mathieu (his new solo show opens in Miami next year), Métis artist and writer, Gabrielle L'Hirondelle Hill (recent exhibitions include at the Venice Biennale and The Museum of Modern Art in New York), and Governor General Award winner, Glenn Lewis; plus Chantal Gibson, Maggee Day, and many more.
Sure, you can visit these galleries anytime (although it's a bit more of a trek to visit Galerie Hugues Charbonneau), but the nice thing about the art fair format is that it allows you to visit all five galleries in one go, while also meeting the gallerists and asking questions in a convivial environment. In fact, they encourage it!
Participating galleries will be exhibiting a diverse range of work from their artists. However, we asked each Vancouver-based gallery to name just one work they'll be showing (around the $1000 price point), as well as one tip for first-time art fair goers. (What's "okay" to ask? What's not "okay"?) Read on to find out…
Wil Aballe, Director, WAAP
For his recommendation, Aballe shares that he will have a suite of 11 vintage prints of Marilyn Monroe, taken in 1953 by Glenn Lewis, for $800 each (an example of one is pictured above).
"So the story goes, Glenn, who is now 87 and a Governor-General Award winner, was in his last year in high school at the time, working as a dishwasher in the kitchen of the Banff Springs Hotel. He had just received his first ever camera, a brownie, gifted by his mother. Marilyn was filming, and the day before the photographs were taken, she stepped in a gopher hole and injured her ankle. These photos were taken the next day on her day off, but oddly the pictures feature a Mountie, Marilyn in a canoe, and Mt Rundle in the background. These fibre prints are the last that Glenn and I are aware of to be available; so while theoretically printed in an edition of 75, there are much fewer copies out there and these are the last few. In the mid-20th century, many vintage photographs by well known photographers are open editions and these have not affected the value they can have, as collectors mostly care about whether the print was signed/stamped and printed within the artist's lifetime."
Tip for the first time fair-goer:
"To not be intimidated, and to look with curiosity and use the opportunity of Combine to get the broadest sense of what art can be. I am open to any questions anyone sincerely wants to know about, so ask away!"
Mónica Reyes Gallery is thrilled to be bringing this artwork – a wall sculpture by Terrence Turner – to the fair, that is both fun and affordable.
Tip for the first time fair-goer:
"Ask where the artist is from, or how old are they, as these questions help us tell the viewer more in terms of the artist's CV — whether or not they are up-and-coming, where they have studied, and what shows they have been included in that may be helping their careers and notoriety. "What's the inspiration behind the work?" is also a very good question to ask."
"I can only think of one question [not to ask]: "Are you the artist?" This is a solid no-no. We are the art dealers that represent the artists; we are the ones who exhibit their works, take them on the road, connect them with our audience, and help them place their work in private, corporate and institutions at large. Our role is different."
Tobin Gibson, Director, Unit 17
While most works on view from major museum artists including Anne Low, Gabrielle L'Hirondelle Hill, and Tristan Unrau, range from $6,000-$30,000, there will be a gem of a bronze sculpture on view by Unrau from the artist's 2021 exhibition at Unit 17, False Idols.
Tip for the first time fair-goer:
"This fair is unlike any other, in that it's a boutique event. I would say to people who are not used to fairs to take a chance and ask the pressing questions that come to mind. All gallerists are extremely approachable and interested in conversation with a range of participants in the visual arts. Also, look at the didactic information. It can give a lot of information without needing to ask a question, persay. Another tip is to always inquire about a payment plan. Galleries more than ever are open to accepting sales that are paid out each month over a set period of time."
---
While visiting Combine at the Griffin Projects Residency space, be sure to pop in next door to Griffin's main exhibition space to see Allegories of the Present, by renowned visual artist, Stan Douglas, who represented Canada at this year's Venice Biennale, (closing Dec. 11, 2022). The exhibition brings together photographic works from the 1990s to the present, primarily concerned with architectural and social spaces, to produce what Douglas calls, 'allegories of the present.' Guided tours led by Griffin Art Projects' Indigenous Curatorial Assistant, Emmett Hanly, take place on Sunday afternoons. Sign up here.
---
Combine Art Fair dates and hours:
Thursday, Dec. 8 | 5-7pm, followed by a public opening reception from 7-9pm
Fri-Sun, Dec. 9-11 | 12-5pm
Admission is free.
---
Griffin Art Projects Residency
1180 Welch St.
Griffin Art Projects
1174 Welch Street, North Vancouver
Artists have until December 15 to apply for City of Peterborough's indoor-outdoor public art project
Peterborough-area artists have until next Thursday (December 15) to submit their proposals for two-dimensional public art installations at municipal facilities across the city.
"Indoor-Outdoor: The Public Art for Public Facilities Project," administered through the City of Peterborough Public Art Program, is a two-stage public art project that will integrate artwork created by local artists into city parks, recreation facilities, and City Hall. The indoor stage of the project will be completed in early 2023, with the outdoor stage completed later in the year.
For the indoor stage of the project, the city is seeking original new, recent, or past artworks that will be installed and displayed for a year to 18-month term at either City Hall, the Kinsmen Civic Centre, the Healthy Planet Arena, or the Sport and Wellness Centre. The artworks will rotate between sites at the end of the first and each subsequent term.
Advertisement – story continues below
The intention of the project is to enrich these public spaces and people's exposure to art by bringing art to places where people frequent. The indoor artworks will be mounted in the main foyers of each facility and will be among the first things visitors see upon entering.
Artworks envisioned for each space will help create an inviting atmosphere where visitors will feel comfortable playing, exercising, and gathering. Artworks should also speak in some way to the spirit of sport and consider the inherent relationship between beauty and skill.
All submissions must be completed online by 4 p.m. on Thursday, December 15th. Successful artists will be notified in early January, with art to be delivered and installed by early February.
Advertisement – story continues below
The call for submissions is open to professional artists and cultural practitioners living in the City of Peterborough, the County of Peterborough, and Hiawatha and Curve Lake First Nations. A selection committee will discuss each submission and select four artworks based on artistic merit, relevance, and feasibility.
The commission value for each artwork is $4,500.
For more information including submission guidelines and to apply, visit peterborough.ca/publicart.