Ottawa asks for more police, Canadians call protest "selfish": In The News for Feb. 8 – Coast Reporter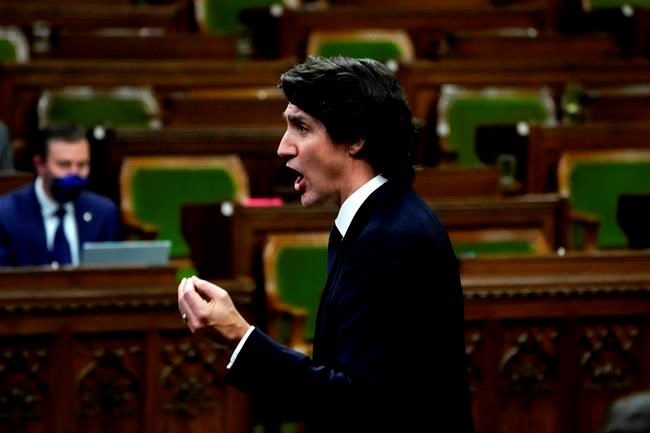 In The News is a roundup of stories from The Canadian Press designed to kickstart your day. Here is what's on the radar of our editors for the morning of Feb 8 …
What we are watching in Canada …
Prime Minister Justin Trudeau says the ongoing anti-vaccine mandate protest in Ottawa is "trying to blockade our economy, our democracy and our fellow citizens daily lives."
"It has to stop."
Trudeau appeared in the House of Commons last evening to take part in an emergency debate on the protest in Ottawa, which is now in its second week.
Public Safety Minister Marco Mendicino said in the House the government had approved a request by the RCMP for additional resources to police the protests.
Earlier Monday, Ottawa's city council voted to formally petition the federal government to assume responsibility for public safety in the parliamentary precinct to free up Ottawa officers to return to protect residential neighbourhoods.
In a letter to Trudeau and Ontario Premier Doug Ford, Ottawa Mayor Jim Watson said in order to "quell the insurrection," the city needs another 1,800 officers in addition to his current contingent of 2,100 police and civilian members.
It's estimated the demonstrations in the central core are costing the city $1.8 million to $2.2 million per day for police alone, and Watson said the city is keeping a tally of all extraordinary costs associated with the protest and will seek compensation from higher levels of government when the protest finally ends.
The letter to the federal and provincial government comes as an Ontario judge granted a 10-day injunction to prevent protesting truckers from honking their horns incessantly, which residents have argued is causing irreparable harm
Ontario Superior Court Justice Hugh McLean said his order was temporary because he needs to hear more evidence, but that he heard enough to make this ruling as the protest against COVID-19 pandemic measures continues to paralyze neighbourhoods around Parliament Hill.
—
Also this …
A new poll suggests almost two-thirds of Canadians oppose the Ottawa protest against COVID-19 measures, with more than four in 10 saying they strongly consider the demonstration a selfish display.
But almost 30 per cent of Canadians surveyed by Leger disagreed with that characterization of the demonstration against COVID-19 measures that has seen hundreds of large trucks create gridlock and incessant noise in the national capital.
Andrew Enns, executive vice-president of Leger, says the survey highlights the extent of divisions within Canada, suggesting the protesters might have tapped into broader concerns than just the grievances of a small minority.
The Leger survey of 1,546 adults was carried out between Feb. 4 to 6. No margin of error can be assigned because web-based polls are not considered random samples.
The survey found that 65 per cent thought the trucker convoy in Ottawa was a "small minority of Canadians who are thinking only about themselves and not the thousands of Canadians who are suffering through delayed surgeries and postponed treatments because of the growing pandemic."
Fifty-seven per cent thought the convoy was not about vaccine mandates but "an opportunity for right-wing supremacist groups to rally and voice their frustrations about society."
Just over half of Canadians polled said they found the convoy in Ottawa "scary" because it reminded them of the storming of the U.S. Capitol Building in Washington last year.
—
And this …
For the first time, there are official feminine equivalents for the French versions of all military ranks in the Canadian Armed Forces.
Major-General Lise Bourgon pushed for last week's change as acting chief of military personnel, saying the move away from exclusively masculine terminology is aimed at ensuring members have options and can be addressed in a way that reflects who they are.
Bourgon, who has served in the military for 34 years, says having to use a masculine term to represent herself meant she felt like she didn't fit in.
Up until this month, inclusive ranks in French had not been implemented in the Canadian military, and all members could only be officially addressed by the masculine rank.
The feminine equivalents take a feminine article and typically have a minor change at the end of the word, for example "colonelle" instead of "colonel" and "lieutenante" instead of "lieutenant."
All ranks have been feminized in French by consulting the L-G-B-T-Q community, visible minorities and Indigenous leaders, with the option of feminize one's rank will remain a personal decision.
The change comes as the Canadian Armed Forces look into becoming more diverse and inclusive.
The Royal Canadian Navy dropped the term "seaman" when referring to its junior ranks in 2020 and replaced it with "sailor" to reflect a more gender-neutral work environment.
What we are watching in the U.S. …
LOUISVILLE, Ky. _ Jury selection in the trial of a former Kentucky police officer involved in the deadly raid that killed Breonna Taylor is scheduled to resume after a week of delays.
The first questioning of prospective jurors in Brett Hankison's wanton endangerment trial is slated to get underway on Tuesday. It was set to begin last week but was delayed by inclement weather and after Hankison had to have minor surgery.
The former officer is not charged in the death of Taylor, who was shot to death in a botched 2020 narcotics raid. But prosecutors said Hankison fired shots during the raid that went into a neighbouring apartment, endangering others.
Two other officers who fired bullets that struck Taylor were not charged. Taylor's boyfriend fired a shot that struck one of those officers, Jonathan Mattingly, in the leg. The boyfriend, Kenneth Walker, said he feared an intruder was breaking into Taylor's ground floor apartment.
Taylor, a 26-year-old Black woman who worked as an emergency medical technician, was shot multiple times. No drugs were found in her apartment, and the warrant used to enter by force was later found to be flawed. The case also shined a light on the use of "no knock" warrants, which were later banned in Louisville.
The jury pool was widened to about 250 because of heavy publicity surrounding Taylor's death and racial injustice protests that took place in Louisville throughout 2020. Prospective jurors will be questioned separately, about 20 a day, to find out if any cannot be impartial on the question of Hankison's guilt. Jury selection is expected to take multiple weeks.
Hankison has pleaded not guilty to three counts of first-degree wanton endangerment, a low-level felony that carries a prison sentence of one to five years.
Jefferson Circuit Judge Ann Bailey Smith denied Hankison's request last year to move the trial out of Louisville. He had argued that publicity surrounding the case would make it hard to seat an impartial jury.
—
What we are watching in the rest of the world …
CANBERRA, Australia _ Australian political leaders apologized to staffers who have endured decades of bullying, harassment and sexual assault inside Parliamentary House and other government offices.
The presiding officers of the House of Representatives and Senate delivered the apology Tuesday on behalf of a cross-section of parties as part of a statement acknowledging a toxic workplace culture.
That culture was exposed by Australian Sex Discrimination Commissioner Kate Jenkins' investigation. The investigation was triggered by former government staffer Brittany Higgins, who went public a year ago with her allegation that she had been raped by a more senior colleague in a minister's Parliament House office weeks before the 2019 election.
Higgins said she felt she had to make a choice between reporting her allegations to police or continuing her career. She quit her government job in January last year and reported her allegation to police.
Prime Minister Scott Morrison thanked Higgins for the courage she had shown in making her allegations.
"I am sorry. We are sorry. I'm sorry to Ms. Higgins for the terrible things that took place here," Morrison told Parliament.
More than 1,700 people made contributions to Jenkins' report, including past and present staffers.
Her report found 37 per cent of people currently in parliamentary workplaces had experienced bullying and 33 per cent had experienced sexual harassment.
—
On this day in 1995 …
Romeo LeBlanc was sworn in as Canada's 25th governor general, the first Acadian to hold the post.
—
In entertainment …
NEW YORK_ Tuesday morning's Oscar nominations should bring Will Smith his third Academy Awards nod, a lot of love for Denis Villeneuve's science-fiction epic "Dune" and nominations spread across more streaming services than ever.
Nominations to the 94th Academy Awards will be announced Tuesday beginning at 8:18 a.m. EST. Actors Tracee Ellis Ross and Leslie Jordan will read the nominees live on multiple platforms, including Oscar.com, Oscars.org, the academy's social media accounts and on ABC's "Good Morning America."
Among the favourites Tuesday are "Dune," Kenneth Branagh's black-and-white coming-of-age drama "Belfast" and Jane Campion's gothic western "The Power of the Dog."
Campion, a nominee for 1993's "The Piano," is expected to become the first woman to ever be nominated twice for best director. Last year, Chloe Zhao just became the second woman to ever win the award.
Campion's director of photography, Ari Wegner, is also poised to be just the second woman ever nominated for best cinematography. The only previous woman to do so was Rachel Morrison for "Mudbound" in 2018.
The academy has yet to map out plans for this year's show, except that it will include a host for the first time since 2018.
—
ICYMI …
The first art historian to be appointed to the Senate says the work of Canada's Black artists is not sufficiently recognized or celebrated.
But now Senator Patricia Bovey, former director of the Winnipeg Art Gallery and a National Gallery of Canada board member for many years, has set out to change that.
She has brought about the first exhibition of works by Black artists in the Senate. Pieces by celebrated Black artists now hang in the foyer of the Senate, the second set of pictures in a series honouring their contribution to Canadian culture.
They comprise an acrylic work on paper by the late Trinidadian Canadian painter Denyse Thomasos, entitled "Wyoming Saddle," as well as "Light Laureate," a mixed-media piece by American-born Tim Whiten.
Bovey says the installation is designed to bring the very significant accomplishments of Canada's Black artists to the fore.
Bovey has also introduced a private member's bill to create a visual art laureate in Parliament.
—
This report by The Canadian Press was first published Feb. 8, 2022
The Canadian Press
Russia is 'weaponizing' food, Joly tells Commonwealth partners – CBC News
Commonwealth leaders, meeting for the first time in four years, discussed food security and the risk of starvation as Canada's foreign affairs minister sought to lay the blame for the impending crisis at the feet of Russia.
"What is clear to us is that Russia is weaponizing food, and putting a toll on many countries around the world, and putting 50 million lives at risk," Mélanie Joly told reporters late Friday, while giving a recap of the first day of the Commonwealth meeting in Kigali, Rwanda.
Ukraine is the world's fourth-largest grain exporter and reportedly has more 30 million tonnes of grain in storage, waiting for export. Farmers are said to be building temporary silos and are worried because the summer harvest is only weeks away.
The country's Black Sea ports of Odesa, Pivdennyi, and Mykolaiv and Chornomorsk serve as major terminals — shipping about 4.5 million tonnes of grain per month, but a Russian naval blockade is preventing movement.
A recent report from the Washington-based Center for Strategic and International Studies (CSIS) concluded that Russia is taking advantage of transportation bottlenecks to attack Ukraine's food storage facilities.
Russian forces have attacked grain silos across the country and stolen an estimated 400,000 to 500,000 tonnes of grain from occupied regions, according to Ukraine's Defence Ministry.
The CSIS report, posted online on June 15, noted "Russia destroyed one of Europe's largest food storage facilities in Brovary, roughly 19 kilometres northeast of Ukraine's capital of Kyiv."
The subject of the Russian blockade of Ukraine grain exports will also be at the centre of the G7 leaders meeting, beginning Sunday in Germany.
Russian President Vladimir Putin last week delivered a scathing critique of the crisis, blaming the U.S. and not the Russian military actions in Ukraine for endangering food security, and rising inflation and fuel prices.
He reinforced the message in a phone call last week with South African President Cyril Ramaphosa, who was one of the Commonwealth leaders to skip this week's meeting.
Africa is heavily reliant on Ukrainian and — to a lesser extent — Russian grain.
For those leaders who did show up in Rwanda, Joly said Canada has been clear in assigning blame for the crisis.
Sanctions not to blame, Joly says
"This is not the fault of the Western sanctions," she said. "This is really Putin's war of choice that is affecting food security around the world."
Ten members of the Commonwealth abstained from condemning Moscow's invasion of Ukraine in a United Nations resolution last spring.
Joly said she believes Canada made "headway" at the conference in convincing some of those nations to stand more firmly with Ukraine, but she wasn't specific.
In a policy session held before the meeting of Commonwealth leaders, there was a call for African countries to be more self-sufficient in food supplies to offset imports.
Agnes Kalibata, president of the Alliance for a Green Revolution in Africa (AGRA), told the conference said that the agriculture sector in developing countries of the Commonwealth is "heavily underinvested." She called for adequate funding to boost "the sector productivity, strengthen its resilience and deal with climate change, as well as create jobs, according to local media reports.
Immigration Minister: Applicants can soon expect normal service standards – Canada Immigration News
Canada's Immigration Minister Sean Fraser believes meaningful steps are being taken to get the immigration system back on track.
Fraser acknowledged ongoing application processing and client experience challenges when he sat down with CIC News for an exclusive interview in Toronto earlier this week.
Discover if You Are Eligible for Canadian Immigration
Minister expects things to return to normal by the end of 2022
"The COVID-19 pandemic hampered our immigration system in two main ways. It shut down a lot of our offices around the world…we lost a lot of our horsepower as a department."
The second way, he explained, was Immigration, Refugees and Citizenship Canada (IRCC) needed to pivot to transitioning those in Canada to permanent residence since travel restrictions limited the ability of those abroad to enter the country. This was happening as new applications continued to flow in, leading to an accumulation of inventory. Then in August 2021, Canada made the commitment to resettle 40,000 Afghan refugees following the Taliban reclaiming power of Afghanistan and since February 2022, Canada has been looking to assist those impacted by Russia's invasion of Ukraine.
"The good news is I see light at the end of the tunnel…we're on track right now to restore our pre-pandemic service standard by the end of this calendar year for virtually every line of business."
Minister Fraser added the caveat that the service standard for Canadian citizenship applications may continue to lag a bit due to the inventory growing significantly at the start of the pandemic when in-person citizenship ceremonies were not an option.
Fraser: Three solutions to improve client experience and address backlogs
The minister believes the three solutions to improve the immigration system are "resources, policy, and tech."
"On the resources side, we've added 500 more staff." He also pointed out the additional $85 million and another $385 million allocated in recent federal budget announcements that will go towards improving application processing.
Meanwhile, Fraser believes Canada will need even higher levels of immigration to meet growing demand to gain Canadian permanent residence.
"The number one policy is our Immigration Levels Plan. We're not going to chip away at the number of cases in the inventory if we don't expand the numbers."
In February, Fraser announced Canada would welcome over 430,000 immigrants annually beginning this year, by far the highest levels in Canadian history. He is set to announce the Immigration Levels Plan 2023-2025 by November 1st of this year, which may result in another increase in Canada's targets.
With respect to the third solution, technology, the minister said that "digital platform modernization is going to greatly increase the reliability and pace of our system."
"These measures are starting to have an impact…a couple of weeks ago we passed 200,000 permanent residents landed in Canada." The minister noted this has broken the previous record by 1.5 months.
"Work permits have almost 250% increased compared to last year."
IRCC's backlog has surged to 2.4 million persons during the pandemic and the department has struggled to achieve its own targets on the length of time it aims to process applications. Since the start of this year, it has made major announcements and changes as it seeks to reduce the backlog, processing times, and give its clients more certainty. In late January, minister Fraser held a press conference summarizing IRCC's processing goals including the steps it was taking to increase staff capacity and modernize its processes and technology.
One of the benefits has been the reduction in the Express Entry backlog. The minister told CIC News that all-program Express Entry draws are tentatively set to resume on July 6. In addition, IRCC aims to get back to its pre-pandemic service standard of processing Express Entry applications within six months beginning in July.
Another benefit is that IRCC has introduced and is in the process of introducing more case trackers to allow applicants to review the status of their files. The minister says 17 lines of business will have case trackers by the end of this summer allowing applicants to digitally monitor their status.
While challenges remain, the minister expressed great optimism to CIC News.
"My sense is by the end of this calendar year, new applications coming in will have the kind of certainty that we'll be able to meet our service standard and people will be dealing with 60 days or 6 months or 12 months, not an undetermined period of time."
Discover if You Are Eligible for Canadian Immigration
Special interview series with Minister Fraser
CIC News sat down with the minister on June 21, 2022 to discuss the future of Canadian immigration.
Over the coming weeks, CIC News is releasing a special series of articles elaborating on the interview with Minister Fraser on topics including:
Minister Fraser was in Toronto to speak at Collision, one of the world's largest technology conferences.
Discover if You Are Eligible for Canadian Immigration
© CIC News All Rights Reserved. Visit CanadaVisa.com to discover your Canadian immigration options.
Rwanda to Germany: Canada to elevate small Commonwealth nations' concerns at the G7
KIGALI, Rwanda — Foreign Affairs Minister Mélanie Joly says Canada will be bringing the concerns of smaller Commonwealth nations to the G7 leaders in Germany Sunday, particularly the growing threat of famine.
Prime Minister Justin Trudeau and Joly arrived in Kigali, the capital of Rwanda, on Wednesday for the Commonwealth Heads of Government meeting, which has been dominated by the concerns of nations that are suffering from food scarcity.
She said Canada is in "listening mode" at the Commonwealth, where leaders of smaller nations are able to speak without the dominating presence of the United States, Russia and China.
Canadian officials have been trying to reinforce that the cause of the shortage is Russia's illegal invasion of Ukraine.
"What is clear to us is that Russia is weaponizing food and putting a toll on many countries around the world, and putting 50 million lives at risk," Joly told reporters Friday evening in Rwanda.
She said Russia has been targeting Ukrainian ports and grain silos and systematically preventing grain from reaching countries that need it.
Trudeau had attempted to meet with the chair of the African Union Commission, Moussa Faki Mahamat, for several days during the Commonwealth summit but the sit-down was repeatedly postponed and eventually cancelled.
Shortly after Trudeau arrived in Rwanda the government announced Canada would dedicate a new ambassador to the African Union, which has suffered from the food shortages inflicted on the continent as a result of the war between Russia and Ukraine.
Both Ukraine President Volodymyr Zelenskyy and Russian President Vladimir Putin have met with representatives of the African Union, with Russia blaming Russian sanctions for stopping up the flow of grain.
Trudeau travels to the Bavarian Alps in Germany for the G7 Summit Saturday night, where the conflict with Ukraine will be top of mind.
Joly said she spoke to her G7 counterparts Friday, and expects famine and safe passage for Ukrainian refugees to be the top concern.
Some of the other voices the prime minister has promised to centre at his international meetings belong to youth leaders who spoke at a dialogue event Saturday, focused on issues facing young people around the world.
Some of the delegates spoke about the devastating effects of climate change, particularly around remote island nations where infrastructure cannot withstand natural disasters and rebuilding efforts take years. The onslaught takes a toll on education and health services, one delegate told the forum.
This report by The Canadian Press was first published June 25, 2022.
Laura Osman, The Canadian Press