Ottawa School of Art – Ottawa Business Journal
The Ottawa School of Art offers a full range of specialized art courses for adults, teens and children in drawing, painting, photography, sculpture and ceramics, printmaking, cartooning and more.
We host artist-in-residence workshops, operate an art boutique, curate exhibitions in our downtown and Orléans galleries, host solo and group shows by local and international artists, and run the Lee Matasi Gallery for student showcases as well as a few off-site gallery spaces (Fritzi Gallery at GCTC, Preston Square/Waterford Group and Minto Suite Hotel).
The OSA also offers a three-year fine arts diploma, a one-year portfolio certificate, a not-for-credit arts Fundamentals certificate and a community outreach program.
At a glance:
Year founded: 1879
Total revenue for last fiscal year: $1,851,051
Twitter: @artottawa
Facebook: /ArtOttawa
Instagram: @artottawa
Top funding sources:
Tuition fees: 54.6%
Grants & fundraising: 11.1%
Membership, art sales, retail: 6.7%
Geographic region of focus:
Ottawa, Gatineau and surrounding area; campus in Orléans
How your business can help
Become a Corporate Member
Sponsor a bursary or scholarship to fund an arts award for the Diploma program
Sponsor a community outreach program
Provide sponsorship for the annual charity golf tournament and/or send a team
Bring a group for a corporate team building artistic workshop
Events and fundraising
Holiday Fundraising Art Sale
(Nov 25- Dec 12, 2021): Works by local artists and members of the school are exhibited in our downtown gallery at 35 George St. and available for purchase. Proceeds are split between the artist and the school with funds raised going towards our bursary and outreach programs.
With 35% of the proceeds going towards OSA programming. Thank you to all that made the Holiday Art Sale a success in 2020.
Golf Fore Art!
(Sept 23, 2021): Our 4th Annual Charity Golf Tournament invites teams of four to tee off and compete in 18 holes. Providing our teams with a boxed lunch, dinner, awards ceremony and an opportunity to bid at our silent auction, we offer several sponsorship packages to help make this event happen each year.
Board members and executives
Jeff Stellick
Executive director
Shirley Yik
President, board of directors
Alexia Naidoo
Vice-President
Anne Eschapasse
Former Deputy Director of Exhibitions & Outreach, National Gallery of Canada
David Finnie
Commercial Account Manager, BrokerLink
Issam Elhaje
Treasurer
Manager – Contract Management & Foreign Trade Offices
Canadian Commercial Corporations
Joshua Vickery
Secretary
Lawyer, Kelly Santini LLP
Michael Ashley
Independent contractor
Tara Brossier
Manager of Human Resources, BGIS
Caroline Elie
Manager, Stakeholder Relations – Export
Christos Pantieras
Artist, Art Educator
Clayton Powell
Past President
Principal at Powell Strategy Group
Fundraising priorities
The outreach program is dedicated to removing all economic barriers (no enrolment fees, no art supply costs, art instructor provided and no transportation) as the classes are taught in the neighbourhood at a local community house or community centre. Participants are also given the opportunity to showcase their work in a group exhibition held each year in our downtown gallery.
For students who are unable to afford the full cost of a course, we have a bursary program that, along with funding set aside in the annual budget, is made possible by several named and anonymous donors. The value of each individual bursary given depends on the level of financial assistance indicated on the application form and the availability of funds.
These programs are supported through our fundraising initiatives and donations are also accepted online, by phone, in-person and by post.
In response to the global pandemic, we now offer several online course options, as well as delivering the certificate and diploma programs in an online-and-in-person hybrid format.
Art with heart: B.C. artists are saying thanks to frontline staff by offering them their works – CBC.ca
B.C. artists are using their skill and creativity to thank frontline workers by offering them original works through an online platform.
Artists can donate their work by making a submission on the Arthanks website, where each available piece is displayed in a photo. Frontline workers can then browse through the options and request a piece of art.
"We connect the two. We just say here's the art, here's the recipient, please get together socially distanced and hand it off," said David MacLean, a North Vancouver-based artist who came up with the idea.
"When you give a piece of art it's kind of original, it's a little bit different, it's a little more than just a one-off thank you," he added.
MacLean says the concept of Arthanks was formed as he found himself painting more during the pandemic.
"I was getting madder and madder about the grief that frontline workers are taking … and thinking, 'what have I done?' Well, nothing. I've done little or nothing to help," he told CBC's The Early Edition on Thursday.
MacLean began giving his art to friends and family who were frontline workers — including nurse Robyn Whyte, who he met at a Deep Cove cafe.
Whyte said the two had chatted about their professions and MacLean offered her one of his works after noticing a wolf design on her sweater.
"It just happened … he was donating a piece of art that was related to wolves and I couldn't say no, it's a beautiful piece of art," said Whyte.
MacLean had informally donated about 20 pieces of art when he reached out to Ginger Sedlarova, a friend in the local art scene, to help recruit volunteers and expand the initiative.
He said they have given away about 40 pieces of art since the initiative started last summer, and they are now looking for more artists to donate.
The works on display currently include paintings, vases and miscellaneous pottery.
He said all frontline workers are welcome to request a piece of art, including health-care workers, education workers and those in customer service-facing jobs such as grocery store clerks — "anyone who put themselves at risk to help us in this time of COVID," according to the Arthanks website.
In receiving her gift, Whyte said she was reminded that people are thankful for the contributions of frontline workers.
"It's great to be acknowledged. We've all been working very hard and it's just going on so long…" she said. "I know that there's people out there who are thankful and I really appreciate it."
Restoration of Michelangelo's Pieta statue in Florence reveals flaws in marble
The restoration of Michelangelo's famed Pieta dell'Opera del Duomo in Florence has revealed that the single block of marble from which the masterpiece was sculpted was flawed, offering a likely reason for why it was abandoned before it was completed.
The statue, better known as the Bandini Pieta, represents the Virgin Mary and Mary Magdalene holding the body of Christ as he is taken down from the cross by a man, Nicodemus, whose face is the self-portrait of the Italian Renaissance artist.
"It's a Pieta that has suffered and is very intimate… it is a really personal statue," Beatrice Agostini, director of the restoration project, told Reuters.
The works of restoration confirmed that the 2,700 kg piece of marble had veins and numerous minute cracks, particularly on the base, which may have been the reason for Michelangelo's decision to stop working on the sculpture before finishing it, a statement said.
The artist had initially planned to place the sculpture next to his tomb but only years after beginning to sculpt it, in the mid 1500s, a then 75-year old Michelangelo decided to abandon the masterpiece, giving it as a gift to a servant, who then sold it to a banker, Francesco Bandini.
Restorers did not find any sign of hammer blows, making it unlikely the widespread hypothesis that an unhappy Michelangelo tried to destroy the sculpture in a moment of frustration, the statement added.
The non-invasive restoration started in 2019 but was interrupted several times due to the COVID-19 epidemic. Deposits were removed from the sculpture's surface, which was then cleaned, bringing it back to its original hue.
The project was commissioned and directed by the Opera di Santa Maria del Fiore and was financed by U.S. non-profit organization Friends of Florence.
"The operation has restored to the world the beauty of one of Michelangelo's most intense and troubled masterpieces," a joint statement said.
Visitors have been able to witness all stages of the process as the statue was always on display, in an open laboratory, on a platform, behind a glass screen.
(Reporting by Matteo Berlenga in Florence, writing by Giulia Segreti in Rome, editing by Angus MacSwan)
Art Beat: Arts Council keeps its friends close – Coast Reporter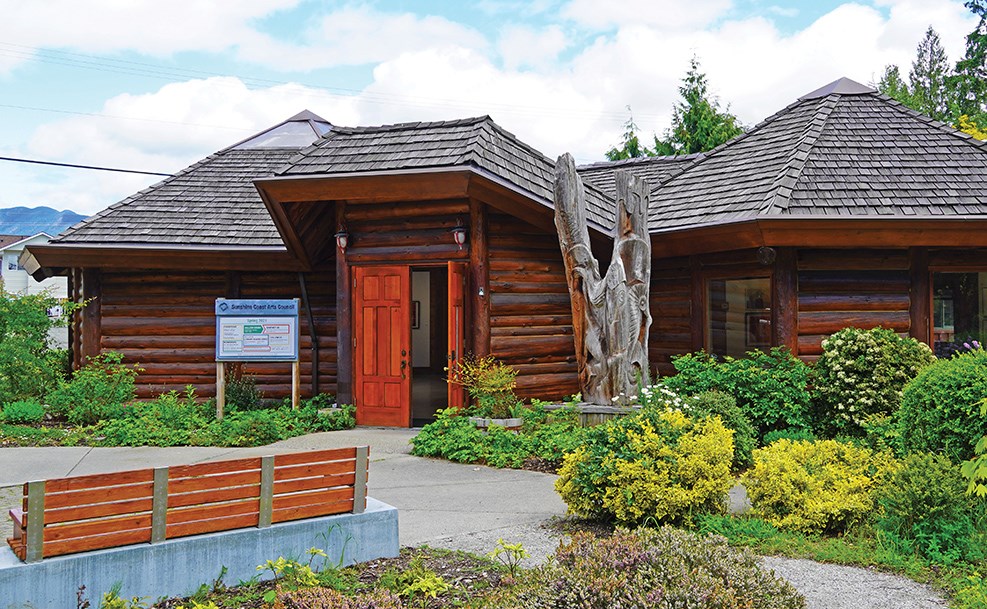 Until Feb. 6, the Sunshine Coast Arts Council is exhibiting works by its members in a variety of mediums.
The annual "Friends of the Gallery" show is hosted in the Doris Crowston Gallery of the Sunshine Coast Arts Centre, at 5714 Medusa Street, in Sechelt.
Now in its 20th year, the "Friends" event began as a way to encourage emerging artists. Today, individual artists from the community are invited to submit one piece of work they completed in the previous year to be shown in the group exhibition.
Artworks are also available for purchase.
Youth Urged to Float Beachcombers-Inspired Creations
The Sunshine Coast Writers and Editors Society describes itself as "a magnet for creative souls on the Coast." To mark this year's golden jubilee of The Beachcombers, the iconic CBC Television program, the society is seeking to attract young creative souls through an art and writing contest.
Various types of submissions are welcome, including short stories, creative nonfiction, poetry, scripts, cover artwork and colouring for the planned anthology and exhibit.
Written entries must contain at least one reference to The Beachcombers, the Coast or the beach. Allusions to jet boat manoeuvres and amicable ribbing at the lunch counter of Molly's Reach are likely assets as well.
Details are online on the Society's website at scwes.ca. Submissions must be received by midnight on June 1.
Family Literacy Week: Tales on Trails
The Province of British Columbia has proclaimed Jan. 24 to 31 as Family Literacy Week, marking the fifth successive year that Family Literacy Day (Jan. 27) has overflowed with a sevenfold increase in bookish intensity.
"Children's literacy skills expand and grow much faster when families read, play and learn together," said Jennifer Whiteside, B.C.'s Minister of Education. "Family Literacy Week is a great opportunity to focus on dynamic ways to support our youngest learners so they can develop the skills they need to succeed in their school years and beyond."
Decoda Literacy Solutions, a province-wide literacy organization, is hosting a photo contest. Participants may take a photo using a "Let's Be Active" theme and submit it by email to contest@decoda.ca or post it on social media using these hashtags: #LetsBeActive and #FLW2022. There will be a class prize and a prize for individuals.
To mark the occasion, the Gibsons and District Public Library has encouraged families to host "reading walks" in which families and individuals stroll through local parks, reading along to stories.
The Coast Reporter encourages all such literary ramblers to glance up from time to time, in order to avoid mid-chapter collisions incurred while covering one's tracks.