Our Community: New art installation unveiled, collecting socks for those in need
Art installation unveiled in Commercial Alley
The newest addition to the ever-changing outdoor art "gallery" in Victoria's Commercial Alley is now on ­display.
Feeling Fuzzy Inside by Eliska Liska, which ­consists of four panels, was selected after a call for entries from emerging artists and artist teams.
Nichola Reddington, the city's senior cultural ­planner, called Liska's piece "a cheerful ­meditation on things that bring joy to young people in our ­community."
"We invite residents and visitors alike to pop by Commercial Alley when downtown to spend a few minutes connecting with this art, that is free for all to enjoy."
Artwork has been displayed for the past 10 years in the alley on the west wall of the Youth Empowerment Society building on Yates Street. The outdoor gallery, located between the 500 block of Yates and Bastion Square, showcases a new temporary art installation every year.
Liska is originally from the Czech Republic and spent five years travelling in Europe and Mexico, ­painting murals as she went. She has a master's degree in contemporary art and new media from Ostrava ­University in the Czech Republic, and works in such mediums as painting, pottery, printing and drawing.
Liska, who runs Full Sink Pottery and is an art designer and teacher at the McTavish Academy of Art, says she has a special fondness for public art.
"Creating in public spaces, where art talks to the wider public and also influences the visual side of the city, has always been the most appealing art to me," she said. "Each of the panels show different activities that have ability to consume us and help us learn who we are and where we stand, as well as simply to make us feel good."
Former Montessori teacher gets PM's award for excellence
Former Selkirk Montessori School teacher Amabel De Lara has been given a Prime Minister's Award for excellence in early childhood education.
De Lara, who was at the school for over 40 years before retiring in June, received a certificate of achievement for what was described as "a career of enriching children's lives."
One of her former colleagues said they were inspired to become a Montessori teacher after being in De Lara's kindergarten class many years ago.
"The amount of effort she put into training, modelling and caring for me is the greatest gift I could have received, and I hope I can be an 'Amabel' to someone else one day," the colleague said.
Collecting socks for those in need
The recent drop in temperatures means it's time for the Victoria Cool Aid Society's annual effort to collect 10,000 pairs of socks for people in need.
The campaign, now in its 16th year, brings together Cool Aid, Kia Victoria, La-Z-Boy Furniture Galleries and PVH Legwear Canada, the company that makes McGregor socks. Michael Bloomfield and Congregation Emanu-El launched the initiative in 2006.
The goal is to raise $10,000 for 10,000 pairs of warm socks for those who are homeless or in poverty. Socks will be given to 25 organizations in Victoria, Nanaimo and Salt Spring Island to distribute.
Foot-care nurse Miranda Berniaz, who owns Victoria Foot Care and provides services at the Cool Aid Community Health Centre once a week, says warm, dry feet might not be glamorous, but they're an important part of health care.
"And for people on the streets who spend so much time moving from one place to another with all their belongings, the challenges are even greater, said Berniaz, adding foot problems can be an indicator of other issues, like poor circulation or nerve damage.
"Clean, dry footwear makes all the difference."
Since it began, the campaign has distributed 122,500 pairs of socks worth $572,500. Cool Aid buys the socks at a deep discount from PVH Legwear Canada, with La-Z-Boy Furniture Galleries providing shipping.
Kia Victoria got involved last year, matching every $5 donated up to $5,000. The company will do the same this year, and also store and deliver socks.
The campaign runs until Nov. 30. Funds can be donated online at coolaid.org/socks or by calling Kia Victoria at 250-383-1977.
Grocers Going Beyond drive supports cancer research
Grocers are working with the B.C. Cancer Foundation for a second year to help with cancer research and care on Vancouver Island.
Through Nov. 11, the Grocers Going Beyond Campaign will be raising funds for the Innovation Research Fund, which is part of the foundation's ongoing Beyond Belief Campaign.
Thrifty Foods, Tru Value Foods, Red Barn Market, Fairway Market and the 49th Parallel Grocery are all taking part.
Go to bccancerfoundation.com/grocers or visit a participating store to find out how to support the campaign.
Thrifty Foods will match donations up to $50,000 during the Grocers Going Beyond Campaign.
More than 6,000 people on the Island will be diagnosed with cancer in 2022.
Young artists vie to be Victoria mayor for a day
The City of Victoria is offering kids 12 and under a chance to be mayor for a day.
Three of the artists from the Victoria Votes 2022 Kids Colouring Contest will be selected at random to serve as mayor for the day, and artwork from the contest will be displayed around city hall in December.
The deadline to enter the colouring contest is Nov. 25.
Early in the new year, the winners will get the chance to learn how local government works and sit down for a pizza lunch with Mayor Marianne Alto, where they can talk about missing middle housing, among other things.
Colouring sheets, which were made available at voting places on election day, can also be picked up at city hall or the Crystal Pool and Fitness Centre. The colouring sheet is also available online at victoria.ca/election.
Finished artwork can be submitted at the Public Service Centre at city hall or the front desk at Crystal Pool, or it can be mailed to Victoria Votes 2022 Kids Colouring Contest, City of Victoria, 1 Centennial Square, Victoria, B.C. V8W 1P6.
Queen Elizabeth's Fashion Reign wears well in Saanichton
The Saanich Pioneer Society, which operates the Log Cabin Museum in Saanichton, is holding the first in a series of Talk & Tea events Nov. 6, called Queen Elizabeth's Fashion Reign.
Donna Otto will speak at 2 p.m. on outfits worn by the Queen over the years, and will give background on royal sites in Britain where she saw them displayed.
The museum is also open Saturdays from 1-4 p.m. with demonstrations from spinners and knitters. It is located at 7910 Polo Park Cres., in the park behind Thrifty Foods.
Admission is $5 for members and $7 for non-members.
Diplo 'Wins' Art Basel Miami by Topping ATM's Leaderboard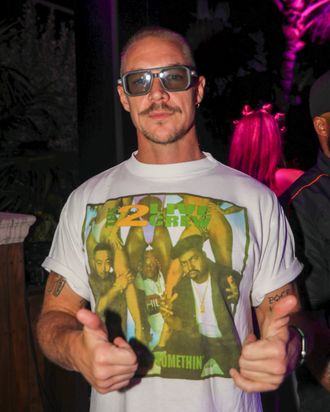 Photo: Thaddaeus McAdams/Getty Images for Ocean Drive
Diplo has about $3 mil in the bank, FYI. The celebrity DJ who once streamed Sophie Turner's wedding to Joe Jonas (remember that?) claimed to have "won" Miami Art Basel this year. One of the most talked-about pieces at the annual art fair is an ATM that posts your picture and bank balance if you use it. The ATM has a leaderboard, which Diplo topped on December 2. At the time he posted his "high score" on social media, Diplo had $3,004,913.06 in his account. So we know his cash assets, but do we know if he's in on the joke? This piece is from Brooklyn art collective MSCHF, who are known for their trolly stunt art. "ATM Leaderboard is an extremely literal distillation of wealth-flaunting impulses," MSCHF co-founder Daniel Greenberg said on NPR. "From its conception, we had mentally earmarked this work for a location like Miami Basel, a place where there is a dense concentration of people renting Lamborghinis and wearing Rolexes." The piece is goofing on ostentatious displays of wealth, Diplo. Having the most ostentatious display isn't the flex you think it is. The ATM was a collab between MSCHF and the gallery Perrotin. They had the banana duct taped to the wall, to give some more context on where everyone involved stands on the art vs. prank spectrum.
Free Press celebrates launch of art exhibit – Winnipeg Free Press
The Winnipeg Art Gallery has opened its doors to an exhibition focusing on the Winnipeg Free Press and its 150th anniversary.
Headlines: The Art of the News Cycle, which includes works from seven artists from across North America as well as archival material from the Free Press and the gallery's permanent collection, looks at the many changes that have taken place in how the Free Press and other news organizations let their readers know what's going on in the world around them.
The exhibit runs through to May 21, 2023 at the Winnipeg Art Gallery.
— with files from Alan Small
Inuk art scholar makes leap to National Gallery of Canada – Nunatsiaq News
The National Gallery of Canada is home to a rich contemporary Indigenous international art collection, as well as important collections of historical and contemporary Canadian and European Art from the 14th to 21st centuries. (Photo by Christine Mastroianni)
Jocelyn Piirainen, from Cambridge Bay, will help the gallery curate its Indigenous and Inuit art collection
Jocelyn Piirainen is bringing an Inuk voice to the way the National Gallery of Canada acquires and exhibits Inuit and Indigenous artwork.
The arts scholar and former Cambridge Bay resident was appointed in early November to the role of associate curator for the gallery.
Piirainen brings experience from her previous role as associate curator of Inuit art at the Winnipeg Art Gallery's Qaumajuq museum, which she has held since March 2019. Qaumajuq is a collection of almost 14,000 contemporary Inuit art pieces, making up the largest collection of its kind in the world.
Curators organize and set up exhibits, said Piirainen in an interview from her home in Winnipeg.
"The curator is really there to allow artists to tell their stories," she said.
"If there's a specific carving that has a story or legend associated with it, you know, you want to tell the public about it."
Piirainen joins the national gallery's recently formed Indigenous Ways and Decolonization department. It has a mandate to amplify the voices of Indigenous artists, curators and scholars.
In an email, Michelle LaVallee, director of the department of Indigenous Ways and Decolonization, recognized Piirainen's skill as a collaborator in her work with arts and culture professionals and Indigenous communities to highlight Inuit artistic and cultural practices.
"I am excited about her lived and professional experience as an Inuk curator which she brings to the national gallery," she said.
Piirainen is joining the gallery as some controversial changes are taking place there. The Globe and Mail and other national media reported last month the departure of four curators from the gallery's Indigenous Ways and Decolonization department. A former senior curator, Greg A. Hill, tweeted he was fired because he disagreed with the "colonial and anti-Indigenous ways" the department was being run, the Globe reported.
Piirainen said the Canadian art world needs more Inuit curators and art professionals. She credits a government-funding initiative, called Inuit Futures, for leading the way in that respect.
Inuit Futures in Arts Leadership: The Pilimmaksarniq/Pijariuqsarniq Project supports Inuit and Inuvialuit by giving them access to the training, mentorship and professional opportunities necessary to find success in the arts industry.
Piirainen was invited to be a mentor in the Inuit Futures program in 2019, where she was paired with mixed-media artist Aghalingiak (Zoe Ohokannoak). Aghalingiak, who identifies as they/them, is in their fifth year of study of fine arts at the Nova Scotia College of Art and Design.
Aghalingiak said in an interview that being a participant in the Inuit Futures program as a research intern and mentee has been both challenging and a confidence boost, accelerating their development as an artist.
In April 2022, they curated their first exhibition at the Winnipeg Art Gallery's Qaumajuq Museum under the mentorship of Piirainen. The exhibition is called Kakiniit Hivonighijotaa: Inuit Embodied Practices & Meanings.
"I didn't think that I would ever be curating exhibitions at this point," Aghalingiak said, reflecting on their recent solo exhibition and their experience with Inuit Futures.
As Piirainen prepares to move to Ottawa in January, she acknowledges that although this appointment provides an opportunity to be part of the national gallery's efforts to ensure Inuit art and culture are appropriately represented, her hiring is not a solution in and of itself.
"There is also a lot of pressure that comes to that, to be kind of representing all Inuit, but I am aware that I can't do that either," she said.