Outlook for non-residential investment brightest since 2018 – constructconnect.com – Daily Commercial News
The negative impact of COVID-19 on non-residential investment in 2020 was highlighted in the Gross Domestic Product, Income and Expenditure Accounts released at the beginning of March 2021. After a slight gain of +1.1% in 2019, lockdowns implemented to limit the spread of the virus caused non-residential fixed investment to contract by -13% in 2020. All three of the sector's major components retreated during the year, led by a -16% decline in spending on machinery and equipment that was closely followed by a -14% drop in engineering structures. Non-residential construction also retreated, -5%, although strong gains in the construction of transportation and warehousing facilities partly offset declines in other industrial categories.
Following the above-noted coronavirus-induced pause, there is clear evidence that both private and public organizations are planning to put more shovels in the ground in 2021 than in 2020. This more upbeat outlook is supported by four recently released forward-looking indicators.
First, the Bank of Canada's Winter Business Outlook Survey reported that the net percentage of firms planning to boost their investment in machinery and equipment over the next 12 months jumped from 2% to 26%, its second-highest level since the fourth quarter of 2018. The Bank also noted that firms' spending plans improved across all regions.
The positive investment outlook indicated by the Business Outlook Survey was reinforced by the Conference Board in Canada's latest (Q1/2021) Index of Business Confidence. It reported that 58% of respondents planned to increase their investment spending over the next six months. The share of firms planning to scale back their spending declined from 17% to 13%, well below the high of 55% reached by the series in the second quarter of last year. These stronger investment plans are consistent with the survey's findings that the net percentage of firms expecting stronger growth ahead rose from -7% in Q4/20 to +10% in Q1/21. Also, the share of respondents expecting their financial positions to improve in the next six months increased from 32% to 46%.
Despite the depressing effect of COVID-driven lockdowns on aggregate demand and employment, its impact on corporate profits has been relatively muted. Following a decline of -1.7% in 2019, total after-tax profits retreated by -3.3% in 2020. After-tax profits of non-financial firms decreased by just -1.3% last year, following a -7.4% decline in 2019.
Going forward, the effects of stronger after-tax profits, up by +25.8% in the final quarter of 2020, a rebound of investor confidence, reflected by the 30% rise in the S&PTSX stock price index since March 2020, and interest rates at record lows, support the view that non-residential construction will pick-up steam this year and next.
Given these positive fundaments, it's no surprise that the most comprehensive indicator of capital spending intentions, Statistics Canada's Non-residential Capital and Repair (CAPEX) Survey, released on February 26, clearly signals that non-residential investment will pick up speed in 2021.
On the heels of a -9.2% drop in 2020, respondents to the survey reported that they plan to ramp up their spending on non-residential construction and machinery and equipment by +7% this year. In 2021, the survey indicates that gains in both public (+9.3%) and private (+5.6%) sector spending will contribute to this growth. Most (70%) of the gain in total non-res CAPEX will be due to a +7.5% rebound in construction spending. Planned spending on machinery and equipment is projected to be +6.2%.
Across the country, capital spending plans have risen in seven of the ten provinces. Spending should increase in Quebec by +10.9%, followed by Ontario, +9.1; Alberta, +5.1%; and British Columbia, +5.7%. Smaller increases are indicated for Saskatchewan, +3.4%, and Manitoba, +0.6%. After posting growth of +9.4% in 2020, non-res CAPEX in Prince Edward Island is projected to decline by -11.5% this year due to weakness in both public and private capital expenditures. Spending is also projected to step back in Newfoundland and Labrador, -6.1%, and in Nova Scotia, -1.8%.
From an industry perspective, 14 of the 20 industrial sectors are reporting plans to invest more this year than last. Topping the list is the transportation and warehousing sector. It is projected to spend a record $47.9 billion this year, up from $44 billion in 2020. Spending on transportation projects alone is projected to increase by +10.4% to $12.3 billion and includes $6.3 billion to complete the Reseau Express in Montreal, $4.7 billion for the second phase of Ottawa's light rail transit project, and ongoing work on Toronto's Metrolinx Eglinton Crosstown light rail project.
Also, within the transportation sector, pipelines and transportation support activities, mostly located in British Columbia and Alberta, are projected to increase by $1.2 billion to $23.7 billion. Consistent with Economic Snapshot, Vol. 19, Issue 4 titled, Vaccines and Higher Oil Prices Will Energize Alberta This Year and Next, the CAPEX survey report says, "capital spending in mining, quarrying, and oil and gas extraction is anticipated to increase to $32.9 billion (+5.2%) in 2021".
To date, the distribution of COVID vaccines in Canada has lagged most developed countries. Consequently, the outlook for the economy in general and non-residential capital spending will hinge on a more rapid distribution of vaccines, leading to a steady decline in the incidence of COVID in the near term.
John Clinkard has over 35 years' experience as an economist in international, national and regional research and analysis with leading financial institutions and media outlets in Canada.
2021 private and public sector non-residential capital spending intentions, Canada and the provinces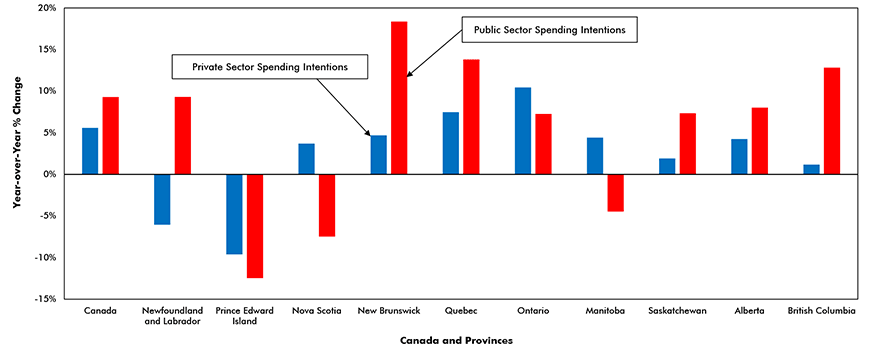 Data Source: Statistics Canada.
Chart: ConstructConnect — CanaData.
Nicholas Kyriacopoulos: How to invest properly in 2021 and beyond – mtltimes.ca
Entrepreneurs like Nicholas Kyriacopoulos know the importance of how to invest during uncertain times, and it would be fair to say that the last year or so has had a few surprises for everyone following investment markets. While this change and volatility can be very profitable for those who make the right decisions, it also makes those right decisions harder to discern.
The fundamentals of good investment have not changed, however, and will continue to help investors in the future:
Keep it simple
Keeping it simple is a good rule for many areas in life, and investment is definitely one of them.
How much time do you really want to spend managing your investment portfolio, and what kind of returns would make that commitment worth it to you?
If your investment portfolio takes careful attention and management to work, you need to be prepared to give it the time it needs. Keeping a simpler portfolio that doesn't need as much attention paid to it can be a better option for people who have limited time to spend on their investment decisions.
That doesn't mean you should necessarily take a 'set it and forget it' approach to investment, but absolutely consider the additional time commitment and stress of each potential investment and whether it is worth your time.
Diversify
Diversification improves reliability and reduces the risk of just about every investment portfolio. Your investments should always be varied enough that even when a few of your investments are in a slump, you will still have enough winners to make a minimum return.
Many entrepreneurs like Nicholas Kyriacopoulos from Toronto recommend holding a variety of asset types as well as stocks. For example, consider bonds and real estate as part of your overall portfolio; make sure you have stocks associated with several different industries.
Rebalance
According to Nicholas Kyriacopoulos, be open to the concept of rebalancing. As market conditions changes, look to shift your portfolio away from investments that with less promising prospects and up your investments in markets that look ready to rise.
Nicholas Kyriacopoulos gives a simple example of rebalancing from the latter half of 2020. While oil prices were not looking great for most of the year, there were signs of incoming change. As a result, some investors sold oil assets over the summer and later purchase oil stocks. They then saw great returns when the stocks surged in November.
Asset allocation
As an experienced investor in Toronto, Nicholas Kyriacopoulos advises careful consideration of your current situation and future financial goals. For the most part, this is about the amount of risk you can take on and your ability to recover if an investment doesn't go your way.
If you still have decades left to work and rebuild, you can afford to take more risks than if you are approaching retirement and are looking for holdings you can rely on for a long time.
Consider your long-term goals
Nicholas Kyriacopoulos observes that besides your current situation, you also need to think about long-term goals. Where do you want to be in five, ten, or twenty years, and what can you do along the way to ensure your investment takes you in the right direction? Setting goals and having plans is just as important in 2021 as it has always been.
Don't ignore your instincts
As Nicholas Kyriacopoulos, investing does involve risk and it sometimes means going with what you feel deep in your gut. While your decisions should always be backed by data and analysis of the market, following your instincts make it easier to have confidence in your decisions.
Your instincts can come about as a result of noticing minor details others are not noticing. If the feeling is strong enough, take the risk.
Other articles from mtltimes.ca – totimes.ca – otttimes.ca
Investor Education Month Encouraging Investment Opportunities – 91.9 The Bend
October is Investor Education Month, and the Financial and Consumer Services Commission (FCNB) is using the time to encourage New Brunswickers to think about investment opportunities.
Investor Education Month is a national initiative aimed to provide Canadians with more investor information.
"(As well), to understand their investment decisions, implications of them, and their responsibilities in the decision-making process, and particularly now with new online ways to investing," said Marissa Sollows, director of education and communications for FCNB.
Sollows mentioned, FCNB has noticed over the years New Brunswickers are becoming more comfortable with investing.
"And as it becomes more accessible to people, we are seeing more New Brunswickers starting to put money away for their future, so that's positive."
The majority of New Brunswickers are investing in mutual funds, which is the most common product that investors hold.
Meantime, FCNB has also discovered investing is gaining popularity in young people.
"It could be due to increased media, or an increased use of social media coverage that they're being exposed to investing topics, and wanting to get in and try a little bit earlier … and there are new trends that are becoming more popular with younger investors like DIY investing and using different online tools and apps," said Sollows.
Sollows encourages new investors to meet with a registered investment professional and added the future looks quite exciting but will also present some challenges.
Throughout the month, FCNB will provide investor guides, videos, and social media posts on how to be an informed investor.
At any time of year, New Brunswickers can turn to the commission's website for unbiased investor and consumer tools and information.
Bitcoin tops $60,000, nears record high, on growing U.S. ETF hopes
Bitcoin hit $60,000 for the first time in six months on Friday, nearing its all-time high, as hopes grew that U.S. regulators would allow a futures-based exchange-traded fund (ETF), a move likely to open the path to wider investment in digital assets.
Cryptocurrency investors have been waiting for approval of the first U.S.  ETF for Bitcoin , with bets on such a move fuelling its recent rally.
The world's biggest cryptocurrency rose 4.5% to its highest level since Apr. 17, and was last at $59,290. It has risen by more than half since Sept. 20 and closing in on its record high of $64,895 hit in April.
The U.S. Securities and Exchange Commission (SEC) is set to allow the first U.S. bitcoin futures ETF to begin trading next week, Bloomberg News reported on Thursday.
Such a move would open a new path for investors to gain exposure to the emerging asset, traders and analysts said.
"ETFs open up a raft of avenues for people to gain exposure, and there will be a swift move to these structures," said Charles Hayter, CEO of data firm CryptoCompare, which tracks ETF products.
"It reduces the frictions for investors to gain exposure and gives traditional funds room to use the asset for diversification purposes."
Bitcoin's moves on Friday were spurred by a tweet from the SEC's investor education office urging investors to weigh risks and benefits of investing in funds that holds bitcoin futures contracts, said Ben Caselin of Asia-based crypto exchange AAX.
Graphic: Bitcoin on the rise https://fingfx.thomsonreuters.com/gfx/mkt/movanjqkapa/bitcoin.PNG
Several fund managers, including the VanEck Bitcoin Trust, ProShares, Invesco, Valkyrie and Galaxy Digital Funds have applied to launch bitcoin ETFs in the United States.
Crypto ETFs have launched this year in Canada and Europe, growing in popularity amid surging interest in digital assets.
SEC Chair Gary Gensler has previously said the crypto market involves many tokens which may be unregistered securities and leaves prices open to manipulation and millions of investors vulnerable to risks.
Citing people familiar with the matter, the Bloomberg report said proposals by ProShares and Invesco, based on futures contracts, were filed under mutual fund rules that Gensler has said provide "significant investor protections".
The SEC did not immediately respond to a request for comment on the report.
"It's one of the final frontiers for mandate access," said Joseph Edwards, head of research at crypto broker Enigma Securities.
"Plenty of Americans in particular have strings attached to how they deploy a lot of their wealth. It allows bitcoin to get in on the sorts of windfall that keep U.S. equities as consistently strong as they are."
(Reporting by Tom Wilson in London and Alun John in Hong Kong, and Mrinmay Dey and Shubham Kalia in Bengaluru; editing by Alexander Smith and Jason Neely)