OverActive Media releases plans for proposed entertainment venue at Exhibition Place – Vancouver Is Awesome
TORONTO — OverActive Media has released details of its plan for a new entertainment venue at Exhibition Place.
The esports company, home to the Toronto Defiant and Ultra teams, says the project is worth close to $500 million and includes a 7,000-seat theatre-style venue and hotel complex.
"We are building a world-leading, 21st-century sports media and entertainment company and this best-in-class performance venue will be the chosen home for a new generation of fans that think differently about their entertainment choices and experiences," OverActive president and CEO Chris Overholt said in a statement Monday.
The plan has yet to receive final approval from the Exhibition Place board of governors and Toronto City Council, however.
"We are in the final stages of putting our business terms together with city officials and we are optimistic that we can soon wrap up our discussions to everyone's satisfaction," an OverActive spokesman said.
If approved, the new venue will be on a 1.6-hectare site next to the Hotel X Toronto at Exhibition Place. OverActive said it will host 200-plus events annually from concerts and esports to conventions and corporate functions.
OverActive owns franchises in the Overwatch League (Toronto Defiant), Call of Duty League (Toronto Ultra), European League of Legends (MAD Lions, playing out of Spain) and Counter Strike: Global Offensive (also MAD Lions).
In December, Overholt said his company had raised $80 million in private investment over the last two years.
OverActive's owners include Toronto Maple Leafs forward Mitch Marner and music star The Weeknd. The ownership group includes more than 80 individuals, including Pittsburgh Penguins part-owner Mike Kimel, as well as tech entrepreneur Sheldon Pollack.
When the Library Collection of Hotels received permission to build the Hotel X at Exhibition Place, it also got the green light for a second tower.
OverActive subsequently acquired those rights and started working with the city and Exhibition Place board on a plan to build the second tower with Henry Kallan, owner of the Library Hotel Collection.
Exhibition Place is a 192-acre site on Toronto's waterfront that hosts the annual Canadian National Exhibition as well as BMO Field, the home of Major League Soccer's Toronto FC and the CFL's Toronto Argonauts.
—
Follow @NeilMDavidson on Twitter
This report by The Canadian Press was first published Feb. 22, 2021
Neil Davidson, The Canadian Press
Luxurious residences are setting a new standard of living in Langley – The Record (New Westminster)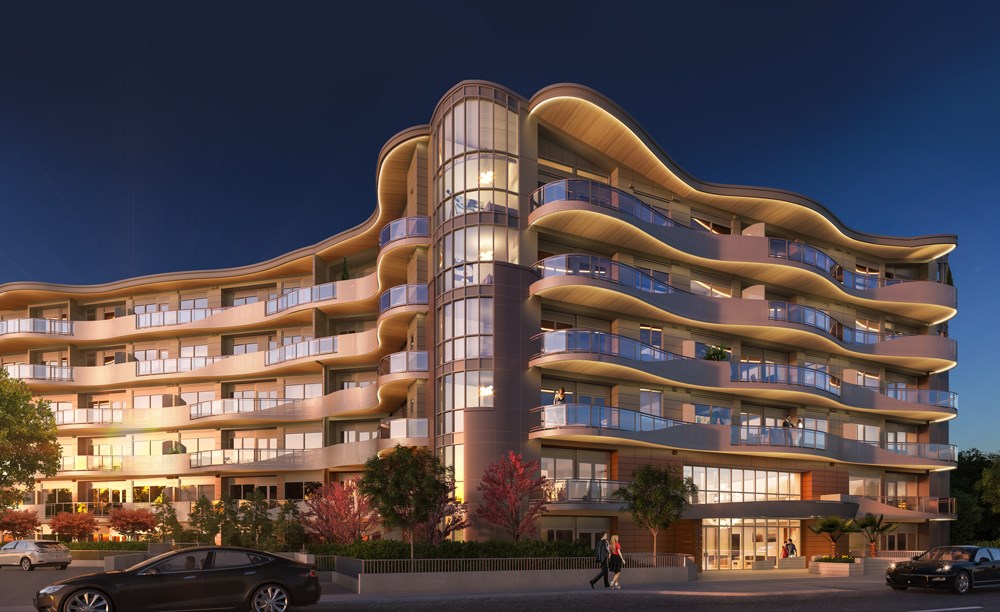 Once in a while, a new building is raised that forever changes the landscape of a city—setting a new bar for quality, luxury and striking architecture.
Welcome to JMC Properties' Legacy on Park Avenue, a six-storey boutique CLT building in Langley unlike anything the city has ever experienced before. Designed with multiple award-winning Keystone Architecture, the structure is arguably going to become an iconic landmark.
Retirees Pam and Brian Doyle hadn't expected to downsize for another three years—that is until they saw Legacy on Park Avenue.
"We were driving in downtown Langley and saw the building," says Brian. "First off, we were incredibly impressed with the unique design of it. Then, when we saw the high-end quality finishes and the construction elements they put into it, such as extra sound proofing, expansive unique shaped decks and drains in the bathroom floors, that sealed the deal for us."
The long-time Langley residents sold their 4,000 square foot rancher and purchased a three-bedroom and den home on the sixth floor with sweeping views of Mount Baker.
"When you find something of such high caliber like Legacy in a prime location, we knew we couldn't pass this up," says Pam. "We both believe Legacy on Park Avenue will forever transform the flavour of the downtown core and we couldn't be more excited to be part of it."
Legacy on Park Avenue is a sophisticated collection of 69 contemporary two- and three-bedroom plus den condominiums, ranging from 1,179 to 1,681 square feet of timeless beauty.
"This is totally different than anything in the Lower Mainland," says Ben Gauer, marketing and sales manager, Legacy on Park Avenue. "This is a passion project for the builder Erich Jaeger, a man with nearly 50 years of construction excellence. He wants this to be a lasting legacy for the city."
What you don't see is what counts. So says Jaeger, who is rooted in the European standards of construction he was raised on in Germany.
"Purchasers are not aware that this is a once in a lifetime building," says Jaeger. "The idea was to build something different. No cost has been spared; everything is way above and beyond what is required by the building code. In 100 or 200 years from now, I want people to say this is a stunning building. Legacy on Park Avenue will still be standing, solid and look like it was built yesterday."
And indeed, Legacy on Park Avenue is set to do just that. With its eye-catching curved architecture and soaring balconies, it will be the first residential CLT (Cross Laminated Timber) cutting edge sustainable building in the Fraser Valley and the first of its kind in Canada to utilize CLT in the firewall.
It doesn't stop there. This eco-friendly building features a private heating and cooling system in each residence, floor-to-ceiling energy efficient insulated UV rated German engineered sound-rated windows, which results in significantly reduced heating/cooling costs, and more.
As soon as you enter through a double height glass lobby showcased by a dramatic fireplace, a designer green wall art installation with preserved green plants and concierge services, you instantly know you are in for timeless elegance and refinement throughout.
Legacy on Park Avenue is showcased by sprawling ceilings, wide-plank engineered white oak hardwood floors and spacious outdoor decks and patios to enjoy sweeping cityscape and mountain views. Chef-inspired kitchens feature Fisher & Paykel appliances, Caesarstone countertops and full-height solid backsplash, spacious islands, and Brizo Matte Black and Luxe Gold Faucet with sprayer.
Homeowners will also have access to unparalleled private amenities; sitting rooms on each floor, a Grand Lounge with striking seating areas, work stations, and an entertainment area featuring a television, fireplace, kitchen and deluxe washrooms. A folding acoustic wall can accommodate two simultaneous events. Meet neighbours on the beautifully landscaped outdoor terrace, or head to the fully equipped fitness gym with washroom/change room for a great workout.
Getting in and out of Langley has never been easier. Legacy on Park Avenue is within walking distance to a planned SkyTrain station, and close to Highway 1, which is ideal for conventional commuting. It is also in close proximity to Timms Community Centre, steps from Douglas Park and miles of walking trails through the Nicomekl parklands, as well as schools and the historic Fort Langley.
Pokémon Brilliant Diamond and Shining Pearl launch in late 2021 – MobileSyrup
During The Pokémon Company's recent presentation, Pokémon Diamond and Pearl remakes called Pokemon Brilliant Diamond and Shining Pearl were revealed.
The remakes go back to the original Diamond and Pearl games that featured fourth-generation Pokémon. This duo of Pokémon titles was initially launched on the Nintendo DS back in 2007 (in North America, 2006 in Japan)
[embedded content]
ILCA inc and Game Freak's Switch remake features cutesy, disproportionate, chibi-like stylized visuals, unlike more recent series entries.
Like the original games, you start with either Chimchar, Turtwig or Piplup, then catch and battle other Pocket Monsters and trainers throughout the Sinnoh region. You'll need to defeat all eight gym leaders and beat the Pokémon League to become the Champion.
Pokemon Brilliant Diamond and Shining Pearl are launching in late 2021 for the Nintendo Switch. During the stream The Pokémon Company also revealed Pokémon Legends Arceus, a new open-world take on the series that seems to be inspired by The Legend of Zelda: Breath of the Wild.
PlayStation 5 storage upgrades coming this summer: report – MobileSyrup
Sony's PlayStation 5 will begin supporting internal storage upgrades this summer, according to a report from Bloomberg.
Per the outlet's sources, Sony will enable storage upgrades through a firmware update that unlocks higher cooling fan speeds to ensure the console doesn't overheat.
Should this happen in the summer, it would alleviate one of the PS5's major shortcomings. As it stands, both the standard PS5 and its all-digital variant feature 825GB of storage, but only 667GB is actually usable since the remaining 158GB is taken up by the operating system, updates and other console features.
However, the PS5 only supports external hard drives for storing PS4 games, so there's currently no viable storage solution outside of deleting games to clear up space.
Meanwhile, PS5 games routinely take up more than 40GB, with some, like Call of Duty: Black Ops Cold War, well exceeding 100GB. Therefore, PS5 owners often are only able to have a small number of games on their consoles at a given time.
Since the PS5 launch in November, Sony has promised that it will eventually support SSD storage expansion, but no timeline has yet been given. At launch, Sony said it needs to run compatibility tests on the various SSDs on the market before it could offer support for them.
"As previously announced, we are working to enable M.2 SSD storage expansion for PlayStation 5. The timing has not been announced and details will be shared later," a Sony spokesman told Bloomberg.
Once storage expansion is enabled, PS5 owners will be able to remove the front plate of the console to insert a compatible SSD.
Source: Bloomberg