P.E.I. bunny hops to over 20,000 social media followers from around the world thanks to owners' creativity – The Guardian


MORELL, P.E.I. —
A local rabbit has become a global star on social media.
Scott and Faith Dockendorff bought their daughter, Chloe, a free-run Holland lop dwarf rabbit in 2016 for her 15th birthday.
Chloe named her three-pound pet Winston (she wanted to give him a human name) and began to post numerous pictures of him on her Instagram account.
"I was obsessed with him and was taking pictures of him all the time and putting them on my own Instagram and it started to occur to me that my friends were getting sick of seeing pictures of my bunny every day,'' Chloe laughs.
So, she gave Winston his own account and called it @winston.snugglebunny. And, thanks to the creative writing of Chloe and Faith, who also take pictures and videos to post (Chloe's brother, Seth, helps with the pictures and video), the account had 20,600 followers as of Jan. 3. Winston's exploits are followed by people all over the world.
One devoted follower in Australia, whose bunny died, put together a collage of pictures of Winston from Winston's Instagram account, had them imprinted onto a pet blanket and mailed it to the Dockendorffs in P.E.I. Another follower, from Portugal, sent them a fuzzy bed that Winston sleeps in.
Chloe, who is studying dance at the Maritime Conservatory of the Performing Arts in Halifax, struggles to find the words to explain the phenomenon.
"It's partly the way we write him,'' she said. "We write things in the captions that are sort of fun and whimsical and then (followers) respond and we play off them and they play off us.''
But, it's not just exchanging messages with followers. Faith said Chloe's gift for creative writing (the youngster has won literary competitions) has turned the account into something out of a Hollywood move.
"There's a lot of suspension of disbelief that goes on with (Winston's) account,'' Chloe says. "We try to be very creative.''
When it comes to writing the captions for Winston's pictures and video, Chloe has given Winston a personality, a voice that includes words they come up with on the fly and adventures created for him that sometimes include illustrations and music. The family has dubbed its fur baby the "self-entitled king of Winstonia'', a rabbit who is endlessly annoyed by the shortcomings of his human caretakers.
Chloe said the account is strictly monitored at all times to ensure it remains "family friendly, a safe space for people to come to see things that will make them happy.''
Although Chloe lives off-Island during the school year, Winston's paws remainly firm planted in Morell.
Chloe said she misses him a lot when she's away, but her mom sends her lots of pictures and videos and "we Facetime every night".
Faith said the bond between Chloe and Winston is amazing.
"She might not see him in person for a couple of months, but the instant she walks in he knows her and the second she touches him he just melts into the floor. When he hears her voice on my iPad during Facetime he usually comes over sniffing it," Faith said. "I don't think he can figure out how she gets in there."
Faith said it's been very rewarding for the whole family, adding that they didn't go into this looking to solicit anything from people. It was just meant to be fun and has since grown into something bigger than they imagined.
"Not a week goes by that we don't get a comment or a (direct message) from someone saying 'I was having the worst day', 'I was really sad' or 'things weren't going well and I opened my phone and there was Winston's account and it just made my day better'. Just getting messages like that are encouraging for us,'' said Faith.
Seth said outside of his social media-created character, Winston is a very loving bunny, even if he does chew through cords and constantly eat the buttons on the remote.
Want to join the conversation? Comments are open on this story at SaltWire.com.
---
Who is your favourite famous rabbit?
---
AI: War crimes evidence erased by social media platforms – BBC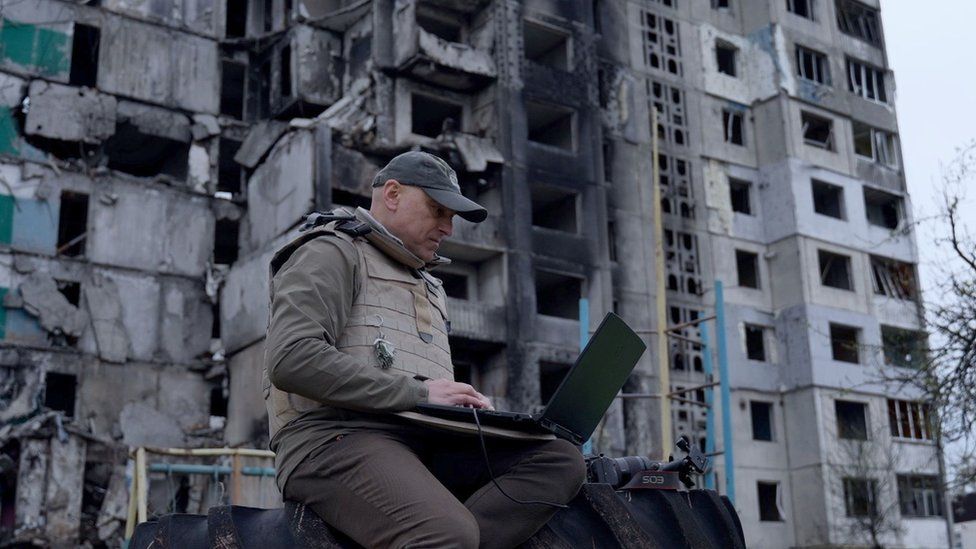 Evidence of potential human rights abuses may be lost after being deleted by tech companies, the BBC has found.
Platforms remove graphic videos, often using artificial intelligence – but footage that may help prosecutions can be taken down without being archived.
But Alan Rusbridger, who sits on Meta's Oversight Board, says the industry has been "overcautious" in its moderation.
The platforms say they do have exemptions for graphic material when it is in the public interest – but when the BBC attempted to upload footage documenting attacks on civilians in Ukraine, it was swiftly deleted.
Artificial intelligence (AI) can remove harmful and illegal content at scale. When it comes to moderating violent images from wars, however, machines lack the nuance to identify human rights violations.
Human rights groups say there is an urgent need for social media companies to prevent this information from vanishing.
"You can see why they have developed and train their machines to, the moment they see something that looks difficult or traumatic, to take it down," Mr Rusbridger told the BBC. The Meta Oversight Board that he sits on was set up by Mark Zuckerberg and is known as a kind of independent "supreme court" for the company, which owns Facebook and Instagram.
"I think the next question for them is how do we develop the machinery, whether that's human or AI, to then make more reasonable decisions," Mr Rusbridger, a former editor-in-chief of the Guardian, adds.
No-one would deny tech firms' right to police content, says US Ambassador for Global Criminal Justice Beth Van Schaak: "I think where the concern happens is when that information suddenly disappears."
Ihor Zakharenko, a former travel journalist, encountered this in Ukraine. Since the Russian invasion he has been documenting attacks on civilians.
The BBC met him in a suburb of Kyiv where one year ago men, women and children had been shot dead by Russian troops while trying to flee occupation.
He filmed the bodies – at least 17 of them – and burnt-out cars.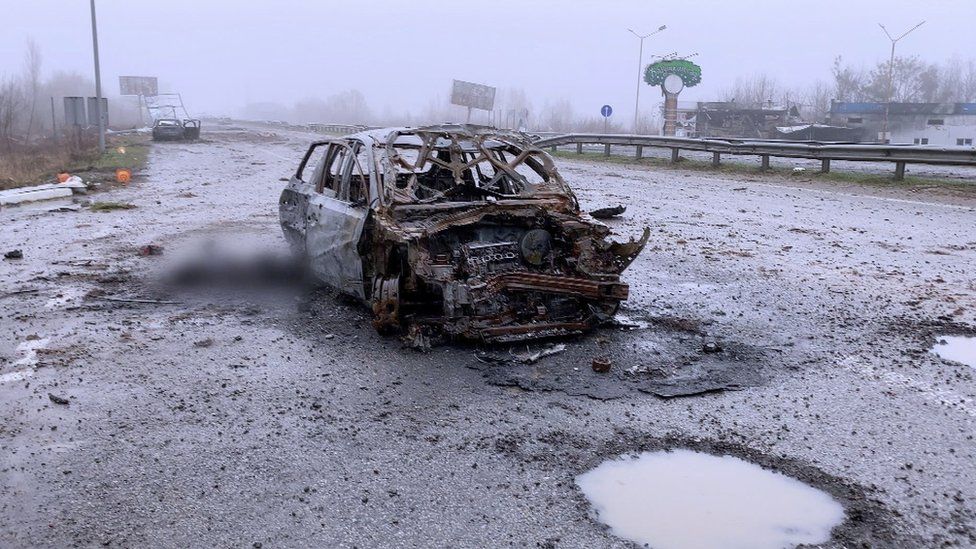 He wanted to post the videos online so the world would see what happened and to counter the Kremlin's narrative. But when he uploaded them to Facebook and Instagram they were swiftly taken down.
"Russians themselves were saying those were fakes, [that] they didn't touch civilians, they fought only with the Ukrainian army," Ihor said.
We uploaded Ihor's footage on to Instagram and YouTube using dummy accounts.
Instagram took down three of the four videos within a minute.
At first, YouTube applied age restrictions to the same three, but 10 minutes later removed them all.
We tried again – but they failed to upload altogether. An appeal to restore the videos on the basis that they included evidence of war crimes was rejected.

Atrocities from war are being documented on social media. This material can be used as evidence to help prosecute war crimes. But the BBC has spoken to people affected by violent conflict who have seen the major social media companies take down this content.

YouTube and Meta say that under their exemptions for graphic war footage in the public interest, content that would normally be removed can be kept online with viewing restricted to adults. But our experiment with Ihor's videos suggest otherwise.
Meta says it responds "to valid legal requests from law enforcement agencies around the world" and "we continue to explore additional avenues to support international accountability processes… consistent with our legal and privacy obligations".
YouTube says that while it has exemptions for graphic content in the public interest, the platform is not an archive. It says, "Human rights organisations; activists, human rights defenders, researchers, citizen journalists and others documenting human rights abuses (or other potential crimes) should observe best practices for securing and preserving their content."
The BBC also spoke to Imad, who owned a pharmacy in Aleppo, Syria, until a Syrian government barrel bomb landed nearby in 2013.
He recalls how the blast filled the room with dust and smoke. Hearing cries for help, he went to the market outside and saw hands, legs and dead bodies covered in blood.
Local TV crews captured these scenes. The footage was posted on YouTube and Facebook but has subsequently been taken down.
In the mayhem of the conflict, Syrian journalists told the BBC their own recordings of the original footage were also destroyed in bombing raids.
Years later, when Imad was applying for asylum in the EU, he was asked to provide documents that proved he was at the scene.
"I was sure that my pharmacy was captured on camera. But when I went online, it was taking me to a deleted video."
In response to this sort of incident, organisations like Mnemonic, a Berlin-based human rights organisation, have stepped in to archive footage before it disappears.
Mnemonic developed a tool to automatically download and save evidence of human rights violations – first in Syria and now in Yemen, Sudan and Ukraine.
They have saved more than 700,000 images from war zones before they were removed from social media, including three videos showing the attack near Imad's pharmacy.
Each image might hold a key clue to uncover what really transpired on the battlefield – the location, the date or the perpetrator.
But organisations like Mnemonic cannot cover every area of conflict around the world.
Proving that war crimes have been committed is incredibly hard – so getting as many sources as possible is vital.
"Verification is like solving a puzzle – you put together seemingly unrelated pieces of information to build a bigger picture of what happened," says BBC Verify's Olga Robinson.
The task of archiving open-source material – available to pretty much anyone on social media – often falls to people with a mission to help their relatives caught up in violent conflict.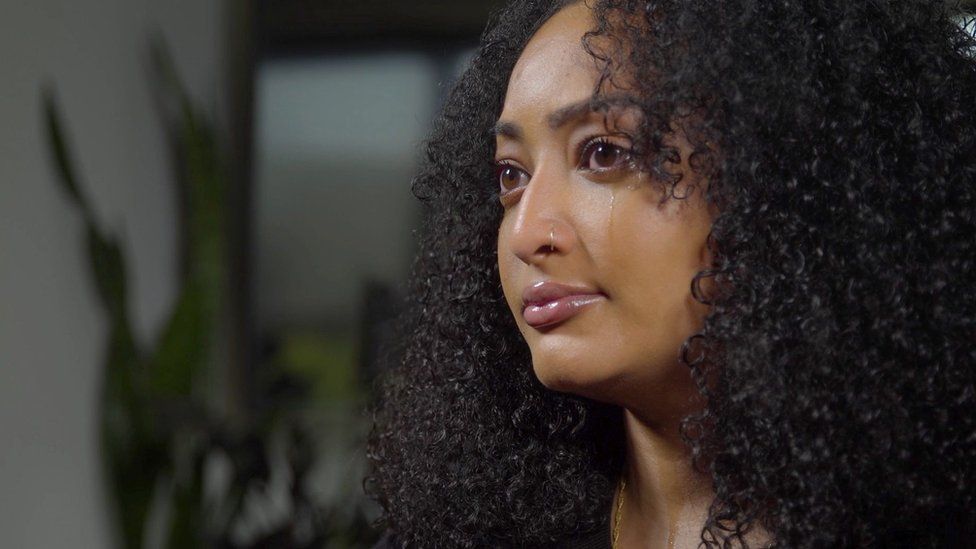 Rahwa lives in the United States and has family in the Tigray region of Ethiopia, which has been wracked with violence in recent years, and where the authorities in Ethiopia tightly control the flow of information.
However, social media means there is a visual record of a conflict that might otherwise remain hidden from the outside world.
"It was our duty," says Rahwa. "I spent hours doing research, and so when you're seeing this content trickle in you're trying to verify using all the open-source intelligence tools you can get your hands on, but you don't know if you're family is OK."
Human rights campaigners say there is an urgent need for a formal system to gather and safely store deleted content. This would include preserving metadata to help verify the content and prove it hasn't been tampered with.
Ms Van Schaak, the US Ambassador for Global Criminal Justice, says: "We need to create a mechanism whereby that information can be preserved for potential future accountability exercises. Social media platforms should be willing to make arrangements with accountability mechanisms around the world."
Blue Jays' Bass apologizes for sharing anti-LGBTQ social-media post – The Globe and Mail
Toronto Blue Jays pitcher Anthony Bass apologized Tuesday for expressing support on social media for anti-LGBTQ boycotts of Target and Bud Light.
Bass shared a post on his Instagram stories Monday urging others to spurn the U.S. companies over support they showed for the LGBTQ community. Both companies are dealing with fallout from those campaigns, which have included hostile and homophobic criticisms and calls from LGBTQ activists not to cave to anti-LGBTQ groups.
The right-handed reliever made a brief statement on the field but did not take questions before the Blue Jays played host to the Milwaukee Brewers.
"I recognize yesterday I made a post that was hurtful to the Pride community, which includes friends of mine and close family members of mine," Bass said. "I am truly sorry for that."
Bass said he had addressed teammates about the controversial post and apologized to them for sharing it.
"As of right now, I am using the Blue Jays' resources to better educate myself to make better decisions moving forward," Bass said. "The ballpark is for everybody. We include all fans at the ballpark. We want to welcome everybody. That's all I have to say."
Manager John Schneider said Bass apologized to him and general manager Ross Atkins when he arrived at the ballpark Tuesday. Schneider suggested Bass speak to the team.
June is Pride Month in Toronto, with an accompanying festival that is one of the largest of any kind in Ontario. More than 200,000 marchers and over two million spectators are expected at Toronto's annual Pride Parade on June 25.
Schneider said Bass's post "doesn't represent our overall feelings as an organization."
The Blue Jays are celebrating Pride Weekend on Friday June 9 and 10, with plans to give out 15,000 rainbow flag jerseys on Friday night.
"The message to the fan base is that we have and will continue to be a huge part of the Pride community," Schneider said.
Schneider said the Blue Jays did not discuss disciplining Bass.
Pride Nights have prompted division across sports in recent years. On Monday, Los Angeles Dodgers ace Clayton Kershaw told The Los Angeles Times that he disagreed with his team's recent decision to welcome a satirical LGBTQ group called the Sisters of Perpetual Indulgence at the team's annual Pride Night. Last season, several players with the Tampa Bay Rays cited their Christian faith in refusing to wear Pride jerseys.
Earlier this year, Bass sparked criticism when he posted a tweet complaining that a flight attendant had asked his pregnant wife to clean up popcorn their toddler spilled on the floor during a flight.
Now in his 12th season, Bass has also pitched for the San Diego Padres, Houston Astros, Texas Rangers, the Chicago Cubs, Seattle Mariners and Miami Marlines. He's 0-0 with a 4.50 ERA in 20 games this season.
Writing in Dana White's world or, popping the feeble MMA media bubble – Bloody Elbow
The latest kerfuffle
I doubt many of you noticed, but there was a little bit of a dust up in the cozy world of MMA media last weekend.
It started when TSN's Aaron Bronsteter tweeted that:
"(Dana) White gives a media member $100 for successfully guessing that Henry Cejudo called him and offered to fight O'Malley in August. White says that Sterling is "one of those guys who can't get out of his own way" But White says the fight with Sterling and O'Malley is on."
So apparently Bronsteter felt that a "media member" taking money from UFC boss Dana White was newsworthy.
I'd agree. It's a deed every journalism school on the planet condemns in blanket terms. I grew up under Boomer reporters who regarded taking a free cold fajita buffet lunch from somebody they wrote about as anathema.
This is the Bloody Elbow newsletter. It's for passionate fight fans who've had enough with MMA media as usual.
That triggered NY Post reporter Scott Fontana into tweeting "Which media member took a Benjamin from Dana. Out yourself."
Immediately, Amy Kaplan who writes for FansidedMMA replied, "It was me. I'm the 'media member.'"
Her reply led to the following back and forth: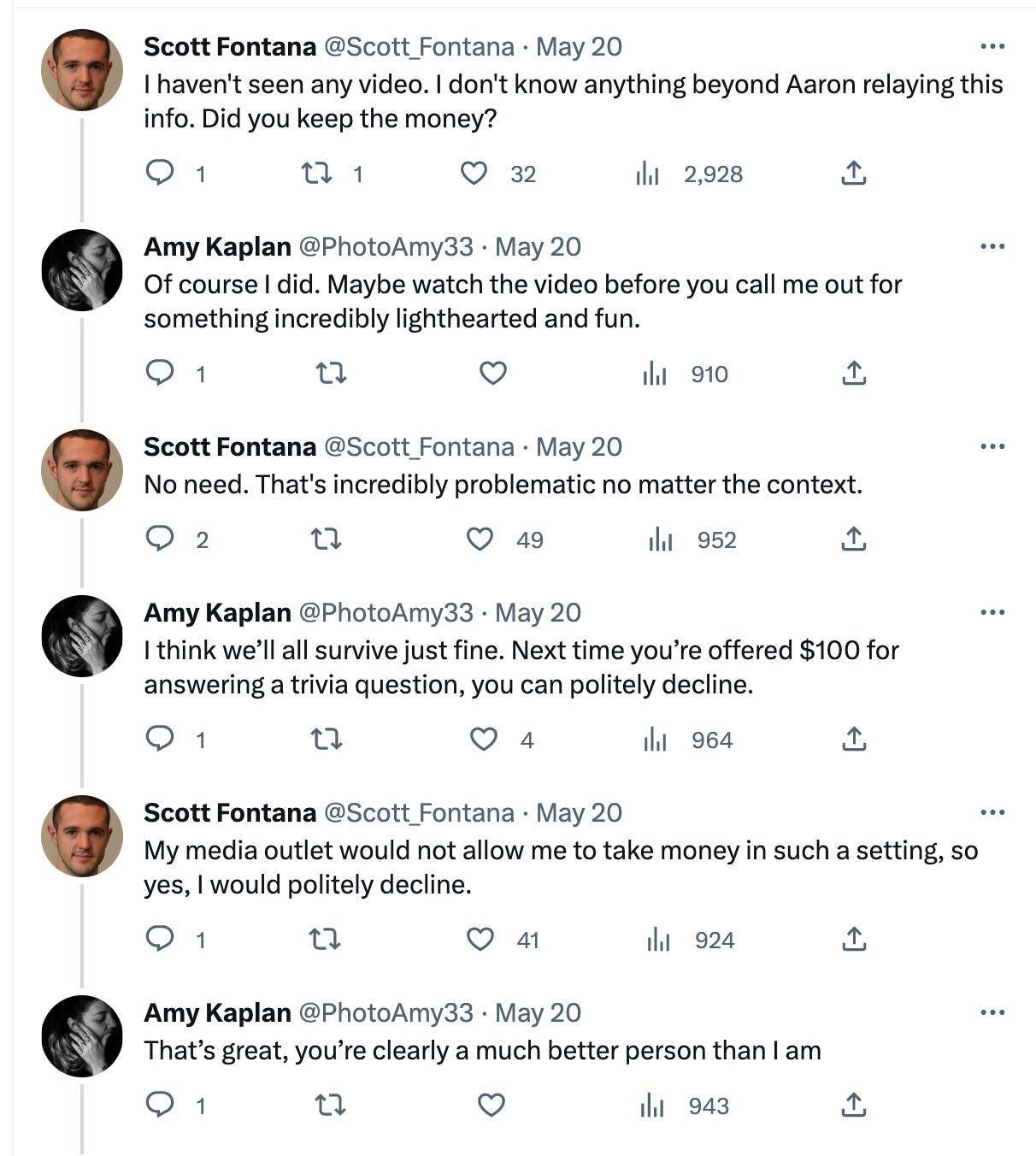 If you can't see the image the money shot is Fontana saying, "I didn't invent the standards. I was taught them in college journalism courses, and had them enforced at every media outlet I have ever worked. But that's good to know about FanSided. Thanks for the insight."
I took to Twitter myself to state the Bloody Elbow position:
"I'd happily take $100 from Dana White in public. I don't think that's a violation of journalistic ethics. I'm guessing less than 5% of the "MMAJA" has read @jayrosen_nyu on "the view from nowhere" and the importance of disclosure above all. She disclosed it. It's ok.
"Ask anyone who's ever worked for me, if they got offered some cool swag from a promoter or whatever, I just said "ok but disclose it publicly" In future we'll be (hopefully) featuring sponsored posts by promotions etc. They can buy some space on our web site.
"But ask anybody who's ever worked for me: You can't buy our coverage. And that's why my people don't get offered the real payoff in this industry: access in return for favorable coverage."
Bloody Elbow alum Jonathan Snowden had more to add in his thoughtful piece "MMA Media Ethics: Are Reporters on The Take?"
Like many of my peers, I've been fully indoctrinated and have a visceral, gut reaction to seeing journalists serve as a PR branch of the events and athletes they are supposedly reporting on. But I'm also a critical thinker—some might say provocateur or shit-stirrer—and I wonder what makes some behavior ethical while other, seemingly more profitable graft, exists completely in the realm of acceptability?

Here's an example from my own life—I've sat in valuable floor seats at dozens of events over the years. Hundreds. The cumulative value of those tickets is in the six-figures, especially when you start factoring in what it would have cost to attend an event like Mayweather-McGregor where I was sitting (more than my mortgage payment for a year)! I've eaten finely catered meals, played Top Golf and received plenty of lucrative job opportunities based merely on my proximity to decision makers in combat sports.

…

Dig a little beneath the surface and the picture somehow gets even murkier. For years, at SBNation and then Bleacher Report, I watched the fierce competition between outlets for ad campaigns targeted at UFC fans. Often this ad money came from a company UFC was doing business with and the promotion (allegedly) had a hand in deciding who received the largess.

Think about this for a second.

A journalist offered a hotel room by Dana White is, by most accounts, violating ethical standards. But a media outlet paying for a hotel room with money coming directly or indirectly from a fight promotion through ad money? That's just capitalism baby!
Let's not forget that it was long an open rumor that USA Today provided extremely favorable UFC coverage in return for ad buys. Deadspin's Kevin Draper wrote this up in 2015:
Within mixed martial arts circles, it has long been taken as a given that the UFC pays USA Today for coverage. As the rumor goes, the UFC buys advertising from USA Today with the tacit understanding that USA Today will cover the sport, and do so favorably.

To be clear, the actual evidence for a media ethics scandal here has always been highly circumstantial, which is why we've never written about it. It's true that MMA Junkie runs broadly positive coverage, and treats some important subjects—like efforts to unionize the sport—with kid gloves. But that's not unusual. The UFC is much more hostile to the press than almost any other major promotional body in sports, and while part of this is just UFC figurehead Dana White's pugnacious personality, it also has to do with the nature of the sport, which is highly centralized, making it much easier to control media access.

To stay on White's good side, some sites go so far as to brainstorm lists of topics not to write about so as to avoid incurring his wrath, such as financials. That doesn't mean they're all on the payroll. (It should be noted here that Deadspin is blacklisted by the UFC.)

Even so, there have always been things that make you scratch your head. Why would MMA Junkie send writers to cover boring third-tier fights in far-flung locales, for instance? Who has the budget to do that, and why would they choose to spend their resources that way absent some hidden motivator? This is the sort of thing that comes up in inside-fight circles when this subject is discussed.

Anyway, we're writing about this now because among a barrage of angry tweets White sent out over the past two days was this one, seemingly confirming the whispered accusations: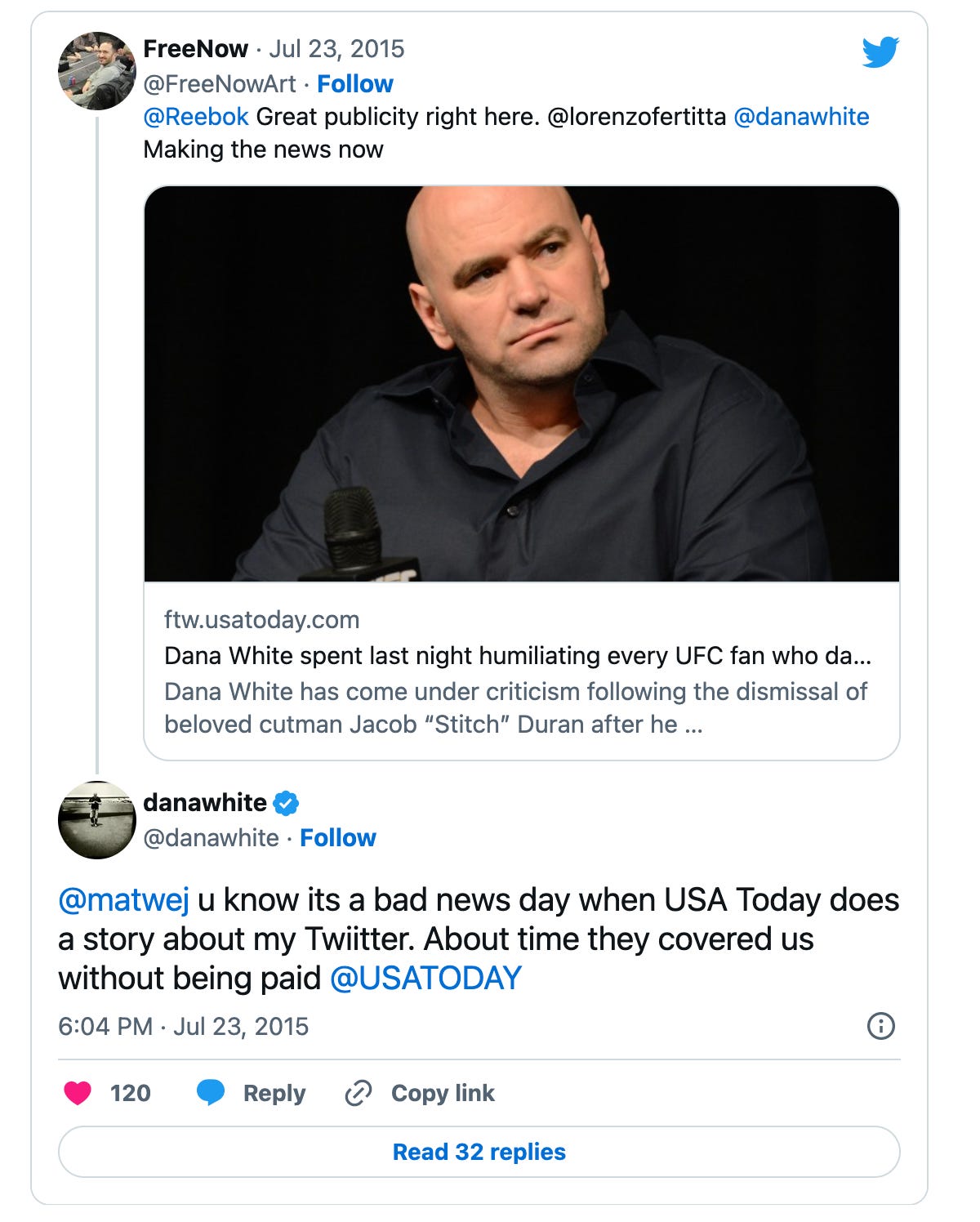 All of this is just by way of saying, MMA journalists getting worked up over Amy Kaplan and the $100 she took from Dana White is the definition of trivial pursuits.
At Bloody Elbow, we've fought hard to earn our reputation for honest coverage of the UFC. But I have to admit that we buried many stories over the years due to conflicts of interest rising from being owned by Vox Media and MMA Fighting and Ariel Helwani's relationship with Dana White.
Those days are over and I am already working on getting some of those stories to light.
Join the new Bloody Elbow
Subscribe to our Substack!
---

About the author