Pandemic and Politics Push Hong Kong's Economy Into Record Slump – Bloomberg
Hong Kong's economy suffered its worst quarter on record, extending the first recession in a decade as the coronavirus pandemic battered a city already weakened by political unrest.
The economy contracted 8.9% in the first quarter from year-ago levels, according to the government. The decline surpasses the previous record of -8.3% in the third quarter of 1998 and a 7.8% contraction in the first quarter of 2009, the two worst readings in data back to 1974, according to the Census and Statistics Department Hong Kong.
The latest decline also marks the third straight quarterly contraction for Hong Kong, the longest such stretch since the aftermath of the global financial crisis in 2009. The economy started shrinking from the third quarter of last year amid violent street protests and a government crackdown, political factors that remain unresolved.
"Our economic situation is very challenging, we are deep into recession," Financial Secretary Paul Chan said at a press conference after the data was released. "Globally the epidemic is yet to be put under complete control. That will affect our export, that will also affect international traveling and business investment. Going forward, the second quarter, we believe that even if there is improvement, the improvement will be gradual and small."
A 10.2% drop in private consumption from a year earlier was a major driver for the contraction, according to the government report. Total exports of goods sank 9.7% in the period, while exports of services plummeted 37.8%. Government spending grew by 8.3% from a year ago.
Assuming the virus crisis improves, Hong Kong will come out of recession gradually toward the end of the year, Chan said. On Sunday, Chan warned of the worst full-year performance on record with a contraction of as much as 7%, after the economy shrank 1.2% last year.
"Economic activities are likely to stay subdued in the near term if the threat of the pandemic continues," a government spokesman said in the release. "Hong Kong's near-term economic outlook is subject to very high uncertainties, hinging crucially on the evolving global public health and economic situations."
Developments in the U.S.-China relationship, geopolitical tensions and global financial market volatility also warrant continued attention, the spokesman said. Revised figures with a more detailed breakdown are due on May 15.
Easing Controls
"The Hong Kong economy can't rely solely on fiscal stimulus to get back to normal," said Iris Pang, greater China chief economist with ING Bank NV in Hong Kong. "Consumption will continue to be bad in the second quarter, though may not be worse than the first on a quarter-on-quarter basis. That's due to an extra hit on consumption from violent protests and social distancing measures."
Even as the city prepares to ease some social distancing measures amid a steady improvement in the local outbreak situation, the hit to global commerce and the threat of renewed anti-government unrest means activity is likely to remain depressed. Unemployment is rising with tourism, retail, transport and other industries decimated.
The extended downturn's impact can be especially seen across the city's struggling small and medium-sized businesses, which have borne the brunt of the impact from protests since last year and now the coronavirus.
"Hong Kong has been a risk-taking society relative to starting a business, but the situation going on the last year will create long memories in people's minds," said Todd Handcock, chairman of the Canadian Chamber of Commerce. "It's been a very challenging year for SMEs in Hong Kong. The unfortunate reality is some of these will not survive and others will struggle for a very long time."
Click here to read more about the government's stimulus strategy
As of December, 340,000 SMEs accounted for more than 98% of all business units and employed some 1.3 million people, or about 45% of the total excluding civil servants, according to government data.
Sentiment among small businesses is sitting near a record low while those reporting a need for credit jumped to an almost four-year high of 8.8%, March government data show.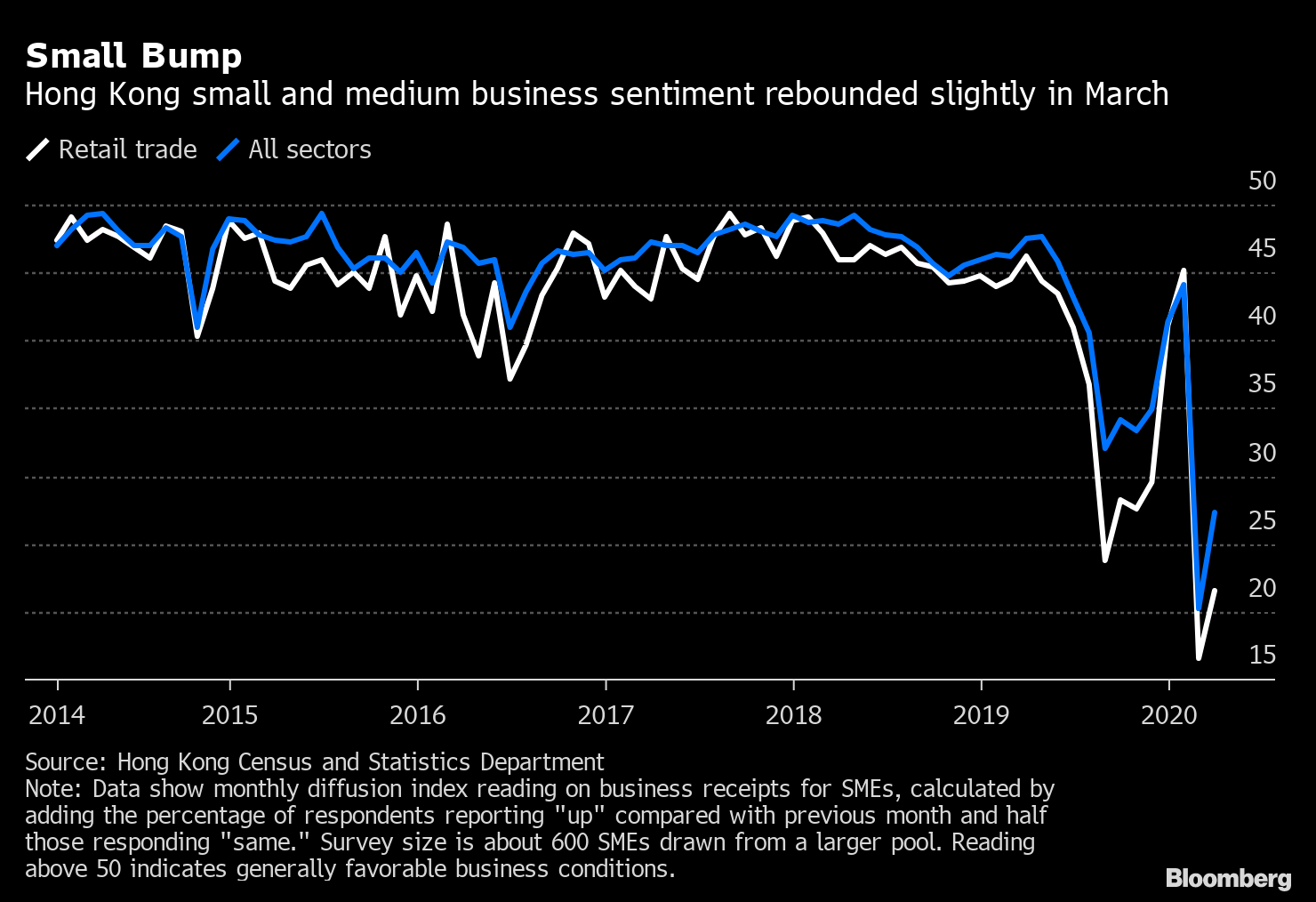 "If we all fold, the unemployment levels are going to skyrocket in this city," said Bella Dobie, co-founder and managing director of Hong Kong branding and marketing firm Orijen. The firm has six full-time staff including Dobie and has been in business since 2000. "The economy of Hong Kong has been struggling since the start of the protests and Covid-19 is just a double whammy."
The government has taken steps to address the looming employment crisis through multiple rounds of stimulus spending, most prominently through an HK$80 billion wage subsidy program that is not expected to begin distribution until June.
Hong Kong Faces Delays Giving Cash Out as Virus Hits Economy
Those businesses that do survive will likely emerge with smaller, leaner operations, with lasting implications on the wider economy as jobs that once existed may not return. Total employment in the city shrank by a record 3.6% in March.
As of December, the number of job vacancies in the private sector of Hong Kong totaled about 54,000, down 30% from a year ago, according to government data. Vacancies in retail and accommodation and food services plummeted 44% and 65% respectively.
The threat of protests resuming once the virus fades and measures forbidding group gatherings ease could also further extend the pain for businesses and the economy.
"It's about the huge uncertainty of the city's future," said Alicia Garcia Herrero, chief Asia Pacific economist with Natixis SA. "Anybody who lives here understands it, you don't even know what is going to happen tomorrow."
— With assistance by Alfred Liu
(
Updates with comments from Paul Chan and an economist.
)
Keep Politics Out of Reopening Houses of Worship – The New York Times
More from our inbox:
To the Editor:
Re "Firing Salvo in Culture Wars, Trump Wants Churches Open" (front page, May 23):
Last Friday was not the first time we have witnessed a politician attempting to ingratiate himself with faith communities. Through the years, leaders from both major political parties have sought the support of houses of worship in their electoral campaigns.
Certainly those of us who devote our lives to religious leadership would like to consider our work "essential." And we eagerly await the day when we can welcome our congregants back to their spiritual homes. While we can pray to God anywhere at any time alone or with others, and while the internet has provided a viable and meaningful vehicle for gathering our members in this time of physical distancing, nothing could ever replace the power of in-person congregational worship.
But religious communities must not become political pawns for a president seeking to placate his evangelical base. In Judaism, the saving of life supersedes all other religious responsibilities. The decision whether or not to reopen houses of worship belongs in the hands of local authorities alone, guided by health concerns, not political ones.
Joshua M. Davidson
New York
The writer is the senior rabbi at Temple Emanu-El.
To the Editor:
The cynicism of President Trump's call to governors to open the churches is staggering. I am a Catholic who attends Mass every day. I have always loved the ritual of the Mass, and I rejoice and celebrate as I gather with friends old and new who enrich my life. I will return joyfully to my church when our governor deems it safe to do so, not when it is politically expedient for our president.
John T. Dillon
West Caldwell, N.J.
To the Editor:
President Trump asks all governors to immediately open up churches and allow in-person worship — without testing. Yet everyone who meets with Mr. Trump must first be tested.
So, what's good for the gander ain't good for the goose. If he truly believes that in-person worship is safe, let's see him go to these churches (or restaurants or theaters) without testing — and let's see him mingle with the folks not wearing masks.
Marc R. Stanley
Dallas
Which Is the Better Bridge: The Brooklyn or the George Washington?
To the Editor:
Re "The Star of the City Sells Itself," by Michael Kimmelman (Critic's Notebook, Arts pages, May 7):
OK, the Brooklyn Bridge is wholly in New York City and joins two of its boroughs. And it was something of an engineering achievement. Book after book has been written about it; it appears in a wealth of movies.
But the great bridge in the New York area is the George Washington.
When I sought to read a book on the George, I discovered that there were none. Participating in a symposium at Columbia University on American icons, and listening to others drone on about the Brooklyn, I asked "What about the George?" There was complete silence. Then one participant said, to almost universal laughter, "But look where it goes," the suggestion being that since the George crosses to New Jersey, it couldn't possibly be important.
The George is also the gateway to Interstate 80, on which one may travel in a straight line to San Francisco. New Yorkers think of themselves as sophisticated compared with New Jerseyans, but they can often be decidedly parochial.
Michael Aaron Rockland
Morristown, N.J.
The writer is the author of "The George Washington Bridge: Poetry in Steel" and a professor of American studies at Rutgers.
Face masks now define a divided America and its politics – The Globe and Mail
The U.S. election of 1860 was fought over the future of slavery in the United States. The 1932 election over how to respond to the Great Depression. The 1980 election over the role of government in the economy. The 2020 election is shaping up as a fight over whether Americans should wear a protective mask.
In competing images on one of America's most sacred moments of civic reflection, presumptive Democratic presidential nominee Joe Biden joined a Memorial Day commemoration this week wearing a mask, while, 175 kilometres away, President Donald Trump attended a separate remembrance unencumbered by a face covering.
Mr. Trump has mocked Mr. Biden for wearing a mask. Mr. Biden called Mr. Trump "an absolute fool" for refusing to do so.
And so it is that today a simple but divisive public-health measure defines America and its politics.
"The people who are not wearing masks are by and large white, male, rural, suburban and right-leaning,'' said online pollster John Dick, whose CivicScience public-opinion firm has examined Americans' social, cultural and political attitudes during the pandemic. "They are the same people who voted for Trump. It is a big middle finger to everyone they resent. I'm convinced that the people who support Trump don't even really like him that much. They just hate the people who hate Trump."
In 1768, John Dickinson, the Philadelphia lawyer known as the penman of the American Revolution, took a Royal Navy anthem and grafted onto it his objections to British colonial taxes and eight words that in time became an American aphorism: "By uniting we stand, by dividing we fall.''
Two and a half centuries later – after Kentucky transformed that phrase into its state motto, after the patriot orator Patrick Henry employed it in his final public speech, after Abraham Lincoln borrowed it for a famous speech and after the group Brotherhood of Man made it into a 1970s pop hit – the country Dickinson's revolution created seems hopelessly divided.
Today Americans are split over whether to reopen the country to commerce. The states are divided over how swiftly to resume normal economic activity, with the Democratic governors of the swing states of Pennsylvania, Michigan and Wisconsin opting to go slowly. Mr. Dick believes that what he calls "political tribalism" is the "most powerful force in America right now – because it predicts almost everything." And pollster John Zogby sees the fall election as a contest between "rage" and "empathy."
In that contest, Mr. Trump personifies rage and Mr. Biden empathy – and in that regard masks are a powerful symbol.
"You don't wear your mask out of fear, you wear it out of empathy," said Christine Whalen, a clinical professor at the University of Wisconsin's School of Human Ecology. "Those masks aren't protecting you, they're protecting others. But if we all wear them, we all are protected."
Mr. Zogby points out that Democratic candidates who have won in the past half-century – Jimmy Carter, Bill Clinton and Barack Obama – have been empathy candidates, projecting "an everyman image of understanding pain and suffering," while those who have lost – Michael Dukakis, Al Gore, John Kerry and Hillary Clinton – were nominees who "projected images of elitism and/or technocratic management over bonding."
The very qualities Mr. Biden personifies are the ones Democrats hope will prevail this autumn. The very qualities Mr. Trump personifies are the ones that triumphed four years ago.
Meanwhile, the pandemic and the two men's responses – with Mr. Biden instinctively leaning toward the views of conventional experts and Mr. Trump instinctively taking an iconoclastic approach – provide a glimpse of the campaign to come.
Five times as many Republicans as Democrats are ready to return to normal daily activities, according to CivicScience surveys. Democrats are more than three times more likely to say they will remain in quarantine even if their state or local governments allow a return to normal.
Wearing a mask may be a telling symbol of the two candidates' outlooks but it is not an infallible guide to political affiliation. Though a Kaiser Family Foundation poll released this month said 89 per cent of Democrats but only 58 per cent of Republicans reported wearing a mask most of the time when outside their homes, two top Republican leaders in the Senate, Majority Leader Mitch McConnell and his likely successor, John Cronyn, were seen in masks this week.
"Wearing a face covering is not about politics – it's about helping other people," Republican Governor Mike DeWine of Ohio said via Twitter this week.
In the last mass domestic challenge, Franklin Delano Roosevelt combined rage ("The money changers have fled from their high seats in the temple of our civilization") and empathy ("We now realize as we have never realized before our interdependence on each other; that we cannot merely take but we must give as well") in the very same speech. It was his first Inaugural Address, in 1933, in the depths of the Great Depression, and is considered one of his greatest speeches – and he is considered the chief executive against whom all successors are measured.
Politics – Things may not be as bad as they seem – Yorkton This Week
If it doesn't seem as if the news is getting better on the COVID-19 front, it's likely at least partly due to how stressful days take their toll on our perspectives.
Right now, it does seem as if there was no bad luck in 2020, there would be no luck at all.
But what we can't lose sight of the reality that bad things happen all of the time. We need to consider that because it isn't especially productive to allow them to play on our already existing anxieties.
Take the Victoria Day weekend crash of the Snowbirds jet in Kamloops as it was wrapping up "Operation Inspiration" – the nationwide fly-by from the Moose Jaw-aerial team that was supposed to bve a gesture of thanks to lift our spirits during this pandemic.
The sad accident claimed the life of Capt. Jennifer Casey – a Snowbirds team member and former journalist turned information officer for the elite flying unit.
Casey was a Halifax resident and now joins a sadly growing list of Nova Scotians who tragically lost their lives in the past couple months as this pandemic has taken hold.
Prior to her death there was the mass killing of RCMP Constable Heidi Stevenson and 22 others. And the helicopter crash off the coast of Greece killed Sub-Lt. Abbigail Cowbrough of Halifax and three others.
These are sad events, but not all tragedies across the country or halfway around the world need be attributed to COVID-19.
It's human nature to want to see patterns where they don't exist. And it's even more human to fear what we don't understand.
"What we know about stress related to COVID-19 is that it revolves around a lot of the unknowns — and there remain many unknowns, many questions," Gordon Asmundson, a University of Regina clinical psychologist and professor, told the Regina Leader-Post's Heather Polischuk.
"It's not like it's a threat that we can see."
One other big problem goes beyond the reality that seems even easier these days to identify and then dwell on the problems.
There are a lot of decisions being made in a condensed timeframe, feeding the old adage: When things go wrong, they really go wrong.
Just as the virus seems well in hand – and as of the writing of this, there were 16 active cases in the entire southern half of the province – we saw a major outbreak in La Loche and the north that still accounts for 107 active cases.
This disparity between the north and south only seems to be adding to the stress and frustrations.
Northerners are understandably upset by road blockades preventing needed travel to get groceries and other lives' necessities.
And, out of an abundance of caution, the Saskatchewan Health Authority has shut down emergency services in 12 rural Saskatchewan hospitals.
This has rightly angered rural residents – most of whom haven't seen a COVID-19 case in their vicinity in at least a month.
"I'm not impressed with it whatsoever. I'm quite shocked that they would do that," Davidson Mayor Tyler Alexander told The Canadian Press's Stephanie Taylor.
One can certainly understand why. In the middle of seeding and going into summer where bad road accidents tend to be more frequent, closing the nearest emergency service is a frightening prospect. For a rural-based government that lobbied mightily for the creation of STARS emergency helicopter service in this province, there does seem to be a disconnection in the decision-making process.
There again, with a million decisions to make at least a few of them are bound to be questionable.
Things aren't great right now and won't be for a while.
But with dwindling active cases names, they are getting better. We can't let the stress get the best of us.
Murray Mandryk has been covering provincial politics since 1983.