Pandemic continues to dominate all areas of politics – RTE.ie
Tomorrow marks one year since Election 2020 and yet everything has changed.
The pandemic has transformed politics and eclipsed all other Government business with the virus dictating policy.
This time a year ago coronavirus was for most, a faraway problem, with no confirmed cases in the country.
The then administration of Fine Gael and Independents had been monitoring the situation but there was no sign of the virus becoming all-consuming.
The election itself was an earthquake, with a massive swing to Sinn Féin and disappointing results for Fianna Fáil and Fine Gael. The Green Party and the Social Democrats also made gains while Labour lost one seat.
The final seat count was: Fianna Fáil 38, Sinn Féin 37, Fine Gael 35, Independents 20, Green Party 12, Labour Party 6, Social Democrats 6, Solidarity-People Before Profit 5 and Aontú 1.
Sinn Féin embarked on a victory lap around the country, making noises about forming a left-leaning government.
But the reality of the numbers dictated that two of the three now mid-sized parties would have to come together.
After some posturing, Fianna Fáil and Fine Gael settled into talks and then approached the smaller parties with the Greens taking the plunge after some lengthy internal soul searching.
Looking back at party manifestos, one year on, it's clear just how much the pandemic has blown everything off course.
Typically a party's wish list of promises is heavily diluted in any Government and even more so in a three-way coalition. This time around, everything has been submerged by the urgency of the pandemic.
Fianna Fáil and Fine Gael promised income tax cuts. In the Programme for Government, this became a pledge not to hike taxes although ministers still profess that cuts may be possible in later budgets.
But as government formation talks dragged on, the pandemic transformed the usual business of politics.
While Leo Varadkar stayed on as Taoiseach, the other parties adopted more measured supportive positions as the country grappled with its first lockdown in the face of a new threat.
Normal sparring was suspended as most in the opposition rowed in with the public health advice, which at that stage was being adopted wholesale by Government.
The Dáil sat, at most, only once a week for March and April as TDs followed the same rules as everyone else.
By the end of June, the Government was formed and the redrawing of the Oireachtas was clear with a historic coalition from the old enemies and Sinn Féin leading the opposition.
But judging from a consistent pattern in polls, the arrangement has been better for Fine Gael than Fianna Fáil which seems to channel the blame for the tough restrictions while Fine Gael is still coasting on the memory of decisive early action.
All political observers agree that the next election is a long way off for several reasons. Normal politics remains somewhat suspended during the pandemic and despite early problems, the coalition has held together more firmly in recent months.
Each of the Government parties has had its own internal wrangles. Fianna Fáil had a torrid period early into the administration with the loss of two Cabinet members – Barry Cowen and Dara Calleary.
Fine Gael faced the heat over Leo Varadkar's leaking of the GP contract and Justice Minister Helen McEntee's handling of the Supreme Court appointment.
And the Green Party had a tight leadership contest followed by two ministerial wobbles over a Government bill.
But how are the main parties faring one year on?
Fianna Fáil is languishing in the mid-teens in the polls. There has also been some public bickering with one TD admitting: "The incessant cribbing damages the party – they need to put the same effort into supporting the Taoiseach".
Some also fear being overlooked as Fine Gael and Sinn Féin take pot shots at each other. However, there's a view that the message has been more cohesive recently with the Taoiseach hitting his stride in media outings.
Fine Gael has gone into Government for a record third time in a row. It had a bad election with lessons to be learnt about why it lost so many seats.
One TD says: "We have to move away from saying two things – that we inherited a broken economy and that we were hampered by confidence and supply".
The party has clearly stepped up its attacks on Sinn Féin in a cultivated rivalry that ultimately suits both camps.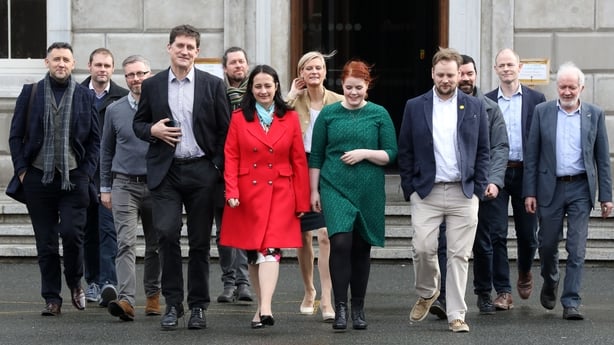 The Green Party has publicly lost many activists and has also faced accusations of bullying within it. But despite this, there's a view that with such a massive glut of new members, it was inevitable that some activists would go overboard.
One issue remaining though is outstanding internal arguments over CETA, the trade agreement between the EU and Canada. This is despite several lengthy weekend meetings to trash out the issue.
However, the party is progressing the Climate Action Bill which is at the heart of its policy objectives.
Sinn Féin has returned again and again to health and housing and has been pumping out policy on those areas.
But it too has been embroiled in controversies including the fallout from the Bobby Storey funeral and the comments of Brian Stanley and Martin Browne.
Some Government TDs feel the party started well, capitalising on its electoral success with the rallies.
However, there's a perception that it has lost its footing recently, by being called out on changing positions on how to tackle the pandemic.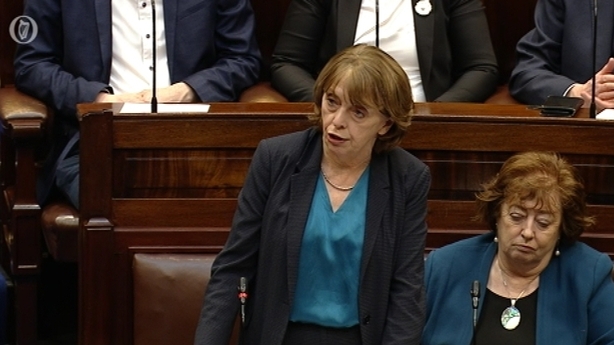 The Social Democrats' four new TDs have impressed with high profile Dáil and media contributions.
Several rival party TDs also point to its successful social media operations although another says the party has become adept at virtue signalling.
Labour has a new leader in Alan Kelly who has made an impact in the Dáil although that hasn't translated into a lift in the polls. And the pandemic is hindering his ability to rebuild the organisation around the country.
Solidarity-PBP's five TDs have a high profile and Gino Kenny has progressed his own bill on assisted dying.
The party was also an early adopter of the Zero Covid strategy which has latterly gained some other converts.
The next year will inevitably also be dominated by Covid-19 but there's also the hope in the form of the vaccination programme.
And as normal life resumes, so too will the cut and thrust of normal politics.
Caballeros are right to stay out of politics – Santa Fe New Mexican
My compliments and support for the recent decision of the Caballeros de Vargas to abstain from local politics.
I am an Anglo and not a Roman Catholic, but consider Santa Fe my home, my community. It is where I feel a connection with the Earth, with fellow human beings, with life itself. Compassion, respect, coexistence, hospitality to the stranger; these are all values that I see as a part of the history of the Santa Fe community. I see these values being reflected in how the Caballeros honor La Conquistadora, Our Lady of Peace, the Virgin Mary statue so central to the city's history.
I used to feel that one did not need to be a Hispanic Catholic of Santa Fe heritage to be a contributing member of the community, as long as you recognized and supported these values. Unfortunately, the last several years I have seen communications by, and received from, members of the community that made me feel that not being of "Spanish" heritage in New Mexico, I was not welcomed in the community. I thought there was a rich, historic heritage of different opinions being welcomed here, to be civilly debated, as long as the focus was on what was best for the community, the people, the land. One's history and experiences give each of us a different perspective. It is that blend of views and ideas that can generate healthy change, while preserving these historic values of the community.
The history of La Conquistadora and of Don Diego de Vargas should not be forgotten. But history is messy and complicated, a reflection of human life. Mistakes, errors in judgment, happen. New knowledge of the past is learned. But, if the focus is on reverence of life and support of the community, no matter if community is defined locally or worldwide, then one's actions should be respected.
Fiesta de Santa Fe, and the role of Los Caballeros in it, is a time to celebrate the rich and diverse history of Santa Fe. All of the history, good and bad. A time to give thanks for life, for harvest, for family, for my fellow citizens, my fellow human beings. Making it exclusive to only certain people does not reflect the values being celebrated.
La Conquistadora, Our Lady of Peace, may not be part of my personal faith or cultural heritage. But her values have captured my heart. I will always honor her and those who reflect the community values I feel she represents. I am glad the Caballeros will continue to honor and reflect those values and have chosen to not become part of the current visceral and vindictive local politics.
Politics Chat: Vaccination Rates Grow In Some Conservative States – NPR
Despite political polarization, a growing number of people in some conservative states are getting vaccinated. Partisans still disagree about the January 6 attack on Congress.
Week In Politics: Republicans Urge Vaccine Hesitant Citizens To Get The Shot – NPR
Republican leaders urge the unvaccinated to roll up their sleeves; Plus, increased pressure is for infrastructure talks.