Shorten Your Job Search by Writing a Compelling Value Proposition Letter — Part 2
In this column, I will be keeping the promise I made in my last column (Part 1) to provide examples of value proposition letters you can send unsolicited to employers as part of your job search activities. In other words, you are not responding to a job posting with your resume and a value proposition letter; instead, you are fishing for possible employment opportunities now or in the future.
Before you get to my examples, here are a few recommendations to increase the chances of your email being read and acted upon:
Keep your letter to a maximum of 300 words.
Copy/paste your letter into the body of your email. Never send your letter as an attachment.
Always address your letter to a specific person.
Make your email subject line compelling enough to get the recipient to open it. Your email subject line determines whether or not your email will be opened. Spend extra time crafting an eye-catching email subject line.
EXAMPLES:
In 3 months, I grew my employer's Instagram followers by 30%. Now I want to be your next social media manager.
Social Media Manager with Non-Profit Expertise Interested In Helping Your Team
Revolutionize Your Call Centre Operations with My 20+ Years of Experience
First value proposition letter example (171 words):
Dear [Executive],
More than 20 years later, I still recall first eating Kay's Potato Chips, your Sour Cream & Onion, while visiting an aunt who lived in Dayton, Ohio. I was immediately hooked. Therefore, I was thrilled to see you breaking into the Canadian market and your chips now available in grocery stores throughout Ontario.
Given your expansion into Canada, I would not be surprised if your Procurement team is pushed to the limit. (This is your pain hypothesis which in this case is not a stretch when you consider the demands on a company expanding into a foreign market.)
When I was a Senior Buyer/Planner at Deep Nutrition Corp. before its acquisition by Soylent Industries, I created the company's first Supplier Quality Assurance program along with negotiating cost-saving long-term agreements with Deep Nutrition's top four suppliers. Those agreements helped Deep Nutrition grow sales volume from $14 million when I arrived to over $31 million within three years.
Can we talk over the phone about Kay's Potato Chip's expansion plans for Canada and your current supply chain? With my background, I can help your company's expansion plan proceed as smoothly as possible. I look forward to hearing from you.
Sincerely,
Nick Kossovan
LinkedIn profile: https://www.linkedin.com/in/nickkossovan/
Second value proposition letter example (265 words):
Dear [Executive],
I am writing to express my interest in bringing my sales skills to Prescott Pharmaceuticals. With over 24 years of pharmaceutical industry experience, 16 with Edgars Industries, I have a track record of successfully selling pharmaceutical products to healthcare providers and institutions.
As I am sure you are aware, Umbrella Corp. has expansion plans to come to Canada in the latter part of this year. Therefore, you and Prescott Pharmaceuticals' leadership team are likely brainstorming how your company will maintain its current market share while staying ahead of Umbrella Corp.
Having someone like me, who has built a successful pharmaceutical sales career on the premises "relationships are everything" in the field, would notably differentiate Prescott Pharmaceuticals for Umbrella Corp.
My high-level achievements include the following:
Developed and executed business plans for various pharmaceutical products in the Prescott Pharmaceuticals portfolio targeting primary care and specialty physicians throughout Canada's Atlantic region.
Exceeded sales targets by 10% every quarter and beat department averages by 25% every quarter for the past 7 years.
Grew market share by 20% for 30+ products in the Atlantic region. (my territory)
Generated an average of $18 million in revenue per year.
Two-time recipient of the Albert P. Johns internal company award for sales excellence.
As you can see, my core capabilities are selling a portfolio of pharmaceutical products and developing local strategic business plans to increase market volume.
I would happily jump on a call with you over the next few days. If nothing else, I can share insights about how I achieved the abovementioned results.
I look forward to hearing from you.
Sincerely,
Nick Kossovan
LinkedIn profile: https://www.linkedin.com/in/nickkossovan/
It is no secret that there is a lot of employee churn happening. Hence, you can be certain that most employers have several current, or soon-to-be, openings. So, put yourself in an employer's shoes. If an opening suddenly arises, especially an unforeseen opening, say due to an employee moving on, what is more straightforward, posting the job opening and spending time shifting through 100s of resumes, mostly from unqualified job seekers and then conducting interviews, etc., or reaching out to someone who sent a value proposition letter?
Yes, some recipients will delete your letter. Some will forward it to HR, where it will languish in the "black hole," however, there will be those who will email or call you, especially if your timing happens to be right. Incorporating sending value proposition letters as part of your job search strategy gives credence to the adage, "You have nothing to lose and everything to gain." 
______________________________________________________________
Nick Kossovan, a well-seasoned veteran of the corporate landscape, offers "unsweetened" job search advice. You can send Nick your questions to artoffindingwork@gmail.com.
Shoppers Drug Mart moves away from medical cannabis, will send patients to Avicanna – CTV News
TORONTO –
Shoppers Drug Mart Inc. is moving away from its medical cannabis distribution business and preparing to transfer patients to a platform run by biopharmaceutical company Avicanna Inc.
The pharmacy chain owned by Loblaw Companies Ltd. announced the shift Tuesday, but did not say what prompted the change or how much money Toronto-based Avicanna is paying for Shoppers to refer patients to its MyMedi.ca platform.
"We are grateful for the trust placed in us by our medical cannabis patients over the past few years, and are confident we've found the right partner in Avicanna to continue to support them," said Jeff Leger, Shoppers' president, in a statement.
His company will start to send customers to Avicanna's platform in early May, with all of the patients set to be off-loaded from Shoppers' medical pot service by the end of July. Customers will be able to place orders on Shoppers' website through the transition period.
Avicanna said it will offer a similar range of products including various formats, brands and "competitive pricing." Like Shoppers, its online medical portal will strive to educate customers around harm reduction and provide specialty services for distinct patient groups like veterans.
Shoppers first launched its medical cannabis business in Ontario in January 2019, months after recreational pot was legalized in Canada (medical pot was legalized in Canada in 2001) at a time when many predicted the weed sector would be booming in the coming years.
The sector has instead struggled with profitability and as high numbers of recreational cannabis shops cluster in several cities, many retailers and licensed producers have had to drop their prices to stay competitive.
However, Shoppers said it racked up tens of thousands of patients in its four years of existence, providing them with access to cannabis from more than 30 brands including Aphria Inc., Hexo Corp.'s Redecan and the Green Organic Dutchman.
Shoppers' medical cannabis patients were required to obtain a prescription from a licensed health care provider such as a doctor to begin ordering pot from the company, which shipped orders to their homes.
But the company was unhappy with how medical pot regulations limited its model. Shoppers claimed Tuesday that medical cannabis remains the only medication that is not dispensed in pharmacies.
"As we move away from medical cannabis distribution, we remain firm in our belief that this medication should be dispensed in pharmacies like all others and will continue our advocacy to that end," said Leger.
Avicanna's statement did not outline its feelings on the matters, but its chief executive said it was "motivated" to "put our full efforts toward advancing medical cannabis and its incorporation into the standard of care."
"We are thankful to be selected as the partner for this transition and look forward to introducing MyMedi.ca, supporting patients and providing them with continuity of care," said Avicanna chief executive Aras Azadian in a statement.
This report by The Canadian Press was first published March 28, 2023
US charges Sam Bankman-Fried with bribing Chinese officials – The Guardian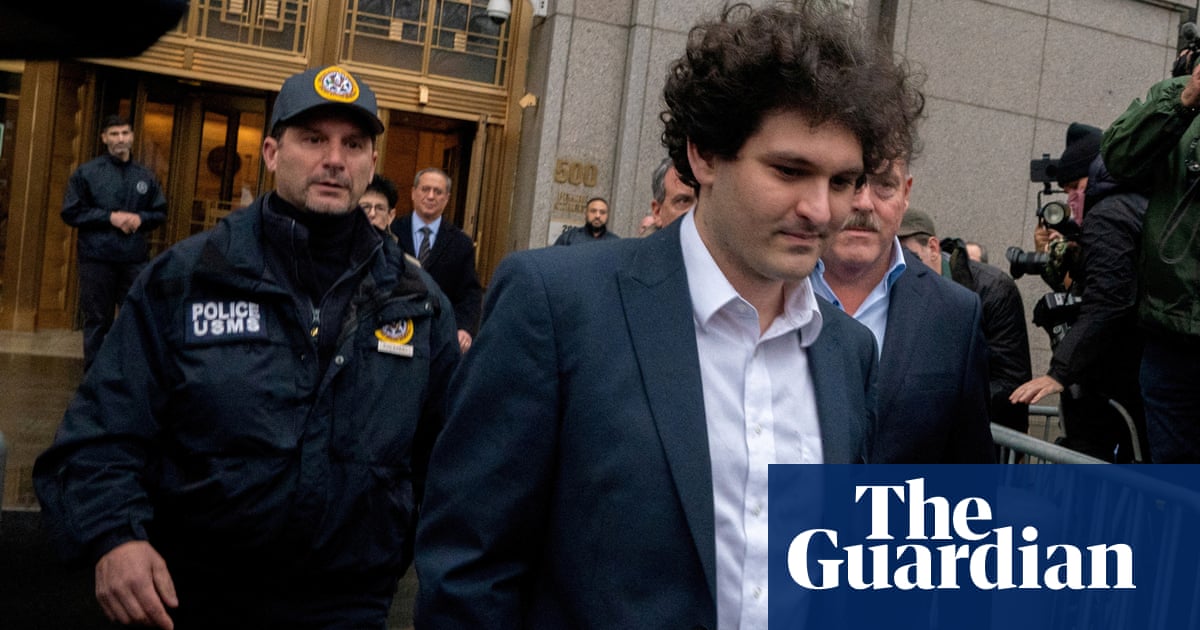 US prosecutors on Tuesday unveiled a new indictment against Sam Bankman-Fried, accusing the founder of now-bankrupt FTX cryptocurrency exchange of conspiring to bribe Chinese government officials with $40m worth of payments.
Federal prosecutors in Manhattan charged Bankman-Fried with directing the payment in order to unfreeze accounts belonging to his hedge fund, Alameda Research, that Chinese authorities had frozen. The accounts held more than $1bn of cryptocurrency, US prosecutors said.
The accounts were unfrozen after the bribe payment was transferred around November 2021 from Alameda's main trading account to a private cryptocurrency wallet, according to the new indictment.
After the accounts were unfrozen, Bankman-Fried authorized a transfer of tens of millions of dollars of additional cryptocurrency to complete the bribe, prosecutors said.
The new charge increases the pressure on the 31-year-old former billionaire, who had previously pleaded not guilty to eight counts over the collapse of FTX. Prosecutors say Bankman-Fried stole billions of dollars in customer funds to plug Alameda losses.
Lawyers for Bankman-Fried did not immediately respond to a request for comment. Bankman-Fried has acknowledged inadequate risk management at FTX, but has denied stealing money.
China's foreign ministry could not immediately be reached after normal business hours in Beijing.
District judge Lewis Kaplan scheduled a court hearing for Thursday after prosecutors asked for Bankman-Fried to be arraigned on the new 13-count indictment.
Prosecutors last month unveiled four new counts against Bankman-Fried, accusing him of orchestrating an illegal campaign donation scheme to buy influence in Washington DC. He has not yet been arraigned on the new charges.
The new count accuses Bankman-Fried of conspiring to violate the Foreign Corrupt Practices Act (FCPA), which makes it illegal for US citizens to bribe foreign government officials to win business.
Bankman-Fried is currently confined to his parents' Palo Alto, California, home on $250m bond ahead of his 2 October trial.
On Monday, his lawyers and prosecutors reached a new agreement on revised bail conditions, after Kaplan raised the prospect of sending Bankman-Fried to jail pending trial. That came after prosecutors raised concerns he may have been tampering with witnesses.
'People are going to be shocked': NSLC hikes prices ahead of federal tax increase
Regular shoppers at Nova Scotia liquor stores faced significant price hikes Monday on beer, wine and spirits.
Retiree John McCracken was picking up his usual bottle of wine when he spoke to CTV News outside the NSLC store on Joseph Howe Drive in Halifax.
"I bought last week, the same bottle was $2 less," said McCracken. "We're talking like $15, $16 bottle of wine. So not high-end wine."
"If you go into that liquor store right now, people are going to be shocked."
Workers were replacing pricing signs in all stores on Monday, but officials insist the overall increase only amounts to about 3 per cent.
"It has to do with overall costs to our supplier community. So that could be anything from freight, transportation, commodities costs, things like glass or aluminum, or other commodities like barley — all of those things are seeing an increase in price, and that's what factoring in to the overall price increase," said Allison Himmelman, a spokesperson for the Nova Scotia Liquor Corporation (NSLC).
She says the increase is below the cost of inflation.
Last month, the corporation reported a healthy earnings increase of 6.6 per cent.
On April 1, federal excise taxes are set to increase another 6.3 per cent — the biggest increase in 40 years. 
"The excise tax is actually just one factor that goes into our overall prices here at the NSLC," said Himmelman.
"And it's actually a very small factor because not all suppliers choose to pass on that excise tax to their retail product prices."
Still, some local bars and restaurants say the hikes will have to be passed on to customers, which will hurt business.
"There's no doubt, yeah, we can't absorb it," said Dimo Georgakakos, owner of the iconic Gus' Pub & Grill in Halifax's north end.
"We've been absorbing so many things, and in the bar business we're a stoic bunch, and we just sort of put our heads down and keep doing it. And now, they just sort of do that and we've got to pass it on and it's going to make customers come here less," said Georgakakos, son of the bar's founder.
He and others are still recovering from lost business in the pandemic, and worry many customers have gotten used to staying home.
"In general, things are not going to get back to the way they were," said Georgakakos. "It's going to be different."
NSLC notes that increased revenue from price adjustments is also shared with producers, including Nova Scotia wineries, brewers and distillers.