'Perfect storm': Is Canada headed for a third wave of COVID-19? – MSN Canada



© Lars Hagberg/THE CANADIAN PRESS
People wear masks to protect them from the COVID-19 virus in Kingston, Ontario on Tuesday, February 9, 2021. THE CANADIAN PRESS IMAGES/Lars Hagberg


There are growing concerns that the spread of more contagious COVID-19 variants could spark a third wave of the coronavirus in Canada as provinces ease restrictions.
All 10 provinces have now reported at least one case of the variant first detected in the United Kingdom. Other "variants of concern" from South Africa and Brazil have also made their way into the country.
Read more: Experts predict rise of COVID-19 variant cases, warn of 3rd wave
With a downward trend of daily cases, Canada is seemingly wrestling through the tail end of a second wave. But public health officials and infectious diseases experts are already raising the alarm bells on a third peak.
"The combination of that optimism from a successful lockdown leading to governments wanting to reopen and the background of these variants of concern emerging, plus, delays in the vaccine arrival is setting up really this perfect storm for a massive third wave," said Dr. Brooks Fallis, a critical care physician in Toronto.
In the largest province of Ontario, 27 regions will begin a gradual reopening on Tuesday against the backdrop of stark scientific modelling that has predicted a third wave of infections and the potential of a third lockdown.
Modelling released on Feb. 11 showed that if public health measures are lifted, the variant first identified in the U.K., which will likely become the dominant version of the virus in the province, could lead to as many as 6,000 daily cases by the end of March.
Following a strict lockdown, Quebec reopened non-essential retail stores, personal-care salons and museums reopened across the province last week. On Feb. 8, Alberta restaurants were also allowed to reopen for in-person dining. Meanwhile, since January, several provinces in Canada have resumed in-person learning at schools.
Jean-Paul Soucy, an infectious disease epidemiologist and PhD student at the University of Toronto, said based on the current trajectory of the variants and the decision-making by governments, the third wave could come in mid to late March and early April.
"We're looking at two different epidemics almost at this point," he said, adding that the exponential growth of the new variants is gradually replacing the old strain of COVID-19.
Following a month-long lull and a sluggish start to its vaccine rollout, Canada is expected to get a big boost in the delivery of shots from Pfizer-BioNTech this week.
But, since vaccinations for the general population are not expected to start until April, it is less likely that the COVID-19 vaccines could prevent a third wave, Dr. Isaac Bogoch, an infectious diseases specialist and physician at Toronto General Hospital, said.
"A third wave is a very reasonable possibility, but it is not inevitable at this point," he told Global News.
If a third wave does hit the country, however, it will be different than the second wave, according to Soucy and Bogoch.
They said vaccinations in long-term care homes will mean there will be fewer deaths there, but a larger percentage of fatalities among the older adults in the community.
"Hopefully the devastation of long-term care facilities will be avoided because, at that point, everyone who lives and works in long-term care will have completed their COVID-19 vaccinations," said Bogoch.
Can a third wave be averted?
On Friday, Prime Minister Justin Trudeau urged the public to refrain from unnecessary travel and gatherings as the long weekend approached, noting a fast-tracked shipment of millions of COVID-19 vaccines in coming months will not be enough to combat the variants that have overtaken other countries.
Load Error
"Nobody wants a third wave to start, particularly not one comprised of new, more communicable variants that can cause real challenges," Trudeau said during a news conference from outside Rideau Cottage in Ottawa.
Read more: 'Significant underestimation' of Canada's COVID-19 case count
Also on Friday, Dr. Theresa Tam, Canada's chief public health officer, said aggressive vaccinations will play a key part in addressing COVID-19 spread but that is just one suppression tool. She added that ongoing vigilance was vital.
"Look at the European countries — they give us a clue as to what might happen if variants are circulating, and we let our guard down. That massive acceleration into that third resurgence, if you like … will happen really fast."
Video: COVID Variants: Will they cause Canada's third wave?
In a bid to curb the spread of new variants, Ontario has introduced an "emergency brake" system to allow for immediate action if a public health unit region experiences rapid acceleration in COVID-19 transmission or if its health care system risks becoming overwhelmed.
Soucy said the reopening of less essential facilities like restaurants for indoor dining and gyms should be delayed until the spring and summertime "when we get to control transmission."
Bogoch echoed that thought, saying it will be important not to reopen too quickly, have policies in place to act swiftly and "stay ahead of the virus."
"Variants of concern or no variants of concern — we still know how to prevent infection," he said.
"If we navigate the next few months until vaccination is more widespread, we can certainly avoid a third wave."
— With files from the Global News' Heather Yourex-West, the Canadian Press.
All vaccinated Ontarians can now download enhanced, scannable certificates – Sudbury.com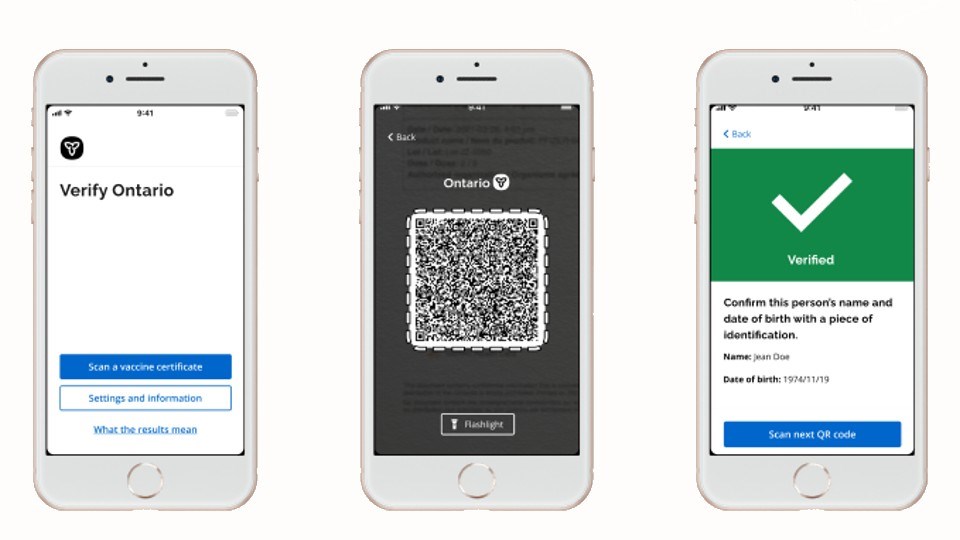 TORONTO — All Ontarians vaccinated against COVID-19 can now download their enhanced certificates, which include a QR code.
The provincial government has said the scannable documents will allow for faster entry into settings that require proof of vaccination.
The enhanced system officially takes effect on Friday, but Ontarians can get their new vaccine certificates before then, and businesses can start using a new app to verify those codes.
Residents whose birthdays fall between January and April were able to download the enhanced vaccination certificate through the province's COVID-19 website on Friday, and further cohorts got access over the weekend.
Under Ontario's vaccine certificate program, only those who have been fully vaccinated against COVID-19 — or have a valid medical exemption from a doctor — can access certain settings.
They include theatres, gyms, nightclubs and restaurant dining rooms.
This report by The Canadian Press was first published Oct. 18, 2021.
The Canadian Press
Oil prices fall as weaker China growth, U.S. output stoke demand concerns
Oil prices fell on Tuesday, with Brent down a second straight day, after Chinese data showed slowing economic growth and U.S. factory output dropped in September, raising fresh concerns about demand amid patchy recovery from the coronavirus pandemic.
Brent Crude was down by 43 cents, or 0.5%, at $83.90 a barrel by 0132 GMT after falling 0.6% on Monday. The contract is still up nearly 7% this month.
U.S. oil fell 33 cents, or 0.4%, to $82.11 a barrel, having risen 0.2% in the previous session and nearly 10% this month.
Factory output in the United States dropped the most in seven months last month as a global shortage of semiconductors slowed auto production, further evidence that supply constraints are a strain on economic growth.
In China, the world's second-biggest economy, bottlenecks also contributed to a decline in the growth rate to a one-year low as energy shortages and sporadic outbreaks of coronavirus hit the country.
China's daily crude oil processing rate fell again last month to the lowest level since May last year.
But with temperatures falling as the northern hemisphere winter approaches, prices of oil, coal and gas are likely to remain elevated, analysts said.
"A frigid winter has the potential to send energy prices even higher," Citi Research commodities analysts said in a note, after upgrading their forecast for Brent oil for the rest of 2021 to $85 a barrel from $74 a barrel.
Colder weather has already started to grip China, with the temperature forecast to fall to near freezing point in areas of the north, according to AccuWeather.com.
Also helping keep a lid on prices, U.S. oil output is rising. Production in the largest shale formation in the U.S. is expected to gain further next month, according to an official report.
(Reporting by Aaron Sheldrick; Editing by Kenneth Maxwell)
Ecuadorean indigenous communities sue to halt oil development
Indigenous communities from Ecuador's Amazon on Monday sued the government to halt plans by President Guillermo Lasso to increase oil development in the country, calling the expansion efforts a "policy of death."
Lasso, a conservative ex-banker who took office in May, issued two decrees in the first days of his administration meant to facilitate the development of oil blocks in environmentally sensitive jungle areas and attract more foreign investment for mining projects.
Leaders of Amazonian  indigenous communities are asking the Constitutional Court, the country's highest judicial body, to nullify the decrees.
"The Ecuadorean government sees in our territory only resource interests," said Waorani leader Nemonte Nenquimo, in remarks outside the court, surrounded by dozens of supporters.
"Our territory is our decision and we'll never allow oil or mining companies to enter and destroy our home and kill our culture."
Lasso has said he will seek international investment to increase oil production to 1 million barrels per day by the end of his term in 2025.
He also wants to make mining one of the country's top sources of income.
The indigenous communities plan to present a separate suit against the decree related to mining, they said in a statement.
Expanding oil extraction will put in danger some of the world's most biodiverse jungle, home to dozens of indigenous communities, the indigenous leaders said.
The energy ministry did not immediately respond to a request for comment.
"They seek to continue this policy of death," said Leonidas Iza, who heads the CONAIE indigenous organization. "This isn't a problem of the indigenous, it's one of civilization."
Indigenous groups have said they could hold protests against Lasso's social and economic policies.
(Reporting by Tito Correa; Writing by Alexandra Valencia and Julia Symmes Cobb; Editing by Sandra Maler)