Peterborough artists Brian Nichols and John Marris facilitate community art making during the pandemic – kawarthaNOW.com
"I am here as an artist," Brian Nichols emphatically states through his mask, while stopping mid-pace, on both feet, as if to punctuate his statement. "I'm here as a volunteer."
With a nod, the artist, volunteer, and psychotherapist springs back into action, energetically fluttering about the studio once more.
It's the first day the drop-in open studio at One City Peterborough has reopened since the most recent provincial-wide lockdown, and the energy in the room is palpable.
Advertisement – story continues below
The new studio space at One City Peterborough, which first opened in October 2020, is buzzing with excited artistic experimentation. Located at 541 Water Street in Peterborough, the studio is open on a drop-in basis to community members between 2:30 and 4 p.m. every Monday afternoon.
Light pours through the large windows onto colourful works of art displayed on the mantle, tables, and walls. That foreboding sense of dread we've all grown so accustomed to can't help but give way to pure joy inside the small studio.
Were it not for the masked participants partaking in the occasional six-foot-shuffle — that awkward physical-distance dance we've all shared with unwitting partners over the past year — one could almost forget, if only for a fleeting moment, that we are living in times of crisis.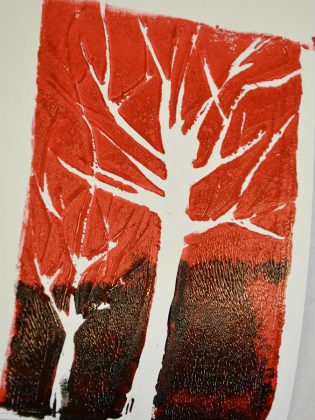 This is not a typical art class. There is no teacher standing at the front of the room imparting their knowledge onto passive recipients. Rather, it's a non-hierarchical environment where the small group can safely gather to actively make art together, and learn about themselves in the process.
"It feels even more important during COVID," says Tammy Kuehne, warming room coordinator for One City Peterborough, which is focused on housing, food security, community safety, and inclusion. The organization is an amalgamation of Warming Room Community Ministries and Peterborough Reintegration Services.
"The need for spaces where people can connect with each other in person, still being safe, is crucial," Kuehne adds. "We've had a lot of people really excited to learn that we're opening back up."
Advertisement – story continues below
Now more than ever we all need community self-expression and creativity, but for those who have faced marginalization and alienation — mental health challenges, homelessness, illness, disability, and poverty — community art making represents a vital lifeline during the isolating conditions of the pandemic.
Throughout the pandemic, both Nichols and fellow local artist John Marris have been hard at work finding ways to deliver the community arts programming they facilitate, respectively, with various not-for-profits.
Prior to the most recent lockdown, Nichols had been facilitating the open studio at One City Peterborough for Circles of Support & Accountability (CoSA) — a restorative justice program — since October.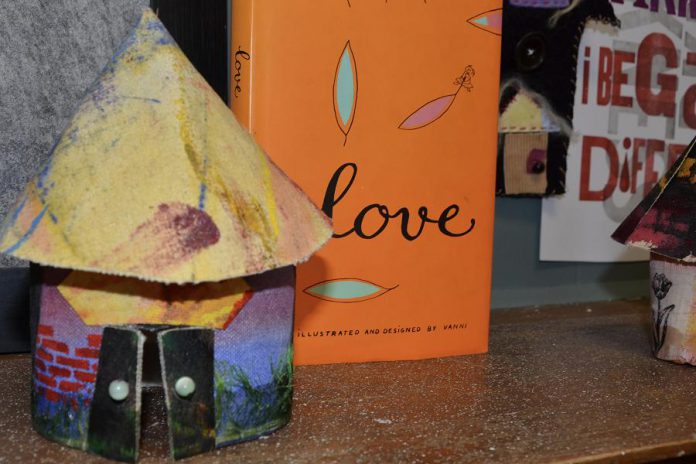 Throughout most of the winter lockdown, Marris has been offering art-making sessions for young residents in a bubbled household at YES Shelter for Youth and Families. He also managed to offer outdoor art-making sessions with YES in the summertime.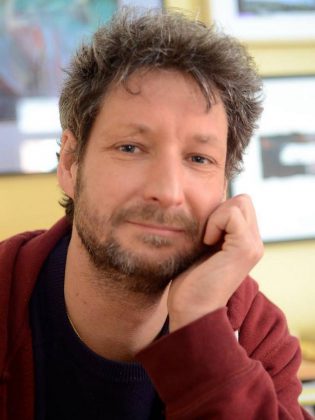 In January, Marris and local artist Wendy Trusler moved online the community art making workshops they had been running with mental health patients at Peterborugh Regional Health Centre so they could safely continue their important work.
This past fall, Marris and Nichols were also able to continue the 'You Can Make It Art' workshops at The Mount Community Centre, though only for residents of the centre. Previously, the workshops had been available on a drop-in basis to the broader Peterborough community, after Nichols launched the program in 2018.
Marris and Nichols have made it their mission to provide those facing marginalization with something the artists believe to be as vital as food, shelter, water, and air.
Art is neither a luxury nor a pursuit reserved only for the cult of the expert. Self-expression is an integral part of being human.
"These community art projects take us back to the fundamental need to express ourselves and explore ourselves in healthy and productive ways," Marris writes for a presentation he recently delivered before the Arts, Culture Heritage Advisory Committee for The City of Peterborough.
"They help us develop skills and confidence and self-belief. They teach us how to be present, to find focus, and to know we have the right to express ourselves — to be the authors of our world."
Advertisement – story continues below
For both Nichols and Marris the impetus to create, and to encourage others to do so, is anchored in the two artists' introspective and philosophical investigations of presence, respectively.
"I need to find things that take me into that moment of presence," explains Marris during a telephone interview. "What I've discovered is that making art, working with play, and making art with other people has become this way to be absolutely present in the moment."
As for Nichols, his background in psychotherapy certainly contributes to his approach to community art-making. Most participants with whom he works have experienced grief or trauma in some form. However, his process is also born from a place of vulnerability and empathy from his own experiences.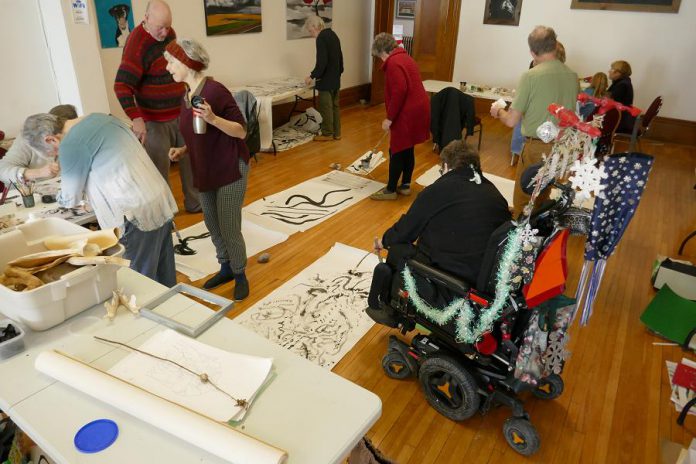 In 2018, after a diagnosis of giant cell arteritis (a rare autoimmune disease) forced Nichols to leave his psychotherapy practice, he felt a sense of urgency to make art and to encourage community art-making. Since then, his artistic output has been as prolific as his community art-making initiatives.
"It's been an incredible journey to figure out how to do the work," Nicols says. "And it's really subtle and easy, but difficult to grasp, how it's not teaching, how it's not simply making art — it's about connection."
"What is present is a new pain and the absence, for me, is often hope and a sense of future," he replies when asked how presence and absence figure into his process. "To help others embrace the new pain, without trying to minimize it — we're not just the pain but that's hugely a part of our existence — without moving to hope and without any sense of future. What we have is now — being in the now — which is that sense of presence."
Advertisement – story continues below
Art making is, in many ways, world making. There exists an essential connection between the real and the imagined. An artist's created world is necessarily separate from, yet connected to, the world in which we live.
"I think living is that whole process of world making," Nichols acknowledges. "To live authentically is to create both your own interior and exterior world."
Through art, Marris and Nichols offer people not only the opportunity to be the creators of their own worlds, but also to create an inclusive and even emancipatory community of art makers, connected by their shared presence in the present.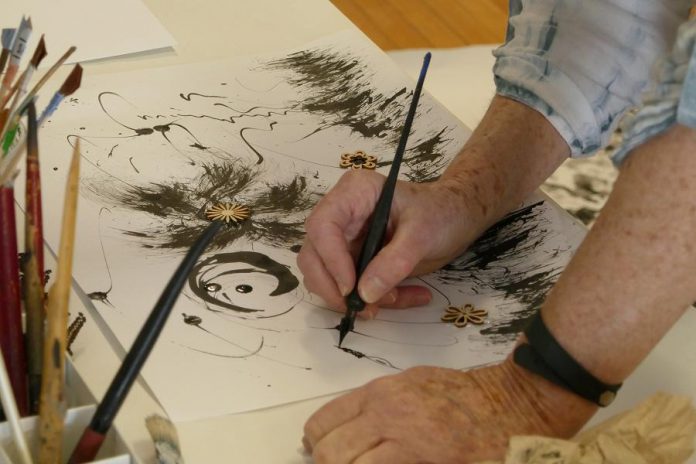 As such, their practices — art making, world making, and the gift of presence — transform the One City Peterborough studio into a sanctuary for all.
To support the important work Nichols and Marris are doing in the Peterborough community, you can make a donation to One City Peterborough at www.onecityptbo.ca/donate or to YES Shelter for Youth and Families at yesshelter.ca/help/help-yes/donate.
Atelier Ludmila Gallery, in the Commerce Building at 129-1/2 Hunter Street West in downtown Peterborough, will be exhibiting Marris' most recent body of work, Material Dialogue. The show opens on the First Friday Art Crawl on March 5th from 6 to 10 p.m. It will be exhibited until Sunday, March 28th. Fifty per cent of all sales from the show will be donated to YES Shelter for Youth and Families.
Launching the conversation on Newfoundland and Labrador art history – TheChronicleHerald.ca
ST. JOHN'S, N.L. —
"Future Possible: An Art History of Newfoundland and Labrador" is a book that has been a long time coming, Mireille Eagan says.
While working at the Confederation Centre Art Gallery in Prince Edward Island, Eagan curated an exhibition marking the 60th anniversary of Newfoundland and Labrador joining Confederation with Canada.
"As I was researching, I noticed that there was very little that existed in terms of the art history of this province," she said. "There wasn't even a Wikipedia article."
Noticing this large gap, "Future Possible" was a book that needed to exist, she said.
As the 70th anniversary approached in 2019, Eagan, now living in St. John's and working as curator of contemporary art at The Rooms, envisioned filling that gap.
Over two summers, The Rooms held a two-part exhibition. The first looked at the visual culture and visual narratives before the province joined Confederation and the second focused on 1949 onward, Eagan said.
"At its core, it was asking, what are the stories we tell ourselves as a province? It was looking at iconic artworks, it was looking at texts that have been written about this place, and it put these works in conversation with contemporary artworks," Eagan said.
In the foreword to the book, chief executive officer of The Rooms Anne Chafe described it as a complement to the exhibition and a project that "does not seek to be the final say. It seeks, instead, to launch the conversation."
History and identity
One example of that conversation between the past and the present mentioned by Eagan is the work of artist Bushra Junaid, who moved to St. John's from Montreal as a baby. The daughter of a Jamaican mother and Nigerian father, Junaid said her experience growing up in the province in the 1970s, where she always the only Black child in the room, was not like most.
"All of my formative years, my schooling and everything, took place in St. John's," she said. "It's very much shaped my current preoccupation."
Her interest in history, identity and representation led her to making "Two Pretty Girls…," which used an archival photograph of Caribbean sugarcane workers from 1903 with text from advertisements for sugar, molasses and rum from archived copies of The Evening Telegram collaged over the women's clothing.
In her essay "Of Saltfish and Molasses" published in "Future Possible," she described the work as "(allowing) me to place these women and their labour within the broader historical context of the international trade in commodities that underpinned Caribbean slavery and its afterlife."
It's a direct connection between Newfoundland and people in the Caribbean, a historical line not often drawn through the context of the transatlantic slave trade, but one she knows personally through the stories told by her mother, Adassa, about their ancestor, Sisa, who "as a teenager, survived the horrors of the Middle Passage, enduring the voyage from West Africa to Jamaica in the hold of a slave ship (Junaid)."
A book like "Future Possible" allows people to interpret themselves and their past, present and future, Junaid says.
"I appreciate the ways in which they really worked to make it as broad and diverse as possible," she said. "It's also striving to tell the Indigenous history of the place, the European settler history … and then also looking for … non-Western backgrounds such as myself. It's enriching."
What shapes us
St. John's writer Lisa Moore contributed an essay called "Five Specimens from Another Time" that weaves together moments from her own life, the province's history and current realities and the art that has inspired her over the years.
"It's really interesting to me to see all this work of people that I've written about in the past and whose work influenced me, even in my writing of fiction, and then newer artists," Moore said. "I just think that the book is a total gift."
With such a rich cultural history ready to be written, she imagines "Future Possible" is just the first of what could be many books about art in the province now that the "ice is cracked."
"The writers that (Eagan) has chosen to write here are also really exciting critics from all over the province, talking about all kind of different periods in art history," she said.
As time passes, the meaning of the works in the book becomes richer, she said.
Mary Pratt's 1974 "Cod Fillets on Tin Foil" and Scott Goudie's 1991 "Muskrat Falls," for instance, are two images with seemingly straightforward and simple subject matter. But any viewer looking now, who is aware of the cod moratorium and the Muskrat Falls hydroelectric dam, would find it difficult to see and interpret these images outside of those contexts.
"Artists, writers, filmmakers … they're keen observers of culture and the moment that we live in," Moore said. "They present things that are intangible like the feeling of a moment, or the culmination of social, political and esthetic powers that come together at a given time and shape us."
"Future Possible: An Art History of Newfoundland and Labrador" is available online and in stores.
Andrew Waterman reports on East Coast culture.
[email protected]
Twitter: @andrewlwaterman
RELATED:
Parrott Art Gallery goes virtual to help flatten the curve – The Kingston Whig-Standard
Article content
WENDY RAYSON-KERR
Feeling stir crazy because of COVID and the latest lock-down? Take a virtual trip to Morocco!
On Wednesday, April 14 at 2:30 p.m., the Parrott Gallery will host Lola Reid Allin's Armchair Traveler online presentation: "Morocco: Sea, Sand and Summit". Allin is an accomplished photographer, pilot, writer and speaker. Travel with her through the land of dramatic contrast and hidden jewels, busy markets and medieval cities, and enjoy some virtual sun.
For more information and to register for this free online event, please visit bellevillelibrary.ca/armchair-traveller.php. The Armchair Traveller Morocco photography exhibit is also available to view through the Parrott Gallery website until mid-May.
Even though our gallery is currently closed to the public, our exhibitions are all available to view online. Sam Sakr's show "The Housing Project" is certain to bring a smile to your face. His collection of mixed media artwork will take you to a playful land of fantastical creatures that inhabit imaginary, stylized cityscapes. If your spirit needs uplifting, you need to see to see this show. I hope that everyone will be able to view Sakr's work both online and then in our gallery after the lock-down ends in May. Without a doubt, it will be worth the wait to see it again in-person when we re-open.
Article content
Another exhibition that you can currently visit on the Parrott Gallery website is the group show "Spring Sentiments: a Reflection of Art in Isolation". This was a collaborative effort by the 39 artists who submitted their work, our staff who put the show together in the gallery and online, and our guest curator Jessica Turner. We are thrilled that Jessica was able to transcribe her experience with this show into a final paper for her Curatorial Studies BFA degree at OCADU.
The fact that we have had to close our doors just as this show was opening is a sad reflection of the theme as the audience must now reflect on this artwork at home, in isolation. The up-side to viewing this exhibition online is that one can read the artist statements that accompany the work and get a more in depth view of the artists' perspectives. We encourage viewers to support our artists by sending in their comments and to vote for their favourites in the show by following the appropriate link on the webpage.
When you can't come in to our building, the Parrott Gallery will bring the artwork to you. And then when the sun and flowers come out in May, and when it is safe to return to our gallery on the third floor of the Belleville Public Library, we hope to see you all again.
For questions about our online talk, our shows, or to purchase any of the artwork please call us at 613-968-6731 x 2040 or email us at gallery@bellevillelibrary.ca.
Wendy Rayson-Kerr is the Acting Curator at the John M. Parrott Art Gallery.
Couple accidentally paint over art worth $500K at South Korea gallery – fm96.com
A young couple damaged a $500,000 piece of art on display in South Korea last month after they mistook some nearby cans and brushes as an invitation to smear paint on the artwork.
CCTV footage captured the moment when the man and woman started splattering paint on the graffiti on March 28 at the Lotte World Mall in Seoul. Exhibition staff say the couple daubed, splattered and rubbed the paint on the display, causing extensive damage to the wall-sized piece of art.
"They thought they were allowed to do that as participatory art and made a mistake," Kang Wook, who runs the exhibition, told Reuters.
Read more:
An 'NFT' digital image just sold for US$69 million — but what is it?
The piece was a valuable work of art by U.S. graffiti artist JonOne, who made it in front of a live audience in Seoul in 2016. The artwork was later turned into a display with paint cans and brushes arranged nearby wherever it's shown.
Police reviewed the CCTV footage and arrested the couple shortly after they defaced the graffiti. They were later released without charges after the gallery accepted their explanation that it was an honest mistake.
"We are currently in discussions with the artist about whether to restore it," Kang said.
Read more:
Man arrested after 'gigantic' playground slide found on child's bunk-bed
The gallery has since added a sign to the display that reads: "Do not touch."
It's not the first time a careless gallery visitor has damaged a piece of art on camera. In 2015, a schoolboy in Taiwan accidentally tripped and punched a hole through a $1.5-million painting that he used to break his fall.
—With files from Reuters
© 2021 Global News, a division of Corus Entertainment Inc.