Pfizer sends kids' COVID-19 vaccine trial data to U.S. FDA – Global News
Pfizer Inc. and BioNTech SE on Tuesday submitted initial trial data for their COVID-19 vaccine in children aged 5 to 11 and said they would make a formal request with U.S. regulators for emergency use in the coming weeks.
Coronavirus infections have soared in children, hitting their highest point in early September, according to data from the American Academy of Pediatrics.
The vaccine, which is already authorized in teens aged 12 to 15 and fully approved for ages 16 and up, induced a strong immune response in the target age group in a 2,268-participant clinical trial, the companies said on Sept. 20.

0:47


U.S. to donate half a billion additional Pfizer COVID-19 vaccines



The Pfizer-BioNTech vaccine was authorized in kids aged 12-15 roughly a month after the companies filed for authorization. If the same timeline is followed for this application, younger children could start receiving their shots as soon as late October.
A rapid authorization could help mitigate a potential surge of cases this fall, with schools already open nationwide.
While kids are less susceptible to severe COVID-19, they can spread the virus to others, including vulnerable populations that are more at risk of severe illness.
The companies said they plan to submit the data to the European Medicines Agency and other regulatory authorities.
Data from the companies' trial showed the two-shot vaccine generated an immune response in children that matched what was previously observed in 16-to-25 year olds. The safety profile was also comparable to the older age group, Pfizer said.
The drugmakers are also testing the vaccine in children aged 2-to-5 and those aged 6 months-to-2 years, with data expected in the fourth quarter.
Moderna's COVID-19 vaccine is not yet authorized for use in adolescents in the United States, while it has gained authorization for that age group in Europe.
(Reporting by Manas Mishra in Bengaluru; Editing by Saumyadeb Chakrabarty)
All vaccinated Ontarians can now download enhanced, scannable certificates – Sudbury.com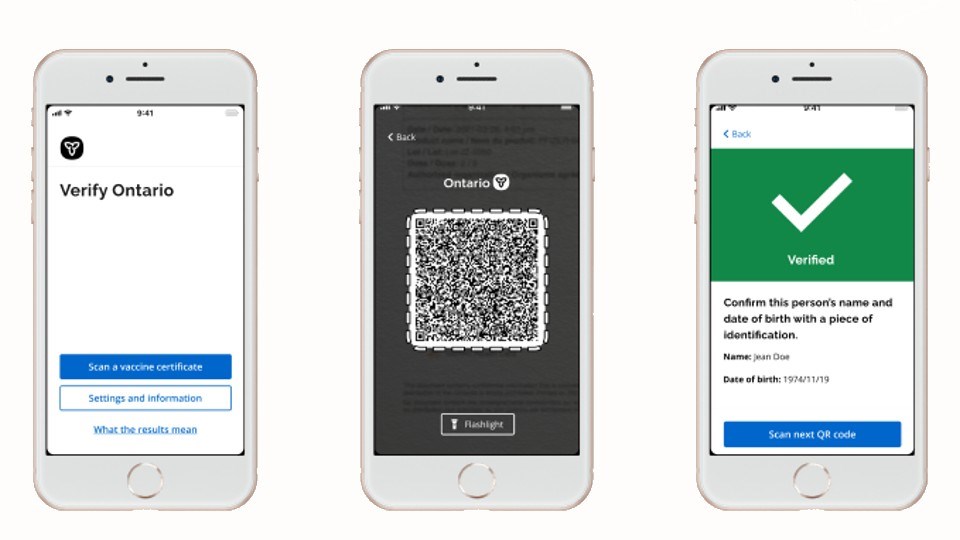 TORONTO — All Ontarians vaccinated against COVID-19 can now download their enhanced certificates, which include a QR code.
The provincial government has said the scannable documents will allow for faster entry into settings that require proof of vaccination.
The enhanced system officially takes effect on Friday, but Ontarians can get their new vaccine certificates before then, and businesses can start using a new app to verify those codes.
Residents whose birthdays fall between January and April were able to download the enhanced vaccination certificate through the province's COVID-19 website on Friday, and further cohorts got access over the weekend.
Under Ontario's vaccine certificate program, only those who have been fully vaccinated against COVID-19 — or have a valid medical exemption from a doctor — can access certain settings.
They include theatres, gyms, nightclubs and restaurant dining rooms.
This report by The Canadian Press was first published Oct. 18, 2021.
The Canadian Press
Oil prices fall as weaker China growth, U.S. output stoke demand concerns
Oil prices fell on Tuesday, with Brent down a second straight day, after Chinese data showed slowing economic growth and U.S. factory output dropped in September, raising fresh concerns about demand amid patchy recovery from the coronavirus pandemic.
Brent Crude was down by 43 cents, or 0.5%, at $83.90 a barrel by 0132 GMT after falling 0.6% on Monday. The contract is still up nearly 7% this month.
U.S. oil fell 33 cents, or 0.4%, to $82.11 a barrel, having risen 0.2% in the previous session and nearly 10% this month.
Factory output in the United States dropped the most in seven months last month as a global shortage of semiconductors slowed auto production, further evidence that supply constraints are a strain on economic growth.
In China, the world's second-biggest economy, bottlenecks also contributed to a decline in the growth rate to a one-year low as energy shortages and sporadic outbreaks of coronavirus hit the country.
China's daily crude oil processing rate fell again last month to the lowest level since May last year.
But with temperatures falling as the northern hemisphere winter approaches, prices of oil, coal and gas are likely to remain elevated, analysts said.
"A frigid winter has the potential to send energy prices even higher," Citi Research commodities analysts said in a note, after upgrading their forecast for Brent oil for the rest of 2021 to $85 a barrel from $74 a barrel.
Colder weather has already started to grip China, with the temperature forecast to fall to near freezing point in areas of the north, according to AccuWeather.com.
Also helping keep a lid on prices, U.S. oil output is rising. Production in the largest shale formation in the U.S. is expected to gain further next month, according to an official report.
(Reporting by Aaron Sheldrick; Editing by Kenneth Maxwell)
Ecuadorean indigenous communities sue to halt oil development
Indigenous communities from Ecuador's Amazon on Monday sued the government to halt plans by President Guillermo Lasso to increase oil development in the country, calling the expansion efforts a "policy of death."
Lasso, a conservative ex-banker who took office in May, issued two decrees in the first days of his administration meant to facilitate the development of oil blocks in environmentally sensitive jungle areas and attract more foreign investment for mining projects.
Leaders of Amazonian  indigenous communities are asking the Constitutional Court, the country's highest judicial body, to nullify the decrees.
"The Ecuadorean government sees in our territory only resource interests," said Waorani leader Nemonte Nenquimo, in remarks outside the court, surrounded by dozens of supporters.
"Our territory is our decision and we'll never allow oil or mining companies to enter and destroy our home and kill our culture."
Lasso has said he will seek international investment to increase oil production to 1 million barrels per day by the end of his term in 2025.
He also wants to make mining one of the country's top sources of income.
The indigenous communities plan to present a separate suit against the decree related to mining, they said in a statement.
Expanding oil extraction will put in danger some of the world's most biodiverse jungle, home to dozens of indigenous communities, the indigenous leaders said.
The energy ministry did not immediately respond to a request for comment.
"They seek to continue this policy of death," said Leonidas Iza, who heads the CONAIE indigenous organization. "This isn't a problem of the indigenous, it's one of civilization."
Indigenous groups have said they could hold protests against Lasso's social and economic policies.
(Reporting by Tito Correa; Writing by Alexandra Valencia and Julia Symmes Cobb; Editing by Sandra Maler)