PGA TOUR announces schedule adjustments for remainder of 2019-20 FedExCup season, releases fall portion of 2020-21 PGA TOUR Regular Season schedule – pgatour.com
With additional time needed to ensure PGA TOUR tournaments are staged in the most safe and responsible manner possible given the ongoing COVID-19 crisis, the PGA TOUR is announcing further schedule modifications for the remainder of the 2019-20 season, as well as plans for the opening portion of the 2020-21 PGA TOUR Regular Season, the restart of the 2020 Korn Ferry Tour season and updates regarding the Mackenzie Tour – PGA TOUR Canada schedule.
"The health and safety of all associated with the PGA TOUR and our global community continues to be our No. 1 priority, and our hope is to play a role – responsibly – in the world's return to enjoying the things we love," said PGA TOUR Commissioner Jay Monahan. "Today's announcement is another positive step for our fans and players as we look toward the future, but as we've stressed on several occasions, we will resume competition only when – working closely with our tournaments, partners and communities – it is considered safe to do so under the guidance of the leading public health authorities."
---
RELATED: Full schedule
---
The PGA TOUR had previously targeted the week of the Charles Schwab Challenge (May 18-24) as the restart of the TOUR season, which has been suspended since THE PLAYERS Championship was canceled on Thursday, March 12. For health and safety reasons due to COVID-19, today's announcement delays that timeline three weeks – to June 8, starting with the Charles Schwab Challenge – with additional tournaments being repositioned between then and the season's conclusion, which is the TOUR Championship, ending on Labor Day (September 7).
At this time, the TOUR plans to resume play with the first four events closed to the general public but will continue to monitor the situation and follow the recommendations of local and state authorities in order to determine the most appropriate on-site access in each market. As such, the TOUR will continually review available COVID-19-related protocols that could be implemented at PGA TOUR events to ensure the health and well-being for all involved.
All three events that were previously scheduled between May 18 and June 8 – the Charles Schwab Challenge, Rocket Mortgage Classic and the Memorial Tournament presented by Nationwide – have been moved to later dates in the calendar.
The RBC Heritage, originally slated for this week (April 13-19) but canceled on March 17, has been added back to the PGA TOUR schedule in the week formerly occupied by the U.S. Open, which – as previously announced – has been postponed to September.
The RBC Canadian Open, originally scheduled for the week of June 8, has been canceled. Click here for a statement from the RBC Canadian Open. The Barbasol Championship, originally scheduled for July 13-19 opposite The Open Championship, has been canceled. The Open Championship was canceled on April 6.
Three invitationals on the updated schedule, the Charles Schwab Challenge (120 players), RBC Heritage (132 players) and the Memorial Tournament (120 players), will see their respective field sizes increase to 144 to provide additional playing opportunities for PGA TOUR members.
Summary of PGA TOUR events from 2019-20 schedule affected by date changes or cancellations:

• RBC Canadian Open, originally scheduled for the week of June 8-14, has been canceled;
• Charles Schwab Challenge, originally scheduled for May 18-24, rescheduled to June 8-14 (former RBC Canadian Open dates);
• RBC Heritage, originally scheduled for April 13-19, rescheduled to June 15-21 (former U.S. Open dates);
• Rocket Mortgage Classic, originally scheduled for May 25-31, rescheduled to July 2-5 (former World Golf Championships-FedEx St. Jude Invitational and Barracuda Championship dates);
• the Memorial Tournament presented by Nationwide, originally scheduled for June 1-7, rescheduled to July 13-19 (former The Open Championship/Barbasol Championship dates);
• World Golf Championships-FedEx St. Jude Invitational and Barracuda Championship, originally scheduled for June 29-July 5, rescheduled to July 27-August 2 (former Olympic Games men's golf competition dates);
• Barbasol Championship, originally scheduled for July 13-19 opposite The Open Championship, has been canceled;
• Corales Puntacana Resort & Club Championship, originally scheduled for March 23-29 and postponed on March 12, has been rescheduled as part of the 2020-21 PGA TOUR Regular Season schedule, September 21-27 (opposite the Ryder Cup);
• The April 6 golf industry announcement outlined changes to the four major championships as well as the Wyndham Championship and the three FedExCup Playoffs events.
Revised 2019-20 PGA TOUR Season schedule
• June 8-14: Charles Schwab Challenge, Colonial Country Club, Fort Worth, Texas
• June 15-21: RBC Heritage, Harbour Town Golf Links, Hilton Head, South Carolina
• June 22-28: Travelers Championship, TPC River Highlands, Cromwell, Connecticut
• July 2-5: Rocket Mortgage Classic, Detroit Golf Club, Detroit, Michigan
• July 6-12: John Deere Classic, TPC Deere Run, Silvis, Illinois
• July 13-19: the Memorial Tournament presented by Nationwide, Muirfield Village Golf Club, Dublin, Ohio
• July 20-26: 3M Open, TPC Twin Cities, Blaine, Minnesota
• July 27-August 2: World Golf Championships-FedEx St. Jude Invitational, TPC Southwind, Memphis, Tennessee
• July 27-August 2: Barracuda Championship, Tahoe Mountain Club (Old Greenwood), Truckee, California
• August 3-9: PGA Championship, TPC Harding Park, San Francisco, California
• August 10-16: Wyndham Championship, Sedgefield Country Club, Greensboro, North Carolina
• August 17-23: THE NORTHERN TRUST, TPC Boston, Norton, Massachusetts
• August 24-30: BMW Championship, Olympia Fields Country Club (North), Olympia Fields, Illinois
• August 31-September 7: TOUR Championship, East Lake Golf Club, Atlanta, Georgia
With 22 events having been played through the Arnold Palmer Invitational presented by Mastercard, the adjusted season-long schedule – subject to change – now consists of 36 events, including three FedExCup Playoffs events concluding with the TOUR Championship over Labor Day weekend, where the 2020 FedExCup Champion will be crowned.
With the health and safety of all associated with the PGA TOUR tournaments being of utmost importance, the TOUR will be working with its media partners on production plans upon the restart to the season. CBS is scheduled to televise the Charles Schwab Challenge through THE NORTHERN TRUST (11 consecutive events, inclusive of PGA Championship), and NBC is scheduled to televise the BMW Championship and TOUR Championship, culminating on Labor Day Monday.
2020-21 PGA TOUR Season
Additionally, the TOUR today introduced the season-opening weeks of the 2020-21 PGA TOUR Season, which now has 13 FedExCup events, including – as announced on April 6 by the USGA and Augusta National Golf Club, respectively – the U.S. Open and Masters Tournament.
"This portion of our 2020-21 schedule is possible only because of the many partners who have worked tirelessly to grow their events and impact the lives of those in need in their respective communities, and our players, who have embraced the expanded fall schedule in recent years," said PGA TOUR Chief Tournaments and Competitions Officer Andy Pazder. "We'd like to express our appreciation to the leadership of the Safeway Open, Houston Open and Mayakoba Golf Classic – which will conclude our calendar year schedule in Riviera Maya, Mexico – for their flexibility, which allowed for the U.S. Open and Masters Tournament to be played in the fall. The accommodations will help the global golf community maximize the 2020 calendar, which will be incredibly impactful for our fans and put us in a strong position heading into 2021."
2020-21 PGA TOUR Season Schedule (fall portion):
• September 7-13: Safeway Open, Silverado Resort and Spa North, Napa, California
• September 14-20: U.S. Open, Winged Foot Golf Club, Mamaroneck, New York
• # September 21-27: Ryder Cup, Whistling Straits, Kohler, Wisconsin
• September 21-27: Corales Puntacana Resort & Club Championship, Corales Golf Club, Punta Cana, Dominican Republic
• September 28-October 4: Sanderson Farms Championship, Country Club of Jackson, Jackson, Mississippi
• October 5-11: Shriners Hospitals for Children Open, TPC Summerlin, Las Vegas, Nevada
• October 12-18: THE CJ CUP @ NINE BRIDGES, Nine Bridges, Jeju Island, Korea
• October 19-25: ZOZO CHAMPIONSHIP, Accordia Golf Narashino Country Club, Chiba Prefecture, Japan
• October 26-November 1: World Golf Championships-HSBC Champions, Sheshan International Golf Club, Shanghai, China
• October 26-November 1: Bermuda Championship, Port Royal Golf Course, Southampton, Bermuda
• November 2-8: Houston Open, Memorial Park Golf Course, Houston, Texas
• November 9-15: Masters Tournament, Augusta National Golf Club, Augusta, Georgia
• November 16-22: The RSM Classic, Sea Island Resort (Seaside and Plantation), Sea Island, Georgia
• November 23-29: Open week (Thanksgiving)
• November 30-December 6: Mayakoba Golf Classic, El Camaleón Golf Club, Playa del Carmen, Mexico
• # November 30-December 6: Hero World Challenge, Albany, New Providence, Bahamas
• # December 7-13: QBE Shootout, Tiburón GC, Naples, Florida
• # December 14-20: PNC Father-Son Challenge, The Ritz-Carlton Orlando, Grande Lakes, Orlando, Florida
# indicates unofficial event
After 10 years, A Military Tribute at The Greenbrier will no longer be on the PGA TOUR's schedule, as per a mutual agreement by The Greenbrier and the PGA TOUR.
"We are very grateful to Governor Jim Justice and his Greenbrier Resort for a highly successful 10 years of partnership with the PGA TOUR," said Pazder. "Governor Justice's vision and leadership helped shine a light on the men and women that serve our country through the military and first responder programs he implemented through the tournament, and The Greenbrier Resort was an incredibly unique and world-class venue that our players will always remember and cherish."
Please see link for statement from The Greenbrier
Korn Ferry Tour Schedule
In addition to the PGA TOUR's schedule modifications, the Korn Ferry Tour announced the postponement of the Evans Scholars Invitational (May 18-24), as well as the cancellation of the REX Hospital Open (May 25-31), BMW Charity Pro-Am presented by SYNNEX Corporation (June 1-7) and Live + Work in Maine Open (June 8-14). The Tour will return to competition with a new tournament to be contested in Ponte Vedra Beach, Florida, the week of June 8-14. The $600,000 event will be held at TPC Sawgrass (Dye's Valley Course) and operated by the Korn Ferry Tour without fans in attendance. The Dye's Valley Course served as host of the Korn Ferry Tour Championship from 2013 through 2015.
Mackenzie Tour – PGA TOUR Canada
The Mackenzie Tour – PGA TOUR Canada is postponing the first six scheduled events of its 2020 season. The tournaments affected are the Canada Life Open in Vancouver (May 28-31); the DCBank Open presented by Times Colonist in Victoria (June 4-7); the GolfBC Championship in Kelowna (June 11-14); the Lethbridge Paradise Canyon Open in Lethbridge (June 25-28); the Prince Edward Island Pro-Am in Cardigan (July 2-5); and the Osprey Valley Open presented by Votorantim Cimentos – CBM Aggregates outside Toronto, in Caledon (July 9-12). The Mackenzie Tour expects to make more announcements in the next couple weeks with additional information about the 2020 schedule, as well as Qualifying Tournament sites and dates.
PGA TOUR Champions, PGA TOUR Latinoamérica and PGA TOUR Series-China
Information regarding PGA TOUR Champions and the PGA TOUR's other two International Tours, in Latin America and China, will be announced in the coming weeks.
A statistical look at the Toronto Maple Leafs vs. Columbus Blue Jackets play-in series – TSN
The National Hockey League's Return to Play format is official, and assuming all goes to plan, we are about six weeks away from watching hockey once again.
The new format – in the event you live under a rock – will feature 24 teams in total, and will open up with a 16-team qualifying round. The opening best-of-five series offers new life to eight teams that were below the original playoff cutline, and should create waves of excitement for eager sports fans.
With such a significant layoff, there will be ample questions about preparedness for every team. But the good news is with 70 or so regular-season games logged, we do have a rather strong understanding of each team's strengths and weaknesses.
To shake off the rust here, I will preview each qualifying round series over the next few weeks. Today we will start in the Eastern Conference, with the eight seed Toronto Maple Leafs taking on the nine seed Columbus Blue Jackets.
Regular Season Performance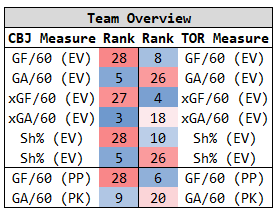 One of the things that I think makes a Toronto-Columbus matchup so intriguing is that the teams are polar opposites.
The Maple Leafs are a high-flying offensive team with loads of superstar talent up front, and carried one of the league's more prolific offences through the regular season. Toronto's 3.4 goals per game was actually third in the league, trailing only Tampa Bay (3.5) and Washington (3.4). Despite the wondrous offensive production, Toronto is still just an eighth seed – in large part because only five teams gave up more goals per game (3.2). Elite offensive team, shaky defensive team
The Blue Jackets live on the other end of the spectrum. Their 2.6 goals against per game was fourth best in the league – a surprisingly strong performance considering the exodus of talent from Columbus last summer. In many ways, it's a classic John Tortorella team: incredibly disciplined in the defensive zone, with five-man units that show very capable in pushing opposing forwards well into the perimeter.
It's also a classic Tortorella team because scoring was a problem all season long. 5-on-5 scoring and power-play production – which has been an area of concern for a few years now in Columbus – are ineffective, in large part because the team cannot create offence from the low slot: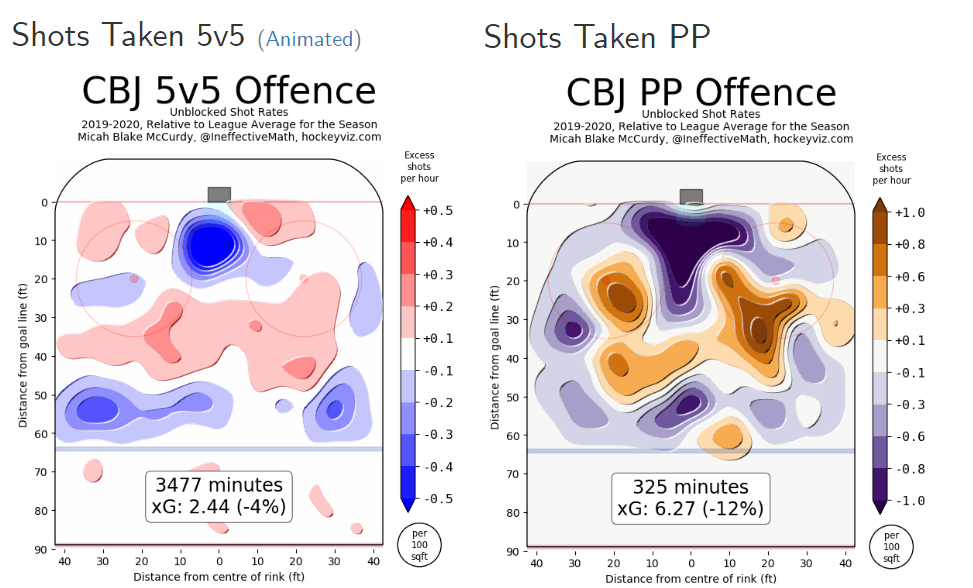 Skater Overview (Goals Above Replacement)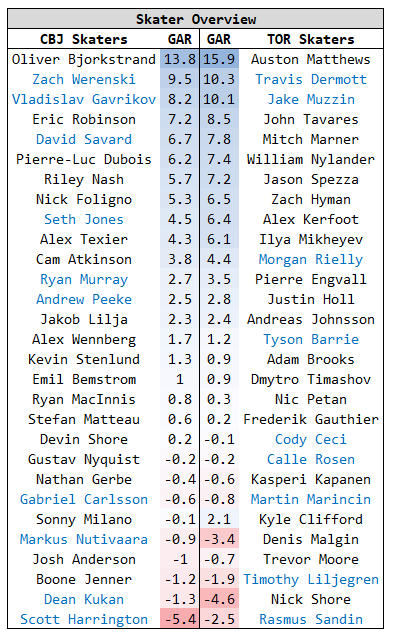 There is no doubt that Toronto's Auston Matthews is the best skater heading into this series. Matthews' fourth professional season was absolutely electric, with 47 goals and 33 assists in 70 games played. The season stoppage ultimately barred him from chasing down the Rocket Richard Trophy, finishing just one marker back of Boston's David Pastrnak and Washington's Alexander Ovechkin.
What differentiates Matthews from a number of other prolific scorers in Toronto is that the Maple Leafs showed a semblance of defensive competency with him on the ice. Toronto was a full goal better than its opponents for every 60 minutes of even-strength play with Matthews on the ice – a number that compares to the likes of Mark Stone and Evgeni Malkin.
Consider some of the other Leafs attackers, and you have a very different story. Mitchell Marner (+0.0 goals per 60 minutes), Kasperi Kapanen (-0.2 goals per 60 minutes), and John Tavares (-0.4 goals per-60 minutes) are just a handful of examples of productive offensive players who traded off those goals because of leaky defensive play behind them.
Matthews isn't the only player in the series to drive such an impressive on-ice goal differential, though. Oliver Bjorkstrand – the 25-year-old Columbus forward in the midst of his own breakout season – also finished a goal better than his opponents per 60 minutes, coming into his own with linemates Gustav Nyquist and Pierre-Luc Dubois.
But the story of Columbus ultimately centers on their blueline. The team's top pairing of Zach Werenski and Seth Jones has become one of the most formidable defensive duos in the league, and Toronto's top-six forwards are going to see an ample amount of both in this series.
The Jones/Werenski pairing is strong on both sides of the ice, and over the years it has led to some incredible goal rates. By season:
– 2016-17: +9 goals
– 2017-18: +16 goals
– 2018-19: -10 goals
– 2019-20: +14 goals
For Toronto to prevail in this series, neutralizing Columbus' best units – anchored by the Jones/Werenski pairing – will be critical.
Goaltender Overview (Goals Saved Above Average)

The questions about how porous the Maple Leafs defence has been this season has been quite tough to answer, if only because the goaltending has been comparatively abysmal. For every scoring chance where the blueline left a Toronto goalie out to dry, you had another lifeless shot from the point that somehow found its way in the back of the net.
Frederik Andersen did improve as the season progressed, and the acquisition of Jack Campbell from Los Angeles did prove to be a major upgrade over Michael Hutchinson. Andersen will be the guy in this series, but it's probably fair to say he doesn't have the longest leash of goalies in the qualifying round.
In Columbus, Tortorella had tough decisions to make in the post-Sergei Bobrovsky world. His tandem of Elvis Merzlikins (33 games) and Joonas Korpisalo (37 games) proved more than capable, and were one of the biggest reasons the Blue Jackets stayed in the hunt this season.
But in a short series, the value of a rotational goaltender system is diminished – Tortorella ultimately has to pick one. The games played edge would seemingly give it to Korpisalo, but on performance, Merzlikins was a definitively better goalie. I would be surprised if the Latvian isn't given the Game 1 start.
Prediction
If anyone is still counting out Columbus after last season's unbelievable sweep of the Tampa Bay Lightning, they are foolish. This is a strong, defensively disciplined team that's going to scratch and claw for every inch of the ice.
But this Toronto lineup just has too much firepower in the forward ranks, and there are serious concerns about where the scoring will come from on the Columbus side.
The pick is Toronto in five.
Data via Natural Stat Trick, HockeyViz, Evolving Hockey, NHL.com
Oilers' McDavid, Nurse size up new playoff format ahead of potential Hawks clash – CBC.ca
During his downtime in the early months of the COVID-19 pandemic, Darnell Nurse tuned into the Michael Jordan documentary The Last Dance for a dose of inspiration.
The Edmonton Oilers rearguard plans to draw on motivational lessons from Air Jordan in the first round of the Stanley Cup playoffs against the Chicago Blackhawks.
"I think that's the perfect example — to see his mindset in a lot of those games – of creating your own environment, creating your own fire," Nurse said Thursday on a virtual news conference conducted via Zoom.
"That's a test that everyone in this situation is going to have to go through, having the ability to create your own excitement."
WATCH | Nurse remains motivated by opportunity to win Stanley Cup:
There will be no crowd due to the COVID-19 pandemic. The seats, empty. The energy in the building, absent.
"Yeah, there's no fans there," Nurse said. "And yeah, you might be in a hub city. But there's an opportunity to win the Stanley Cup. I think that should be enough motivation to get anyone going.
"There's a lot of challenges. There are a lot of things that aren't ideal that come along with this situation. But that's the world. The world is in that position right now. So the Stanley Cup is all the fire you should need."
On Tuesday, NHL commissioner Gary Bettman announced the league and NHLPA agreed to a return-to-play format, which concludes the remainder of the regular season and begins a 24-team playoff plan.
The new plan would see the top-4 clubs in the Eastern and Western Conference play two abbreviated round-robin tournaments to determine playoff seeding.
The other eight teams in each conference would play a best-of-five 'play-in' series — No. 5 versus No. 12, No. 6 versus No. 11, No. 7 versus No. 10, and No. 8 versus No. 9 — to determine the 16 clubs left standing for the playoffs.
WATCH | 2-minute recap of Bettman's press conference:
If fans were allowed in the building in Edmonton, Chicago forward Patrick Kane would have no doubt experienced the wrath of the Oiler faithful given the carnage inflicted over the years.
Through 43 career games against the Oilers, Kane has 56 points. And in the post-season against any club, Kane is a certified gamer with 123 points in 127 career appearances and a Conn Smythe Trophy to boot.
The Chicago faithful have reason to hope for an upset — if Kane can keep up the torrid scoring pace and the rest of the Blackhawks can somehow limit the damage inflicted by Leon Draisaitl and captain Connor McDavid.
Holland approves of format
"I'm happy it's a best-of-five," Oilers general manager Ken Holland said. "There might be a little bit of rust in the first game or two, but over the course of a five-game series it's an opportunity to — if you get off to a sluggish start — get back in the series.
"If you have a bad first game, you've still got to lose two more versus how quickly a best-of-three can go."
In spite of the Kane factor, the Oilers (37-25-9) will enter the series — whenever it happens — as the undeniable favourites against the Blackhawks (32-30-8).
On Thursday, McDavid, who was part of the NHL/NHLPA's Return to Play Committee, and Nurse addressed the merit of the 24-team format and whether a hub city approach would provide an advantage for the hometown franchise among other topics.
WATCH | McDavid, Nurse discuss polarizing return-to-play format:
The Oilers led the league in power-play efficiency at a whopping 29.5 per cent, and now they have the services of a healthy Mike Green as the quarterback on the point.
As for the penalty kill, they ranked second behind only San Jose at 84.4 per cent.
"We've had that same power play for probably two years now, and that helps a lot," McDavid said. "We've had a lot of success on specialty teams, and we'll probably need to be a little bit better five-on-five."
Draisaitl a driving force
The difference maker could well be Draisaitl, the 2019/20 Art Ross Trophy winner with 43 goals and 67 assists for 110 points in 71 appearances. The 6-foot-2, 208-pounder is a beast to move off the puck and one of the best pure passers in the league.
During Thursday's conference, a reporter from Germany asked McDavid how he benefits from playing with Draisaitl.
"He gives me nice passes, so that definitely helps me out," McDavid said. "A lot was made of us playing together or not playing together, and that gives our team a different look."
After Christmas, head coach Dave Tippett assigned McDavid and Draisaitl their own lines, and the Oilers became way more challenging to defend with the scoring spread around.
"As a general manager, and if you're a fan of the Edmonton Oilers, we're very fortunate to have two great players who are 23 and 24 years of age and, really, probably just coming into their prime years as athletes," Holland said. "They've been versatile. Obviously, Leon can move to the left wing and we can play them together as a line."
And when that happens — even minus fans in the building — the atmosphere will no doubt be electric.
Bruins win Presidents' Trophy for 2019-20 season – NHL.com
The Boston Bruins won the Presidents' Trophy, awarded to the team with the best record in the regular season.
The Bruins were 44-14-12 and led the NHL with 100 points when the 2019-20 season was paused March 12 due to concerns surrounding the coronavirus.
The NHL in its Return to Play Plan announcement May 26 said there would be no more regular-season games, instead restarting with eight teams in each conference playing a Qualifying Round for the Stanley Cup Playoffs, with a Seeding Round Robin featuring the top four teams in each conference.
The Bruins had five winning streaks of at least four games, including three of at least six games. They had a 13-game point streak (9-0-4) from Nov. 10-Dec. 5 and ended the season with at least one point in 30 of their final 37 games (24-7-6).
It's the third time the Bruins have won the Presidents' Trophy since it was first awarded in 1985-86. They did so in 2013-14, when they lost to the Montreal Canadiens in the Eastern Conference Second Round, and in 1989-90, when they lost to the Edmonton Oilers in the Stanley Cup Final.
Boston was led by forward David Pastrnak, who tied Alex Ovechkin of the Washington Capitals for the NHL lead with 48 goals and was tied with Artemi Panarin of the New York Rangers for third in the League with 95 points.
Goalies Tuukka Rask (26-8-6, 2.12 goals-against average, .929 save percentage) and Jaroslav Halak (18-6-6, 2.39 GAA, .919 save percentage) combined for eight shutouts and helped the Bruins allow the fewest goals in the NHL (167, 2.39 per game), earning Boston goalies the William M. Jennings Trophy for the third time (Andy Moog and Rejean Lemelin, 1989-90; Tim Thomas and Manny Fernandez, 2008-09).