Pink Floyd drummer invests in Disciple Media, a platform aimed at the creator economy – TechCrunch
Much has been made of the rise of the "creator economy" in the last year. With the Pandemic biting, millions flooded online, looking for a way to make money or promote themselves. The podcasting world has exploded, and with it platforms like Patreon, Clubhouse, and many others. But the thorny problem remains: Do you really own your audience as a creator, or does the platform own you? Companies like Mighty Networks, Circle and Tribe have tried to address this, giving creators greater control than social networks do over their audiences. Now another joins the fray.
Disciple Media bills itself as a SaaS platform to enable online creators to build community-led businesses. It's now raised $6 million in funding in what it calls a 'large Angel round'. It already claims to have garnered 2 million members and 500 communities since launching in 2018. Investors include Nick Mason (drummer in Pink Floyd), Sir Peter Michael (CEO of Cray Computers, founder of classic FM, Quantel and Cosworth Engineering), Rob Pierre (founder and CEO of Jellyfish), and Keith Morris (ex. chairman Sabre Insurance). It's also announced a new Chairman, Eirik Svendsen, a expert in online marketplaces, SaaS and the publishing and media industry.
On its communities so far it has American country star and American Idol judge Luke Bryan, Gor Tex, and Body by Ciara. The platform is also available on iOS and Android and comes with community management tools, a CRM, and monetization options. The company claims its creators are now "earning millions in revenue each year."
Benji Vaughan, Founder and CEO said: "The scale and rapid growth of the creator economy is extraordinary, and today that growth is being driven by entrepreneurial creators looking to build independent businesses outside of Youtube and the social networks."
Vaughan, a Techno DJ and artist-turned-entrepreneur, says he came up with the idea after building similar communities for clients. He says the data created on Disciple communities is owned entirely by the host who built the network, "removing third-party risk and allowing insights to be actioned immediately".
He told me: "We are moving from a position of effectively having 'gig economy workers for social networks' to owners of businesses who use social networks for their needs, not the other way around. Therefore, these people are starting to leave social networks to build their businesses and using social networks as marketing channels, as the rest of the world does. Once that migration happens where they move away from social networks as their prime platform, they need a hub where their data is going to get pulled together, they have an audience, which we see as a community that connects with itself as much as they do with the host."
He thinks the equivalent of Salesforce or HubSpot in the creative economy is going to be a community platform: "That's where they're going to aggregate all the information about their valuable audience or community engagement. So, we are looking to, over time, to build out something very akin to what HubSpot sites they have for tech companies or SaaS businesses: a complete package, a complete platform to manage your engagement with your users, grow your user base and then convert that into revenue."
Rob Pierre, founder and CEO Jellyfish said: "Creating and engaging with your community digitally has never been more important. Disciple allows you to do both of those things with a fully functional, feature-rich platform which requires very little upfront capital expenditure. It also provides numerous options to monetize your community."
A 'delta' chill in the air? The economy is still booming, but it faces new uncertainty – MarketWatch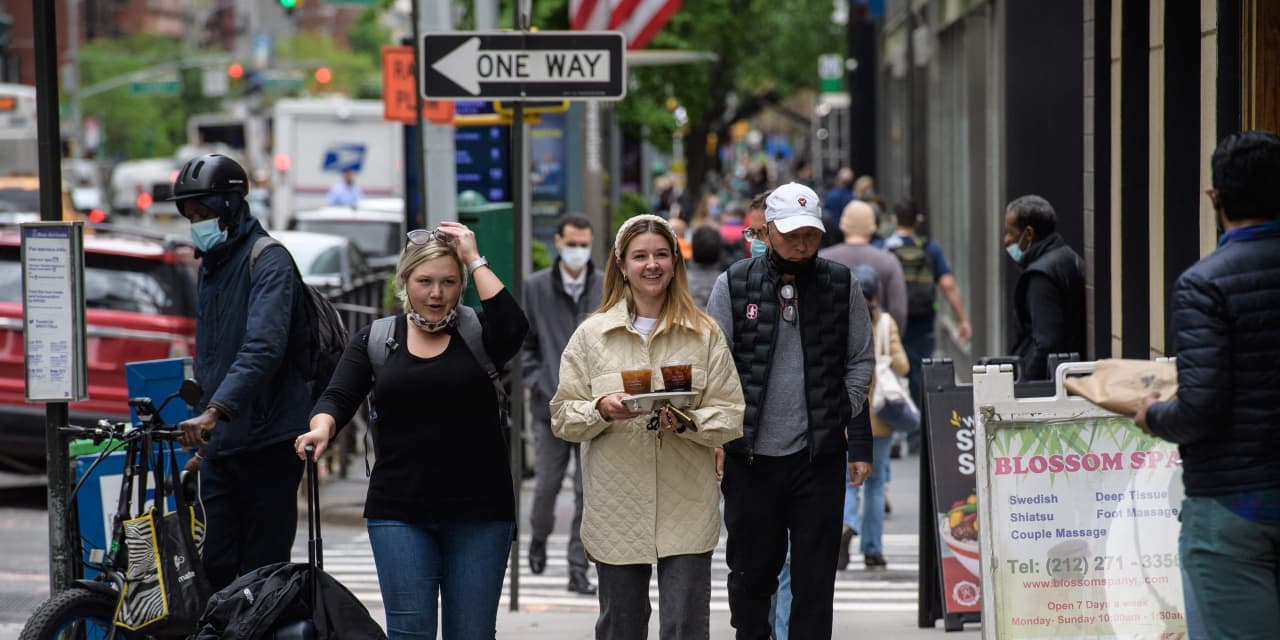 The U.S. economy caught fire in the spring and it's still running pretty hot this summer, but a new strain of the coronavirus is threatening to cast a chill over the recovery.
Worries about the so-called delta strain sent a shiver through investors last week after the number of people catching the virus quickly climbed from a pandemic low. The stock market
DJIA,
+0.68%
posted its biggest decline in almost 10 months before recovering and bond yields also fell.
Although the U.S. Covid caseload is still quite low, the delta variant has introduced new uncertainty into the economic outlook and forced households, businesses and government to consider how to respond.
The reaction so far? Not much. Los Angeles County recommended that residents wear masks again, but it's one of the few governments to do so.
By and large, the delta variant has drawn a wait-and-see reaction. Just look at the stock market. The Dow Jones Industrial Average recovered all of its losses in just a few days and was back at an all-time high.
A chief reason for the optimism, it seems, is that the White House and Federal Reserve will do whatever it takes to keep the economy propped up.
"As long as the government and the Fed keep pumping things up, it is hard to see how the markets can stay down for an extended period," said chief economist Joel Naroff of Naroff Economic Advisors.
Massive government financial stimulus played a huge role in what's expected to be a very strong U.S. economic performance in the second quarter. Economists polled by The Wall Street Journal estimate that gross domestic product soared at a 9.1% annual rate in the period stretching from April to June.
See: MarketWatch Economic Calendar
That would be one of the strongest American growth rates ever and help compensate for the devastating economic losses early in the pandemic. GDP, the official scorecard for the U.S. economy, will be released on Thursday.
More important, of course, is what happens next. GDP is mostly a look in the rearview mirror.
Other reports next week are likely to show the U.S. sustaining its recent momentum. Consumer spending data and orders for manufactured goods in June are also expected to point to underlying strength in the economic recovery.
Read: Takeout and dining out has never been so popular – how U.S. restaurants survived and even thrive
Households are spending freely and businesses just can't keep up with demand. One of their biggest problems is finding enough workers.
What about the delta strain?
So far most people who are catching it are unvaccinated. So-called break-though cases among the vaccinated, meanwhile, are not inducing many severe reactions or deaths.
So it seems the prognosis for broader economy — not to mention the health of the public — is still pretty good with more than 68% of the adult U.S. population having received at least one shot.
Yet if there's one thing that's been learned during the pandemic, nothing can be taken for granted. The virus could mutate again, for instance, or individuals, businesses and government could adopt defensive measures that take some steam out of the recovery.
Perhaps the most realistic danger for now is that the delta variant will spread more rapidly around the world and further disrupt global suppy chains that have been strained by the pandemic.
These supply-chain problems — a notable example is a shortage of computer chips — could exacerbate the surge in U.S. inflation this year and further raise costs for consumers and businesses alike.
Already higher inflation is hurting Americans financially and undermining confidence in the recovery. A key inflation report next week, known as the PCE price index, due on Friday, is expected to show another large increase.
The Fed, for its part, is likely to try to reassure consumers and investors next week that the spike in inflation is just temporary after its latest big meeting on the economy. That's been the Fed's mantra for months.
Read: Prices are soaring and Americans aren't happy about it
Also: The cost of living posts biggest surge since 2008 as inflation spreads
Yet the central bank badly underestimated how much prices would rise this year and even some top Fed officials are starting to get worried.
Student Loan Cancellation Won't Stimulate The Economy, According To New Research – Forbes
Student loan cancellation won't stimulate the economy, according to new research.
Here's what you need to know.
Student Loans
Supporters of student loan cancellation say student loan cancellation is a perfect financial stimulus: cancel $50,000 of student loans, and student loan borrowers will have more money to spend on local businesses. Sen. Elizabeth Warren (D-MA) and Senate Majority Leader Chuck Schumer (D-NY) have been vocal supporters of student loan cancellation as a means of financial stimulus. However, according to new research from the Committee for a Reponsible Budget, both total student loan cancellation and partial student loan cancellation will have a minimal effect on the economy. Here's what they found:
Total student loan cancellation: only $0.08 to $0.23 of economic activity for every dollar of student loans cancelled.
Partial student loan cancellation: $0.02 to $0.27 of economic activity for every dollar of student loans cancelled.
Student loan cancellation of $10,000: results in an economic multiplier of only 0.13x.
Student loan cancellation of $50,000: results in an economic multiplier of 0.10x.
This means that if you cancel all student loans, then only 8% to 23% of the amount of student loan debt cancelled would stimulate the economy. If you cancel some student loans, then only 2% to 27% of the amount of student loan debt cancelled would stimulate the economy.
3 Reasons student loan cancellation doesn't stimulate the economy:
Due to income-driven repayment plans, student loan cancellation has minimal impact on impact cash flow;
Student loan cancellation is poorly targeted to those less likely to spend; and
The current state of the macroeconomy given supply and demand constraints
Here are the details.
---
Student loan cancellation and stimulus
Here's how much partial student loan cancellation would impact the economy, according to research:
Student loan cancellation: $10,000
completely eliminate student loans for 15 million borrowers
partially cancel student loans for 28 million would cost $210 to $280 billion.
would reduce annual student loan payments by $18 billion per year (after temporary student loan forbearance ends)
even after three years, the savings would be $54 billion, which is about 20% – 25% of the amount of student loans cancelled
Student loan cancellation: $50,000
completely eliminate student loans for 36 million borrowers
partially cancel student loans for 7 million would cost more than $950 billion.
would reduce annual student loan payments by $55 billion per year (after temporary student loan forbearance ends)
even after three years, the savings would be $165 billion, which is about 17% of the amount of student loans cancelled
---
Why student loan cancellation doesn't really impact cash flow
According to the research, student loan cancellation doesn't really impact cash flow. Here's why:
$50,000 of student loan cancellation doesn't mean that a student loan borrower now has $50,000 to spend in the economy.
Instead, a student loan borrower would save their student loan payment each month, which could range based on their student loan balance, but could be several hundred dollars (not $50,000).
Here's a surprising statistic: nearly 50% of all student loan dollars are connected to non-repaying borrowers either in school, student loan delinquency, student loan forbearance (separate from the current temporary student loan forbearance ddue to the Covid-19 pandemic), student loan deferment or student loan default.
And among those student loan borrowers in student loan repayment, approximately 40% of the dollars come from income-driven repayment plans. Unless their student loan debt is completely or mostly cancelled, these student loan borrowers would continue to make student loan payments each month based on their income.
Almost 90% student loan borrowers in an income-driven repayment plan have student loan balances above $10,000, while approximately 40% have student loan balances over $50,000.
---
Biden has supported financial stimulus, but hasn't cancelled student loan debt
President Joe Biden has been a proponent of stimulus to help Americans in the response to the Covid-19 pandemic. Through measures such as stimulus checks and enhanced unemployment benefits, Biden has championed providing direct checks to those most in need. The researchers found that "fiscal stimulus is most effective when it goes to those most likely to spend, such as individuals with low incomes or those who recently experienced a loss in income." However, they argue that student debt cancellation does the exact opposite by distributing money mainly to those most likely to save and least likely to spend. How does student loan cancellation compare to stimulus checks and enhanced unemployment benefits? The researchers estimate savings from a student loan borrower having lower debt repayment will only be about 50% as effective at boosting demand as expanded unemployment benefits and 20% less effective than stimulus checks. "Given high levels of savings, massive stimulus in the pipeline, pent-up demand, supply constraints, inflation pressures, and expectations of a strong economic recovery, additional cash injected into the economy will have few places to go. To the extent that it leads to new spending – as opposed to saving – it is likely to result in additional inflation pressures (especially in the near term)."
As Biden and Congress debate the future of student loan cancellation, the good news is that Biden has cancelled $3 billion of student loans. It's likely that Biden will continue to pursue targeted student loan cancellation, but there is no guarantee that there will be any wide-scale student loan cancellation. Therefore, make sure you have a clear strategy for student loan repayment. Here are some popular options:
---
Student Loans: More Reading
The rapid growth the U.S. economy has seen is about to hit a wall – CNBC
A National Park Service worker replaces a flag at the Washington Monument which reopened today following a six month closure due to COVID-19 safety measures, in Washington U.S., July 14, 2021.
Kevin Lemarque | Reuter
The U.S. economy is expected to post another roaring growth spurt in the second quarter, before a slow and steady dose of reality starts to sink in.
Gross domestic product is projected to accelerate 9.2% for the April-to-June period, according to a FactSet survey. The Commerce Department will release its first estimate for second-quarter GDP on Thursday.
In a pre-pandemic world, that would have put annualized growth at its fastest level since the second quarter of 1983. However, the current circumstances and the outsized policy response they generated make this merely the third straight quarter of GDP that sits well above the post-Great Recession trend.
Things are about to change, however.
The economy is creeping back toward normal, the open checkbook from Congress is about to get tighter, and millions of sidelined American workers will be returning to their jobs. That means a gradual reversion to the mean for an economy more used to growing closer to 2% than the much stronger levels it has turned in during the reopening.
"Growth has peaked, the economy will slow a bit in the second half of this year, then much more noticeably in the first half of 2022 as fiscal support fades," said Mark Zandi, chief economist at Moody's Analytics. "The contours of growth are going to be shaped largely by fiscal policy over the next 18 months. The tailwind just blows less strongly, and may stop altogether by this time next year."
It's been a long road getting here, but the economy has gotten very close to its pre-pandemic self.
In fact, according to a running gauge that Jefferies keeps, overall output is at 98.6% of its "normal" level before Covid-19 turned everything upside down. The firm uses a slew of indicators to measure then versus now, and finds that while some areas such as employment and air travel are lagging, retail and housing have helped push overall activity to just below the 2019 level, at 98.6%.
"When I look holistically at household income dynamics and balance sheets, I see a very, very positive situation, very healthy fundamentals, and it's hard to be pessimistic on the outlook," said Aneta Markowska, chief financial economist at Jefferies.
Indeed, household net worth totaled $136.9 trillion at the end of the first quarter, a 16% increase from its 2019 level, according to the Federal Reserve. At the same time, household debt payments compared with disposable personal income fell to 8.2%, a record low going back to 1980.
But much of that net worth has been driven by increases in financial assets such as stocks, and personal income has swelled due to government stimulus payments that are slowing and eventually will stop.
Demographics holding back growth
Keeping up such a rapid pace of growth will be difficult in an economy that has long been held back by an aging population and lackluster productivity. Those issues will be exacerbated by dwindling policy support as well as an ongoing battle against Covid-19 and its variants, though few economists expect widespread lockdowns and the plunge in activity that happened in early to mid-2020.
"What we see is an economy growing robustly above trend albeit at a slower pace through 2023," said Joseph Brusuelas, chief economist at consulting firm RSM. "Absent any productivity-enhancing policy support, we eventually will move back to trend because there's not much we can do about the demographic headwinds, which will eventually drag growth back to the long-term trend."
But there also are shorter-term headwinds that should temper those gaudy growth numbers.
An aggressive spurt of inflation brought on by supply constraints and huge demand related to the economic reopening will hit output. While many economists, including those at the Federal Reserve, are willing to write off the inflation as temporary with soaring used auto and truck prices contributing a large component, officials including Treasury Secretary Janet Yellen warned that the price increases are likely to continue for at least several months.
Gasoline prices at a Royal Dutch Shell Plc gas station in San Francisco, California, U.S., on Wednesday, July 7, 2021.
David Paul Morris | Bloomberg | Getty Images
Inflation combined with fading fiscal support also then will serve as a growth limit.
"The economy is facing supply constraints with residential investment likely a drag and the change in inventories remaining negative," Bank of America U.S. economist Alexander Lin said in a note. "Looking ahead, this is likely the peak, with growth cooling in the coming quarters."
Capital Economics forecasts a below-consensus 8% GDP figure for the second quarter, then a drop to 3.5% in the following period.
"With surging prices squeezing real incomes we suspect the pace of monthly growth will remain lackluster, setting the stage for a sharp slowdown in consumption and GDP growth in the third quarter," wrote Paul Ashworth, chief North American economist at Capital Economics.
The pandemic is another wild card.
Cases of the delta variant are spiking in a handful of states, and health officials worry that the U.S. could face a surge like the one hitting some European and Asian countries. Few if any economists expect another wave of lockdowns or similar constraints in the U.S., but pressure from abroad could hit domestic growth.
"Export platforms like Vietnam are being locked down now," Brusuelas said. "Vietnam is becoming a more important cog in the global supply chain, so we are watching that closely.
Brusuelas added that the negotiations over the debt ceiling also could shake up things in the U.S. Yellen said Friday that extraordinary measures the U.S. may need to take to continue paying its debts could hit troubles as soon as October.
Become a smarter investor with CNBC Pro.
Get stock picks, analyst calls, exclusive interviews and access to CNBC TV.
Sign up to start a free trial today.