Pioneering Oilers team was 'something special' and players didn't even realize it – The Globe and Mail
As he grew up, Georges Laraque's parents tried to persuade him not to play hockey. They chose not to drive him to practice in the hope it would discourage him. So Georges pedalled a bicycle through the snow and cold in Montreal with a stick in one hand and an equipment bag strapped to his back.
"They thought I would quit, but I didn't," Laraque says.
His mother and father immigrated to Canada from Haiti, and preferred that he played soccer, which they believed was a less dangerous and more inclusive sport. They also feared their Black son would be unwelcome in rinks where there were so few faces that looked like his.
"They wouldn't come to my games because they thought people in the stands were going to call me the N word," Laraque says.
At six years old, he heard his first hateful taunt.
"It happened in minor hockey more than anywhere else," Laraque says. "It was just horrendous."
Laraque went on to become a bruising forward for 12 years in the NHL. In 2000-01, he was a member of an Edmonton team that was historic for its makeup. Along with Laraque, the Oilers had four other Black players on the active roster in Sean Brown, Anson Carter, Joaquin Gage and Mike Grier.
Never before or since has there been such representation on one NHL team. That season, there were 16 Black players in the entire 30-team league. The Oilers had 30 per cent of them.
"At the time, we joked that at least the music in the dressing room had gotten much better," says Gage, a backup goalie who grew up in Kitsilano, a neighbourhood on Vancouver's West Side.
A fifth-round draft pick in 1992, Gage said the composition of the 2000-01 team didn't resonate with him until the Oilers flew into St. Louis to play the Blues. When they arrived, Gage picked up a copy of that day's USA Today and was surprised to find a picture of the five of them on the front page of the sports section.
"I saw it and said, 'Oh my gosh,'" Gage, now 47 and still living in Edmonton, recalls. "That was when I felt that I was part of something special."
He was a soccer player as a kid but became interested in hockey through his friends. One day his dad took him to a second-hand shop and bought him gear, and that night Gage wore it as he watched a Maple Leafs game on Hockey Night In Canada.
"As soon as I saw it, I said, 'I want to do that,'" Gage says. "I couldn't stand up on skates but I just loved it."
He became a goalie as a novice because his coach realized he had an aptitude for it, and also, he says, because "I didn't have to leave the ice."
He is grateful because he did not experience racism as he grew up. It happened later, when he was in the minor leagues.
"It was just guys skating by me and saying stuff," Gage says. "I took it as par for the course. I pretended not to hear it."
He was Laraque's teammate in the AHL and briefly was his roommate with Edmonton.
"In the minors, you would hear a lot of guys yelling stuff at Georges," Gage says. "I remember one time where it was really uncomfortable."
Laraque says he was only called a racial slur once in the NHL, in 2005 by Sean Avery of the Los Angeles Kings. Afterward, Avery denied it.
"I was proud of the moment that I made it to the NHL," says Laraque, 44. "After that, I realized that to [get there] was the problem. The entire time I played as a kid I was called the N word. I am proud of anybody of colour who makes it to the NHL."
Laraque, who hosts a show on sports radio in Montreal, does some public speaking. He visits jails and talks to other people who had a tough childhood.
"I grew up through that hatred," he says.
The Oilers went 39-28-12-3 in 2000-01, and were eliminated by the Dallas Stars in the first round of the playoffs. It was Kevin Lowe's first season as general manager following the departure of Glen Sather, and Craig MacTavish was the head coach.
Brown, a strapping defenceman from Oshawa, Ont., had two goals, three assists and 110 penalty minutes that season. In 1995, he had been a first-round draft pick of the Boston Bruins, with whom Willie O'Ree became the NHL's first Black player.
Brown grew up in an interracial family. He says he was 11 the first time he realized he was different from most everyone else that played hockey.
"It became obvious because there were so few of us," Brown says.
He says he grew up watching Tony McKegney. The latter was one of the NHL's first Black stars. He scored 320 goals over 13 years, and had a season-high of 40 with the Blues in 1987-88.
McKegney grew up in Sarnia, Ont., and at the time theirs was one of only two Black families.
"We were accepted through sports and our athletic ability," McKegney says. "For me, hockey was the conduit that made it work."
Brown says he also did not think much about the 2000-01 Oilers' makeup at the time.
"When you are playing you are just one of a lot of guys who are pulling on the same rope," he says. "Now, looking back, I am very proud. It was a special year."
The five players got together last week to do a podcast moderated by Carter, who works as a studio analyst for NBC. As the league celebrates Black History Month, players are wearing decals on their helmets to honour O'Ree, and stories are being shared that champion Black achievement in the game.
Gage concluded his career by playing for teams in Scotland, Sweden, Germany and Italy.
When he arrived in Kassel in 2003 to play for the Huskies of the German professional league he received a rude welcome. He played in an exhibition game the day after he travelled there, and after it, players were invited onto a stage in the arena's parking lot.
When Gage was introduced, people in the crowd hoisted a sign and began chanting.
"I didn't speak German so I didn't know what they were saying," Gage says.
Afterward, teammates told him the sign and chants directed at him were racist.
"I went back to my hotel and phoned my girlfriend and told her I wasn't sure if she should come," Gage says. "I told her it might be too dangerous. At that point, I wasn't even sure I would stay. I actually didn't feel safe."
Fans showed up at the team's practice the next day and apologized for the unruly behaviour. The coach pulled him aside and told him how much the organization wanted him to stay.
"That actually made the decision for me easy," Gage says. "It went on to be a great season. It didn't start off on a great foot, but it got better. The bar wasn't set too high at the start."
Editor's note: An earlier version incorrectly said Sean Brown was adopted.
Watch Live: Walter Gretzky's memorial service in Brantford – Sportsnet.ca
Canada lost its Hockey Dad on Thursday night.
Walter Gretzky, who taught and nurtured The Great One, his son Wayne, and became a symbol himself of the country's blue-collar and devoted hockey parents died at the age of 82 after battling Parkinson's and other health issues over the last few years.
On Saturday, the nation will get a chance to say "goodbye" as a memorial is held in Brantford, Ont., the town the family made famous.
Watch the service live on Sportsnet.ca starting at 2 p.m. ET / 11 a.m. PT.
Note: If video doesn't appear above at the scheduled time, please refresh the page.
4 Potential Forwards Toronto Maple Leafs Could Trade For Next Week – Editor in Leaf
The NHL Trade Deadline may be more than one month away but it's possible the Toronto Maple Leafs strike a deal next week.
Elliotte Friedman mentioned on Sportsnet's Wednesday night broadcast that the Leafs may be adding a player as early as next week. Since the team only plays two games from March 15-25, there's a gap in the schedule that would beneficial for a trade with an American team.
As everyone's most likely aware at this point, any American player entering Canada has to participate in a 14-day quarantine before joining the team. With teams playing sometimes as many as five games in seven days this season, there's only a few spots in the schedule where a Canadian team can acquire an American club's player and make sure he doesn't miss a lot of action.
With limited practices this season, teams have been using games to find chemistry and work out their kinks more than any campaign before. As a result, any Canadian team making a trade needs to be strategic if they're looking for a dance partner south of the boarder.
The Leafs are the best team in hockey, but it's clear they want to add to their roster.
They still have Wayne Simmonds and Nick Robertson, who've yet to return from the minors or injury, but Kyle Dubas and company still want to make sure their depth is strong.
More injuries are bound to happen and when the playoffs hit, you need to be as deep as possible to win a Stanley Cup. This means that players like Pierre Engvall, Jimmy Vesey, Nic Petan, Alexander Barabanov and Travis Boyd are going to have to play their best hockey to stay in the lineup moving forward.
Even if the Leafs continue to win games, it feels like management isn't going to be complacent with this roster. Sometimes you don't want to fix something that's not broken, but in this situation, if the Leafs can actually grab a top-six forward, it's worth making the trade.
Here are four potential forwards the Leafs could trade for next week.
<!—->
Ramblings: Coaching Change in Calgary, MacKinnon Out Friday, Wilson in More Trouble? (Mar 6) – dobberhockey.com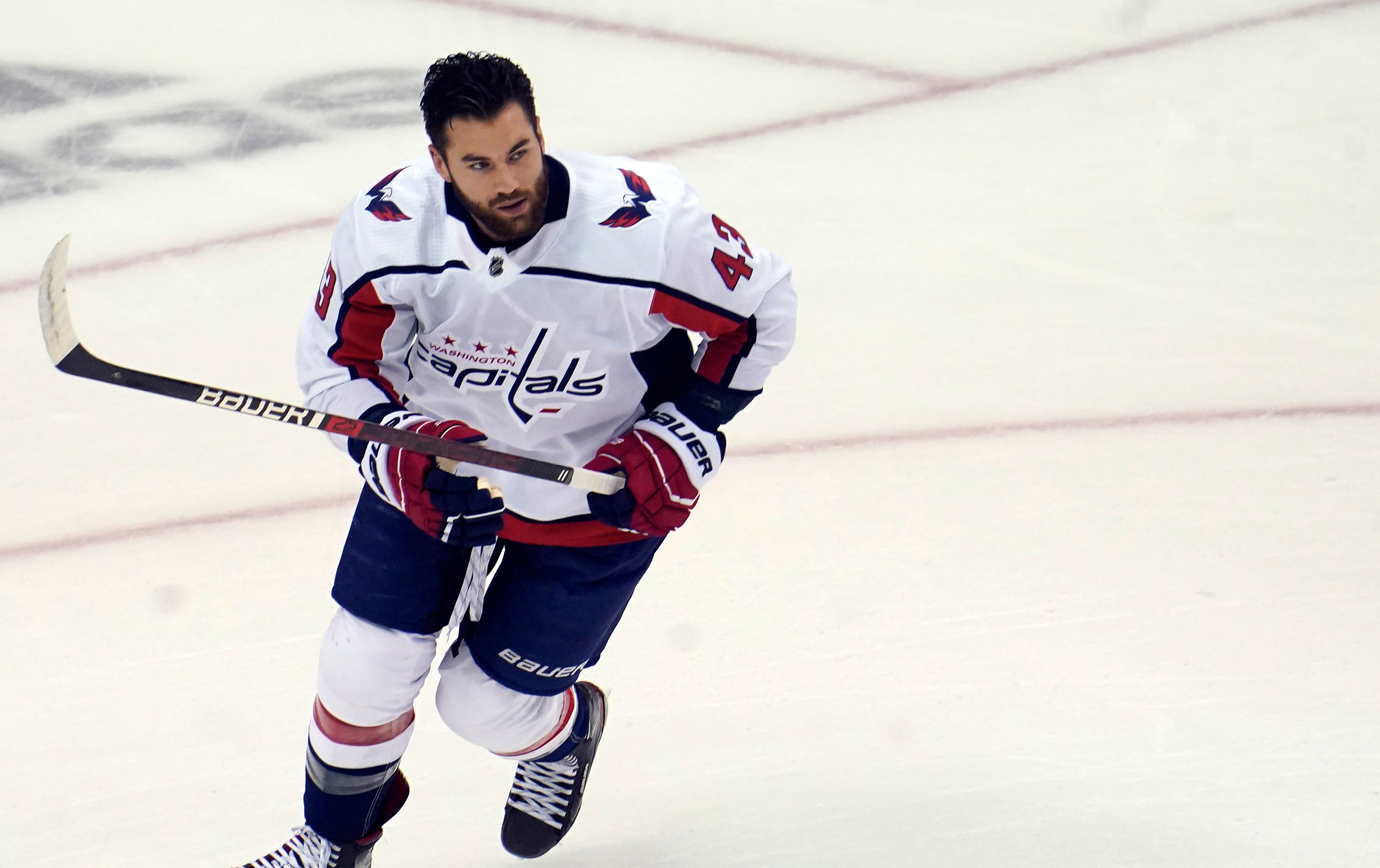 It shouldn't be much of a surprise given his current injury situation, but Brent Seabrook has announced his retirement. Seabrook will be remembered as a top-pairing blueliner on what might have been the most successful team of the past decade. His career ends with a long list of accomplishments, including three Stanley Cups, World Junior and Olympic gold medals, and over 1000 games over a 15-year career. All the best to him in retirement.
*
In case you missed it, I wrote a fantasy take on the late-night coaching change in Calgary. Geoff Ward is out, and Darryl Sutter is back in the saddle(dome).
Sutter is expected to report to the Flames on Monday after clearing COVID protocol, so assistant coach Ryan Huska will be the interim coach for the Flames' weekend games on Saturday in Edmonton and Sunday against Ottawa.
To expand on what I wrote last night, I think there's going to be a major shakeup in Calgary if this team does not make the playoffs or even exits the first round early. I wonder if it will involve general manager Brad Treliving, who has overseen high turnover behind the bench since he took over in 2014. Remember all those trade rumors surrounding Johnny Gaudreau? Watch his numbers, as he will be one step closer from being traded out of Calgary if he doesn't thrive under Sutter's defensive system.
*
Some good news for the Rangers, as Igor Shesterkin is considered day-to-day with a mild groin strain. Alexandar Georgiev is expected to start Saturday's game in New Jersey, however. For more starting goalie updates, be sure to check Goalie Post.
*
Nathan MacKinnon was not in lineup Friday. You may remember that he took a hit to the head during Wednesday's game against San Jose. With MacKinnon out of the lineup, Nazem Kadri moved up to the top line alongside Gabriel Landeskog and Mikko Rantanen. Tyson Jost moved up to take Kadri's spot between Brandon Saad and Andre Burakovsky.
With all the line juggling, Saad had success in scoring a goal and adding two assists. It seemed to help him break out of his funk, as he had not recorded a point in his previous six games. Who knew that Jost would be an upgrade on Kadri?
I'm going to give you lots of overtime highlights today. Valeri Nichushkin scored two goals on seven shots, including this overtime winner while wearing the Nordiques jerseys. Debate whether the Avalanche should be wearing those jerseys if they took the team from Quebec City, but they look amazing anyway.
Credit where credit is due: Rickard Rakell recorded an assist, extending his point streak to four games. He's recorded six points and taken 15 shots over that span. Rakell is far and away the Ducks' leader in shots with 76 (over three shots per game). Even though he has only three goals, the fact that he's shooting the puck is a great sign. With just a 3.9 SH%, more of those shots eventually have to go in. For that reason, he might be worth a pickup in your league.
*
Speaking of hits to the head, here's Tom Wilson doing Tom Wilson things again. It seems inconceivable that Wilson did not even receive a penalty on the hit, at least for charging if you don't think Wilson was aiming for the head or that Carlo moved. Given Wilson's history, a suspension should be forthcoming, as long as the NHL's wheel of justice doesn't land on the wrong number. You love all that he can provide in your bangers league, but this is the risk you take in owning him.
According to Bruce Cassidy, Carlo was taken to the hospital in an ambulance. Even if the league doesn't think this hit is as ugly as it looks, that won't help Wilson's cause.
Jarred Tinordi earned the respect of his new teammates by taking on Wilson in the second period.
If revenge is best served on the scoreboard, the Bruins got theirs with a 5-1 win. Brad Marchand (of all people) powered the Bruins with two goals and an assist, which gives him 27 points over 21 games. That scoring pace (1.29 PTS/GP) is similar to what he has produced in the past three seasons. However, his 24.5 SH% is much higher than normal. I don't think this is a case of selling high on Marchand, since this is his usual pace.
Marchand also gave his thoughts on the hit (Spoiler: Even he thought the hit was ********).
*
Alex DeBrincat scored twice with five shots on goal in the Blackhawks' 4-3 shootout win over Tampa Bay. I was going to write about DeBrincat, but Frozen Tools took care of that for me. Maybe they'll take care of my entire Ramblings if I ask nicely.
Okay, I'll pick one out on my own. Alex Killorn scored a goal and an assist in a losing cause. More notably for multicategory leaguers, he took eight shots. This is notable because Killorn took a total of eight shots over his previous six games combined. Killorn has two points in each of his last two games while playing on the Steven Stamkos line.
Although no goals were scored, this sequence is worth watching anyway because there was so much going on.
📢 advertisement:

*
David Perron scored twice on Friday, extending his point streak to five games. He's been hot for most of the season (according to Frozen Tools), scoring 24 points in his last 20 games.
Mike Hoffman scored the overtime winner on a delayed penalty call. He also added an assist on Perron's game-tying goal with under a minute to play.
Ryan O'Reilly assisted on all three Blues goals, which gives him nine points over his past seven games.
For the Kings, Dustin Brown fired eight shots while scoring a power-play goal. Brown had been held without a point in his previous three games.
Rasmus Kupari, who has scored nine points in eight AHL games this season, made his NHL debut on Friday. He received 10 minutes of icetime while on a line with Adrian Kempe and Trevor Moore. View Kupari's Dobber Prospects profile.
*
Just another Kirill Kaprizov highlight – one of his two assists in this game. Who says assists are boring?
At 6'3″, 223 lbs., Marcus Foligno provides hits, and lots of them. So when I needed help in the hits category in my multicategory league and didn't want to sacrifice scoring, I decided to add him earlier this week. He continued to provide that scoring touch, adding two assists on Friday to give him six points over his past three games and 10 points in his last seven games.
The Wild are finding scoring from all kinds of different sources this season, and the Foligno – Joel Eriksson Ek – Jordan Greenway line has been surprisingly strong. All three players are now within the top five in Wild team scoring, while more familiar names such as Kevin Fiala, Zach Parise, and Matt Dumba are not.
As for hits, which is the reason I added Foligno? Just one in this game. Can't have it all, I guess. Foligno is also a plus-10 and is even picking up power-play time. The advanced stats (33.3 SH%, 5-on-5 SH%, 3.0 PTS/60, 1055 PDO) scream regression, which makes sense for a player whose 25 points last season is his highest over a 10-year career. Still, he's a legitimate bangers league option with his hits and penalty minute totals combined with the recent scoring touch.
*
One more overtime winner for you. Should we be surprised that it's a goal from Max Pacioretty and an assist from Mark Stone? It's the third overtime winner of the season for Patches, who scored twice in this game and added another assist with five shots on goal.
Yes, I realize Alex Pietrangelo fed him the pass this time. However, Stone's point total (5 G, 21 A) has become rather assist-heavy. It shouldn't be a major gripe if you own Stone, as he's currently in the top 10 in points.
Vegas had a 3-0 lead in this game, but the Sharks managed to creep back after that. Kevin Labanc scored with just over a minute to play to tie the game. With also adding an assist, Labanc now has eight points over his past six games. He's receiving first-line minutes with Logan Couture and Evander Kane and first-unit power-play time, so he doesn't have to worry about making things happen on his own anymore. He's owned in just 6 percent of Yahoo leagues, so he might be worth adding to your watch list at minimum.
Erik Karlsson's assist on Matt Nieto's goal on Friday was his first primary assist since January 22. That's a span of 11 games without a primary assist, interrupted by injury of course. Karlsson picked up another helper, which gives him three points in the four games since returning from injury.
After allowing three goals on eight shots, Martin Jones was pulled for the fifth time in 15 starts. That's as much as you need to know about Jones and why he shouldn't be on your fantasy team.
*
For more fantasy hockey discussion, or to reach out to me, you can follow me on Twitter @Ian_Gooding