Pipeline operator Enbridge signs deals to produce RNG, hydrogen
Enbridge Inc said on Tuesday it had signed partnerships with Royal Dutch Shell and Vanguard Renewables to make low-carbon fuels, seeking to tap into sales to companies that want to lower their greenhouse gas emissions.
Enbridge will buy 2 billion cubic feet (bcf) of renewable natural gas (RNG) annually from Vanguard and collaborate with Shell on potential green and blue hydrogen production.
Companies that buy RNG from Enbridge would collect the offsets associated with decarbonization, spokesman Jesse Semko said.
Enbridge, which set emission-reduction targets last November, hopes to be a net-zero emitter by 2050.
The company said it would buy RNG from eight anaerobic digesters that Vanguard will spend $200 million to build and operate in the U.S. Northeast, Southeast and Midwest.
RNG is produced when gas is captured from food waste, manure or landfills and turned into fuel for transportation or heating.
Enbridge can replicate the project across the United States, and could double the RNG it sells within several years, said Caitlin Tessin, Enbridge's director of market innovation.
If natural gas prices, which are soaring, remain elevated, it could further boost demand for RNG, which normally trades at a premium, Tessin said in an interview.
Enbridge will spend $100 million on equipment to convert gas from food waste and farm manure into pipeline-quality renewable natural gas and market it to U.S. customers.
Coffee chain Starbucks Corp and Unilever Plc, maker of Ben & Jerry's ice cream, are providing food waste to Vanguard for processing into RNG.
Enbridge signed an agreement with Shell to explore opportunities to produce hydrogen.
The companies are also looking at developing a carbon-capture and storage hub in southern Ontario where there are lots of industrial emissions and potential storage, Matthew Akman, Enbridge's senior vice president of strategy, renewables and new energies, told an Enbridge forum on Tuesday.
"That's the kind of thing where we can together really move the dial and get things going. … We're very excited about that," Akman said, without going into further details.
The Canadian government is pushing to provide incentives for at least two massive new carbon-capture and storage hubs by 2030 as part of its plan to cut emissions.
(This story corrects headline and first paragraph to make clear the sales of renewable natural gas do not count toward Enbridge's emissions reduction goals; Adds third paragraph that clarifies RNG buyers collect offset benefits)
(Reporting by Arunima Kumar and Rod Nickel; Additional reporting by Nia Williams in Calgary; Editing by Sriraj Kalluvila, Steve Orlofsky and Peter Cooney)
All vaccinated Ontarians can now download enhanced, scannable certificates – Sudbury.com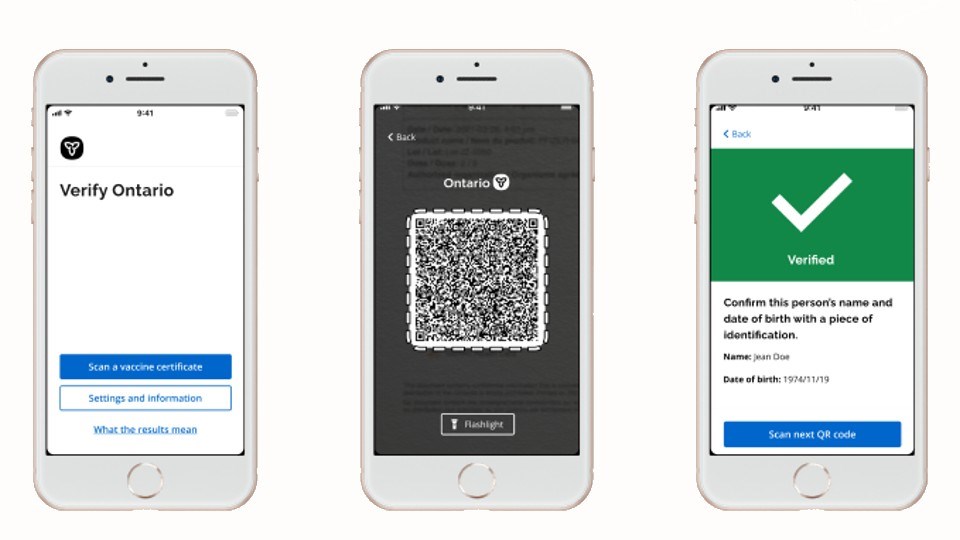 TORONTO — All Ontarians vaccinated against COVID-19 can now download their enhanced certificates, which include a QR code.
The provincial government has said the scannable documents will allow for faster entry into settings that require proof of vaccination.
The enhanced system officially takes effect on Friday, but Ontarians can get their new vaccine certificates before then, and businesses can start using a new app to verify those codes.
Residents whose birthdays fall between January and April were able to download the enhanced vaccination certificate through the province's COVID-19 website on Friday, and further cohorts got access over the weekend.
Under Ontario's vaccine certificate program, only those who have been fully vaccinated against COVID-19 — or have a valid medical exemption from a doctor — can access certain settings.
They include theatres, gyms, nightclubs and restaurant dining rooms.
This report by The Canadian Press was first published Oct. 18, 2021.
The Canadian Press
Oil prices fall as weaker China growth, U.S. output stoke demand concerns
Oil prices fell on Tuesday, with Brent down a second straight day, after Chinese data showed slowing economic growth and U.S. factory output dropped in September, raising fresh concerns about demand amid patchy recovery from the coronavirus pandemic.
Brent Crude was down by 43 cents, or 0.5%, at $83.90 a barrel by 0132 GMT after falling 0.6% on Monday. The contract is still up nearly 7% this month.
U.S. oil fell 33 cents, or 0.4%, to $82.11 a barrel, having risen 0.2% in the previous session and nearly 10% this month.
Factory output in the United States dropped the most in seven months last month as a global shortage of semiconductors slowed auto production, further evidence that supply constraints are a strain on economic growth.
In China, the world's second-biggest economy, bottlenecks also contributed to a decline in the growth rate to a one-year low as energy shortages and sporadic outbreaks of coronavirus hit the country.
China's daily crude oil processing rate fell again last month to the lowest level since May last year.
But with temperatures falling as the northern hemisphere winter approaches, prices of oil, coal and gas are likely to remain elevated, analysts said.
"A frigid winter has the potential to send energy prices even higher," Citi Research commodities analysts said in a note, after upgrading their forecast for Brent oil for the rest of 2021 to $85 a barrel from $74 a barrel.
Colder weather has already started to grip China, with the temperature forecast to fall to near freezing point in areas of the north, according to AccuWeather.com.
Also helping keep a lid on prices, U.S. oil output is rising. Production in the largest shale formation in the U.S. is expected to gain further next month, according to an official report.
(Reporting by Aaron Sheldrick; Editing by Kenneth Maxwell)
Ecuadorean indigenous communities sue to halt oil development
Indigenous communities from Ecuador's Amazon on Monday sued the government to halt plans by President Guillermo Lasso to increase oil development in the country, calling the expansion efforts a "policy of death."
Lasso, a conservative ex-banker who took office in May, issued two decrees in the first days of his administration meant to facilitate the development of oil blocks in environmentally sensitive jungle areas and attract more foreign investment for mining projects.
Leaders of Amazonian  indigenous communities are asking the Constitutional Court, the country's highest judicial body, to nullify the decrees.
"The Ecuadorean government sees in our territory only resource interests," said Waorani leader Nemonte Nenquimo, in remarks outside the court, surrounded by dozens of supporters.
"Our territory is our decision and we'll never allow oil or mining companies to enter and destroy our home and kill our culture."
Lasso has said he will seek international investment to increase oil production to 1 million barrels per day by the end of his term in 2025.
He also wants to make mining one of the country's top sources of income.
The indigenous communities plan to present a separate suit against the decree related to mining, they said in a statement.
Expanding oil extraction will put in danger some of the world's most biodiverse jungle, home to dozens of indigenous communities, the indigenous leaders said.
The energy ministry did not immediately respond to a request for comment.
"They seek to continue this policy of death," said Leonidas Iza, who heads the CONAIE indigenous organization. "This isn't a problem of the indigenous, it's one of civilization."
Indigenous groups have said they could hold protests against Lasso's social and economic policies.
(Reporting by Tito Correa; Writing by Alexandra Valencia and Julia Symmes Cobb; Editing by Sandra Maler)