Plasma thrusters used on satellites could be much more powerful than previously believed
It has been believed that Hall thrusters, an efficient kind of electric propulsion widely used in orbit, must be large to produce a lot of thrust. Now, a new study from the University of Michigan suggests that smaller Hall thrusters can generate much more thrust—potentially making them candidates for interplanetary missions.
"People had previously thought that you could only push a certain amount of current through a thruster area, which in turn translates directly into how much force or thrust you can generate per unit area," said Benjamin Jorns, U-M associate professor of aerospace engineering who led the new Hall thruster study to be presented at the AIAA SciTech Forum in National Harbor, Maryland, today.
His team challenged this limit by running a 9 kilowatt Hall thruster up to 45 kilowatts, maintaining roughly 80% of its nominal efficiency. This increased the amount of force generated per unit area by almost a factor of 10.
Whether we call it a plasma thruster or an ion drive, electric propulsion is our best bet for interplanetary travel—but science is at a crossroads. While Hall thrusters are a well-proven technology, an alternative concept, known as a magnetoplasmadynamic thruster, promises to pack much more power into smaller engines. However, they are yet unproven in many ways, including lifetime.
Hall thrusters were believed to be unable to compete because of the way they operate. The propellant, typically a noble gas like xenon, moves through a cylindrical channel where it is accelerated by a powerful electric field. It generates thrust in the forward direction as it departs out the back. But before the propellant can be accelerated, it needs to lose some electrons to give it a positive charge.
Electrons accelerated by a magnetic field to run in a ring around that channel—described as a "buzz saw" by Jorns—knock electrons off the propellant atoms and turn them into positively charged ions. However, calculations suggested that if a Hall thruster tried to drive more propellant through the engine, the electrons whizzing in a ring would get knocked out of the formation, breaking down that "buzz saw" function.
"It's like trying to bite off more than you can chew," Jorns said. "The buzz saw can't work its way through that much material."
In addition, the engine would become extremely hot. Jorns' team put these beliefs to the test.
"We named our thruster the H9 MUSCLE because essentially, we took the H9 thruster and made a muscle car out of it by turning it up to '11'—really up to a hundred, if we're going by accurate scaling," said Leanne Su, a doctoral student in aerospace engineering who will present the study.
They tackled the heat problem by cooling it with water, which let them see how big a problem the buzz saw breakdown was going to be. Turns out, it wasn't much trouble. Running with xenon, the conventional propellant, the H9 MUSCLE ran up to 37.5 kilowatts, with an overall efficiency of about 49%, not far off the 62% efficiency at its design power of 9 kilowatts.
Running with krypton, a lighter gas, they maxed out their power supply at 45 kilowatts. At an overall efficiency of 51%, they achieved their maximum thrust of about 1.8 Newtons, on par with the much larger 100-kilowatt-class X3 Hall thruster.
"This is kind of a crazy result because typically, krypton performs a lot worse than xenon on Hall thrusters. So it's very cool and an interesting path forward to see that we can actually improve krypton's performance relative to xenon by increasing the thruster current density," Su said.
Nested Hall thrusters like the X3—also developed in part by U-M—have been explored for interplanetary cargo transport, but they are much larger and heavier, making it difficult for them to transport humans. Now, ordinary Hall thrusters are back on the table for crewed journeys.
Jorns says that the cooling problem would need a space-worthy solution if Hall thrusters are to run at these high powers. Still, he is optimistic that individual thrusters could run at 100 to 200 kilowatts, arranged into arrays that provide a megawatt's worth of thrust. This could enable crewed missions to reach Mars even on the far side of the sun, traveling a distance of 250 million miles.
The team hopes to pursue the cooling problem as well as challenges in developing both Hall thrusters and magnetoplasmadynamic thrusters on Earth, where few facilities can test Mars-mission-level thrusters. The amount of propellant exhausting from the thruster comes too fast for the vacuum pumps to keep the conditions inside the testing chamber space-like.
More information:
Leanne L. Su et al, Operation and Performance of a Magnetically Shielded Hall Thruster at Ultrahigh Current Densities, AIAA SCITECH 2023 Forum (2023). DOI: 10.2514/6.2023-0842
Citation:
Plasma thrusters used on satellites could be much more powerful than previously believed (2023, January 24)
retrieved 24 January 2023
from https://phys.org/news/2023-01-plasma-thrusters-satellites-powerful-previously.html
This document is subject to copyright. Apart from any fair dealing for the purpose of private study or research, no
part may be reproduced without the written permission. The content is provided for information purposes only.
This Week in Nature: Reports of the Earth Spinning in Reverse Have Been Greatly Exaggerated – WTTW News
(Pikisuperstar / Freepik)

On Monday, a pair of scientists at Peking University in Beijing published a research paper, "Multidecadal variation of the Earth's inner-core rotation." Exciting news for geophysicists, but not so zippy as a headline.
Thanks to our sponsors:
It sounds better as "Earth's Core May Be Spinning in Reverse," which is how a lot of news outlets summed up the study's findings.
Forbes' science contributor Eric Mack dug deeper than most mainstream media reporters and explained the nuances of the research. In short: Earth's core sometimes spins faster than the planet's outer layers, and sometimes it spins slower. But it doesn't reverse course. And no one really knows if the core's spinning speed matters or not.
But hey, for a minute there, everyone was paying attention to science.
Here's what else grabbed our attention this week.
Astronomy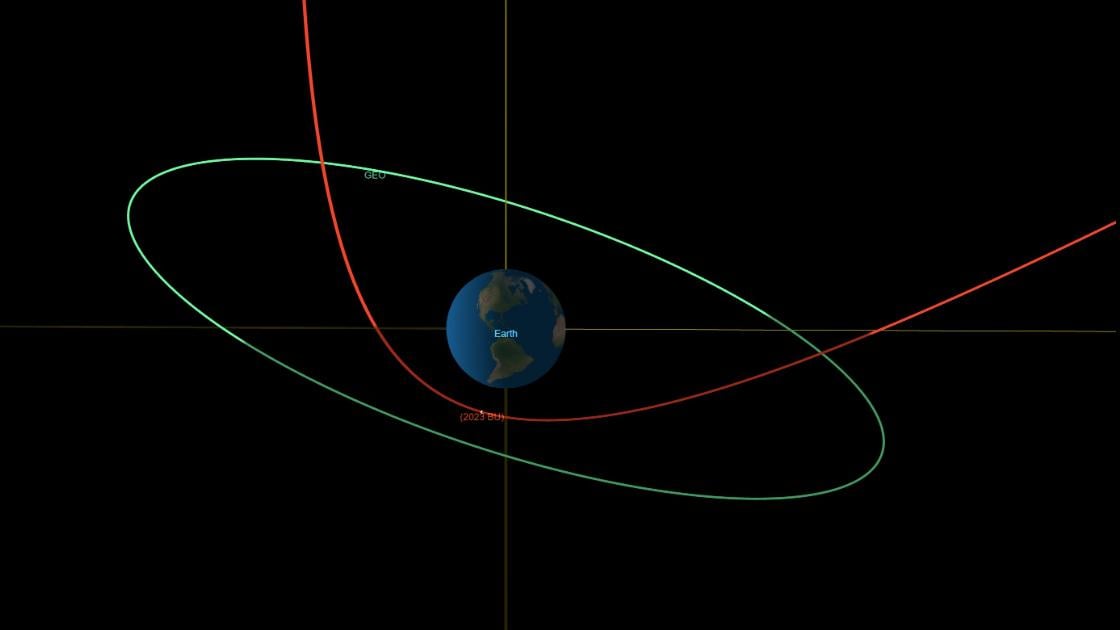 The trajectory of 2023 BU compared with orbiting satellites. (NASA / JPL-Caltech)

Hollywood loves a good asteroid-hurtling-toward-Earth story. The reality is usually far less dramatic (except for that time a space rock killed all the dinosaurs).
Less than a week ago, a near-Earth asteroid dubbed 2023 BU was discovered by an observer in Crimea. Faster than you can say Leonardo DiCaprio, NASA analyzed the data and determined there was no risk of an impact.
But 2023 BU was projected to come within 2,200 miles of Earth, a distance that given the vastness of outer space qualifies as a near-miss. For context, there are satellites orbiting Earth positioned further away than 2023 BU's expected fly-by.
"In fact, this is one of the closest approaches by a known near-Earth object ever recorded," said Davide Farnocchia, a navigation engineer at Jet Propulsion Lab.
If the asteroid had taken aim at our big blue marble, scientists say it would have disintegrated in the atmosphere. Phew!
Even if it had survived the descent, at an estimated measurement of 11.5 to 28 feet across, 2023 BU is no Chicxulub. That dinosaur-killer was nine miles wide.
Here it is asteroid 2023 BU, safely coming extremely close to us in a couple of days (10.000km from Earth0s center, 1/4 of the distance of geostationary sats). We capture it minutes ago and will show it live to you at the flyby time!
more: https://t.co/S1QX9cCC2C pic.twitter.com/rL2ubGJ6R4

— Virtual Telescope (@VirtualTelescop) January 24, 2023
---
Climate Change
Melting ice in the Arctic has opened up new shipping routes in waters that were previously frozen.
With the added traffic comes increased underwater noise — studies indicate it's doubled in intensity in the past six years — and the narwhals have had it with the loud neighbors.
The Inuit people say the noise caused by ships — as loud as an underwater rock concert — is driving away the narwhals, which the Inuit have relied on for centuries as food.
A coalition of Inuit from Alaska, Canada, Greenland and Russia is asking the United Nations for relief. Voluntary guidelines to reduce noise aren't working, the Inuit say, and they want the UN's International Maritime Organization to adopt mandatory measures.
---
Advocacy
The Sierra Club's new executive director, Ben Jealous, spent his first official day on the job Jan. 23.
A former president and CEO of the NAACP, Jealous becomes the first person of color to lead the 100-year-old conservation organization, which came under fire in 2021 for fostering a "culture lacking accountability for abuse and misconduct." A damaging report led to the resignation of Jealous' predecessor Michael Brune.
Jealous plans to spend his first month undertaking a nationwide listening tour, meeting with volunteers, community partners and chapter leaders.
---
Parks
There are people in Chicago still arguing over the Lucas Museum: Great opportunity the city should have embraced wholeheartedly or mistake on the lake mercifully avoided?
Let's fan the flames.
The Los Angeles Times has published a photo essay of the billion-dollar Lucas Museum of Narrative Arts, expected to open in 2025.
Whaddya think Chicago? Does it look more like a Rebel Alliance cruiser or Imperial Star Destroyer?
We've got some exciting updates to share—construction milestones, a growing collection, and more: https://t.co/MRLRY7pJ7t

Can't wait to open our doors in 2025.

Credit: Video by Sand Hill Media/Eric Furie. © 2022 JAKS Productions. All rights reserved. pic.twitter.com/0YdBjwj58Q

— Lucas Museum of Narrative Art (@lucasmuseum) September 22, 2022
---
Get Out
If there's at least 4 inches of snow on the ground — and the forecast is looking promising in that regard — Morton Arboretum is open for cross-country skiing and snowshoeing. Bring your own gear or rent on-site.
---
Tweet of the Week
Chicago coyotes on a snowy day pic.twitter.com/txzU8J6TIu

— Robert Loerzel (@robertloerzel) January 25, 2023
---
Contact Patty Wetli: @pattywetli | (773) 509-5623 | [email protected]
Thanks to our sponsors:
Thanks to our sponsors:
An SUV-sized asteroid zoom by Earth in close shave flyby in this time-lapse video
Asteroid 2023 BU zipped past Earth Thursday night (Jan. 26) to the delight of amateur astronomers worldwide. For skywatchers without access to a telescope or those who had their view hampered by bad weather, luckily the Italy-based Virtual Telescope Project was there to observe the event and livestream the whole thing for free.
The Virtual Telescope is a robotic telescope operated by Italian amateur astronomer Gianluca Masi near Rome, Italy. As 2023 BU hurtled toward Earth, the telescope was able to track the rock through a gap in the clouds when it was about 13,670 miles (22,000 kilometers) from the closest point on Earth's surface (about the altitude of the GPS navigation satellite constellation) and 22,990 miles (37,000 km) from the Virtual Telescope.
Masi, who shared an hour-long webcast of the observations on the Virtual Telescope website, wasn't able to capture the closest approach as clouds rolled in, however. Nonetheless, the Virtual Telescope Project was able to get a good look at the car-sized rock, seen in time-lapse above.
The rock, discovered less than a week ago on Saturday (Jan. 21), passed above the southern tip of South America at 7:27 p.m. EST on Thursday Jan. 26 (0027 GMT on Jan. 27), at a distance of only 2,240 miles (3,600 km) at its closest point to Earth's surface.
This close approach makes 2023 BU the fourth nearest asteroid ever observed from Earth, with the exception of five space rocks that were detected before diving into Earth's atmosphere.
Only 11.5 to 28 feet wide (3.5 to 8.5 meters), 2023 BU posed no danger to the planet. If the trajectories of the two bodies had intersected, the asteroid would mostly have burned up in the atmosphere with only small fragments possibly falling to the ground as meteorites.
In the videos and images shared by Masi, the asteroid is seen as a small bright dot in the center of the frame, while the longer, brighter lines are the surrounding stars. In reality, of course, it was the asteroid that was moving with respect to Earth, traveling at a speed of 21,000 mph (33,800 km/h) with respect to Earth. As Masi's computerized telescope tracked its positionthe rock appeared stationary in the images while rendering the stars as these moving streaks.
The gravitational kick that 2023 BU received during its encounter with Earth will alter the shape of its orbit around the sun. Previously, the space rock followed a rather circular orbit, completing one lap around the sun in 359 days. From now on, BU 2023 will travel through the inner solar system on a more elliptical path, venturing half way toward Mars at the farthest point of its orbit. This alteration will add 66 days to BU 2023's orbital period.
The asteroid was discovered by famed Crimea-based astronomer and astrophotographer Gennadiy Borisov, the same man who in 2018 found the first interstellar comet, which now bears his name, Borisov.
Green comet zooming our way, last visited 50,000 years ago
A comet is streaking back our way after 50,000 years.
The dirty snowball last visited during Neanderthal times, according to NASA. It will come within 26 million miles (42 million kilometers) of Earth Wednesday before speeding away again, unlikely to return for millions of years.
So do look up, contrary to the title of the killer-comet movie "Don't Look Up."
Discovered less than a year ago, this harmless green comet already is visible in the northern night sky with binoculars and small telescopes, and possibly the naked eye in the darkest corners of the Northern Hemisphere. It's expected to brighten as it draws closer and rises higher over the horizon through the end of January, best seen in the predawn hours. By Feb. 10, it will be near Mars, a good landmark.
Skygazers in the Southern Hemisphere will have to wait until next month for a glimpse.
While plenty of comets have graced the sky over the past year, "this one seems probably a little bit bigger and therefore a little bit brighter and it's coming a little bit closer to the Earth's orbit," said NASA's comet and asteroid-tracking guru, Paul Chodas.
Green from all the carbon in the gas cloud, or coma, surrounding the nucleus, this long-period comet was discovered last March by astronomers using the Zwicky Transient Facility, a wide field camera at Caltech's Palomar Observatory. That explains its official, cumbersome name: comet C/2022 E3 (ZTF).
On Wednesday, it will hurtle between the orbits of Earth and Mars at a relative speed of 128,500 mph (207,000 kilometers). Its nucleus is thought to be about a mile (1.6 kilometers) across, with its tails extending millions of miles (kilometers).
The comet isn't expected to be nearly as bright as Neowise in 2020, or Hale-Bopp and Hyakutake in the mid to late 1990s.
But "it will be bright by virtue of its close Earth passage … which allows scientists to do more experiments and the public to be able to see a beautiful comet," University of Hawaii astronomer Karen Meech said in an email.
Scientists are confident in their orbital calculations putting the comet's last swing through the solar system's planetary neighborhood at 50,000 years ago. But they don't know how close it came to Earth or whether it was even visible to the Neanderthals, said Chodas, director of the Center for Near Earth Object Studies at NASA's Jet Propulsion Laboratory in California.
When it returns, though, is tougher to judge.
Every time the comet skirts the sun and planets, their gravitational tugs alter the iceball's path ever so slightly, leading to major course changes over time. Another wild card: jets of dust and gas streaming off the comet as it heats up near the sun.
"We don't really know exactly how much they are pushing this comet around," Chodas said.
The comet—a time capsule from the emerging solar system 4.5 billion years ago—came from what's known as the Oort Cloud well beyond Pluto. This deep-freeze haven for comets is believed to stretch more than one-quarter of the way to the next star.
While comet ZTF originated in our solar system, we can't be sure it will stay there, Chodas said. If it gets booted out of the solar system, it will never return, he added.
Don't fret if you miss it.
"In the comet business, you just wait for the next one because there are dozens of these," Chodas said. "And the next one might be bigger, might be brighter, might be closer."
© 2023 The Associated Press. All rights reserved. This material may not be published, broadcast, rewritten or redistributed without permission.
Citation:
Green comet zooming our way, last visited 50,000 years ago (2023, January 27)
retrieved 27 January 2023
from https://phys.org/news/2023-01-green-comet-years.html
This document is subject to copyright. Apart from any fair dealing for the purpose of private study or research, no
part may be reproduced without the written permission. The content is provided for information purposes only.