Politics Briefing: Federal Conservatives reverse course, call for blockades to end – The Globe and Mail
Hello,
The federal Conservatives are reversing course and for the first time on Thursday called for the blockades to end, as the crisis at border crossings grew ever bigger with a third blockade now at a border crossing in Manitoba, in addition to those in Alberta and Ontario.
"I am asking you to take down the blockades," Interim Conservative Leader Candice Bergen said in the House of Commons Thursday morning. "It's time to remove the barricades and the trucks, for the sake of the economy."
Before her election as interim leader, Ms. Bergen last week met with protesters blockading downtown Ottawa, calling them "passionate, patriotic and peaceful." Since taking on her new post, she has called on Mr. Trudeau to extend an "olive branch" to the demonstrators and meet with them.
On Thursday she tabled a motion in the House of Commons calling on the federal government to release a plan by the end of February for the lifting of all federal mandates and restrictions.
Story here by Parliamentary Reporter Marieke Walsh and me.
This is the daily Politics Briefing newsletter, written by Ian Bailey. It is available exclusively to our digital subscribers. If you're reading this on the web, subscribers can sign up for the Politics newsletter and more than 20 others on our newsletter signup page. Have any feedback? Let us know what you think.
TODAY'S HEADLINES
PROTESTS
WINDSOR SEEKS INJUNCTION IN AMBASSADOR BRIDGE PROTEST – The City of Windsor, Ont., is seeking an injunction to end the protest blocking the Ambassador Bridge. Windsor Mayor Drew Dilkens said he hopes the Superior Court of Ontario will soon grant the injunction to end the "illegal" blockade and restore traffic across Canada's busiest link with the United States. Story here.
OTTAWA 911 SYSTEM HIT WITH CALLS – The Ottawa Police says the city's 911 system is being flooded with nuisance calls, putting residents' lives at risk amid a continuing standoff with protesters over vaccine mandates. Story here.
NO SIGN OF PROTEST ENDING: OTTAWA MAYOR – Ottawa Mayor Jim Watson said he still has no sense of when demonstrations in the nation's capital will end after nearly two weeks of disruption and as protesters show no signs of leaving. Story here.
GOFUNDME TO APPEAR BEFORE COMMITTEE – U.S.-based crowdfunding platform GoFundMe will appear before the House public safety and national security committee on March 3 about its involvement in hosting the trucker convoy's original fundraising campaign. Story here from CTV.
STOP AMBASSADOR BRIDGE PROTEST: GOVERNOR – Michigan's Governor is calling on Canada to stop a border protest snarling one of the country's busiest trade routes. Story here.
GLOBE AND MAIL EXPLAINER: The Ottawa protests' havoc is spreading from Windsor to Alberta. Where are the truckers convoys now? Explainer here.
MEANWHILE
LOCKDOWN BENEFITS EXTENDED The federal government is extending its lockdown benefits for businesses and workers by one month, to March 12. Story here.
KENNEY APOLOGIZES – Alberta Premier Jason Kenney says he's sorry for comparing what he calls the stigma of being unvaccinated for COVID-19 to the plight of HIV-AIDS patients in the 1980s. Story here.
INADVERTENT PRIVACY RELEASE – The company administering the federal government's $900-million settlement deal with Armed Forces members and veterans who experienced sexual misconduct while in uniform has inadvertently released private information about dozens of claimants. Story here.
LYTTON NEEDS TO REPLACE GOVERNANCE RECORDS – British Columbia has introduced legislation that will allow the fire-ravaged community of Lytton to replace and rewrite its governance laws destroyed in the disaster. Story here.
LOSING N.S. LIBERALS DISSECT ELECTION DEFEAT – A report commissioned by the Liberal Party of Nova Scotia into last summer's provincial election campaign is scathing in its criticism of the way the campaign was prepared and conducted, and calls for a "complete overhaul" of the party organization. Story here from CBC.
THIS AND THAT
The projected order of business at the House of Commons, Feb. 10 is here.
NOTLEY IN THE SPOTLIGHT – Former Alberta premier Rachel Notley will be in the spotlight next Tuesday, appearing at "conversation" hosted by the Calgary Chamber. the event comes ahead of the 2023 provincial election with the NDP making a strong showing in public-opinion polls.
SCHEER AND PROTESTERS – Former Conservative leader Andrew Scheer, who has accused Prime Minister Justin Trudeau of "overreach on vaccine mandates", here greets some of the protesters in Ottawa on Wednesday.
RITCHIE HEADED FOR OTTAWA – Sarah Ritchie, an anchor and reporter for Global Halifax and Global New Brunswick, is joining the Ottawa bureau of The Canadian Press. "She will be focused on covering breaking political news in the House of Commons and beyond, bolstering our broadcast capacities, helping with copy editing and setting us up for the next day," CP Ottawa Bureau Chief Joanna Smith said in a tweet.
THE DECIBEL – On Thursday's edition of The Globe and Mail podcast, National Security Reporter Colin Freeze talks about the leaders of the Freedom Convoy, including those fundraising millions of dollars to support it. The Decibel is here.
PRIME MINISTER'S DAY
Private meetings. The Prime Minister was scheduled to attend Question Period.
LEADERS
Bloc Québécois Leader Yves-François Blanchet attends Question Period.
NDP Leader Jagmeet Singh held a press conference on the importance of vaccines and was scheduled to attend Question Period.
No other schedules released for party leaders.
OPINION
Campbell Clark (The Globe and Mail) on why it is time for leaders to assert there are rules to the road: "At this point, it's incumbent on anyone who lays a claim to leadership, including those who have supported the protests, to say it has gone too far. And to call for it to stop. It's also time for provincial authorities responsible for roads and vehicles – starting with Ontario Premier Doug Ford – to warn that those who use trucks as roadblocks will lose the right to operate them. This is now beyond a question of who is right about vaccination mandates. Political leaders who condone rule from the road are paving the way for such tactics to be used again and again. The front-runner for the Conservative leadership, MP Pierre Poilievre, has lauded the protest and become its political darling, so now it is time for him to tell the country if he thinks it has gone too far. He could call on the protesters to stop the blockades. On Wednesday, he declined."
Lawrence Martin (The Globe and Mail) on how the Canada bashers have got it wrong about this country: "It's inevitable that social and political trends from the U.S. have some northward spillover and there is certainly evidence of it in respect to the Ottawa siege. What is happening with the truckers hardly compares with the Capitol riot on Jan. 6 last year, but the hard right is punching far above its weight in Canada as elsewhere given the limitless platforms provided by modern media. It menaces the Canadian fabric. But the country is much more unified today than it was when Quebec separatism was a dire threat and when the West was aflame with Reform Party rage and talk of firewalls to protect it from the federal government. The country is hardly becoming unglued. The dark forces partaking in the protest are freedom deniers – not freedom fighters. They represent a tiny minority in a country whose greatness they are too blind to see."
Konrad Yakabuski (The Globe and Mail) on how challenges from inside of the Liberal Party cap Prime Minister Justin Trudeau's month of living dangerously: "Whether he intended to or not, Mr. Carney's op-ed presented Liberals with a stark contrast to the leadership approach Mr. Trudeau has taken since the outset of the trucker-convoy protests two weeks ago. The tough law-and-order stance taken by Mr. Carney may not necessarily work in his favour in a future leadership race given that Liberals historically prefer to project a softer, gentler image than mandatory-minimum-sentence-loving Tories. And no doubt about it, Mr. Carney has drawn a line in the sand that Liberals are not likely to forget any time soon. Right now, however, it is Mr. Trudeau whose leadership is on the line. His crisis-management style is being challenged from within the Liberal family. It does not get more dangerous than this for a leader whose sunny ways are now a fading memory."
Kelly Egan (The Ottawa Citizen) on the fate of Ottawa's downtown Rideau Centre mall and its workers given protests have closed the centre for the first time in its four-decade history: "Freedom is a word being hollered non-stop these dozen days. What about the freedom of 175 stores to open, of 1,500 workers (or more) to earn a living, of masses to criss-cross in downtown's indoor square? Honestly, has any sector of the economy suffered more than retail — and its low-paid workers — during this two-year pandemic, while taking on the unwanted task of enforcing public health measures (masks, distancing) not of their own making, for $15 an hour? And then they bear the brunt of this anti-mandate counter-anger, which has absolutely nothing to do with them?"
Steve Paikin (TVO) on great political rivalry that began 40 years ago this week: "[David} Peterson defeated [Bob] Rae in the 1985 and 1987 Ontario elections. Rae got even in 1990. As the two men blasted on to the political scene when they were fresh-faced newbies, it's hard to believe that Peterson will turn 79 years old in December and that Rae's next birthday in August will be his 74th. Since their rivalry began 40 years ago today, both men have reached what you might call senior-statesman status, and they continue to make their marks on the public stage."
Melanee Thomas and Lori Thorlakson (CBC Opinion) on Calgary Mayor Jyoti Gondek vs. Alberta Premier Jason Kenney: Competing visions of Alberta's energy future: "In her recent editorial board meeting with CBC News, Calgary Mayor Jyoti Gondek conceded that energy transition "sometimes comes with a lot of pain and angst." It also comes with a lot of politics in oil-rich Alberta. Gondek offers one vision for Alberta's energy future. Jason Kenney and the United Conservative Party (UCP) offer a competing view."
Got a news tip that you'd like us to look into? E-mail us at tips@globeandmail.com. Need to share documents securely? Reach out via SecureDrop.
Ontario election: 4 ways Doug Ford has changed the province's politics – The Conversation
The dismal environmental record of the Doug Ford government in Ontario is well-documented. Despite some recent moves on "greening" the steel sector and electric vehicle manufacturing initiatives, the province is on track to see major increases in greenhouse gas emissions, particularly from the electricity sector.
The government's emphasis on highway expansion in the Greater Toronto Area is further evidence of this trend.
The Ford government's record on environmental issues is an extension of its wider approach to governance. It has broken from the traditional norms of Ontario politics, which have emphasized moderation and administrative competence, as reflected through the long Progressive Conservative dynasty.
Looking back on Ford's four years in power reveals four themes about his approach to governance — and what the next four years might have in store if public opinion polls are correct and he wins again on June 2.
---


Read more:
Why Doug Ford will once again win the Ontario election


---
1. Reactive governance
The Ford government's agenda seems driven by instinct more than ideology. It came to power with scant vision for what a provincial government should do other than cut taxes, red tape and hydro rates. It's struggled when confronted with more complex problems that required the province to play a much more active role.
The resulting governance model has been fundamentally reactive, and grounded in relatively short-term perspectives. The government has tended to act once a situation reaches the crisis stage, rather than identifying potential problems and taking action to prevent them.
This pattern has been most evident in the government's hesitant responses to the COVID-19 pandemic. It tended to react to waves of COVID-19 infections rather than anticipating them and taking measures to minimize their impacts, even when given clear and consistent scientific advice to do so.
Issues like the environment and climate change are destined to do poorly under such a reactive governance model. They require taking action now to avoid problems in the future.
We are constantly reminded of this by the reports of the Intergovernmental Panel on Climate Change and federal and provincial environmental commissioners. Only responding when problems have become too obvious to ignore tends to mean it's already too late.
2. Creeping authoritarianism
The government's run-up to the election has placed a strong emphasis on "getting it done" — it's the Progressive Conservative party's campaign slogan — in areas like housing and highway and transit construction, in particular.
The flip side of this emphasis has been increasingly aggressive exercises of provincial authority, particularly over local governments. One of the government's first moves was to arbitrarily cut Toronto City Council in half. The province threatened to invoke, for the first time in the province's history, Sec. 33 of the Charter of Rights and Freedoms, known as the notwithstanding clause, to get its way.
---


Read more:
Ford's fight with Toronto shows legal vulnerability of cities


---
Ontario's planning rules have also been rewritten, not only at the provincial level, but down to the level of site-specific development plans within individual municipalities, almost universally in favour of developers' interests. Ministerial zoning orders — which circumvent local planning processes and public consultations, designating land use without the possibility of appeals — are no longer the exceptions they once were.
Instead, they seem the new norm for planning in Ontario. Broad powers have been given to provincial agencies, most notably the provincial transit agency Metrolinx, to build what are often poorly conceived and politically motivated transit projects.
The province's most recent legislative moves have sought to further marginalize the roles of local governments in planning matters and to eliminate public consultation requirements as red tape.
The notwithstanding clause was ultimately invoked by the government as it pertained to its election financing legislation that seemed designed to silence potential critics.
Even local school boards were forbidden to adopt COVID-19 containment measures more stringent that those put in place at the provincial level.
3. Friends with benefits
While the Ford government has gone to great lengths to silence voices of critical constituencies, it's been extraordinarily open to the voices that support it.
The government has demonstrated a distinct tendency to uncritically accept whatever its favoured industry lobbyists tell it to do. This has been evident in its approaches to COVID-19, housing and infrastructure, mining, aggregate extraction sites like gravel pits and quarries, energy and long-term care.
The overall decision-making model that has emerged is based on access, connections and political whim.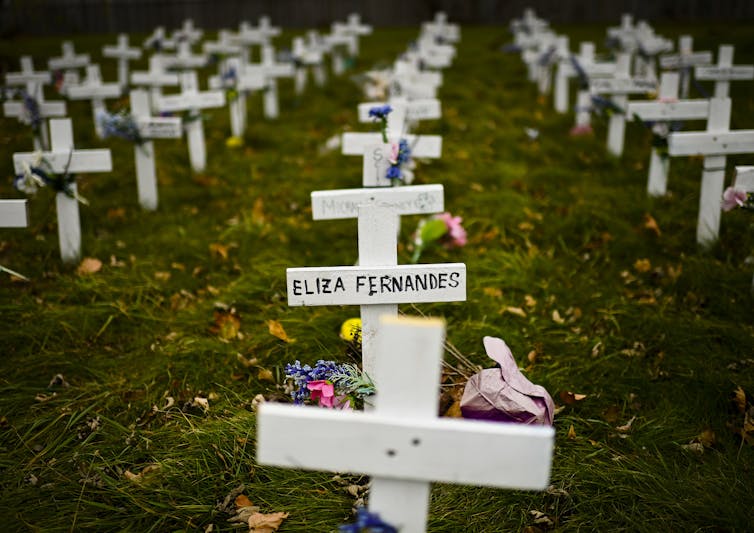 4. Spend but don't increase taxes
A final defining feature of the Ford government has been a tendency to disregard the fiscal consequences of its decisions. The focus instead has been on short-term savings for consumers.
The cancellation of the previous Liberal government's cap-and-trade system immediately following the 2018 election cost the provincial treasury billions in forgone revenues. Hundreds of millions more were spent cancelling renewable energy projects.
Hydro rates are being artificially lowered through an annual $7 billion in subsidies from the provincial treasury, money that could otherwise be spent on schools and hospitals. The pre-election cancellation of tolls on Highways 412 and 418 will cost at least $1 billion over the next 25 years, while the cancellation of vehicle licensing fees will cost the province an estimated $1 billion each year.
A proposed cut to provincial gasoline taxes would cost nearly $650 million in annual revenues. And the projected deficit on the government's pre-election budget was almost $20 billion, a record.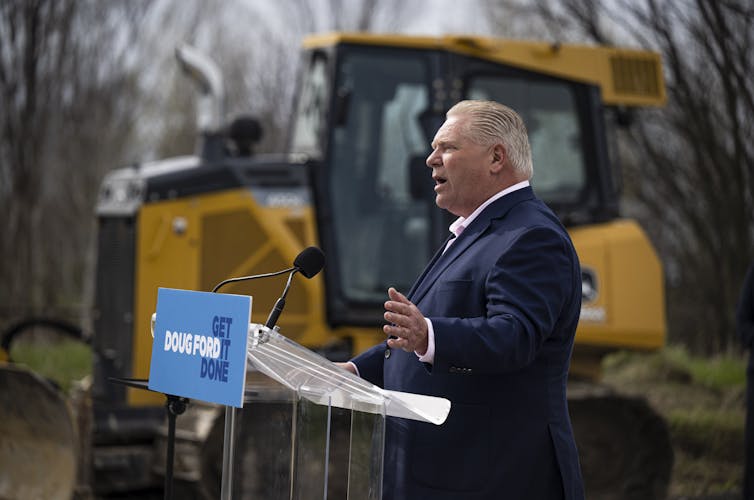 All of this is at odds with previous Progressive Conservative governments in Ontario, which were largely fiscally prudent.
It isn't clear yet to what extent the potential political success of a governance model organized around these four themes represents a fundamental break from the traditional norms of Ontario politics. If Ford wins again, is it due to the weaknesses of the alternatives being offered to Ontario voters, or does it signal a permanent realignment in the province's politics?
---


Read more:
What Doug Ford's shift to the centre says about the longevity of populism


---
Either way, June 2 could be a watershed moment in the province's history, defining a "new normal" for politics in Ontario.
CNN Poll: Most Americans are concerned about the US and 'burned out' on politics – CNN
(CNN)Americans across political lines are united in their generally negative feelings about the US and its politics, according to a new CNN Poll conducted by SSRS, with Democrats particularly unlikely to express political enthusiasm.
Just 14% of Americans say they're either excited (4%) or optimistic (10%) about the way things are going in the country, with 65% calling themselves concerned and another 21% saying they're scared. Only about one-quarter, 23%, call themselves "fired up" about politics, with 53% describing themselves as burned out. And roughly one-third, 32%, say they feel their side is currently losing more than winning in politics, with just 9% feeling that they're mostly on the winning side.
Democrats are modestly more positive than Republicans on the state of the country: 19% of Democrats describe themselves as optimistic or excited, compared with only 9% of Republicans who say the same. But Democrats are less likely to feel fired up than Republicans (25% vs. 33%) and more likely to say their side is losing (43% vs. 31%).
There are ideological divides as well, with liberals 16 percentage points likelier than conservatives to say they're mostly losing and 10 points likelier to described themselves as burnt out by politics. And fears for the state of the country also correspond to political engagement: 33% of those who are scared about the US describe themselves as fired up about politics. By contrast, just 19% of those who say they're concerned also describe themselves as fired up, and that number is just 13% who say they're optimistic.
The economy continues to be at the forefront of most Americans' minds. A 59% majority say economic issues are the most important issue to the country, compared with 30% who are more concerned with domestic and social issues, 3% who are most focused on foreign policy, and 7% saying another issue is their top concern.
While economic concerns dominate across party lines, they're most pronounced within the GOP. Three-quarters of Republicans say that economic issues are the most important, compared to a more modest 54% among independents and 50% among Democrats. Significant minorities of Democrats (43%) and independents (30%) are more focused on social or domestic issues, while just 19% of Republicans say the same. There's an ideological divide here as well: Among conservatives, 70% say economic issues are most important and just 21% say that social and domestic issues are; among liberals, a narrow majority call social and domestic issues their top concern (51%) with 41% choosing economic issues. Few across party or ideological lines care most about foreign policy.
Among the full public, the survey finds, Republicans hold a narrow edge in trust to handle the types of issues Americans say they care most about. By a 5-point margin, 35% to 30%, Americans say they trust the Republican Party more than the Democratic Party to handle such issues. More than one-third, 35%, trust neither party.
Those who prioritize economic issues — a heavily Republican-leaning bloc — give the GOP a 24-point lead, 46% to 22%, to handle those issues. Those who prioritize social and domestic issues — a bloc of mostly Democratic-aligned Americans — favor the Democratic Party by a 30-point margin, 49% to 19%.
Around 8 in 10 partisans on both sides trust their own party, while two-thirds of independents say they don't have faith in either party to handle the country's biggest issues.
The CNN poll was conducted by SSRS on May 12 and 13 among a random national sample of 1,000 adults surveyed by text message after being recruited using probability-based methods. Results for the full sample have a margin of sampling error of plus or minus 4 percentage points. It is larger for subgroups.
In defense of office politics – Smartbrief




(Image credit: Pexels)
"Office politics" often gets a bad rap. It's thought of as the domain of catty gossip, shady backroom deals or sycophantic compliments reminiscent of the movies "Office Space" or "9 to 5."
Thankfully, in real-life, office politics is often much tamer — and also unavoidable for anyone with the ambition to advance.
Why? Because, at its core, office politics is about relationships with colleagues and decision-makers. And nurturing those relationships can go a long way toward advancing your career goals.
What is office politics?
While politics is often derided as purely a popularity contest, there are actually two components — being popular and getting things done.
Let's think about "real" politics for a moment. You can be very good at getting things done, but if you're unpopular, you're not going to be elected in the first place. On the other hand, if you get elected because you're popular, but fail to accomplish anything, you'll probably find yourself voted out in the next election.
In office politics, exactly as in "real" politics, you can often get small things done without the support of others. But the more impactful your goals, the more you need to get other people on board to make them happen.
Liked + Trusted + Respected = Influence
To have influence, colleagues need to like you, trust you and respect you.
If you're not liked, well, that's pretty much curtains for influencing decisions, unless you're already the boss. It's worth noting that to be liked, you must first be known.
If you're liked, but not respected, you might be involved the discussion, but your view won't carry any weight. We could call this "Charlie Brown syndrome" after the classic Peanuts character.
If you're respected but not trusted (think of a well-qualified politician whose agenda you dislike), you may be consulted on an issue but colleagues may have misgivings about your motives.
To influence behavior and decisions in the office requires all three. Liked + Trusted + Respected = Influence.
Can office politics drive value?
Everything we do at CareerPoint is based on our philosophy that career success is driven by the value you create for your employer.
We talk about value creation by referencing eight drivers of value. You could think of these as the atomic elements of employee value. It's a framework you could use to analyze almost anything in relation to HR or career advancement. Why? Because anything that affects your value as an employee influences both the success of your career and the success of your company.
What we know as "office politics" touches on several of these value drivers, but let's focus on just two: Relationships and positioning.
Nurturing relationships
Of all the categories of relationships that drive value for a company, none are more significant than customer relationships. If customers like, respect and trust you, they are more likely to highly value your services, keep buying them and recommend them to others. They're also likely to be patient with you when things go awry, as things inevitably do.
The value of customer relationships can be tremendous and long-lasting. In a law firm, a single relationship can be worth tens of millions of dollars. Relationships are so important that when a partner moves from one firm to another, they often take the relationships with them. In fact, it's hard to think of an industry where good customer relationships can't move the dial on company success.
This means good customer relationships are a source of influence for employees. If customers highly regard you, the business won't want to lose you and ought to value your opinion. If, on the other hand, no customer would notice or care if you left, your influence on decisions and events will be more limited.
Positioning yourself for advancement
The value driver most closely aligned with office politics is the one we've named Positioning. It's all about navigating office politics to position yourself for advancement. After all, you could be the hardest working and most valuable employee in the business but fail to secure advancement if you don't understand the politics.
The best way to think about this is to imagine a meeting of your company's management team. Your potential promotion is being discussed. What do you want everyone to say and do?
Obviously, you want everyone to say that you are the best choice for the role. But will they?
There's nothing you can do at this moment. It's too late to influence any further.
In some ways, the discussion is a culmination of everything you've said and done since you've joined the company. The decision will be made largely on how the participants feel about you and the idea of you in a new, more influential role.
This is no idle abstraction. This is exactly how most advancement decisions are made. If you want to advance, the advocacy of every person around the table is what you're solving for in the game of office politics.
5 tips for becoming an effective office politician
Here are five quick tips you can use to help build trust, respect and likeability in your workplace.
Get involved with projects and initiatives outside of your team and department whenever possible. This will help you begin to widen your network.
Avoid overusing email with new connections. It's impossible to establish a relationship over email. Use the phone or arrange a quick Zoom/Teams/Webex meeting.
Aim to impress every single new person you work with, both inside and outside the organization. First impressions count and impressing people is often easier than you think. Just be reliable, responsive and helpful. Do things faster or better than they expect.
You don't build influence by being a weathervane who simply goes along with everything, but you don't build influence by opposing everything, either. The middle course is to articulate your position clearly, call the pros and cons as you see them, accept that others will see it differently and get on board with decisions you don't agree with.
Do favors for people when it helps them without expecting anything in return. If you are generous by nature, you will build a network of influence and appreciation, and you'll be seen as a team player. This network will help you get things done down the line.
Remember, no matter how much you hate it, office politics is a part of office life we all have to contend with. Instead of avoiding it, put your best foot forward, take smart risks, make mistakes, and learn from them.
---
To find out how CareerPoint can help you and your team navigate office politics and create the win/win relationships you need to succeed, visit CareerPoint's website today.
Originally from the west coast of Scotland, Steve McIntosh is a recovering accountant (ICAEW), HR professional (GPHR) and MBA (University of Oxford). After starting his career with global accounting firm KPMG in 1998, Steve founded offshore financial services recruitment firm CML in 2004, which he led as CEO for 16 years.
In 2020, he founded CareerPoint.com, the virtual coaching platform that helps companies and their people get ahead of the curve. With customers and coaches in more than 30 countries around the world, CareerPoint is well on its way to achieving its twofold mission to help a million young people advance in their careers and level the playing field for underrepresented groups.
McIntosh is a "zealous convert" to the value of HR as a driver of business value and the author of "The Employee Value Curve: the unifying theory of HR and career advancement helping companies and their people succeed together."
If you liked this article, sign up for SmartBrief's free email newsletters on HR and leadership. They're among SmartBrief's more than 250 industry-focused newsletters.