Politics Briefing: Foreign Affairs Minister Mélanie Joly says Russia's crimes against humanity 'cannot go unpunished' – The Globe and Mail
Hello,
Foreign Affairs Minister Mélanie Joly says the killings of civilians in the Ukrainian town of Bucha are "completely outrageous" war crimes, and Canada will work to ensure accountability for the acts.
"I shared, definitely, the strong feelings Canadians had when they saw pictures and videos of what happened over the weekend in Ukraine. These are clearly war crimes," Ms. Joly told a news conference on Monday in Helsinki. "These are clearly crimes against humanity."
The minister met with the media after talks with Finland counterpart Pekka Haavisto, who also appeared at the news conference.
Ms. Joly said Canada will support the International Criminal Court, or ICC, with funding in order to facilitate its work probing the incidents. "These acts cannot go unpunished," she said.
Last week, Canada announced it was sending a team to the international court to investigate possible Russian war crimes in Ukraine, a development detailed here.
On Monday, however, Ms. Joly was reacting specifically to incidents in Bucha, a satellite city of the Ukrainian capital of Kyiv, abandoned by Russian forces after weeks of intense fighting, where civilians have been found dead, with their hands tied and gunshots to the backs of their heads. Bucha's mayor told the AFP news service that a recently discovered mass grave contained nearly 300 bodies, including women and a 14-year-old boy. Foreign correspondent Nathan VanderKlippe reports here.
Ms. Joly said it is "extremely urgent" for war crimes investigators to get on the ground so they can begin their work. "I know they have been looking for resources and been contacting many countries and Canada will step up to the plate, and offer support to the ICC and time is of the essence."
Ms. Joly made her comments as Canada announced it will impose sanctions on nine Russian and nine Belarusian individuals for having "facilitated and enabled" Moscow's invasion of Ukraine.
"By enabling [Russian President] Vladimir Putin's senseless invasion of Ukraine, these close collaborators of the regime are complicit in the horrific events unfolding before our eyes," Ms. Joly said in the statement
This is the daily Politics Briefing newsletter, written by Ian Bailey. It is available exclusively to our digital subscribers. If you're reading this on the web, subscribers can sign up for the Politics newsletter and more than 20 others on our newsletter signup page. Have any feedback? Let us know what you think.
TODAY'S HEADLINES
GAS TAX CUT IN ONTARIO – The Ontario government says it will cut its gas tax by 5.7 cents a litre this summer for six months, in the face of rising prices at the pump. Story here.
OTTAWA EMISSIONS PLAN `NUTS': KENNEY – Alberta Premier Jason Kenney is calling Ottawa's federal emissions plan that was tabled in the House of Commons last week "nuts," and is pledging to fight it "with everything we've got." Story here.
BC LIBERAL LEADER GETS SHOT AT SEAT – Premier John Horgan has called a by-election for Vancouver-Quilchena. B.C. Liberal Leader Kevin Falcon is set to run in the riding the provincial Liberals have held since the riding was first created in 1991. The by-election vote on April. 30 is intended to replace former Liberal leader Andrew Wilkinson. Story here.
FORD'S NEPHEW RUNNING IN ELECTION – Michael Ford, the nephew of Premier Doug Ford, will run for the Ontario Progressive Conservatives in the provincial election in June. Story here.
THE BUDGET
Finance Minister Chrystia Freeland is tabling the federal budget on Thursday at 4 p.m. ET.
FREELAND READIES ANOTHER BIG-SPENDING FEDERAL BUDGET AMID FEARS OF RISING INFLATION – The early part of every calendar year is always frantic at the Jim Flaherty Building on Elgin Street in Ottawa, home to the federal Finance Department. But having a finance minister who is also a deputy prime minister and shouldering other heavy files piled on the challenges for Finance officials working on the 2022 federal budget. Ottawa Bureau Chief Robert Fife, Deputy Ottawa Bureau Chief Bill Curry and Senior Parliamentary Reporter Steven Chase report here.
CONSERVATIVE LEADERSHIP RACE
POILIEVRE FOCUSED ON MONETARY MATTERS – No elected official in Ottawa has taken a keener interest in monetary matters over the past few years than Pierre Poilievre, who is campaigning aggressively for the leadership of the Conservatives, the party with the best chance of supplanting the Liberals to form the next government. As a member of Parliament, and as the Conservatives' finance critic, he has long been a thorn in the side of the Bank of Canada, challenging its execution of monetary policy and railing against its decision during the pandemic to launch a quantitative easing program, under which it has purchased more than $300-billion of its own government's bonds. Story here.
CHAREST OFFERS DEFENCE PLAN – In Halifax, Conservative leadership contender Jean Charest announced a policy for national defence and veterans that includes increasing Canada's military spending to 2 per cent of GDP. Story here from CBC.
THIS AND THAT
TODAY IN THE COMMONS – Projected Order of Business at the House of Commons, Tuesday, accessible here.
HORGAN TESTS POSITIVE FOR COVID-19 – B.C. Premier John Horgan says he tested positive for COVID-19 on Monday morning. "Fortunately, my symptoms are mild and that is thanks to being fully vaccinated. I'm following public-health guidance, isolating and working from home until my symptoms resolve," Mr. Horgan said in a tweet.
CADIEUX STEPS DOWN – Former B.C. cabinet minister Stephanie Cadieux has announced she will resign from the legislature at the end of the April, ending a political career that began in 2009 and saw her hold cabinet posts that included children and family development, social development and labour. Since 2017, she has been a member of the BC Liberal opposition. Ms. Cadieux, who represented three ridings in suburban Surrey southeast of Vancouver, was the first women elected to the legislature who used a wheelchair and the first female cabinet member who used a wheelchair. She announced her plans in a statement Monday, but did not say why she is leaving.
WORK BEGINS TO FIND NEW SUPREME COURT JUSTICE – On Monday, Prime Minister Justin Trudeau launched the process to select the next Supreme Court of Canada justice, intended to replace Justice Michael Moldaver, who is retiring. Applications from qualified candidates will be accepted until May 13, 2022. In a statement, Mr. Trudeau also announced that former Prince Edward Island premier Wade MacLauchlan will be a chair and member of the Independent Advisory Board for Supreme Court of Canada Judicial Appointments. This non-partisan board is responsible for identifying candidates. After the application period closes, the advisory board will review applications and submit a shortlist of candidates to the Prime Minister.
THE DECIBEL
Monday's edition of The Globe and Mail podcast features Angie Crerar, an 85-year-old elder of the Métis Nation of Alberta, present to hear Pope Francis apologize last week for the Catholic Church's role in the residential school system – an apology long awaited by Indigenous Peoples in Canada. Ms. Crerar spoke to Globe reporter Willow Fiddler in Rome. She talked about what the Pope's apology means to her and Canada's journey of reconciliation. The Decibel is here.
PRIME MINISTER'S DAY
The Prime Minister held private meetings, and spoke with Qatar Emir Tamim bin Hamad Al Thani. The Prime Minister was scheduled to meet virtually with the premiers of the Northwest Territories, Nunavut and Yukon. Defence Minister Anita Anand was also scheduled to attend. The Prime Minister was also scheduled to receive a COVID‑19 briefing from Theresa Tam, Canada's Chief Public Health Officer, and speak with Australian Prime Minister Scott Morrison.
LEADERS
Bloc Québécois Leader Yves-François Blanchet held a news conference on Parliament Hill with caucus health critic Luc Thériault and intergovernmental affairs critic Mario Simard on the issue of a public summit on health care funding.
No schedules released for other party leaders.
OPINION
The Globe and Mail Editorial Board on how Ottawa is selling bilingualism for some and not for others: "But what the Trudeau government appears to really be objecting to is not a national bilingualism rate that it deems too low, but to the fact that the work of speaking two languages is largely being done in Quebec, where 58 per cent of the country's bilingual population lived in 2016. The English-speaking person most likely to be bilingual in Canada is an anglophone in Quebec, at a 60-per-cent rate. The French-speaking person most likely to be bilingual is the one living in English Canada, at 90 per cent. Over all, only 10 per cent of Canada's English-speaking population is bilingual."
Robyn Urback (The Globe and Mail) on how the Minister of Everything must tell Liberals they can't have it all: "Ms. Freeland is now tasked with delivering a budget at a critical time for Canada: when the country is in the early yet unstable stages of pandemic recovery, when a war is being fought in Ukraine, when drought caused by climate change has affected domestic and global yields and when inflation in Canada and abroad is surging. Indeed, the country is now at a precarious financial moment, when it could use the steady hand of that minister it saw on Feb. 24, speaking with genuine conviction about a policy she believes in deeply. What it doesn't need is a minister dressed in Liberal garb, selling a politically advantageous budget when Canada can't endure any more risk."
Nina L. Khrushcheva (Contributed to The Globe and Mail) on how Vladimir Putin's war will destroy Russia: "By attacking another European country, Mr. Putin crossed a line drawn after the Second World War – and changed the world. But he also changed Russia, from a functioning autocracy into a Stalinesque dictatorship, a country characterized by violent repression, inscrutable arbitrariness, and a massive brain drain. While the fortunes of Ukraine, Europe, and the rest of the world after the shooting stops remain to be seen, the outcome for Russia is all too obvious: a future as dark as its darkest past."
Mary Francoli and Alex Marland (Policy Options) on how the tradition of the finance minister showing off shoes on the eve of presenting a budget has a long history: "While the exact origin of the tradition is unknown, the first media reports mentioning it were to note a departure from it. In 1955, the Windsor Star and the Ottawa Citizen quoted then-finance minister Walter Harris as stating he 'couldn't afford' the new shoes traditionally worn on budget night, so he wore old ones. This account differs from a popular origin story that attributes the tradition to Mitchell Sharp's 1966 budget. Sharp himself took credit for starting the tradition. Budget shoes received little further notice until 1977, when Jean Chrétien became finance minister. This is notable as Chrétien had served as Sharp's parliamentary secretary."
Shachi Kurl (The Ottawa Citizen) on how Ontario Premier Doug Ford's fiercest provincial election opponent may be the pandemic: "Ford has shown he can pivot if needed. The beginning of the pandemic saw him employ enough political shrewdness to leave the tough decisions to the scientists and focus on the kind of reassuring rhetoric that saw his approval shoot up 30 points to an all-time high. But the stakes and pressure from his own political base to 'stay open' will be intense as well. In a pre-election season that so far shows little evidence Ontarians have much appetite to let the ghosts of the Wynne-era Liberals out of the attic yet, and where Ontario New Democrat Leader Andrea Horwath girds for her fourth election as leader with an approval rating lower than Ford's, the real opposition – or at least the greatest political threat to Conservative re-election – is the coronavirus. The next weeks will be crucial in determining if it's an opponent the Premier can beat."
Steve Paikin (TVO) on the task ahead for Ontario Liberal Leader Steve Del Duca: "Besides the platform drop two weekends ago, Del Duca was the featured speaker last week at the Canadian Club, where he pulled off something that, frankly, none of the other major party leaders are capable of. After he took the stage, he had the lectern removed. With no teleprompter and only a hand mic, he proceeded to speak extemporaneously for nearly half an hour about his family's past and his party's policy prescriptions for what ails Ontario. Nearly four years into his premiership, that is something Doug Ford still either can't or won't do. The Premier gives a speech or makes an announcement somewhere in Ontario almost every day. But his trusty teleprompter is never far away. You may think this is irrelevant. But in an era when authenticity matters perhaps more than ever, Del Duca looks as if he knows what he's talking about and doesn't have to read it off a TV screen."
Got a news tip that you'd like us to look into? E-mail us at tips@globeandmail.com. Need to share documents securely? Reach out via SecureDrop.
Ontario election: 4 ways Doug Ford has changed the province's politics – The Conversation
The dismal environmental record of the Doug Ford government in Ontario is well-documented. Despite some recent moves on "greening" the steel sector and electric vehicle manufacturing initiatives, the province is on track to see major increases in greenhouse gas emissions, particularly from the electricity sector.
The government's emphasis on highway expansion in the Greater Toronto Area is further evidence of this trend.
The Ford government's record on environmental issues is an extension of its wider approach to governance. It has broken from the traditional norms of Ontario politics, which have emphasized moderation and administrative competence, as reflected through the long Progressive Conservative dynasty.
Looking back on Ford's four years in power reveals four themes about his approach to governance — and what the next four years might have in store if public opinion polls are correct and he wins again on June 2.
---


Read more:
Why Doug Ford will once again win the Ontario election


---
1. Reactive governance
The Ford government's agenda seems driven by instinct more than ideology. It came to power with scant vision for what a provincial government should do other than cut taxes, red tape and hydro rates. It's struggled when confronted with more complex problems that required the province to play a much more active role.
The resulting governance model has been fundamentally reactive, and grounded in relatively short-term perspectives. The government has tended to act once a situation reaches the crisis stage, rather than identifying potential problems and taking action to prevent them.
This pattern has been most evident in the government's hesitant responses to the COVID-19 pandemic. It tended to react to waves of COVID-19 infections rather than anticipating them and taking measures to minimize their impacts, even when given clear and consistent scientific advice to do so.
Issues like the environment and climate change are destined to do poorly under such a reactive governance model. They require taking action now to avoid problems in the future.
We are constantly reminded of this by the reports of the Intergovernmental Panel on Climate Change and federal and provincial environmental commissioners. Only responding when problems have become too obvious to ignore tends to mean it's already too late.
2. Creeping authoritarianism
The government's run-up to the election has placed a strong emphasis on "getting it done" — it's the Progressive Conservative party's campaign slogan — in areas like housing and highway and transit construction, in particular.
The flip side of this emphasis has been increasingly aggressive exercises of provincial authority, particularly over local governments. One of the government's first moves was to arbitrarily cut Toronto City Council in half. The province threatened to invoke, for the first time in the province's history, Sec. 33 of the Charter of Rights and Freedoms, known as the notwithstanding clause, to get its way.
---


Read more:
Ford's fight with Toronto shows legal vulnerability of cities


---
Ontario's planning rules have also been rewritten, not only at the provincial level, but down to the level of site-specific development plans within individual municipalities, almost universally in favour of developers' interests. Ministerial zoning orders — which circumvent local planning processes and public consultations, designating land use without the possibility of appeals — are no longer the exceptions they once were.
Instead, they seem the new norm for planning in Ontario. Broad powers have been given to provincial agencies, most notably the provincial transit agency Metrolinx, to build what are often poorly conceived and politically motivated transit projects.
The province's most recent legislative moves have sought to further marginalize the roles of local governments in planning matters and to eliminate public consultation requirements as red tape.
The notwithstanding clause was ultimately invoked by the government as it pertained to its election financing legislation that seemed designed to silence potential critics.
Even local school boards were forbidden to adopt COVID-19 containment measures more stringent that those put in place at the provincial level.
3. Friends with benefits
While the Ford government has gone to great lengths to silence voices of critical constituencies, it's been extraordinarily open to the voices that support it.
The government has demonstrated a distinct tendency to uncritically accept whatever its favoured industry lobbyists tell it to do. This has been evident in its approaches to COVID-19, housing and infrastructure, mining, aggregate extraction sites like gravel pits and quarries, energy and long-term care.
The overall decision-making model that has emerged is based on access, connections and political whim.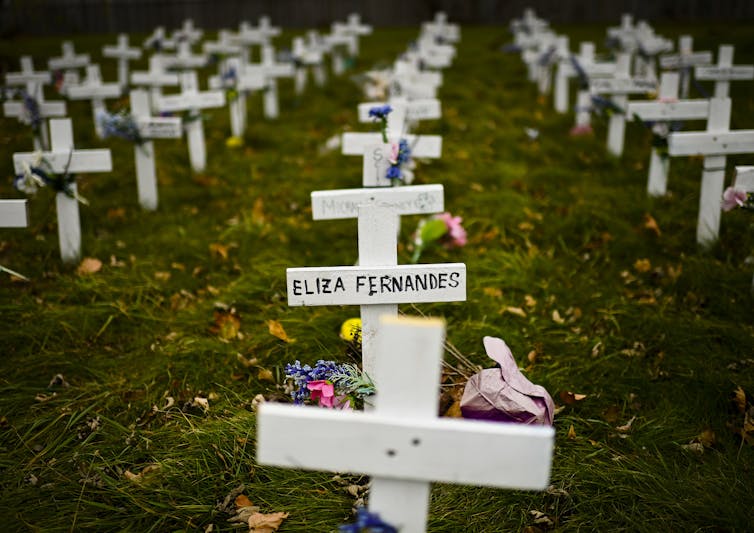 4. Spend but don't increase taxes
A final defining feature of the Ford government has been a tendency to disregard the fiscal consequences of its decisions. The focus instead has been on short-term savings for consumers.
The cancellation of the previous Liberal government's cap-and-trade system immediately following the 2018 election cost the provincial treasury billions in forgone revenues. Hundreds of millions more were spent cancelling renewable energy projects.
Hydro rates are being artificially lowered through an annual $7 billion in subsidies from the provincial treasury, money that could otherwise be spent on schools and hospitals. The pre-election cancellation of tolls on Highways 412 and 418 will cost at least $1 billion over the next 25 years, while the cancellation of vehicle licensing fees will cost the province an estimated $1 billion each year.
A proposed cut to provincial gasoline taxes would cost nearly $650 million in annual revenues. And the projected deficit on the government's pre-election budget was almost $20 billion, a record.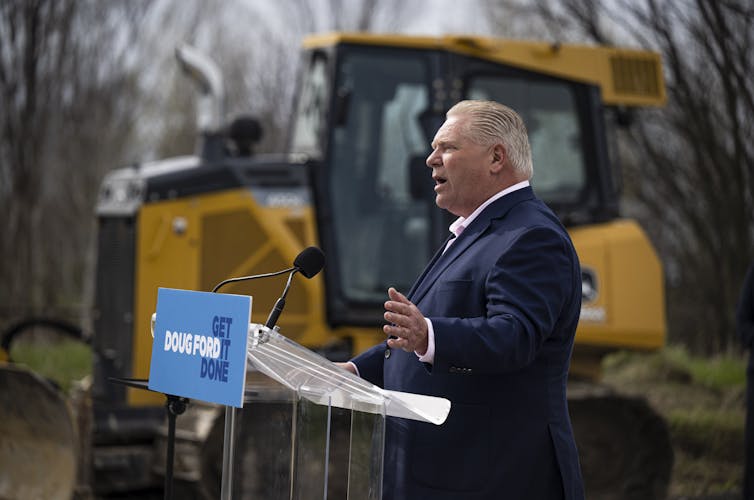 All of this is at odds with previous Progressive Conservative governments in Ontario, which were largely fiscally prudent.
It isn't clear yet to what extent the potential political success of a governance model organized around these four themes represents a fundamental break from the traditional norms of Ontario politics. If Ford wins again, is it due to the weaknesses of the alternatives being offered to Ontario voters, or does it signal a permanent realignment in the province's politics?
---


Read more:
What Doug Ford's shift to the centre says about the longevity of populism


---
Either way, June 2 could be a watershed moment in the province's history, defining a "new normal" for politics in Ontario.
CNN Poll: Most Americans are concerned about the US and 'burned out' on politics – CNN
(CNN)Americans across political lines are united in their generally negative feelings about the US and its politics, according to a new CNN Poll conducted by SSRS, with Democrats particularly unlikely to express political enthusiasm.
Just 14% of Americans say they're either excited (4%) or optimistic (10%) about the way things are going in the country, with 65% calling themselves concerned and another 21% saying they're scared. Only about one-quarter, 23%, call themselves "fired up" about politics, with 53% describing themselves as burned out. And roughly one-third, 32%, say they feel their side is currently losing more than winning in politics, with just 9% feeling that they're mostly on the winning side.
Democrats are modestly more positive than Republicans on the state of the country: 19% of Democrats describe themselves as optimistic or excited, compared with only 9% of Republicans who say the same. But Democrats are less likely to feel fired up than Republicans (25% vs. 33%) and more likely to say their side is losing (43% vs. 31%).
There are ideological divides as well, with liberals 16 percentage points likelier than conservatives to say they're mostly losing and 10 points likelier to described themselves as burnt out by politics. And fears for the state of the country also correspond to political engagement: 33% of those who are scared about the US describe themselves as fired up about politics. By contrast, just 19% of those who say they're concerned also describe themselves as fired up, and that number is just 13% who say they're optimistic.
The economy continues to be at the forefront of most Americans' minds. A 59% majority say economic issues are the most important issue to the country, compared with 30% who are more concerned with domestic and social issues, 3% who are most focused on foreign policy, and 7% saying another issue is their top concern.
While economic concerns dominate across party lines, they're most pronounced within the GOP. Three-quarters of Republicans say that economic issues are the most important, compared to a more modest 54% among independents and 50% among Democrats. Significant minorities of Democrats (43%) and independents (30%) are more focused on social or domestic issues, while just 19% of Republicans say the same. There's an ideological divide here as well: Among conservatives, 70% say economic issues are most important and just 21% say that social and domestic issues are; among liberals, a narrow majority call social and domestic issues their top concern (51%) with 41% choosing economic issues. Few across party or ideological lines care most about foreign policy.
Among the full public, the survey finds, Republicans hold a narrow edge in trust to handle the types of issues Americans say they care most about. By a 5-point margin, 35% to 30%, Americans say they trust the Republican Party more than the Democratic Party to handle such issues. More than one-third, 35%, trust neither party.
Those who prioritize economic issues — a heavily Republican-leaning bloc — give the GOP a 24-point lead, 46% to 22%, to handle those issues. Those who prioritize social and domestic issues — a bloc of mostly Democratic-aligned Americans — favor the Democratic Party by a 30-point margin, 49% to 19%.
Around 8 in 10 partisans on both sides trust their own party, while two-thirds of independents say they don't have faith in either party to handle the country's biggest issues.
The CNN poll was conducted by SSRS on May 12 and 13 among a random national sample of 1,000 adults surveyed by text message after being recruited using probability-based methods. Results for the full sample have a margin of sampling error of plus or minus 4 percentage points. It is larger for subgroups.
In defense of office politics – Smartbrief




(Image credit: Pexels)
"Office politics" often gets a bad rap. It's thought of as the domain of catty gossip, shady backroom deals or sycophantic compliments reminiscent of the movies "Office Space" or "9 to 5."
Thankfully, in real-life, office politics is often much tamer — and also unavoidable for anyone with the ambition to advance.
Why? Because, at its core, office politics is about relationships with colleagues and decision-makers. And nurturing those relationships can go a long way toward advancing your career goals.
What is office politics?
While politics is often derided as purely a popularity contest, there are actually two components — being popular and getting things done.
Let's think about "real" politics for a moment. You can be very good at getting things done, but if you're unpopular, you're not going to be elected in the first place. On the other hand, if you get elected because you're popular, but fail to accomplish anything, you'll probably find yourself voted out in the next election.
In office politics, exactly as in "real" politics, you can often get small things done without the support of others. But the more impactful your goals, the more you need to get other people on board to make them happen.
Liked + Trusted + Respected = Influence
To have influence, colleagues need to like you, trust you and respect you.
If you're not liked, well, that's pretty much curtains for influencing decisions, unless you're already the boss. It's worth noting that to be liked, you must first be known.
If you're liked, but not respected, you might be involved the discussion, but your view won't carry any weight. We could call this "Charlie Brown syndrome" after the classic Peanuts character.
If you're respected but not trusted (think of a well-qualified politician whose agenda you dislike), you may be consulted on an issue but colleagues may have misgivings about your motives.
To influence behavior and decisions in the office requires all three. Liked + Trusted + Respected = Influence.
Can office politics drive value?
Everything we do at CareerPoint is based on our philosophy that career success is driven by the value you create for your employer.
We talk about value creation by referencing eight drivers of value. You could think of these as the atomic elements of employee value. It's a framework you could use to analyze almost anything in relation to HR or career advancement. Why? Because anything that affects your value as an employee influences both the success of your career and the success of your company.
What we know as "office politics" touches on several of these value drivers, but let's focus on just two: Relationships and positioning.
Nurturing relationships
Of all the categories of relationships that drive value for a company, none are more significant than customer relationships. If customers like, respect and trust you, they are more likely to highly value your services, keep buying them and recommend them to others. They're also likely to be patient with you when things go awry, as things inevitably do.
The value of customer relationships can be tremendous and long-lasting. In a law firm, a single relationship can be worth tens of millions of dollars. Relationships are so important that when a partner moves from one firm to another, they often take the relationships with them. In fact, it's hard to think of an industry where good customer relationships can't move the dial on company success.
This means good customer relationships are a source of influence for employees. If customers highly regard you, the business won't want to lose you and ought to value your opinion. If, on the other hand, no customer would notice or care if you left, your influence on decisions and events will be more limited.
Positioning yourself for advancement
The value driver most closely aligned with office politics is the one we've named Positioning. It's all about navigating office politics to position yourself for advancement. After all, you could be the hardest working and most valuable employee in the business but fail to secure advancement if you don't understand the politics.
The best way to think about this is to imagine a meeting of your company's management team. Your potential promotion is being discussed. What do you want everyone to say and do?
Obviously, you want everyone to say that you are the best choice for the role. But will they?
There's nothing you can do at this moment. It's too late to influence any further.
In some ways, the discussion is a culmination of everything you've said and done since you've joined the company. The decision will be made largely on how the participants feel about you and the idea of you in a new, more influential role.
This is no idle abstraction. This is exactly how most advancement decisions are made. If you want to advance, the advocacy of every person around the table is what you're solving for in the game of office politics.
5 tips for becoming an effective office politician
Here are five quick tips you can use to help build trust, respect and likeability in your workplace.
Get involved with projects and initiatives outside of your team and department whenever possible. This will help you begin to widen your network.
Avoid overusing email with new connections. It's impossible to establish a relationship over email. Use the phone or arrange a quick Zoom/Teams/Webex meeting.
Aim to impress every single new person you work with, both inside and outside the organization. First impressions count and impressing people is often easier than you think. Just be reliable, responsive and helpful. Do things faster or better than they expect.
You don't build influence by being a weathervane who simply goes along with everything, but you don't build influence by opposing everything, either. The middle course is to articulate your position clearly, call the pros and cons as you see them, accept that others will see it differently and get on board with decisions you don't agree with.
Do favors for people when it helps them without expecting anything in return. If you are generous by nature, you will build a network of influence and appreciation, and you'll be seen as a team player. This network will help you get things done down the line.
Remember, no matter how much you hate it, office politics is a part of office life we all have to contend with. Instead of avoiding it, put your best foot forward, take smart risks, make mistakes, and learn from them.
---
To find out how CareerPoint can help you and your team navigate office politics and create the win/win relationships you need to succeed, visit CareerPoint's website today.
Originally from the west coast of Scotland, Steve McIntosh is a recovering accountant (ICAEW), HR professional (GPHR) and MBA (University of Oxford). After starting his career with global accounting firm KPMG in 1998, Steve founded offshore financial services recruitment firm CML in 2004, which he led as CEO for 16 years.
In 2020, he founded CareerPoint.com, the virtual coaching platform that helps companies and their people get ahead of the curve. With customers and coaches in more than 30 countries around the world, CareerPoint is well on its way to achieving its twofold mission to help a million young people advance in their careers and level the playing field for underrepresented groups.
McIntosh is a "zealous convert" to the value of HR as a driver of business value and the author of "The Employee Value Curve: the unifying theory of HR and career advancement helping companies and their people succeed together."
If you liked this article, sign up for SmartBrief's free email newsletters on HR and leadership. They're among SmartBrief's more than 250 industry-focused newsletters.