Politics Briefing: House of Commons votes on China genocide motion – The Globe and Mail
Hello,
The House of Commons is set to declare China's persecution of the Uyghur minority a genocide today, a move that Conservatives say will send a strong message to Beijing.
However, the Liberal cabinet is expected to abstain or not be present for the vote.
Prime Minister Justin Trudeau has said he is reluctant to use the politically charged term of "genocide" without more investigation, though he acknowledges that there are human rights abuses in Xinjiang province.
This is the daily Politics Briefing newsletter, written by Chris Hannay. It is available exclusively to our digital subscribers. If you're reading this on the web, subscribers can sign up for the Politics newsletter and more than 20 others on our newsletter signup page. Have any feedback? Let us know what you think.
TODAY'S HEADLINES
Mr. Trudeau and U.S. President Joe Biden will hold their first official bilateral meeting on Tuesday by videoconference. Among other things, the Canadian government is sure to press the Biden administration on improving access to American-made COVID-19 vaccines and possibly reconsidering the opposition to the Keystone XL pipeline, neither of which file has gone Canada's way.
Canada is set to receive its largest shipment of COVID-19 vaccines yet – 640,000 – this week after a dry few weeks.
The Ontario government is set to introduce new legislation to fight human trafficking, including new obligations for businesses that come into contact with possible victims. A new report released Monday shows the extent to which human trafficking continues in Canada under the radar.
As the House of Commmons defence committee begins to look at allegations of sexual misconduct by General Jonathan Vance, the former top soldier, Major Kellie Brennan told Global News that she had a sexual relationship with him while he was her superior. Gen. Vance has acknowledged he had a relationship with Maj. Brennan early in his career, but said it ended when he was promoted up the ranks.
Time to polish up your résumé because the government is hiring for a new Supreme Court justice.
The U.S. Supreme Court rebuffed former president Donald Trump's efforts to stop New York state investigators from obtaining his tax records, which have never been publicly disclosed.
And how Anita Anand, an accomplished Toronto-area law professor, rose from political unknown to one of the most important Liberal ministers during the pandemic.
Jillian Horton (The Globe and Mail) on how hard the pandemic has been on healthcare workers: "Health care workers use metaphors all the time, including the well-worn, 'We're drowning.' Of course, we aren't literally drowning. But there is a feeling that we are slowly descending beneath the surface of something dark and ominous, that things will not be the same when we surface. We have lost our sense of what is normal, our equilibrium. We have become unmoored."
David Parkinson (The Globe and Mail) on why Alberta needs a sales tax: "But the problem is not just that resource royalties have shrunk; they are also notoriously unstable, and always were. As the report notes, most years in the past two decades, the province's royalty revenue swung up or down more than $1-billion; eight times in those 20 years, the swing has been more than $3-billion. That's dreadful for fiscal planning – particularly for a government that says it wants a long-term investment strategy to foster economic growth, as Mr. Kenney talks about."
Rita Trichur (The Globe and Mail) on what Ottawa can do to fight financial crime: "Safe-harbour provisions are useful because they provide clarity to banks about what types of information can be lawfully shared about their clients. Currently, that type of protected information sharing is extremely limited in Canada. The Personal Information Protection and Electronic Documents Act provides a safe harbour for information sharing in cases of fraud and terrorism. Oddly, though, those same protections do not apply in instances of money laundering, human trafficking and child exploitation. Even stranger: The federal government still hasn't committed to making those changes even though it is updating our aging privacy law."
Got a news tip that you'd like us to look into? E-mail us at tips@globeandmail.com. Need to share documents securely? Reach out via SecureDrop
Zlatan Ibrahimovic hits out at LeBron James for getting involved in politics – Sky Sports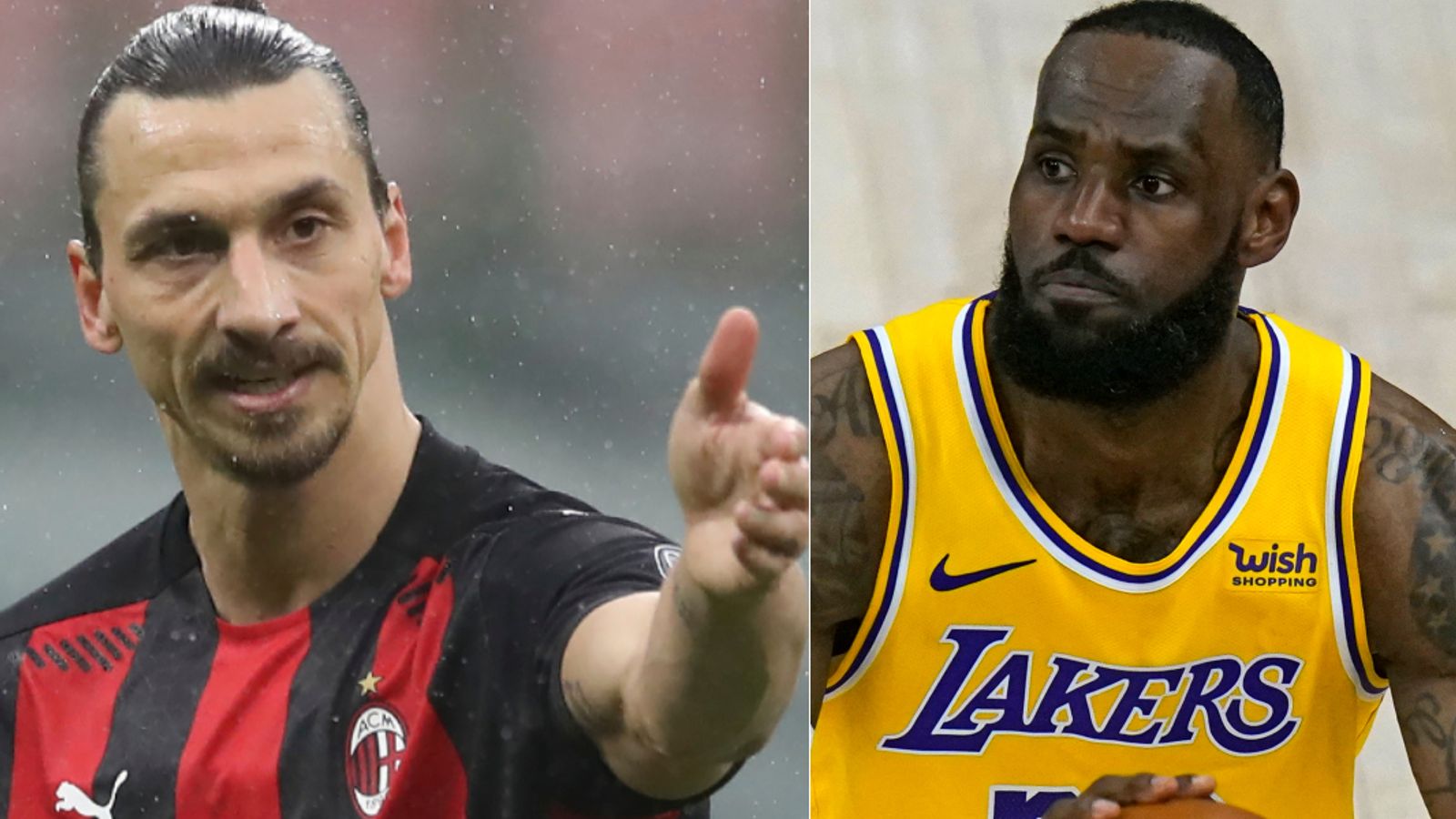 Zlatan Ibrahimovic has hit out at LeBron James for getting involved in politics, telling him to stick to what he is good at.
Four-time NBA champion James, who Ibrahimovic described as a phenomenal basketball player, has been one of the NBA's leading voices against racial injustice and police brutality in the US.
A frequent critic of former US President Donald Trump, the LA Lakers forward also helped form a group aimed at battling voter disenfranchisement in predominantly black communities last year.
"I like him [James] a lot. He's phenomenal, but I don't like when people with a status speak about politics. Do what you're good at doing," Ibrahimovic told UEFA and Discovery+ in Sweden.
"I play football because I'm the best playing football. I'm no politician. If I'd been a politician, I would be doing politics.
"This is the first mistake famous people do when they become famous. For me it is better to avoid certain topics and do what you're good doing, otherwise you risk doing something wrongly."
Okay @Ibra_official based on your position @KingJames is great at basketball and shouldn't voice his opinion about politics. You're really good at football so you shouldn't voice your opinion about Lebron using his platform for good. Or your opinion on anything outside football! https://t.co/xNbDo5vc9g

— Michael Johnson (@MJGold) February 26, 2021
Ibrahimovic's comments were criticised by American sprint great Michael Johnson.
"Okay Ibra, based on your position @KingJames is great at basketball and shouldn't voice his opinion about politics," Johnson tweeted.
"You're really good at football so you shouldn't voice your opinion about LeBron using his platform for good. Or your opinion on anything outside football!"
Women Of Color Have Always Been In Politics. Now They Are Changing Congress. – FiveThirtyEight
The current Congress includes more women of color than ever before, thanks to historic wins in the 2020 election. FiveThirtyEight spoke with three political scientists about why it's taken so long to get to this point, and how having these women in office will affect the legislature.
Zlatan Ibrahimovic to LeBron James – 'Do what you're good at,' stay out of politics – ESPN
AC Milan star Zlatan Ibrahimovic criticized LeBron James and others on Thursday for their activism in what the former LA Galaxy star called "politics."
Speaking in an interview for UEFA for Discovery+ in Sweden on Thursday, the outspoken striker said that although he admired James' talent, it's a "mistake" when athletes step out of their lane and get involved socially and politically.
– Stream ESPN FC Daily on ESPN+ (U.S. only)
– Stream Serie A games on ESPN+
"[LeBron] is phenomenal at what he's doing, but I don't like when people have some kind of status, they go and do politics at the same time," Ibrahimovic said. "Do what you're good at. Do the category you do. I play football because I'm the best at playing football.
"I don't do politics. If I would be a political politician, I would do politics. That is the first mistake people do when they become famous and they become in a certain status. Stay out of it. Just do what you do best because it doesn't look good."
James has been a force for social change and political action. His More Than a Vote organization drew more than 42,000 volunteers to work at polling stations for the November election, helped some earn back their voting rights and pushed for turnout among Black people and young voters.
He has also focused on his hometown of Akron, Ohio.
The I Promise School he opened in 2018 now has over 450 students in third through sixth grades. When the pandemic shut down the school, James and his team ensured students got hot meals delivered to their homes — even complete Thanksgiving meals. An affordable housing project for 50 families broke ground this year. And in December, plans for House Three Thirty (a nod to Akron's area code) were announced, detailing how James is going to offer things like accessible family financial health programming, job training and a community gathering space.
"I still know what I do on the floor, and obviously, I give everything to the game," James told The Associated Press in December. "But I can make a greater impact off the floor right now, more than I can on the floor. And I want to continue to inspire people with the way I play the game of basketball. But there's so many more things that I can do off the floor to help cultivate people, inspire people, bring people together, empower them."
His outspokenness hasn't always been well-received, however. In February of 2018, a prominent conservative commentator famously told him to "shut up and dribble" in response to his "talking politics."
Ibrahimovic has made headlines for acrobatic goals, bombastic boasts and on-field controversy throughout his wildly successful soccer career.
In January, he faced accusations of racism after a clash with Inter Milan's Romelu Lukaku during a Coppa Italia quarterfinal clash. Ibrahimovic, who often refers to himself in the third person, was accused of having used offensive language during his spat with Lukaku and later posted a message on social media reiterating that he is against racism, with his coach later backing his claims.
Information from The Associated Press was used in this report.