Politics Briefing: NDP in 'ongoing' talks with Liberals to fast-track legislation both parties support – The Globe and Mail
Hello,
BREAKING – Anthony Rota has been re-elected as the Speaker in Parliament, resuming his work in the key role as MPs return to work in the House of Commons for the first time since June.
The Nipissing-Timiskaming MP has been the House Speaker since 2019, and was re-elected by MPs over six other candidates for the post, including former Green Party leader Elizabeth May.
"Now that we have a Speaker, it's time to get back to work," Mr. Rota told members.
Also on Monday, NDP Leader Jagmeet Singh said his party is engaged in "ongoing" discussions with the Liberals about fast-tracking legislation that both parties support, but warned that his party will strongly oppose the government's plans to scale back COVID-19 benefits.
Mr. Singh made the comments to reporters on Monday as Members of Parliament returned to the House of Commons for the first time since June.
The first order of business was the election of the Speaker. The government will outline its policy priorities through a Throne Speech on Tuesday. The House is scheduled to sit for four weeks before recessing until Jan. 31.
The Sept. 20 federal election produced a Parliament with similar numbers in terms of party standings as what was in place prior to the campaign. The minority Liberal government will need the support of at least one other major party to win votes on spending and legislation in the House of Commons. In the previous Parliament, the NDP frequently voted with the Liberals to approve government measures.
"We're open to looking at ways to speed up the passage of bills that we agree with," said Mr. Singh, who described the discussions with the Liberals as "ongoing," while also adding that no deal has been reached.
More here on today's return of MPs. Deputy Ottawa Bureau Chief Bill Curry looks at the path ahead as Members of Parliament return to the floor of the House of Commons.
This is the daily Politics Briefing newsletter, written by Ian Bailey. It is available exclusively to our digital subscribers. If you're reading this on the web, subscribers can sign up for the Politics newsletter and more than 20 others on our newsletter signup page. Have any feedback? Let us know what you think.
TODAY'S HEADLINES
VUONG TAKES SEAT IN PARLIAMENT – Kevin Vuong, a Toronto MP dumped by the Liberals for not disclosing a withdrawn sexual assault charge, says he believes people want to see him in Parliament and blamed political operatives and social media critics for wanting to see him fail. Mr. Vuong entered the House of Commons today to take his seat as an Independent MP. Story here.
GOVERNMENT PRESSED TO HELP TRAPPED AFGHANS – Opposition members of Parliament say they have heard heartbreaking stories from people trapped in Afghanistan and are urging the Liberal government to swiftly help those who have been left behind.
HYPERSONIC MISSILE LEAD HELD BY CHINA AND RUSSIA – China and Russia have surpassed the United States in the development of cutting-edge hypersonic missiles – regarded by some as first-strike weapons – and Beijing is on track to one day overtake the Americans in space technology, a senior U.S. general told the Halifax International Security Forum this past weekend. Story here.
SENATOR DIES AFTER TREATMENT FOR COVID-19 – Josée Forest-Niesing, a lawyer and Ontario senator, has died shortly after being hospitalized with COVID-19. She was 56. Story here.
CANADA'S FIRST TWO-SPIRIT MP – As he gets ready for Parliament's return on Monday, Edmonton–Griesbach's MP Blake Desjarlais spoke with The Globe about his upbringing, his role in the struggle for Métis rights and what he brings to the table in Ottawa. Story here.
KENNEY FACES UCP MEMBERS AT PARTY MEETING – There was not much in the way of loud, visible dissent during the annual general meeting of Alberta's governing party – a relative win for its leader, Jason Kenney, and his supporters. But the United Conservative Party gathering this weekend wasn't a definitive turnaround for Mr. Kenney, who entered Alberta politics five years ago as an unmitigated conservative star, and who is now the least popular premier in the country. Story here.
B.C. GOVERNMENT WARNED OF FLOOD RISK – Despite claims by British Columbia Premier John Horgan that there was no way to foresee the current flooding and mudslides in the province, the B.C. government had a shelf full of contemporary reports from experts, warning that such disasters were going to hit with greater frequency and bigger impact. B.C. Politics Reporter Justine Hunter reports here. Meanwhile, Andrea Woo reports here that a major breach in Abbotsford's Sumas dike was successfully repaired this weekend, stopping the flow of water from the Sumas River into the prairie lake bottom and alleviating some concerns about further destruction.
TORY COUNCIL TO DISCUSS BATTERS PETITION – The Hill Times reports that, according to party president Rob Batherson, the Conservative Party's national council will discuss Senator Denise Batters' petition calling for an early review of Erin O'Toole's leadership at a Dec. 10-12 meeting, if not before.
NANTEL TO RUN FOR PQ – The Parti Québécois says former NDP MP Pierre Nantel will run in a by-election in the Marie-Victorin riding in Longueuil, south of Montreal. Mr. Nantel previously held the seat of Longueuil – Saint-Hubert between 2011 and 2019 before being removed from the party. Story here.
THIS AND THAT
GARNEAU STICKING AROUND – Former astronaut Marc Garneau has been in cabinet since the current Liberal government was elected in 2015, first as transport minister and then foreign affairs minister. He was dropped from the cabinet named after the Liberals won a minority government in September. But the member for the Montreal riding of Notre-Dame-de-Grâce–Westmount said Sunday he is sticking around amid speculation he was up for a diplomatic appointment. "The 44th Canadian Parliament begins tomorrow. Just to be clear because many have inquired, I will not be retiring from political life. I will continue to serve the people of NDG–Westmount," he said in a Tweet.
WANTED: COMMUNICATIONS DIRECTOR FOR DEFENCE MINISTER – Canada's new Defence Minister will be getting a new director of communications. Todd Lane announced Friday that he was stepping down as director of communications for Defence Minister Anita Anand. According to Daniel Minden, Ms. Anand's press secretary, Mr. Lane joined the office as a press secretary in March, 2019, and in January, 2020, became director of communications. "After several years at National Defence, Todd has decided to move to a new portfolio in the federal government," he said in a statement. Mr. Minden added that no new communications director has been named yet.
NOVA SCOTIA PREMIER VISITS OTTAWA – Tim Houston made his first visit to Ottawa as Premier of Nova Scotia today, meeting with Prime Minister Justin Trudeau. But Mr. Houston noted it was another personal milestone as well – during his opening remarks at his meeting with Mr. Trudeau, the Premier said the visit was also his first time in Ottawa ever. Among the issues Mr. Houston said he was keen to discuss were health care, housing and immigration.
PRIME MINISTER'S DAY
The Prime Minister met with Nova Scotia Premier Tim Houston on Parliament Hill, and later attended the election of the Speaker of the House of Commons.
DEPUTY PRIME MINISTER
The Deputy Prime Minister attended the election of the Speaker of the House of Commons.
LEADERS
NDP Leader Jagmeet Singh holds a news conference to discuss the return of Parliament.
No schedules released for other leaders, though they were in Parliament as it opened.
OPINION
John Ibbitson (The Globe and Mail) on how Erin O'Toole is safe, for now, as Conservative Leader, mostly because there's little alternative: "Not only is there no obvious person available to replace Mr. O'Toole, there is no obvious idea, either, no stream of political thought that Mr. O'Toole rejects but that could take the party to victory. Economic conservatives are angry with Mr. O'Toole because he abandoned the traditional conservative commitment to cutting taxes and spending, while balancing the budget. Social conservatives are angry with Mr. O'Toole for backtracking on his commitment to loosen gun controls and for supporting, however reluctantly, vaccine mandates for MPs. But while deficits have reached frightening levels, austerity in these final months of the pandemic would do more harm than good. And to champion the rights of gun owners and vaccine refuseniks is to champion lost and unpopular causes."
Robyn Urback (The Globe and Mail) on the illness in the United States that Kyle Rittenhouse's acquittal exposes: "The reality is that in certain states, armed civilians can show up in any town, incite violence and then use the danger they have created to justify shooting people in the street. That's why Mr. Rittenhouse's acquittal was not only likely, but also legally just – even if, to casual observers, it might seem profoundly, morally unfair."
Coleman Molnar (Contributed to The Globe and Mail) on questioning whether to keep living in B.C. amid catastrophic weather events: "The optimism, that feeling of natural bounty that used to rise from the land here, has been tainted with the heaviness of potential danger. Now, when I gaze at the flowing rivers or lift my face to the falling rain, I'm filled not only with the sense of beauty and abundance, but with a fearful respect for this place's destructive potential. As we continue our holding pattern at a friend's condo in Vancouver and await the reopening of routes and the repopulation of Merritt, we once again count our blessings. Among B.C. homeowners and residents, we are lucky. Still, all this disaster so close to home makes me wonder: Might we be luckier somewhere else?"
Mireille Lalancette and Vincent Raynauld (Policy Options) on how Martin Francoeur's successful bid for the riding of Trois-Rivières speaks to the importance of personalization in political life: "The process of putting an emphasis on the candidate during a campaign is known as personalization. This is not a new phenomenon. Individuals have always played an outsized role in politics. However, personalization has gained importance in political life in recent decades as political news coverage by media organizations and journalists has evolved, coupled with the central role played by identity-centric media platforms in the political process. At the same time, politicians have adapted their personal image-making and political messaging approach to the structure and format of dominant media channels."
Send along your political questions and we will look at getting answers to run in this newsletter. It's not possible to answer each one personally. Questions and answers will be edited for length and clarity.
Got a news tip that you'd like us to look into? E-mail us at tips@globeandmail.com. Need to share documents securely? Reach out via SecureDrop.
Duterte, Marcos and political dynasties in the Philippine presidential election – NPR
A foiled succession plan, sensational allegations, and a family feud at the pinnacle of power — these are the ingredients in what promises to be a riveting race to succeed outgoing Philippines President Rodrigo Duterte.
The no-holds-barred contest scheduled for May 2022 has already produced what some observers see as an unsettling alliance: the offspring of two presidents pairing off in an unprecedented bid to run the country.
Taking full advantage of their prominence, Ferdinand Marcos Jr., son of the late dictator Ferdinand Marcos Sr., has teamed up with Sara Duterte, daughter of President Rodrigo Duterte in the national election.
He is running for president in this dynastic duo, while she vies for vice president.
Are dynasties and celebrities narrowing democracy?
Political dynasties in the Philippines are nothing new.
Richard Heydarian, an expert on Philippine politics, says they are such a dominant feature in the country that between 70% and 90% of elected offices have been controlled by influential families.
But even by those standards, this Marcos-Duterte coupling takes powerful clan politics to a new level, says Philippine University political science professor Aries Arugay.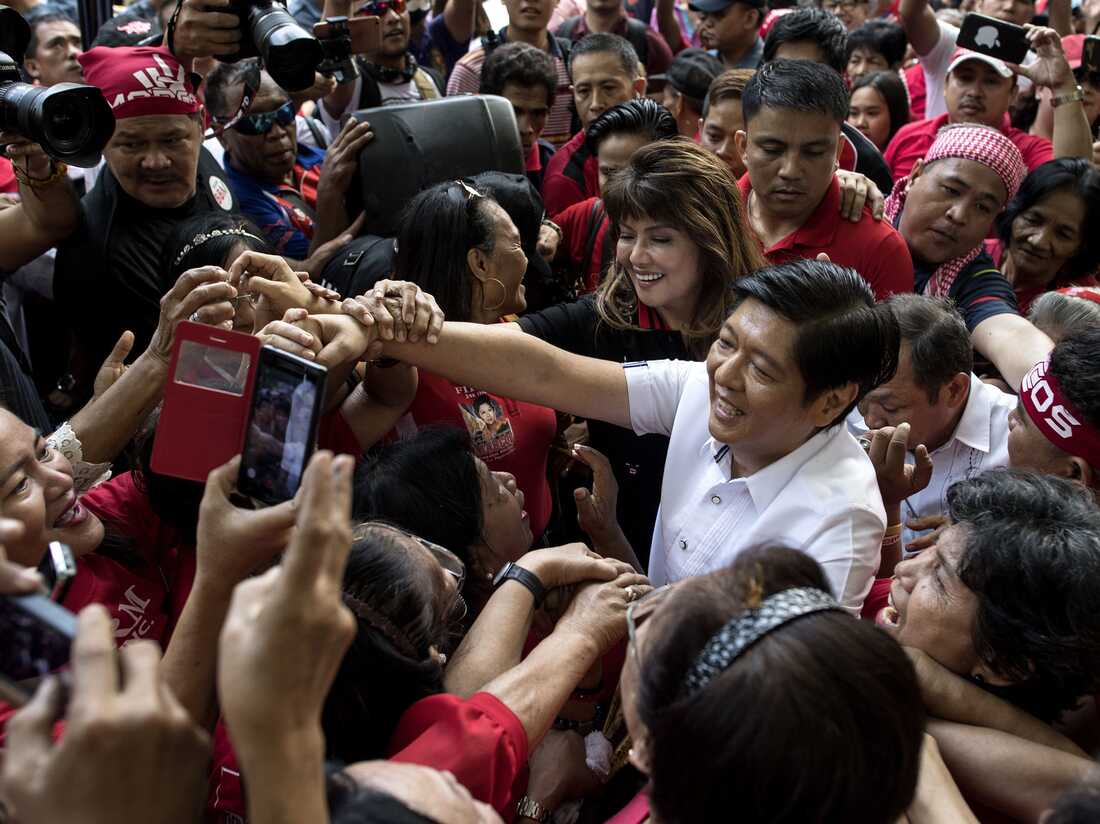 Speaking at a recent online forum of the Center for Strategic and International Studies, Arugay says second generation dynasts are behaving like a "cartel".
He says their calculus is as damaging as it is simple: "Why can't we just share power, limit competition, and make sure that the next winners of the presidential and national elections come from us?"
Then there is the celebrity factor.
Heydarian notes a narrowing of democracy in the pairing of dynasties with the celebrity class, which includes former film stars, television personalities and sports figures. He says the two elite groups monopolize national office, putting elected office beyond the reach of a lot of ordinary Filipinos who he says may have the merit and passion to serve, but are effectively blocked from fully participating.
It makes a "mockery" of democracy, Heydarian says, but it's also a trend that could be difficult to reverse.
"After all, in politics you need a certain degree of messaging, communications machinery and charisma," he said. And, he added, especially in the age of social media, "It's not for dull people."
Running on a name, not a track record
Consider Manny Pacquiao.
His stardom as one of the legends of the boxing world has catapulted him into the race for president next year. He is currently a sitting senator and is in the running for the highest office not on the power of his record in the upper chamber marked by absenteeism, but on the strength of his career as the country's most acclaimed athlete.
So prized have name recognition and celebrity status become in winning Philippine elections that observers worry it's turning democracy into the preserve of the rich and well-connected.
Marcos is part and parcel of the phenomenon, according to Manila-based analyst Bob Herrera-Lim, who notes that his undistinguished career as a senator and congressman has been no barrier to his ambition for the presidency.
"[Marcos] is running on entitlement. He is running on the weaknesses of the system," Herrera-Lim said.
Marcos' vice presidential partner Sara Duterte is an accomplished politician, occupying the post her father held for decades as the mayor of Davao City, the third largest in the country. But the fact the 43-year-old First Daughter, whose work is little known outside Davao, led in a presidential opinion poll this past summer can only be put down to the power of a famous family name.
Revisionism, a PR campaign of distortion — and fond memories of the Marcos era
Bongbong Marcos is now making waves, rewriting the past and embellishing his family's legacy.
It's been 35 years since his father was ousted by a popular uprising, exiled, and exposed for rights abuses and kleptocracy.
Marcos Sr. is believed to have amassed up to $10 billion while in office, and now his son has been resuscitating the family's image with a sophisticated social media campaign.
Marcos Jr. narrates seamlessly scored videos that cast his parents, Ferdinand and Imelda, as generous philanthropists, and his father as a great innovator who made possible new strains of rice and united the archipelago with infrastructure heralded as the "Golden Age" of the Philippines.
Critics decry what they call the revisionist history and systematic airbrushing of the sins of the father's 20-year rule that turned the country into his personal fiefdom.
Marcos Sr. engaged in land-grabbing, bank-grabbing, and using dummies to hide acquisitions from public view, according to Professor Paul Hutchcroft of the Australian National University, who has written extensively on the political economy of the Philippines.
The late dictator dispensed special privileges to relatives, friends, and cronies, writes Ronald Mendoza, Dean of the School of Government at Ateno de Manila University, providing them access to the booty of the state, "even as the country failed to industrialize and was eventually plunged into debt and economic crises in the mid-1980s."
Yet, despite all of it, the Marcos family is not without its loyalists among both the elites and ordinary Filipinos.
At a small community market in central Manila, where fishmongers congregate amid aquariums and chopping blocks, vendors and shoppers talk about the Marcos era with a sense of nostalgia.
Chereelyn Dayondon, 49, says she likes how Marcos Sr. ran the country before and she wants that to come back. The single mother earns $80 a month directing traffic and worries that the cost of living is getting too high.
"It's not going to be enough," she says. "You never know, maybe Bongbong can change the Philippines. Let's try him out."
Meanwhile, fish seller Teodora Sibug-Nelval, 57, reminisces about the old Marcos era and memories of cheap food and law and order.
"I had a good life. I was able to send my sibling to school … I was able to buy a house," she says.
In the pandemic, however, Sibug-Nelval lost her home and her vending stall. And now she wants her life back. She says she believes that if Marcos wins the election, "our lives will be better."
Herrera-Lim also says that many Filipinos see a confusing, chaotic political situation: "There is no clear delineations, political parties don't work for our benefit, we are looking for order."
And that, he says, is what Marcos is offering.
"Bongbong Marcos is saying that during his father's time, there was this order. There was peace in the country, which again, is a myth," he says.
The challenger to the dynasty
Leni Robredo is the current vice president of the Philippines and a liberal progressive.
A lawyer by training, Robredo co-authored an anti-dynasty bill when she served as a member of the Philippine House of Representatives.
In the Philippines, the vice president and president are elected separately and Robredo is on the opposite end of the political spectrum from President Duterte, with whom she has repeatedly sparred over human rights, the handling of the pandemic and Duterte's close ties with China.
Among the many candidates for president, including a former police chief, the mayor of Manila and Duterte's closest aide, Robredo appears to represent the greatest challenge to Bongbong Marcos.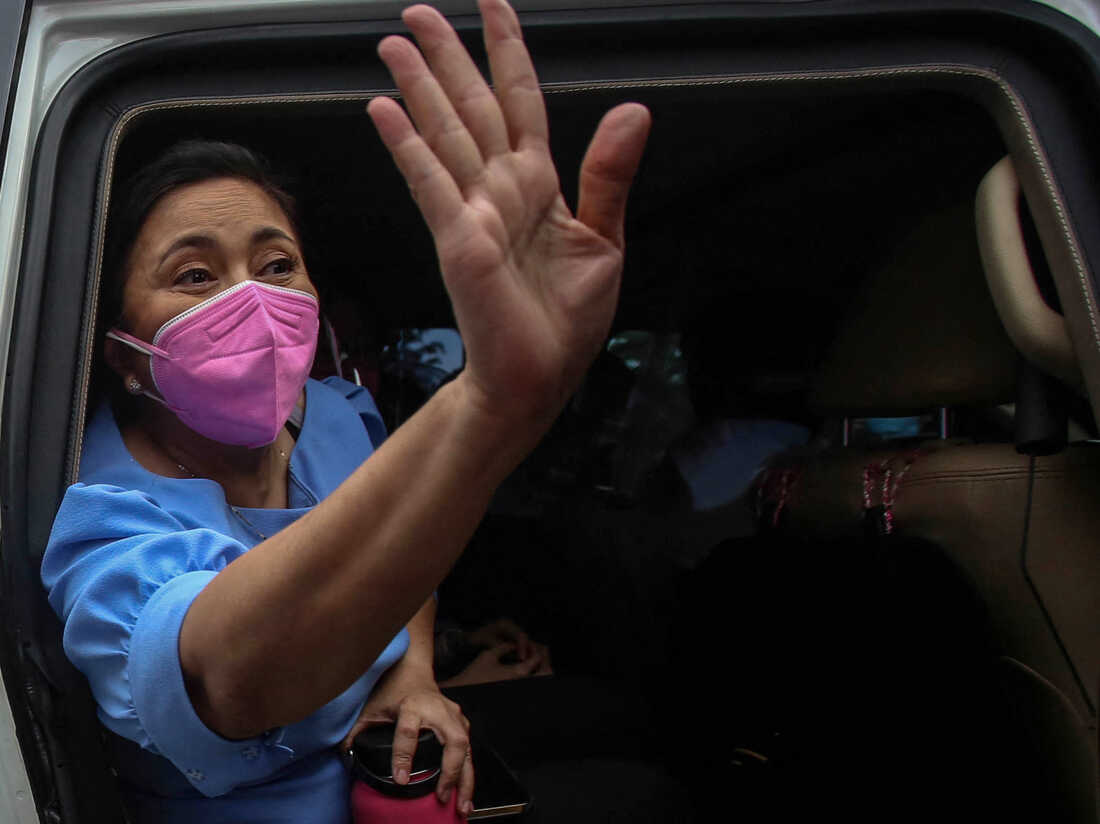 Robredo defeated Marcos Jr. for vice president in 2016, and now she has pledged that if she wins the top office, she will recover the Marcos family's plundered riches.
Alluding to Marcos' perceived popularity, Robredo told a news conference last weekend that it was "sad that the people allow themselves to be fooled" into believing Marcos would save the country when the family's ill-gotten wealth "was the reason they are poor."
Yet Robredo may need more than tough rhetoric and moral rectitude.
Marites Vitug, the editor-at-large for the online news site Rappler, whose CEO won this year's Nobel Peace Prize, said the country was witnessing the "rehabilitation of the Marcos dynasty." Young people were especially susceptible to the Marcos rebranding, she said, because there were no standard history textbooks in the Philippines that explained the Marcos martial law years.
"I was shocked to hear from some millennials that this was never discussed in class," she said.
Vitug said the odd teacher or professor may present it, but it was not systematic.
"It should have been required reading," she said.
Political economist Calixto Chikiamco adds that the revived Marcos family fortunes represent a counter-revolution to the one that ousted Marcos Sr. in 1986. That so-called Yellow Revolution was a model that Chikiamco says has failed to deliver genuine change.
"Because our politics remain dysfunctional, our economy is still not doing so well, a quarter of the workforce is unemployed … still a large number of people go abroad to seek better opportunities. So it is a revolt against their present situation," he said.
"That's the reason the Marcoses are making a comeback."
The Duterte dynasty is a house divided
The campaign promises to be one of the Philippines' most bitterly fought contests in years, not least because the Marcos-Duterte tie-up has not won the blessing of Sara Duterte's father.
Rodrigo Duterte did make the controversial decision to allow the late dictator's remains to be moved to the "Cemetery of Heroes," a decision confirmed by the Supreme Court. But the once-friendly relations between Rodrigo Duterte and Bongbong Marcos have frayed, possibly beyond repair.
Duterte had wanted his daughter to seek the presidency, not play second fiddle, to provide him protection from the International Criminal Court investigating his violent anti-drug war. The probe has been suspended for a procedural review, but court watchers expect the case of alleged crimes against humanity to resume. Meanwhile, Chikiamco says while Sara may talk of continuing her father's policies, by declining to run for the top job, she has gone her own way.
"The daughter is fiercely independent and didn't want to be under the thumb of President Duterte. And also she could not perhaps tolerate the president's men," Chikiamco said.
Herrera-Lim adds that daughter and father apparently "did not see eye to eye on many things related to the family or on the governance of Davao."
Fundamentally, though, Herrera-Lim says President Duterte doesn't trust Bongbong Marcos to shield him from ICC prosecutors.
"On these matters, family is very important," he said.
And even if there were such a bargain between the two men, Herrera says Duterte would worry it might not hold.
In what analysts regard as a means to protect himself, Duterte is making a bid for a seat in the Senate in the 2022 election.
One authoritative poll shows Marcos the early frontrunner to succeed him. But not, it seems, if President Duterte has anything to say about it.
He ignited a stir earlier this month by declaring in a televised address that an unnamed candidate for president uses cocaine.
Without identifying who, he said the offender was a "very weak leader" and that "he might win hands down."
Marcos took a drug test this past week, saying he was clean. Other candidates hurriedly lined up to clear their name.
Marcos is also under attack by groups eager to have him disqualified from running at all. The Election Commission is reviewing four separate petitions challenging his candidacy. At least one charges that Marcos misrepresented his eligibility to seek the presidency by stating he had no criminal conviction that would bar him from office. Petitioners argue that his 1995 conviction for failing to pay taxes for several years in the 1980s ends his bid for the presidency.
The Election Commission announced no ballots will be printed until the petitions are decided.
The campaign that officially begins in February is already generating drama enough for some to lament that the race for president is fast becoming a "political circus."
But Richard Heydarian says circuses are not always the worst thing. "Sometimes," he says, "they can produce a magical outcome. Let's see."
Politics chat: U.S. bans travelers from 8 African countries to slow COVID-19 variant – NPR
With the emergence of the Omicron variant, the U.S. limits travel from eight African nations. Congress has a big to-do list next month, and Democrats are pushing to pass the "Build Back Better" bill.
KELSEY SNELL, HOST:
Most travelers from eight countries in southern Africa will be barred from entering the U.S. starting tomorrow. The Biden administration announced the new restrictions shortly after the World Health Organization's designation of omicron as a variant of concern. Joining me now is NPR national political correspondent Mara Liasson. Good morning.
MARA LIASSON, BYLINE: Good morning, Kelsey.
SNELL: As a candidate in March 2020, Joe Biden was very critical of then-President Trump's China travel ban. Why move so quickly to put this new one in place?
LIASSON: Well, the rule on travel bans is you got to do them sooner rather than later. I think Joe Biden understands that getting the coronavirus under control is his job No. 1. It was the most important campaign promise that he made. And without getting the virus under control, he can't get the economy back and a whole lot of other things that he wants to do. But as you just heard about the omicron virus, it's not clear how easily it spreads. It's not clear yet whether the vaccines are effective against it – effective in terms of stopping people from getting really sick from it, not necessarily from just testing positive. But the administration has continued to push vaccinations. And as you just heard, the U.S. still has a very low vaccination rate compared to other developing countries. And they need to get that vaccination rate up. I should say that the U.K., European countries are doing the same kind of travel ban as the president announced. And Israel actually has banned travel from everywhere for the next two weeks, not just from those African countries.
SNELL: So the White House is trying to be seen as doing something here. And the president also announced that the U.S. would release 50 million barrels of oil from the Strategic Petroleum Reserve to address inflation – which, by the way, has about 605 million barrels in it. Some energy analysts say this won't affect the cost of gas that much, maybe 5 to 15 cents. So why are they doing this right now?
LIASSON: The president is doing this in the hopes that putting more oil on the market will cause the price to go down. But most economists will tell you that there's really not much a president can do to affect the price of gas. And gas prices are kind of the leading indicator of inflation. They're the thing that hits people every day when they go to the pump. And inflation is a very powerful weapon in the hands of the opposition party, and the president is getting blamed for the economy. The buck stops at the White House. And he has both houses of Congress. And the Republicans have been very organized at – and it's been easy to send the message that inflation is here and that it's Joe Biden's fault. You see those little stickers on gas pumps all over the country with pictures of Biden pointing to the price saying, I did that.
SNELL: Yeah.
LIASSON: So it's important that the president be seen as understanding how inflation affects people's daily lives and trying to do something about it.
SNELL: Well, it's almost December. And in Washington, that means it's time for Congress to rush to clean up all of the loose ends they left hanging all year long. And it's going to be a really busy month. Remind us of what needs to get done before the end of the year.
LIASSON: Yeah, a really busy month. First, you've got to pass temporary funding for the government because funding for the government expires on Friday. They have to do that in order to avoid a government shutdown. Congress also will need to raise the debt ceiling, so the U.S. doesn't default on its debts. The Republican minority leader in the Senate has made it very clear that Democrats will have to do that by themselves. Republicans will not vote to avoid default. Then there's the National Defense Authorization Act. That's a must-pass bill. In the past, it's gotten bipartisan support. They – that usually gets done by the end of the year. One big incentive for lawmakers to get all of this stuff done is that they really want to go home for the holidays.
SNELL: They often do want to go home for the holidays.
LIASSON: Yes.
(LAUGHTER)
SNELL: That's right. But there's also the Build Back Better bill. Senate Democrats say they want to get that done by the – by Christmas. They say that getting it done is part of making sure that the party has a real political strategy for survival. So what are the prospects of them actually meeting their deadline?
LIASSON: Well, who knows? But what we do know is that it passed the House, but progressive Democrats in the House didn't get what they wanted when the House voted on this measure. They were hoping to get some kind of an ironclad assurance from Senator Joe Manchin that he would vote for it. Instead, all they got was this vague framework that Manchin didn't really commit to. And he has said recently again that he's in no rush. He wants to wait. He thinks it's better to pass the bill next year. He wants to see whether inflation gets better or for worse – or worse. So the – we know that the bill will probably change in the Senate. Maybe it'll get smaller. Certain things will drop out of it to satisfy Manchin and get his vote. What we don't know is how long that will take.
SNELL: That's NPR national political correspondent Mara Liasson. Thanks, Mara.
LIASSON: Thank you, Kelsey.
NPR transcripts are created on a rush deadline by Verb8tm, Inc., an NPR contractor, and produced using a proprietary transcription process developed with NPR. This text may not be in its final form and may be updated or revised in the future. Accuracy and availability may vary. The authoritative record of NPR's programming is the audio record.
Europe's woes offer a stark reminder that pandemic politics is ultimately an expectations game – Toronto Star
History is once again convulsing Europe. As COVID cases surge, the continent is gripped by crisis after crisis, triggering an ugly collision of public health issues and social conflict. Meanwhile, the leadership of Belarus, along with Vladimir Putin, have manufactured a destabilizing humanitarian crisis at the continent's eastern border.
Canadians can count ourselves fortunate to see a slight ebb in our "fourth wave" rather than the exponential rise seen elsewhere, not to mention the absence of such threats from autocrats.
Nevertheless, experts keep reminding us that the virus isn't going anywhere — there will be spikes throughout the winter and the holiday season. And as in Europe, these spikes will bring political and social crises with them.
Sudden lockdowns and vaccine mandates have created major issues in Europe. Mass protests are occurring across the continent. Hooligans provoked violent clashes with police in Rotterdam, and the far-right dominated coverage at other large gatherings.
The Austrian chancellor blamed vaccine skepticism as he moved to implement a total vaccine mandate, the first western country to do so. The German health minister offered a warning that eventually "everyone will be vaccinated, recovered or dead."
The concept of herd immunity has gone full circle to become political dynamite, as leaders in current hot spots grapple with the issue in different ways. France's government, seeing roughly 30,000 cases a day, has acted similarly to ours — requiring proof of vaccination at many spaces, while shying away from drawing a tougher line.
In Britain, restrictions are virtually non-existent as cases soar over 40,000 a day. While a top health adviser to the government has framed this as a step in reaching herd immunity, one might also pose that Prime Minister Boris Johnson is in no position to implement controversial measures as questions swirl around his leadership.
At home, we need not see this all as a harbinger of doom, but instead must remember managing COVID is largely a game of expectations. And those expectations must be firmly grounded in reality. Pollyannaish thinking will only result in a greater political price later on.
Lockdowns, in the minds of many Canadians, would represent a political failure. Our vaccine uptake has been strong, but questions remain over how politicians can or will act if we see significant surges in cases.
Vaccination mandates are already a source of aggravation for Conservatives, raising the topic again and again — and in so doing, creating space for the People's Party of Canada and other fringe advocates. Keeping a grip on this issue will be no easy task for the Tories.
Incumbents like Justin Trudeau and Doug Ford are once again in the precarious position of managing another holiday season — and with it, another consequential wave of the virus.
To shut down the economy again would be risky for any leader, undoubtedly compounding the anxiety brought on by market indicators, inflation, supply chains and labour shortages.
In September, Doug Ford called vaccine passes our "best chance" at avoiding another lockdown, and it seems unlikely the premier — who is facing an election in June — would risk irking Ontarians again with mass restrictions.
As Ontario sees around 600 new cases a day, Ford must get out in front of this issue and demonstrate that he is working proactively to mitigate both public health risks and public dismay.
Just this week, the premier took steps in this direction, with his government announcing its plan to rollout the vaccine to children ages 5-11, and maintaining control over the proof of vaccination system by extending certain emergency orders until March.
Sustaining this arm's-length-but-authoritative approach, while continually putting his government and himself front and centre of vaccination efforts, is the right approach for Ford and his peers.
Chaos in Europe has shown that drastic actions without adequate forewarning will activate deep divisions and further jeopardize public health, at a time when there are already more than enough fires to put out.